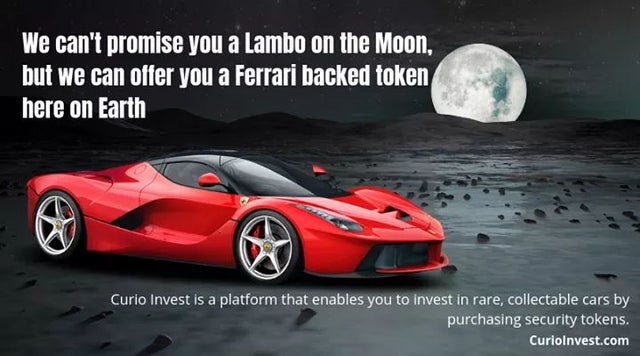 About Curio Invest
CurioInvest is a groundbreaking innovative Blockchain powered Investment Project which opens up investment opportunities and profitability for the general masses in Collectible vehicles. It is obvious that investment in Collectible Cars is limited to only elite Class due to the huge capital requirement, documentation, and some other factors.CurioInvest with their tokenization strategies is willing to disrupt the industry by revolutionizing the existing system in other to open avenues for millions of small and medium-class global investors in Collectible Vehicles.
CurioInvestment represents an online Blockchain Powered platform that will allow different caliber of investors of all income levels to invest in Collectible Assets.Investors can invest as low as $100 .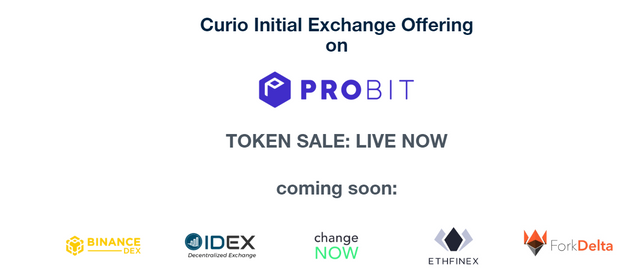 WHY IT WORTH INVESTING IN CURIOINVEST PROJECT.
(i) Investment analysts have revealed Collectible vehicles are among the best-performing alternative investment Class but there are some limitations in the market which only makes it available for elite investors. CurioInvest mission is to remove the gap in this Class of investment and make it opened to any class of investors irrespective of their income level. This will enable them to benefit from the profitability in this class of assets.
(ii) Secondly, it is an opportunity for all crypto investors to diversify their investment portfolio and reducing investment risk. Investment in Collectible cars is far beyond investing in ordinary cryptography backed by nothing.Investment in CurioInvestment is a reliable and standard investment because investors' assets are backed by valuable and tangible assets.
(iii) Blockchain integration: Blockchain system will create room for Collectible Cars tokenization which will enable all investors buying and taking their shares of investment in the form of Digital token.Investors can invest as low as $100.Besides blockchain integration into CurioInvest Platform will guarantee maximum user's security, transparency, and cost efficiency.
(iv) CurioInvest has made multibillion dollar industry accessible to the general masses. The Team of Curio has removed the limitation in the industry, which simply means Collectible Cars investment for all. Now you don't need to be extremely rich to invest in Collectible assets. Investment analyst has revealed how Collectible Cars investment has outperformed other Class of assets. The information can be seen below:



ASSET TOKENIZATION
asset tokenization simply means creating digital assets and establishing the registration of its right on blockchain .CurioInvest token is Ethereum based, it is simply a bridge between digital and physical assets. The Platform has offered the investor's a very simple and user-friendly system of investment into Collectibles.It is a regulatory compliance platform backed by Liechtenstein blockchain Legal system which uses Ethereum blockchain .CurioInvest has simplified investment in very expensive Collectible assets. Users can buy Collectible Cars and trade them Peer to Peer (P2P) with no intermediary involved or brokerage fees of any kind.
HOW DOES CURIO PLATFORM WORKS?
Register on the platform, verify your identity and become a verified user.
Users can join the currency crowdfunding campaign by investing in Collectable cars. After making your investment you receive a certificate which will confirm users' investment.
3.As soon as the required funds are being raised from the Crowdfunding. Curio will buy the Vehicles and the cars will be tokenized and distributed among the investors which will replace the certificate.
The next level is for users to diversify and monitor their investment. Vehicle performances can be easily tracked, tokens can be easily traded (P2P) and investors can acquire more tokens if willing to build up their garage and diversifying their investments.


Official Resources
Website: https://curioinvest.com/
White Paper: https://docs.google.com/document/d/16RBxiuPNhG7DkvTx9odzcQvPc9EdTKnmKaohURxrLTA/edit?usp=sharing
Twitter: https://twitter.com/curio_invest
Facebook: https://www.facebook.com/Curioinvest/
Telegram: https://t.me/curiocarQA
ANN Thread: https://bitcointalk.org/index.php?topic=5175820
Reddit: https://www.reddit.com/user/curioinvest/
LinkedIn: https://www.linkedin.com/company/curio-capital-ag/
Instagram: https://www.instagram.com/curioinvest/
Authors info
Bitcointalk username : lohladex
Bitcointalk profile url : https://bitcointalk.org/index.php?action=profile;u=2328928
Eth adddress: 0xd8bcd4b152bd2ac173deb15d14160ed1225f0e05