STARTER INFORMATION
With strict capital controls in place by most countries to control the flow of money and charge high taxes, cryptocurrency gained usage in circumventing capital controls and taxes, leading to an increase in demand. Cryptocurrency has been able to present an easy to use digital alternative to fiat currencies. Offering frictionless transactions and inflation control, investors have been prudent enough to add these currencies in their diversified portfolios as an asset, as the size of the market does not represent a systemic risk. Cryptocurrency employs the use of cryptography that assures high-security processes and verifies transactions personal to each user. Hence, counterfeiting and anonymous transactions are impossible to achieve.
While this revolution is gaining wide acceptance, Nestree blockchain is a dAPP platform that was incorporated with reward, social chatting, otc trading exchange, cryptocurrency wallet etc.
"Decentralized applications (dApps) are one of the biggest potential uses of blockchain technology, as they open up whole new options for consumer- and business-focused products with functionality that hasn't been seen before.
In 2017, the blockchain world was filled with hope and hype. It seemed almost any idea that used blockchain could raise a lot of capital through an ICO model with just a whitepaper and a dream. While many of the iconic platforms and projects in the blockchain world were created out of this hype, very few consumer-focused dApps, such as games or social networking applications, were created during this time.
As the hype subsided throughout 2018, though, dApps were being launched. Despite harsh market conditions almost three quarters (72 percent) of the projects that completed the survey were started in 2018, and 41 percent were started in the last six months."
With that being said, Nestree is a messenger application that is perfect for crypto-enthusiasts who want messenger applications that allow them to send messages, cryptocurrency, and trade on one application at a time or users who want to get rewards from every contribution they make.
Now that I have your attention, let's get right to it.
What exactly is NESTREE?
According to the official whitepaper of NESTREE, Nestree is a blockchain based modernize Messenger that for social activities and rewarding of its users. Nestree blockchain is a dAPP platform that was incorporated with reward, social chatting, otc trading exchange, cryptocurrency wallet etc. This platform was initiated to optimize and maximize the utility and effectiveness of blockchain and cryptocurrency.
In addition, NESTREE platform is designed in such a way that members can earn from watching an ads and adverts in the community messenger app. To ensure transparency and fairness, NESTREE platform has allocated a particular reward to be earned from each and every ads available in the platform all its left to users is just to select whichever they preferred.
NESTREE app is also designed with an inbuilt wallet which means users can easily store their earned reward and other crypto-currency in the wallet. Tokens such as EGG, BITCOIN, ETHEREUM, MAKER and BNB can be stored in the NESTREEE wallet. The brand new generation COMMUNITY MESSAGING apps (NESTREE) is also integrating crypto-currency wallets into its platform. This permits users to ship and obtain cash, just like messages, most effective freely or with minimal transaction and processing fees.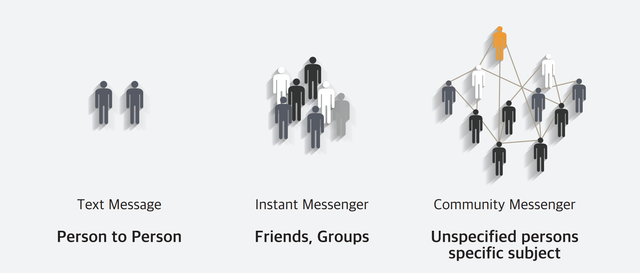 It is worth to note that NESTREE has already developed it's product and it is completely available for download in Android and iOS platforms. With this you can readily install and start using the blockchain powered social messaging platform.
On the NESTREE platform you can enjoy all the messaging and social networking services with added security features. You can chat on encrypted network between friends, groups and communities. In order to keep the spirit and inspire people to be active in the platform NESTREE has a reward option which pays to users for their valuable contribution. NESTREE in turn offers an great engagement between advertisers and it's users.
The Features
Cryptocurrency Wallet
The Nestree Messenger was incorporated with a multi-cryptocurrencies wallet. This means multi kind of blockchain coins and token can be stored. The users will be able to store their BTC, ETH, Ethereum based token, EOS, etc. Inside the Nestree wallet, you can store, send and receive token from other users or from other network.
Over the Counter (OTC) Trade
There is a feature in Nestree platform for the users to trade their cryptocurrency within themselves without going to exchange. A peer to peer trading with the Nestree being the escrow that supervise the process. It will start by the seller chose the assets he/she want to trade, valid time and request to trade and the trading will be executed immediately.
Send/Transfer
Users of the Nestree platform can send any kind of cryptocurrencies to his fellow friends and family. So if you want to send a token to other users, you choose the person, set the amount of cryptocurrency you want to send, enter your password and the sending process will be executed immediately.
The Benefits
The platform opens opportunity for everybody to get rewarded by contributing in one of the other to the platform.
It has different categories of earning reward in Nestree, which are:
By inviting friends to the platform
The Nestree platform the users of the platform by inviting others to the platform. The platform will reward people that invite others to the platform with their native token.
Advertising
Here, there is a place on the Nestree Messenger for you to launch your product or services. So the users of this platform that watch those Ads will be rewarded.
"Besides the messenger service, Nestree also has other interesting features. P2P trade and marketplace."
P2P trade
P2p trade allows users to be able to trade quickly and easily. All transactions processed will be secured by using Nestree Secure P2P. This is smart contact that allows transactions to be processed safely. So users don't have to worry about their digital assets.
Marketplace
Channels on the Nestree platform allow participants to be able to sell and buy goods, services, and content in their channels.
Token Details
Egg is an erc-20 utility token that can be used by users as payment on the Nestree platform. Egg Tokens can be obtained in various ways such as activities in the channel including invitation rewards, content rewards, random rewards and advertisement rewards.

Token Symbol - EGG
Token Type - ERC20
Token Price - $0.01
Total Supply - 3,000,000,000
Token Distribution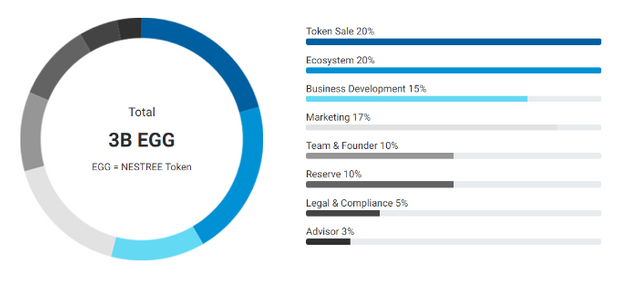 20% Allocated to Token Sale
20% Allocated to Ecosystem
15% Allocated to Business Development
17% Allocated to Marketing
10% Allocated to Team and Founder
10% Allocated to Reserve
5% Allocated to Legal and Compliance
3% Allocated to Advisors
ROADMAP
MEET THE AMAZING TEAM
Be a part of this incredible project. Download the whitepaper for the full scoop.
Till next time…
For more information, please visit:
Website: https://www.nestree.io/
Whitepaper: https://www.nestree.io/whitepapers/Nestree_Whitepaper_EN.pdf
ANN Thread: https://bitcointalk.org/index.php?topic=5155135
Telegram: https://t.me/nestree_en
Telegram: https://t.me/nestree
Twitter: https://twitter.com/nestree_io
Reddit: https://www.reddit.com/r/nestree_io
Facebook: https://www.facebook.com/nestree.io
Nestree Chat Room: https://c-a.me/nestree_en/
LinkedIn: https://www.linkedin.com/company/14630922
Medium: https://medium.com/@social_64337
Messenger Room: https://c-a.me/nestree_en
Kakao: https://open.kakao.com/o/gd60usqb
Author: Cryptoholical
My Bitcointalk Profile: https://bitcointalk.org/index.php?action=profile;u=2487106
Disclaimer: This article was published in terms of the bounty campaign. I am not a project team member or its representative but a supporter of this incredible project.