PREAMBLE
A storm has hit the investment market which we are not going to recover from. Crypto investment is that storm. With strict capital controls in place by most countries to control the flow of money and charge high taxes, cryptocurrency gained usage in circumventing capital controls and taxes, leading to an increase in demand. Cryptocurrency has been able to present an easy to use digital alternative to fiat currencies. Offering frictionless transactions and inflation control, investors have been prudent enough to add these currencies in their diversified portfolios as an asset, as the size of the market does not represent a systemic risk. Cryptocurrency employs the use of cryptography that assures high-security processes and verifies transactions personal to each user. Hence, counterfeiting and anonymous transactions are impossible to achieve.
While this revolution is gaining wide acceptance, VIMee, a unique decentralized social platform that is built on the principle of preserving freedom of speech and Islamic ethics has arrived.
"For more than a decade, social networking has taken over internet users' lives, with social networking apps being the preferred entry point for content and engagement. According to studies, teenagers spend at least nine hours per day on social networks, with the majority of this being done through mobile devices. The same data says that users spend even more time on social media than actual socializing.
There is a downside, of course, which is privacy. As the saying goes, if the product is free, then chances are that you are the product. Facebook, Twitter, and other social networks give you untethered access to their platforms, all in exchange for something valuable – insights into your behaviors, preferences, habits, connections, location, and content.
Most of the drawbacks of social networking stem from the fact that actual control is centralized on the platform owner, even if the content and activity come from its users."
With that being said, VIMee's mission is to help smooth the migration process by re-privatizing user data and allowing users to monetize their own content, protecting the right to freedom of expression, ensuring a lucrative reward system for collaboration based on the quality and popularity of the content.
But before we go any further, please check out this video presentation to get even more acquainted
Now that I have your attention, let's get right to it.
What exactly is VIMee?
As depicted above and as indicated on the official website of VIMee, VIMee is the world's first Shariah based social network aimed at preserving Islamic ethics, freedom of expression, and re-privatizing user data. VIMee is a unique decentralized social platform that is built on the principle of preserving freedom of speech and Islamic ethics.
In addition, VIMee's mission is to help smooth the migration process by re-privatizing user data and allowing users to monetize their own content, protecting the right to freedom of expression, ensuring a lucrative reward system for collaboration based on the quality and popularity of the content. Everything is packaged in accordance with Islamic Sharia law.
The main objective of the VIMee network is to provide a safe, comfortable and secure environment for all users to communicate, with the exception of such negative factors as racism, pornography, gender inequality and other negative aspects of ordinary centralized social networks. To ensure that all these principles were taken as the basis for the creation of the VIMee platform - sharia, which spelled out the purest and harmonious relations between all people.
The Mission
The mission is to help smoothen the migration process by re-privatizing user data and providing users the opportunity to monetize their own content, protecting the right for freedom of expression, providing a lucrative cooperation reward system based on content quality and popularity. All packaged within the Islamic laws of syariah.
According to the official whitepaper of VIMee, below are the stated challenges and solutions offered to neutralize them:
The Impending Challenges
Finding sustainable solutions to declining organic reach
Organic engagements are becoming less and less attractive to the average user. BuzzSumo's analysis of 880 million posts found, "the average video post in April 2017 reached 12.05% of the total page audience, just ahead of photos at 11.63%, links at 7.81%, and status updates at only 4.56%."
Adoption by users
One major challenge of realizing decentralized online social networking is its adoption by users. Users who are already participating in existing social networking sites will need to migrate their data to decentralized social networks to break away from the traditional data silos offered by the current social networking sites. It is understandable that users would be resistant to change and may not be keen on changing applications even if this provides all the features they need.
Content moderation
Even though implying syariah rules, freedom of expression will help harmful content find its way onto VIMee's network.
Solution Offered
Social video surges ahead
Forty-six percent of respondents in our annual customer survey say they're already implementing social videos, with another 26 percent planning to implement in 2018. In 2017, social video advertising spending leaped 130 percent YOY. Video is a core growth strategy for the major social networks because it's an engaging mobile medium and easy to monetize.
Experience migration
In order to overcome user objection, we must also be able to migrate their experience on social media. Migrate services already provided by existing social networking services and adding our own improvements so the users wont recognize the transition. Good user interfaces, tools for importing and exporting data, and ease of setting up the software will definitely also be part of the solution to this problem.
Joint staff and community moderation
Having a double layer of filtering such as this will help track down harmful content. Community moderation enables people to decide whether the content is appropriate or not. According to a survey by the 2018 Edelman Trust Barometer, about 63 percent of people are worried about fake news circulated by major social media today. Blockchain has the ability to let the community verify and score any piece of information and therefore, incentivize people to adjust their bias and malicious actions.
The Features
Online Wallet
For storing all those valuable VIMX tokens and FIAT rewards.
Channels
Follow and keep up to date with all your hobbies and interests.
Messenger
Instant messaging service. Keep in touch on a personal level.
Newsfeed
All the stories that matter most to you every time you visit.
Group Chat
Come together, share ideas, gather with friends. A must for all social circles.
Video
Edit and upload personal, community or even breaking events.
Pictures
No social network is complete without a your own personal photo gallery.
Commerce
Buy, sell, monetize content, ads, sponsors, everything to support your commercial needs.
Qibla Compass
Never feel lost again. Always know in which direction to pray.
Salah Schedule
Globally adjusted salah schedules to fit your exact location.
Quran & Hadith
Read, quote, share and search the holy Quran and Hadith.
Hijri Calendar
Find accurate yearly, monthly and weekly Islamic dates.
The Advantages
Privacy
You as a user, own your data. You can choose who you want to share this information with and how. You own your own content.
Transparent
Open-source crowdfunded development, not financed. There is no monopoly by a single company, and no tracking.
Decentralized
The social network runs on independently run servers, instead of using huge central servers owned by a corporation.
Syariah
Islamic laws are our foundation. No pornography, no racism, gender equality and fairness.
Profitable
Users earn money by using the platform. All revenues raised will be split with users.
Educational
Give da'wah, share knowledge, help others learn about the true Islam. A network where everyone can learn.
About The VIMee Platform
The uniqueness of the VIMee platform lies not only in some moral principles, but also in the fact that users can now fully support their social networks without fear of losing their personal data. Since no one can use them without the explicit consent of the user. At the same time, within VIMee, you can also easily share streaming content, receiving in return a kind of reward at the expense of the internal token of the project. Also, in the social network VIMee, people will be able to help each other in solving certain situations, give advice or motivate each other to achieve certain goals.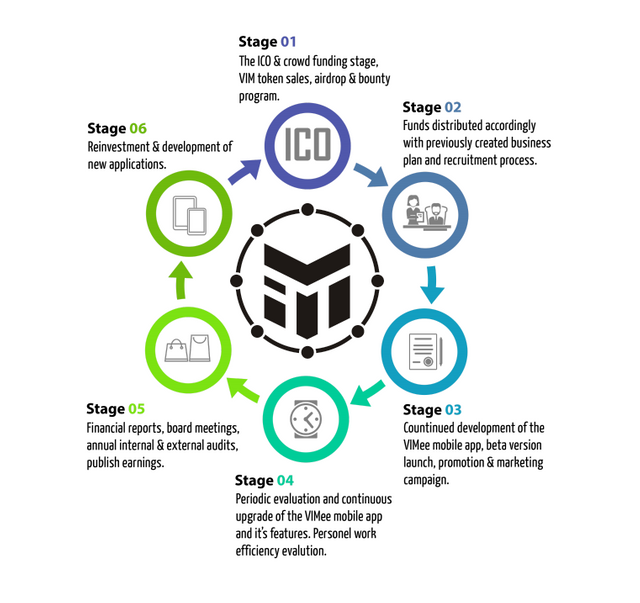 About The VIMee Token
ViMee is developed on the basis of the Waves blockchain and is expressed by a nominal symbol as – VIMX. In total, the developers will be released 2 billion coins from them for sale will be available only 30% percent, 55% will remain in reserve, and the rest of the coins will be distributed between the team of founders, bounty participants and the advertising company. The initial value of the coins themselves is estimated as follows: 1 ETH = 10 000/ 1 WAVES = 167 VIMX.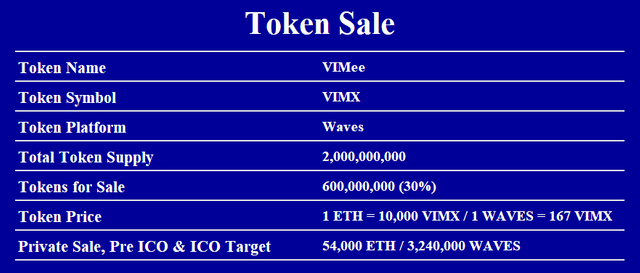 ROADMAP
MEET THE AMAZING TEAM
Adi Hermanto , Founder & CEO
Andress Y.H. , Chief Legal Officer
Cipta Ekadyat , Chief Creative Officer
Desi Suardiastuti , Chief Ops Officer
Hariansyah , Chief Tech Officer
Aam Amalia , Chief Comms Officer
Pranav Arya , Strategic Consultant
Taufik Rizal Arbai , Community Manager
Panji Maulana S , Junior Developer
Nizar Ramdani , IT Support
Be a part of this incredible project. Download the whitepaper for the full scoop.
Till next time…
For more information, please visit:
WEBSITE: https://vimeetoken.tech
WHITEPAPER: https://vimeetoken.tech/wp-content/uploads/2019/03/VIMEE WHITEPAPER V 1.1.pdf
ANN THREAD: https://bitcointalk.org/index.php?topic=5133220
TELEGRAM: https://t.me/vimeetoken
FACEBOOK: https://www.facebook.com/vimeetoken/
TWITTER: https://twitter.com/TokenVimee
INSTAGRAM: https://www.instagram.com/vimee_token/
GITHUB: https://github.com/VIMeeToken
Author: Cryptoholical
My Bitcointalk Profile: https://bitcointalk.org/index.php?action=profile;u=2487106
My Ethereum Address: 0xF3f7b9c45864006DBd1571De53d5847C0d11438c
Disclaimer: This article was published in terms of the bounty campaign. I am not a project team member or its representative but a supporter of this incredible project.