PREAMBLE
A storm has hit the investment market which we are not going to recover from. Crypto investment is that storm. With strict capital controls in place by most countries to control the flow of money and charge high taxes, cryptocurrency gained usage in circumventing capital controls and taxes, leading to an increase in demand. Cryptocurrency has been able to present an easy to use digital alternative to fiat currencies. Offering frictionless transactions and inflation control, investors have been prudent enough to add these currencies in their diversified portfolios as an asset, as the size of the market does not represent a systemic risk. Cryptocurrency employs the use of cryptography that assures high-security processes and verifies transactions personal to each user. Hence, counterfeiting and anonymous transactions are impossible to achieve.
While this revolution is gaining wide acceptance, the Hypnoxys team is developing a multifunctional messenger; the architecture thereof is based on P2P communication, distributed data storage in IPFS and end-to-end encryption. The solution, based on a combination of these technologies, is consistent with the principles of decentralization, confidentiality, and resistance to attacks.
"Decentralized applications (Dapps) are apps that run on a decentralized network (of peers) via (preferably trust-less) peer-to-peer (p2p) protocols. One of their biggest strengths is that they avoid any single point of failure. Unlike traditional apps, there is no single entity who can completely control their operation. Dapps are a relatively new concept (so a standard definitions still a bit elusive), but the most prolific set of examples are operating as Smart Contracts on the Ethereum blockchain. Dapps have become increasingly popular as new decentralized technologies such as blockchains and projects like the Interplanetary File System (IPFS) have gained more attention and momentum.
There are many good reasons why developers should start seriously looking at developing decentralized apps, including  but certainly not limited to   scalability (in general, the network of peers participates in hosting the app, limiting pressure on your own infrastructure) and trust (by definition, Dapp code is open source and often content addressed, so your code can be independently verified). And there are now plenty of examples out there, from basic voting apps to advanced p2p collaboration tools, that can help paint of picture of the power of Dapp."
With that being said, Hypnoxys offers the industry a new way to be able to use instant messaging services without central party to worry about the security of your chats in an encrypted and transparent way using blockchain technology.
Now that I have your attention, let's get right to it.
What exactly is HYPNOXYS?
As depicted above and as indicated on the official whitepaper of Hypnoxys, the Hypnoxys team is developing a multifunctional messenger; the architecture thereof is based on P2P communication, distributed data storage in IPFS and end-to-end encryption. The solution, based on a combination of these technologies, is consistent with the principles of decentralization, confidentiality, and resistance to attacks.
In addition, HYPNOXYS platform is designed in such a way that users are being rewarded for using the apps and likewise users are allowed to run a promotional ads in the apps which will serve as source of revenue to the users. This feature introduced by HYPNOXYS project will make the project to be the best of all its kind. Users of messenger apps over the time have been seen paying for running promotional ads in the apps, some even paid before using the apps to chat with their love ones.
HYPNOXYS ads features involves holding little amount of HYPX token in the app which is far lesser than the amount charged by the other platforms. The users are allowed to select if they want to be seen promotional offer on their page during registration or not. Without these approaches by HYPNOXYS to make the promotional ads optional, some member can interpret this as spamming their homepage with promotional ads. With HYPNOXYS apps, users will have full control over the app and would be able to customize their page to their tastes.
The Aim
The aim of the HYPNOXYS team is to develop a multifunctional messaging app which will be useful for peer-to-peer communication as well as end-to-end encryption. HYPNOXYS aims to introduce the latest blockchain technology to decentralize the social media channels and platforms thereby bringing in a confidential and secured social media platform.
About The Platform Features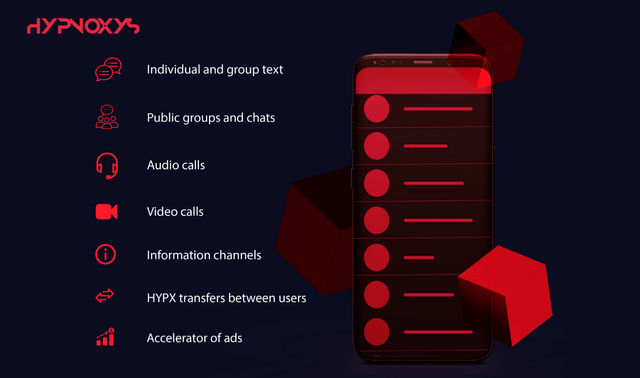 The platform features goes thus:
Individual and group text chats
Public groups and chats
Audio calls
Video calls
Public chats & groups
HYPX transfers between users
The accelerator of ads revenue
Hypnoxys features are formed around the global demand for such services. It is important for people that their lives were safe, so modern man approaches the choice of communication very carefully and with all caution. Therefore, the founding team has conducted more than one study within the framework of social needs and the search for mandatory characteristics for certain applications.
For many, a very important aspect after safety is live communication available at a distance. Also the possibility to send the different nature of audio and video files and many other things.
Hypnoxys is ready to offer a lot of additional tools that also allow you to conduct both individual and group chats, where everyone can express their personal opinion is absolutely safe.
Hypnoxys will be available for internal transfers of cryptocurrency HYPX, with which you can easily enhance their income and other promotions related to social action within the network.
The Advantages
Users can chat safely and comfortably from wherever they want. All messages will be encrypted to secure information for various parties.
For business users, Hypnoxys can also be used as a communication channel for many businesses. It will enable business users to create their business channels that contain news and company promotions, as well as conduct interactive promotions, including remuneration and getting paid using Hypnoxys advertising system.
Hypnoxys allows for channels to be created in it which are subscription based with payments in tokens. Customers are rewarded for their time in the app and this encourages the developers to add more features in the app.
All the main functions of Hypnoxys are absolutely free. A fee is charged 2% for the conversion between HYPXR to HYPX tokens. Due to our HYPXR system (Hypnoxys as a reward), the company generates money by the conversion of the tokens generated by users viewing ads.
Thanks to the optimization and code refactoring, the Hypnoxys application will not occupy much space in the device memory, and the use of hardware encryption will save battery power thus helping many people across the globe to access the app.
About The Hypnoxys Token
The Hypnoxys platform is built over Ethereum protocol and uses tokens for transactions on the platform. HYPX tokens are the primary medium used for payment in the Hypnoxys app. The tokens which are based on ethereum token standard (ERC20) are paid to users when they activate ads to use the app. The Hypnoxys tokens can be purchased against bitcoin and other cryptocurrencies. The tokens can be stored on different wallets of the user or within the Hypnoxys platform.
In total, about 75% of the total number of coins will be allocated for sales, which is more than 31 billion tokens. The developers provided the exchange rate of HYPX relative to 1 BTC and 1 ETH.
The distribution of tokens is as follows:

ROADMAP
MEET THE AMAZING TEAM
Be a part of this incredible project. Download the whitepaper for the full scoop.
Till next time…
For more information, please visit:
WEBSITE: https://www.hypnoxys.com
WHITEPAPER: https://hypnoxys.com/docs/HYPX-whitepaper-0.8.pdf
ANN THREAD: https://bitcointalk.org/index.php?topic=5112908
TELEGRAM: https://t.me/hypnoxys
TWITTER: https://twitter.com/hypnoxys
MEDIUM: https://medium.com/@hypnoxys
ANDROID APP: https://hypnoxys.com/apps/android/hypx_0.6.2.apk
GITHUB: https://github.com/hypnoxys
Author: Cryptoholical
My Bitcointalk Profile: https://bitcointalk.org/index.php?action=profile;u=2487106
Disclaimer: This article was published in terms of the bounty campaign. I am not a project team member or its representative but a supporter of this incredible project.