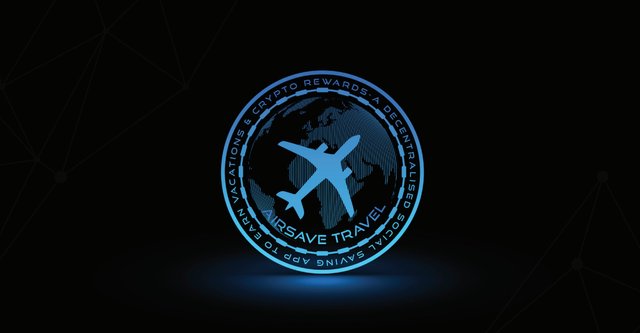 Traveling is one of the most inspiring activities that are available to us. On the surface, it is about seeing new places and and opening your horizons to experience completely different cultures, cuisines and landscapes. However, reaching remote destinations can be extremely pricey. Simply put, not everyone can afford a trip to Africa, New Zealand or Iceland.
Airsave Travel utilizes the blockchain technology to build a revolutionary platform. Airsave Travel partnered with STA Travel, a global travel company, to create an App where users will be able to collaborate to save cryptocurrency and exchange it for travel packages in the future!
Airsave Travel DApp
Airsave Travel is a decentralized application (DApp), being built in 2018. It is the one-click technology, Airsave Travel will require no sign in, login or install. It will utilize blockchain technology to seamlessly attract, authenticate and reward all users who want to save and earn money for their travels with their friends.
Currently, the process of saving up for a trip is a centralized, individual effort dependent on a single source of income and some variable factors. Airsave Travel is a game-changing part of the ongoing blockchain revolution because it takes on the process of saving money for travel and converts it from a slow, laborious, isolated and individual process, into a social process that generates steady returns and is entirely transparent. Decentralization also enables the AirsaveTravel Coin (ASTC token), to increase in value as opposed to saving and earning in fiat.
Airsave Travel is an innovative social saving DApp, which rewards users for saving for their travels – with their online friends and social contacts. Before saving a small fixed fee in ASTC or fiat, users can test the DApp first, by saving and earning in crypto-points. Here they can track their savings balance, refer their friends and withdraw their savings and earnings as STA Travel vouchers, real cash or ASTC (and other cryptocurrencies), all from their smartphone or device.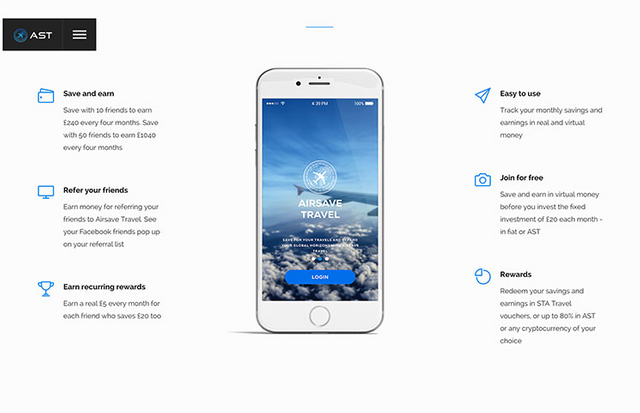 How Airsave Travel Saving Works
The platform provides savings in Airsave Travel Coins (ASTC). Savings can also be done in fiat currency. You will see how easily crypto-points can triple your real earnings while tracking both virtual and real balances in real time. Using the existing Airsave concept, along with open-sourced blockchain technology, you can use your friend network to earn money for all your travels.
When you save £20 each month with Airsave (or the equivalent in ASTC), you earn £5 every month for each friend you save with, and as you invite your friends and grow your referral list, you can watch your uncapped earnings grow. Every 4 months, you can then withdraw your savings and earnings in fiat or any cryptocurrency of your choice, with a minimum of 20% of the sum paid out as travel vouchers from their exclusive partner STA Travel.'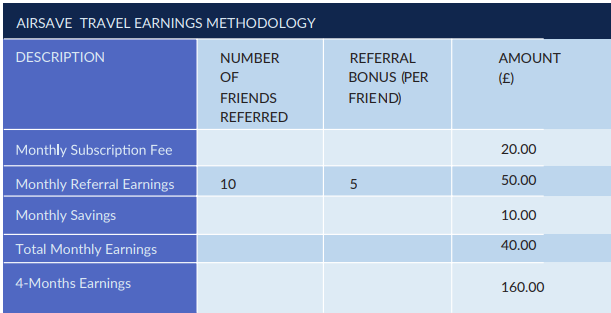 Airsave Travel already has a deployed its application on the App Store and the funding secured throughout the tokensale process will be used to create a fully-decentralized version.
ASTC, the internal token of the DApp, will serve the function of a utility token and will be used to save and earn digital currency for traveling.
The Initial Exchange Offering has been agreed to launch on the 1st of May 2019 and will run for 90 days until the 31st of July 2019. Project backers and contributors must be registered users on the ExMarkets Cryptocurrency Exchange! Go ahead and register an account in advance.
There are a total of 35M of Airsave Travel tokens in circulation, 22M of which will be available during the token sale for purchase on the ExMarkets LaunchPad. To make the deal sweeter for early investors, the first 2,000,000 of ASTC tokens will be offered at a sale price of 0.3 US$.
Airsave Travel sale stages (US$):
2,000,000 ASTC for 0.3 per token;
10,000,000 ASTC for 0.4 per token;
10,000,000 ASTC for 0.5 per token;
There will be an economic benefit to those who choose to be among the first ones getting in, so don't miss the opportunity to secure your share of ASTC tokens as soon as the sale starts. The first 2M tokens are expected to be grabbed in the first few hours of the sale.
"After launching Airsave Travel's centralized version on the App Store in 2017, I'm excited to be launching an initial exchange offering to raise funding for the business and move it into a decentralized social network. The scarcity of ASTC means that over time there is a higher chance of the token increasing in value, and both travelers and investors will have the opportunity to trade ASTC within the DAPP to other travelers. Airsave Travel will become the one shop stop for people who want to save and earn for free travel." — Sarah Dales, the founder and CEO of Airsave Travel
Jump to ExMarkets.com to open up an account right now. Once again, the IEO starts on the 1st of May 2019!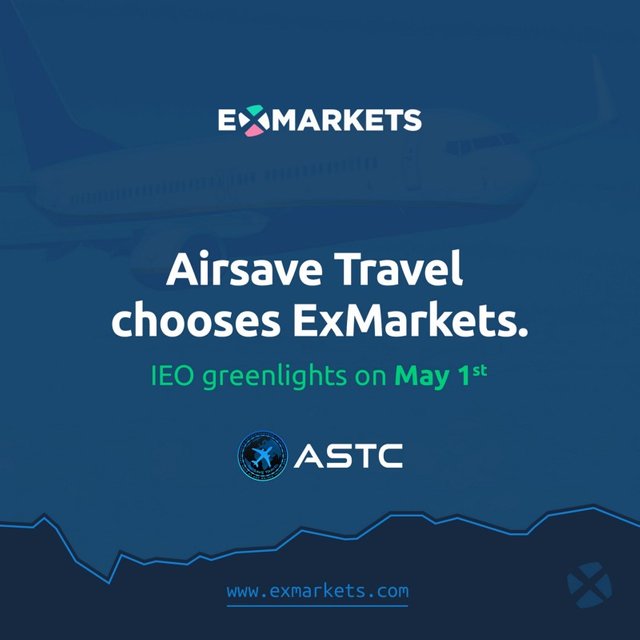 Some of the features currently available on Airsave Travel:
Save and earn : Save with 10 friends to earn an equivalent of £240 every four months. Save with 50 friends to earn £1040 every four months.
Refer your friends : money for referring your friends to Airsave Travel. See your Facebook friends pop up on your referral list.
Recurring rewards : Earn a real £5 every month for each friend who saves £20
Join for free — Save and earn virtually, before you save for real.
Conclusion
The project, which will launch ieo on exmarket recently, has already secured its success. You can reach the details of the project which has a great success in the field of tourism.

For more information :
Website: http://www.airsavetravel.com
Whitepaper: http://www.airsavetravel.com/doc/OnePager_AST.pdf
Facebook: https://www.facebook.com/AirsaveTravel
Twitter: https://twitter.com/airsave_travel
ANN: https://bitcointalk.org/index.php?topic=4949911.0
Telegram: https://t.me/joinchat/FZXBqw6RJG2DBYrs6Mq0oQ
odranoel
0xc65636A472A1777e7D7449d81b7D294E736B848c