STARTER INFORMATION
With strict capital controls in place by most countries to control the flow of money and charge high taxes, cryptocurrency gained usage in circumventing capital controls and taxes, leading to an increase in demand. Cryptocurrency has been able to present an easy to use digital alternative to fiat currencies. Offering frictionless transactions and inflation control, investors have been prudent enough to add these currencies in their diversified portfolios as an asset, as the size of the market does not represent a systemic risk. Cryptocurrency employs the use of cryptography that assures high-security processes and verifies transactions personal to each user. Hence, counterfeiting and anonymous transactions are impossible to achieve.
While this revolution is gaining wide acceptance, LOVE Air Coffee, an innovation in the coffee business that combines crypto industry and commodity business has arrived. Coffee business is one of the most leading, highly profitable areas.
"Coffee production is notoriously complex and involves countless middlemen, each taking a piece of the pie along the way. Coffee farmers and producing economies are always at the short end of the stick.
Currently, only 2% of the added value of every cup of coffee ends up in the pockets of coffee producers.
Without a doubt, blockchain has the potential to turn the coffee industry on its head and bring about a revolution in transparency that certification programmes cannot currently offer.
Blockchain can also be used to store information about the coffee supply chain. This could include where the coffee comes from, its price, who bought it, and even how long it took to get from farm to cup."
With that being said, the blockchain technology will provide LOVE Air Coffee with a mutually beneficial partnership with customers, consumers, suppliers, competitors and other representatives of this industry.
But before we go any further, please check out this video presentation to get even more acquainted
Now that I have your attention, let's get right to it.
What exactly is LOVE Air Coffee?
As depicted above and as indicated on the official website of LOVE Air Coffee, LOVE Air Coffee is an innovation in the coffee business. LOVE Air Coffee, combine crypto industry and commodity business. Coffee business is one of the most leading, highly profitable areas. The company will make this direction even more profitable and better.
The Love Air Coffee is a blockchain based platform that has brought together a new generation of coffee production network which is based on air roasting method. Air roasting method is an innovative method for roasting coffee beans which will improve to a great extent the taste and aroma of coffee.
This method also preserves the beneficial trace elements that are contained in coffee and also helps greatly in increasing profits by minimizing loss of weight in the grain during processing.
An interesting feature about the Love Air Coffee is the development of its own blockchain called BLOCKCHAIN EVOL (with the payment coin EVL) which will interact with the Erc-20 protocol and other types of protocols in the near future; However, the team had already created a LAC token which is an ERC-20 for the token sale.
Impending Challenges
Climate related problem and insufficient automation in coffee bean production areas
Low quality of coffee bean being supplied
Variations in consumer preferences
Poor infrastructure
Too many intermediaries to be paid during coffee export and
Coffee price fluctuations
The Solution Offered
The blockchain will helps to control the authenticity of the product itself and its implementation, which first of all will give the consumer confidence in the brand reliability. The blockchain to be created is called the Blockchain EVOL, this blockchain will prevent the overloading of the ethereum network.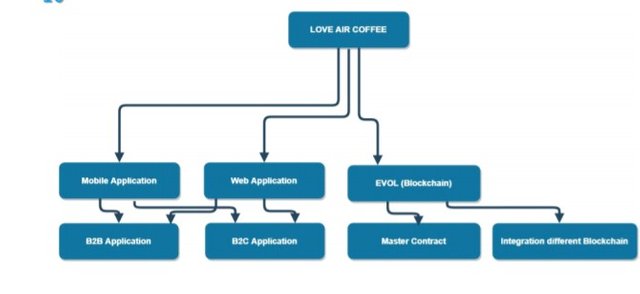 To eliminate intermediary in the coffee industry there is a need for the creation of an application on the Blockchain which through it consumer can make their order for the type of coffee they want and the degree of roasting. The LOVE application does this function, the LOVE app works on the platform of the BLOCKCHAIN EVOL using decentralized storage of data and ensuring the privacy of users. The functionality of the application is adapted to work with a PC and a smartphone. On this application the user will enter their personal account to order roasted coffee in the company Love air coffee.
Features of The Love Air Coffee
Availability of internal automated exchange on BLOCKCHAIN EVOL
Ability of creating Master contracts on the blockchain which connects clients with contractor
Availability of LOVE application which is BLOCKCHAIN EVOL based which uses decentralized data storage and ensures users privacy
The Love Air Coffee team has vast experience in the industry and as such, they plan to develop their own full-cycle production line which is being designed by Future mechanics lab) and shall have production line with multiple units such as;
Roasting unit
Green coffee distribution unit
Cooling and cleaning unit
Packaging unit
Roasted coffee distribution unit and
Shipping unit.
How the LOVE application works?
The master contract evaluates the amount of work, selects the date and time of the order and offers them to the client.
The client chooses the appropriate date and time and confirms them.
The master contract issues a receipt to the customer for payment.
The customer pays for the order in any convenient currency, automatically converting it into a LAC-token.
Payment is received to the Deposit account and is paid to the contractor after the customer confirms receipt of his order.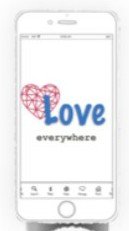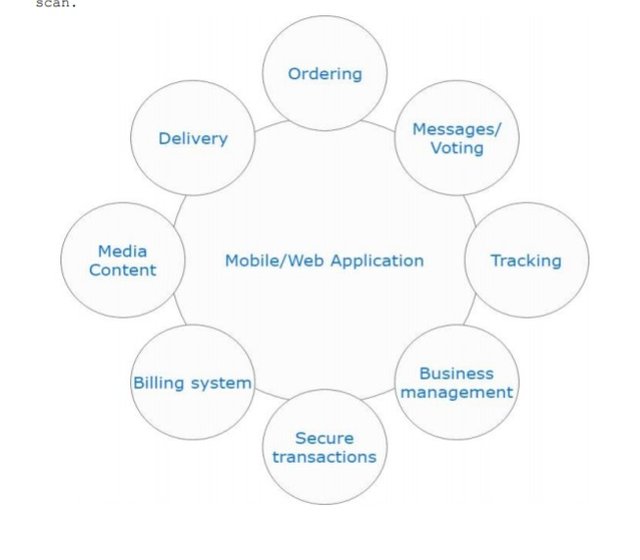 The Advantages
The founders of LOVE Air Coffee will develop their decentralized application on their EVOL blockchain.
Within the application, the user will be granted access to such functions as:
Inner wallet;
Own social page, with all the resulting stream (your chosen interests and relevant topic, news);
Personal and public chat rooms;
Access to coffee companies and other related projects in this area;
As well as a different type of search: by people, by interests, by navigation.
The application LOVE Air Coffee intends to create a new communicative structure of interaction between consumers of goods with their manufacturers. Where in real time, on a transparent blockchain, you can personally monitor the quality of the purchased product, share your impressions with your friends, and also receive internal project tokens for your active work, which later can be exchanged for a cup of coffee or withdrawn from the system through the built-in wallet system.
About The LAC Token
The initial token that will be used on the platform is of ERC-20 standard and has a ticker "LAC". There is a total supply of 1 billion tokens with 85 million put up for sale. The token sale for the platform has not commenced at the moment but the date will be communicated at a later time.
Token Details
Tokens: Created on ETH blockchain using ERC20 standard
Emission: 1,000,000,000
Abbreviation: LAC
Specification: Tokens can be purchased for ETH
The distribution of tokens is as follows:
ROADMAP
Q2 2019
Production Line – General concept
Strategic marketing – Market analysis
"Love" platform – Concept development
Production Line – Main unit design
Strategic marketing – planning
Corporate identity – logo, colors, fonts, etc.
"Love" platform - Functional block scheme
"Love Point" – creating the concept and technical tasks
Q3 2019
Systematization – Concept creation
Corporate identity – Design of consumables and goods
"Love" platform – Design development
"Love Homeland" – Concept development
"Love Point" – Project creation and approval
Production Line – Designing secondary units
Q3 2019
"Love Homeland" - Project creation and approval
Management – Strategic plan
Corporate identity – Website
Production Line – Detail refinement and testing
Systematization – Initial setup of business processes (DeloPro)
Management – Strategic tasks
Marketing – Tactical planning
Q3 2019
Production Line – Creating and testing of the first version
Systematization – Implementation of process automation systems
"Love" platform – Testing
"Love homeland" – Construction
"Love point" – Construction
Q4 2019
Management – Operational plan
Marketing – Tactics implementation
Systematization – Final testing
Testing of all processes
MEET THE AMAZING TEAM
Be a part of this incredible project. Download the whitepaper for the full scoop.
Till next time…
For more information, please visit:
WEBSITE: https://tokensale.loveaircoffee.com
WHITE PAPER: https://tokensale.loveaircoffee.com/docs/Whitepaper_en_1.0.pdf
ANN THREAD: https://bitcointalk.org/index.php?topic=5089494
TELEGRAM: https://t.me/lac_official
FACEBOOK: https://www.facebook.com/LOVEAirCoffeeOfficial
TWITTER: https://twitter.com/LOVEAirCoffee
MEDIUM: https://medium.com/@loveaircoffee
REDDIT: https://www.reddit.com/user/LAC_OFFICIAL
LINKEDIN: https://www.linkedin.com/in/loveaircoffee/
INSTAGRAM: https://www.instagram.com/loveaircoffee/
YOUTUBE: https://www.youtube.com/channel/UCBI49O3NzGYZAwL_3EbxIWg
GITHUB: https://github.com/LOVEAirCoffee
Author: Cryptoholical
My Bitcointalk Profile: https://bitcointalk.org/index.php?action=profile;u=2487106
Disclaimer: This article was published in terms of the bounty campaign. I am not a project team member or its representative but a supporter of this incredible project.