STARTER INFORMATION
With strict capital controls in place by most countries to control the flow of money and charge high taxes, cryptocurrency gained usage in circumventing capital controls and taxes, leading to an increase in demand. Cryptocurrency has been able to present an easy to use digital alternative to fiat currencies. Offering frictionless transactions and inflation control, investors have been prudent enough to add these currencies in their diversified portfolios as an asset, as the size of the market does not represent a systemic risk. Cryptocurrency employs the use of cryptography that assures high-security processes and verifies transactions personal to each user. Hence, counterfeiting and anonymous transactions are impossible to achieve.
While this revolution is gaining wide acceptance, Windhan, an ERC20 standard based Green Energy Platform which uses blockchain technology to create a more meritocratic next generation of renewable energy assets has arrived.
"Blockchain and Cryptocurrencies have paved the way for this generation's industrial revolution, and we must give it the best opportunity to survive if we're to pass on the baton to the millennial generation for it to thrive.
We have but one planet to live on. And while we absolutely should thrive and innovate, we must also take care of the environment for ourselves and future generations. Cryptocurrency, backed by the blockchain, is one of the biggest innovations in our history, and it is just getting started. The growth of digital currency has blindsided the world, and the power used in the crypto mining ecosystem is currently produced by non-renewable sources that pollute our air and water. This is a problem that is only getting worse, and it is only one example of the increasing energy demands of our population.
Creating a self-sustaining project in the crypto and blockchain space is the first step to encouraging further innovation and disruption in the renewables sector. To take it one step further, what if those projects invested a portion of their profits to research and development of green energy and renewable initiatives such as higher efficiency green energy sources, new renewable technologies and new forms of recyclables?"
With that being said, Windhan is a platform to combine energy developers, investors, and consumers through a global and decentralized network that allows the energy assets to be funded and launched.
But before we go any further, please check out this video presentation to get even more acquainted
Now that I have your attention, let's get right to it.
What exactly is WINDHAN?
As depicted above and as indicated on the official website of Windhan, Windhan is an ERC20 standard based Green Energy Platform which uses blockchain technology to create a more meritocratic next generation of renewable energy assets. It is a platform to combine energy developers, investors, and consumers through a global and decentralized network that allows the energy assets to be funded and launched.
In addition, Windhan allows viable renewable energy projects to be listed on the platform while conforming to restrictions imposed by applicable laws. The platform is equipped with all the tools to assist developers in raising money by soliciting small investments from a large number of people. It acts as a mediator through which investors, as well as customers, connect with developers. This inclusive approach will alleviate the need for large financial institutions, thereby expediting the funding process.
The Vision
Windhan is a project connecting the following areas:
Green Energy Producers, Investors, Consumers and Blockchain ecosystem; growth and development in each of these fields is essential.
By joining together in a new, disruptive model of energy financing and trading, everyone has the power to make our planet a better place to live.
Supporting Windhan means supporting sustainability because it brings together energy producers, investors, and consumers with common interests - to save money and to create a decentralized, smart and clean future.
The primary objective and long term goal is energy project financing, trading and the tokenization of future energy, the Windhan renewable energy project and platform starts to address the problem of how the energy sector and blockchain technology fit.
WINDHAN platform aims to solve the problem of intermediaries between the buyers and sellers of renewable energy through the adoption of blockchain technology which will help in neutralization of intermediaries in its platform.
WINDHAN platform will help bring together both the investors, the developers and the consumers of energy together in its open network which will help in funding and launching of green energy. WINDHAN will help in crowd funding of green energy through raising of funds for the developers of green energy and likewise link the investors, consumer and developers together.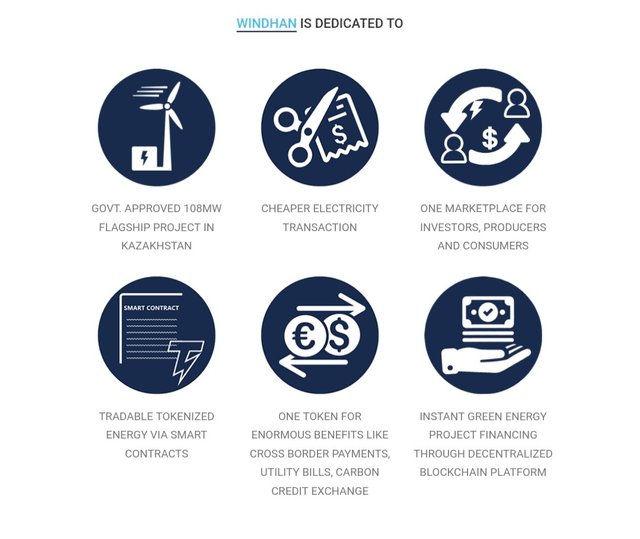 The amount required for the launching of green energy project is very huge in which this has taken the attention of investors away from the energy projects. But today through the help of WINDHAN platform which has promised to help out in sourcing for funds will help in the growth and development of green energy. It has also been noted that there are still larger part of the world which are still suffering from absence of electricity and WINDHAN has intends to make the electricity available through the launch of its green energy project.
The Problem
Strong power plants give us this electricity, which, unfortunately, does not always benefit from their actions. However, many of these power plants are very dangerous and dangerous for our health and the ecological state of our land. And of course I'm talking about the types of stations that use nuclear power, and the sources of non-renewable raw materials to produce strong electricity. Unfortunately, the consequences of such station work are very large and there is something that needs to be solved.
The Benefits of Wind Power
It is a reliable source of clean energy for the long term future. Wind turbines produce pollution-free, reliable, cost-effective energy. It's affordable, clean and sustainable. One wind turbine can be sufficient to generate energy for the household.
The knife is connected to a drive shaft that rotates an electric generator to produce electricity. Wind turbines require a constant average wind speed of around 14 miles per hour before wind turbines can produce electricity. To produce large amounts of electricity, many machines can be installed together to form wind fields.
Advantages of Wind Energy
Wind energy is the result of changes in temperature due to the heat of the sun, and the sun is an endless source of energy, wind energy is also renewable.
This is a clean, reliable and cost-effective power source.
Electricity generated from wind does not contribute to global warming and acid rain.
Compared to the energy from nuclear power plants, there is no risk of radioactive exposure to wind power.
Because wind is a non-polluting and renewable energy source, wind turbines create energy without using fossil fuels, without producing greenhouse gases or radioactive or toxic waste.
Wind turbine installations
Wind turbines can be installed on property, on boats or caravans. Whether the wind turbine is feasible or not depends entirely on the amount of wind resources available in your area. The first thing you need to do is find out the average speed in your area. Although using available data freely gives an indication, the most reliable method is the reading that is done on your site.
The average wind speed must be above 5m/s (18km per hour) to make the installation of wind turbines useful. The ideal location for wind turbines is in this country, on the farm, or on the beach: basically anywhere from the area being built. The more buildings around the wind turbine, the fewer winds there are. Setting up a wind turbine is a big job that takes time but can be a very effective way to create power as long as the average wind speed is quite high.
How It Works?
Windhan provides a solution for both problems by shifting from the current model to the Windhan. We will start by developing new services which will optimize financing and tokenized energy trading in the future.
Windhan will establish the Windhan 108 MW Flagship project in Kazakhstan.
The plan is to give the community asset-backed projects combined with a renewable energy platform on the blockchain and enable them to finance and trade tokenized energy. In order to fund and trade tokenized energy.
Token and ICO Details
The token that will be presented to the audience is called – WHN. The owners of this token will have a wide range of access and opportunities provided by Windhan. This will include VIP membership, and access to resources at any time, as well as a large number of different promotions, discounts and loyalty systems.
In total, 250 million coins will be issued for the development of the project. Of these, 190 million will be allocated for the installation of all wind turbines, the remaining part will be distributed among the founding team, and the other part will be allocated for the further development of the project. In total, 5 stages of sales will be allocated by means of which investors will be able to purchase each of the tokens at a special price. The minimum will be 0.65 EUR per 1 WHN, after which it will reach its maximum of 0.96 EUR per 1 WHN.
Token Sale
Token Distribution
Windhan Token Sale Period & Discounts
ROADMAP
2014
Windhan Incorporated
Windhan Incorporated with a vision to provide cheap and renewable energy using wind farms
2015
Land Purchase
Land Purchase in Kazakhstan for Wind Turbine Park.
2016
Approval For Wind Turbine
Approval of 108MW Wind Turbine Park from Kazakhstan Govt
2017
All Permits
All permits and licenses obtained (building, construction, road work and on-site grid approval) Due Diligence of the Project.
2017
Power Purchase Agreement
Govt. Backed Power Purchase Agreement for 15 years.
2018
Launching Crowd Funding Platform
Idea born for Launching a Crowd funding platform for Renewable energy Projects.
2018
Formation And Management
Company formation and Management team established.
2019
ICO Completion
After ICO completion we will install Wind turbines in next 18 months
2019
Green Energy Platform
During 18 months we will also develop Green Energy platform; Alpha version in 3 months.
2020
Windhan Park
Windhan Park will be operational
MEET THE AMAZING TEAM
Be a part of this incredible project. Download the whitepaper for the full scoop.
Till next time…
For more information, please visit:
Website: https://windhanenergy.io/
Whitepaper: https://windhanenergy.io/file/whitepaper-English.pdf
OnePager: https://windhanenergy.io/file/onepager.pdf
Windhan Bitcointalk Profile: https://bitcointalk.org/index.php?action=profile;u=2538625
Medium: https://medium.com/@windhanenergyofficial
Facebook: https://www.facebook.com/windhanenergy/
Twitter: https://twitter.com/@EnergyWindhan
Telegram: https://t.me/windhanenergyofficial
Author: Cryptoholical
My Bitcointalk Profile: https://bitcointalk.org/index.php?action=profile;u=2487106
Disclaimer: This article was published in terms of the bounty campaign. I am not a project team member or its representative but a supporter of this incredible project.