PREAMBLE
A storm has hit the investment market which we are not going to recover from. Crypto investment is that storm. With strict capital controls in place by most countries to control the flow of money and charge high taxes, cryptocurrency gained usage in circumventing capital controls and taxes, leading to an increase in demand. Cryptocurrency has been able to present an easy to use digital alternative to fiat currencies. Offering frictionless transactions and inflation control, investors have been prudent enough to add these currencies in their diversified portfolios as an asset, as the size of the market does not represent a systemic risk. Cryptocurrency employs the use of cryptography that assures high-security processes and verifies transactions personal to each user. Hence, counterfeiting and anonymous transactions are impossible to achieve.
While this revolution is gaining wide acceptance, TRADEMATE, a Trading platform with advanced functionality for trading on Binance, Poloniex and Bitmex has arrived.
"The number of cryptocurrencies and exchange platforms are increasing each year. Currently, there are 190 exchanges, compared to 70 exchanges three years ago, on 15 March, 2015. Demand to buy and sell is also growing as the number of cryptocurrencies and trading platforms increase.
There are currently 1,568 different cryptocurrencies available, as at 21 March, 2018. This breaks down to 654 tokens and 914 coins. It all started with bitcoin, which was first released on January 9, 2009, and various versions launched in the following years. The first experiments in altcoins started happening in 2011 with Namecoin, iXcoin, SolidCoin and others being developed and released. Litecoin followed soon after in the same year."
With that being said, The modern instrument on Trademate allows you to create take profit, and stop loss quickly and conveniently, directly on the TradingView chart. Limited deals do not freeze assets now.
But before we go any further, please check out this video presentation to get even more acquainted
Now that I have your attention, let's get right to it.
Overview of Trade-mate.io
About The Key Platform Features
Copy trade
If you do not understand what technical and fundamental analysis is, you do not want to delve into the subtleties of money management and risk management, but you want to make money on the stock exchange - just find a trader whose work you like and copy his transactions.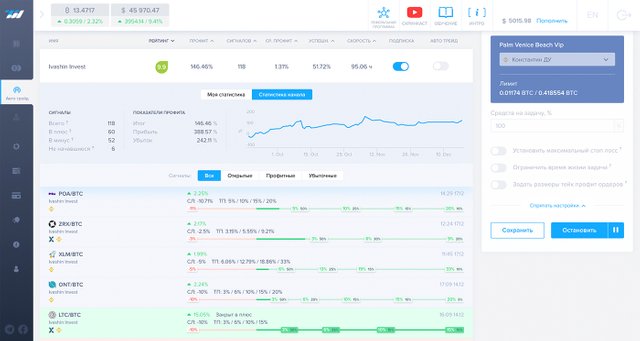 On the platform there is a convenient statistics that shows the profitability of traders' transactions, what percentage of the deposit they risk, what stop loss and take profits they use. Everything is simple and extremely clear. Chose - subscribed - began to receive income.
Smart trade
You are able to earn on the stock exchange, but cryptocurrency platforms do not allow you to reach your full potential? It is impossible to simultaneously set Stop Loss and Take Profit for one deal, and when placing a warrant do the funds freeze? Trade-mate will avoid such shortcomings in your strategy.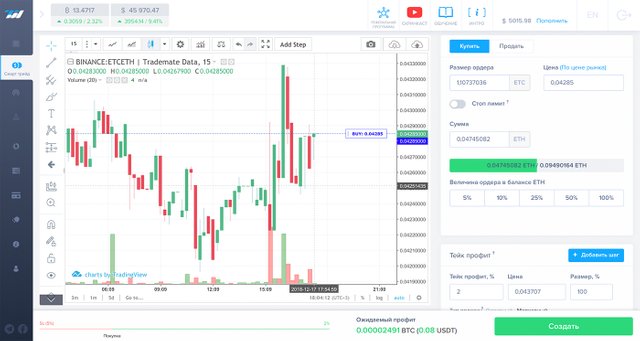 Simply connect your exchange account via API and automate your strategy through a convenient and functional interface. Move SL and TP directly on the TradingView chart. It is worth noting that Trade-mate does not have access to the funds on your account, and all data is securely protected on individual servers.
Trader's Cabinet
Are you a professional trader with a working strategy that brings stable profits? Create your channel and take in the management of investments of your subscribers! With each successful transaction you can get up to 30% of the profits in the form of commission.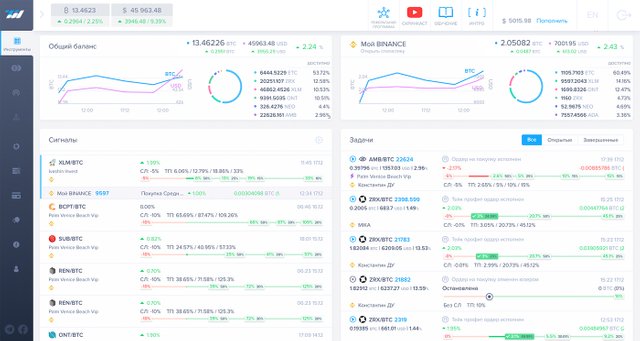 Dashboard
Dashboard shows the current state and statistics of all your actions with the service. Customize your unique dashboard and watch your trading statistics on one screen.
Statistics
View detailed reports on selected filters and stay in the know of all your trades on different exchange accounts.
Bot statistics (September 3, 2018 - December 27, 2018) (from the official channel)
Yellow signals 🔶
Total signals: 487
Target signals: 448
Unsuccessful signals: 37
Signals Pending: 2
Hit: 91.99%
Red signals 🔴
Total Signals: 1280
Target Signals: 1126
Signals not reaching the goal: 133
Signals Pending: 21
Hit: ** 87.97% **
Distinctive features
Trading View
Our service is fully integrated with the familiar TradingView charts. Right on them, you can set take profit and stop loss levels, see the average order price, as well as save your indicators, lines, and settings.
Averaging
If the market were unpredictable, you could always carry out averaging using the TradingView chart and the average order price calculated according to your orders.
Task editing
If the situation has changed, and you have already set a strategy for a certain currency pair, you can always change the active task and adjust the necessary actions to maximize the profit.
Referral Program
Visit the official website of Trade-mate to be able to participate in the referral program.
Below are the steps to follow:
Sign up at https://trade-mate.io and get your own referral link in your profile: https://trade-mate.io/w/profile

Subscribe to our channel and chat on Telegram:
MEET THE AMAZING TEAM
Be a part of this incredible project. Till next time…
For more information, please visit:
Website : https://trade-mate.io/ref/588409
Facebook : https://www.facebook.com/trademateio
Twitter : https://twitter.com/mate_trade
Instagram : https://www.instagram.com/trademateio/
VK : https://vk.com/trademateio
YouTube : https://www.youtube.com/channel/UC4wS1hliy0OF6zyj73FhcHA
Telegram Telegram channel : https://t.me/trademateio
chat: https://t.me/TradeMate_chat
Author: Cryptoholical
My Trade-mate.io Referral link: https://trade-mate.io/ref/588409
My Bitcointalk Profile: https://bitcointalk.org/index.php?action=profile;u=2487106
Disclaimer: This article was published in terms of the bounty campaign. I am not a project team member or its representative but a supporter of this incredible project.