Betbox is a decentralized, open source event betting application powered by Etherium blockchain technology. The decentralized model provides an open construction of the coefficients, rapid and fair distribution of funds without delay. Also, users in the application will have access to voting functions in the event of disputes, which directly indicates that users are of paramount importance on the platform.
The platform will deploy an EVM side chain with a consensus of POA and distributed nodes, which will provide fast network bandwidth and quick confirmation of all operations. The platform has various beneficial features like: individual rates and private peer to peer links.
Betbox platform operates on a decentralized ecosystem that utilizes blockchain innovation and as serves as an advanced betting system. The platform will run on the ethereum public chain which is one of the most advanced and trusted blockchain protocols, to follow every detail of their stakings and all procedures as all transactions would be done on the blockchain smart contract. Blockchain technology improves security and guarantees that cuatomers' funds would always be safe and can be accessed/retrieved via another blockchain route. Thus with betbox, users would be able to stake and indulge in betting games with ease of mind compared to traditoonal betting systems. This is more so given the user-friendly interfaces that would be made availabble to enable all classes of people to easily engage in the betting games.
Betboxx ecosystem functions both on and off the chain and offers various benefits to all users. For instance, users can earn incentives by their active participation on the platform such as voting in public decisions, fairplay (as in acceptance of defeat in good faith), and other actions that impact positively on the platform. Such incentives as these would be earned in betbox token (OX).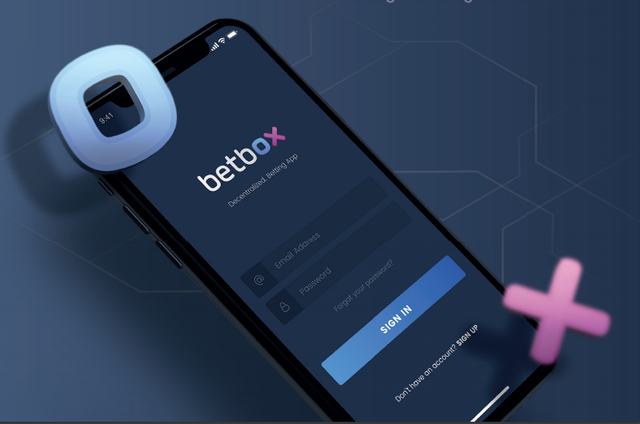 BENEFICIAL FEATURES
Individual bets: This category consists of 3 sub categories which include:
Private peer to peer: Offer the opportunity for community members bet against their friends on a peer to peer basis with individual set up of the bet and private outcome consensus.

Private group: Offer the opportunity for community members to bet against many friends at the same time with individual set up of the bet and private outcome consensus.

Public: Offer the opportunity for community members to generate universal bets with individual set up of the bet and public outcome consensus.
PROGRAMMES
Shoot out (peer to peer – 50/50 game chance)

Russian roulette (peer to peer – high stake game chance)

Addict (jackpot)

Challenge (dApp)

Crypto rally (erc-712 + interaction)

Rich me (social lottery)

Further innovative features and (dApp)
BENEFITS PROVIDED TO ALL USERS
Bets can be placed by the public or by friends
Users can set up crazy challenges and get rewarded with 10% of the jackpot as a reward

Everyone can predict if you can hold your word with a bet on you or against you

Live feed functionality make you see what is happening at any point in time

Security of user's wallet with the latest security functionality
ADVANTAGES
Transparency and Trust
Betbox is boosting trust between web based speculators by permitting a decentralized betting background that can not be controlled, and also with the utilization of savvy contracts.
Reduce Fraud
Using brilliant contracts, exchanges will be handled and recorded on conveyed records that will make clients progressively secure and limit the instances of misrepresentation by programmers. clients rewards are forms through brilliant contracts and this makes it conceivable to forms exchanges in a decentralized situation.
Paying with Cryptocurrency
Betbox clients will have the capacity to execute through digital forms of money, this will lessen installment preparing costs and empower a quick handling rate. The utilization of digital currencies on the Betbox stage will make stores and withdrawal quick and in the meantime lessen the expenses.
Reduce House Edge Costs
Through a tokenized economy, the normal level offer of Betbox deducted from exchanges is diminished since the application is decentralized and mechanized. Betbox will cut expenses related with exchanges preparing enabling its clients to expand on their benefits.
User interface.
TOKEN/ICO DETAILS
The Betbox ecosystem will introduce its own token called "OX token", which will be used as a means of payment and as a betting currency for obtaining the Proof of Authority distributed network. In order to increase the value of the token and reduce inflation, some of the tokens of users can be burned in exchange for ETH.
OX is the acronym for BETBOX token, this native cryptocurrency created by the BETBOX ecosystem will fuel the network. It will be used as standard mode of payment when placing bets, staking, voting and for other payments on the ecosystem. OX is an erc-20 compatible token created on the Ethereum smart contract because of its reliability, availability, transparency, and security. To ensure the preservation of OX tokens BETBOX network may burn OX and reward holders with Ethereum in the buyback and burn phase each quarter of the year.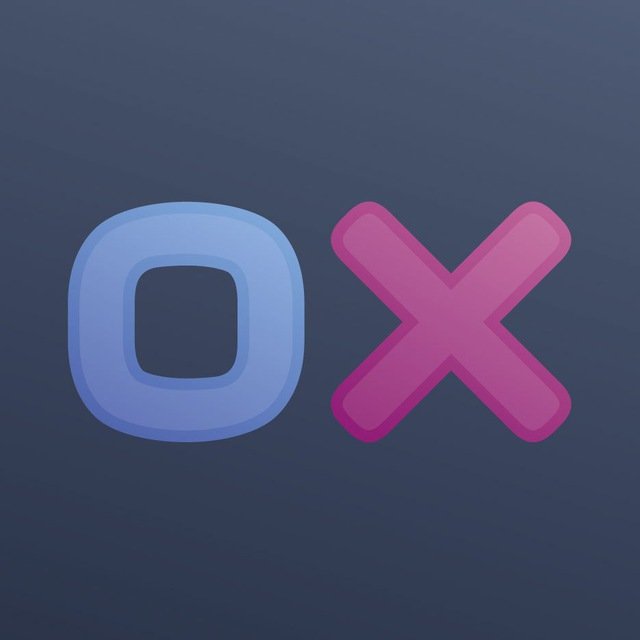 ICO SPECIFICATION
Token symbol: OX
Marker Standard: ERC-20
1 OX = 0.0004 ETH (discounts are available on purchase)
Soft Cap = 4,000 ETH
Hard Cap = 32,000 ETH
Accepted Payments - ETH
TOKEN ALLOCATION
TOTAL TOKEN MINTED: 100 MILLION OX
PUBLIC SALE: 80 MILLION OX
BOUNTY: 8 MILLION OX
RESERVE: 12 MILLION 0X
FUNDS ALLOCATION
BRANDING& MARKETING: 50%
ECOSYSTEM: 35%
RESERVE: 15%
MEET THE BRILLIANT TEAM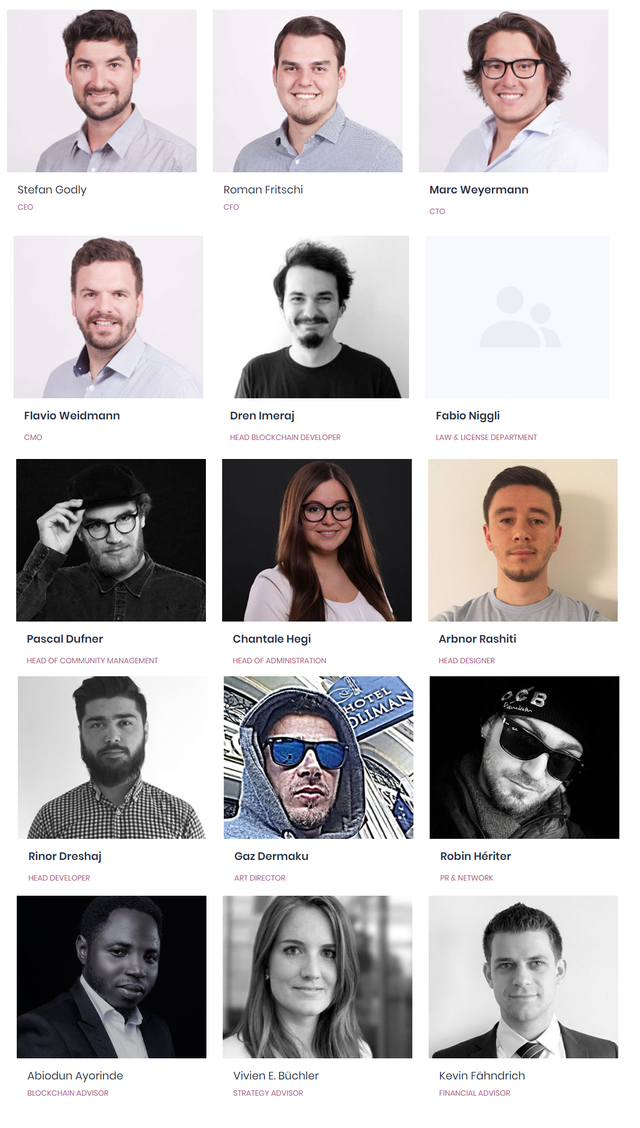 ROADMAP TO SUCCESS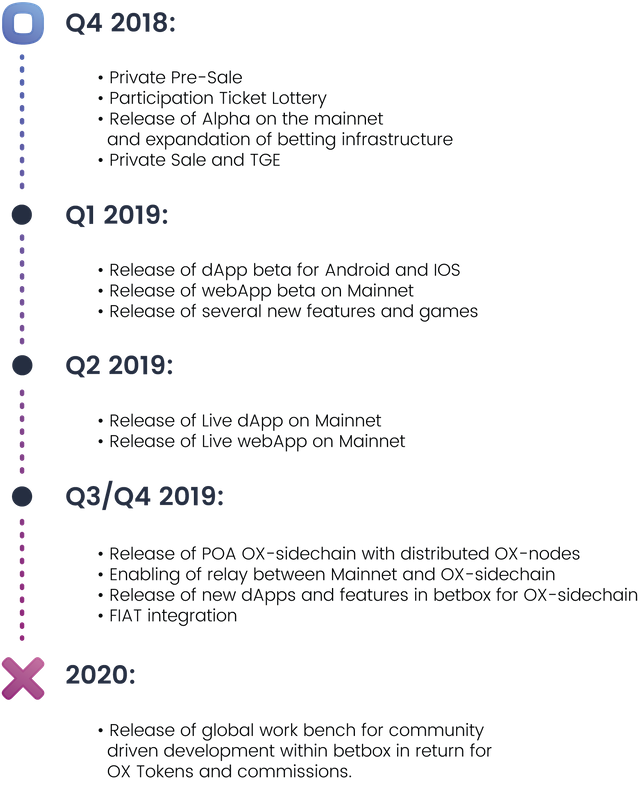 CONCLUSION
Betbox platform is a decentralized system that utilizes blockchain technology and smart contracts to ensure fairness in all dealings, resulting to customer satisfaction and increased trust on the platform
Kind Regards, ensure to join this incredible project.
FOR MORE DETAILS, CLICK/FOLLOW THE LINKS BELOW:
Website: https://betbox.app/
Whitepaper: https://betbox.app/required/whitepaper_betbox_v1.pdf
Twitter: https://twitter.com/@betbox_OX
Telegram: https://t.me/betboxGlobal
Github: https://github.com/betbox
Bitcointalk: https://bitcointalk.org/index.php?topic=5026661.0
<<<<<<<<<<<<<<<<<<<<<<<>>>>>>>>>>>>>>>>>>>>>>>>>>>
Author: Martilda
Profile link: https://bitcointalk.org/index.php?action=profile;u=1887582
Eth address: 0xd0D5d98857192B3931c831b7B809D47CD830da32