The Esports Ecosystem Platform will help increase all payments by providing a mobile application with an ESE wallet that will contain ESE tokens. This is to improve the entire payment system for organizers, which will help bring more prizes to gamers, as well as organizers.The platform ensures that players will win the best prize and keep the tokens from Esports Ecosystem - the ESE platform in your wallet. With ESE you will receive additional tokens, which can be a good passive source of income. The eSports ecosystem helps organize events by giving them ESE tokens from the community wallet.
eSports is a large gaming and e-sports portal based on blockchain technology. The project will include: streaming service, ladder table, a system for organizing both online and LAN tournaments in leading cyber disciplines and much more. Advertising revenues, donates to streamers, coaches and bloggers, selling merchandise, bets, organizing various kinds of small online caps are all a huge industry in which big money rotates.
MISSION
ESports platform aim to create a standard cryptographic money for all of the eSports. The platform introduced money prize pools called ESE tokens for the benefits of gamers and support players, groups, and competitions.
FEATURES
ESports platform features the following cyber sporting disciplines:
League of Legend,

Counter Strike: Global Offensive,

PUBG,

Fortnite,
-StarCraft 2,
-Heroes of The Storm,
DotA 2,

Hearthstone,

Overwath

FIFA.
SERVICES OFFERED
Provide a medium to watch major tournaments live and not only

Opportunity to organize your amateur online caps with prizes and judges

Ability to track your favorite teams in numerous interviews and statistics in ladder, which will be presented directly on the site

Make bets on pro gamers and teams that you consider the most promising

Learn the game through numerous video lessons and guides

Provides medium to watch your favorite streamers and support them financially.

Buy and sell merch with logos and symbols of your favorite teams and disciplines in the marketplace

Availability of everything useful for games and sports will also be sold computer hardware, peripherals, streaming equipment and much more.

Ability to create content either through articles, shoot videos, make guides, stream, record podcasts, and more. All this will be rewarded with an ERT token.

Ability to earn profitable income. If you play games well, and everyone around you is told that nothing will come of you and "get busy with normal work", then you can forget about it and start monetizing your knowledge and abilities on the eSports platform.

All revenues of the platform from advertising, tuition and sales of merchandise will be distributed among all participants of the platform, and a few percent of it will go to sanctify and popularize cyber sports among those who still do not know about it, in order to achieve recognition of this sporting discipline.
PROCEDURES INVOLVED
To build the extent of the whole value gathering, utilize the ESE card in the arrangement of the extra network. The center group guarantees that the opposition facilitator can manufacture greater installment structures to pull in more players. To give extra money related help to players and gaming systems, ESE cardholders offer two reward programs: prizes and unwavering focus.

ADVANTAGES OF ESPORTS.COM PLATFORM
COMPETENT TEAM AND PARTNERSHIP: Esports.com project has recently entered into partnership with some leading Gaming and esports firms, also the team behind the project has good record of experience in the industry This is an edge over other competitors in the crypto space.
INNOVATION: The platform has an all-in-one solution that covers every possible subsystem needed on the board. In fact, other esports providers will become Esports customers.
USER FRIENDLY: Unlike other Gaming platform where investors are faced with challenges of technical know-how, eSports.co has easy features that anyone can easily use or operate.
COMMUNITY SUPPORT: The eSports project has a huge support, you can check out the telegram group with over 11k members, Twitter and Facebook also has a huge followers.
MARKET AVAILABILITY: Unlike other project that struggles to survive after crowdfunding, the eSports project has an already available market waiting for it launch. It will interest you to know that the project has sponsored some players.
TOKEN DETAILS
eSports Ecosystem (ESE) is an ERC20 token that is designed for the gaming industry. The token will be used for various purposes, e.g. payouts, tournament entry fees, etc.
Pre-Sale: September 15th, 2018 – September 30th 2018
Presale Hard Cap: 1,270,000,000 ESE
Price per token: $0.0019 USD
Public Sale: October 10th, 2018 - March, 2019
Price per token: $0.0039 USD
Public Sale Hard Cap: 5,060,000,000 ESE
Token ticker: ESE
Total time supply: 10,000,000,000
Maximum token supply: 30,000,000,000
Pre sale dates: 15th to 30th September 2018
Pre sale price: $0.0019
Public sale dates: 10th to 31st October 2018
Public sale price: $0.0039
Total Hardcap: $22,147,000 USD
TOKEN DISTRIBUTION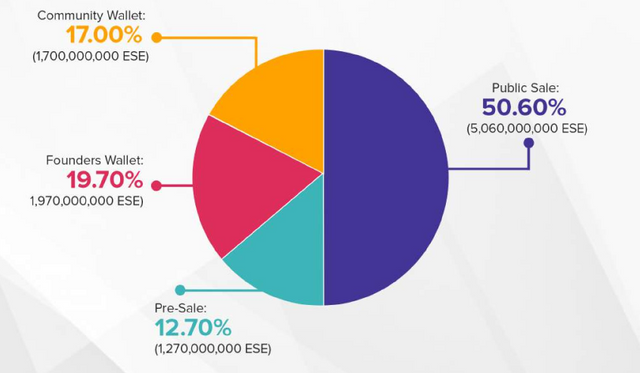 ROAD MAP TO SUCCESS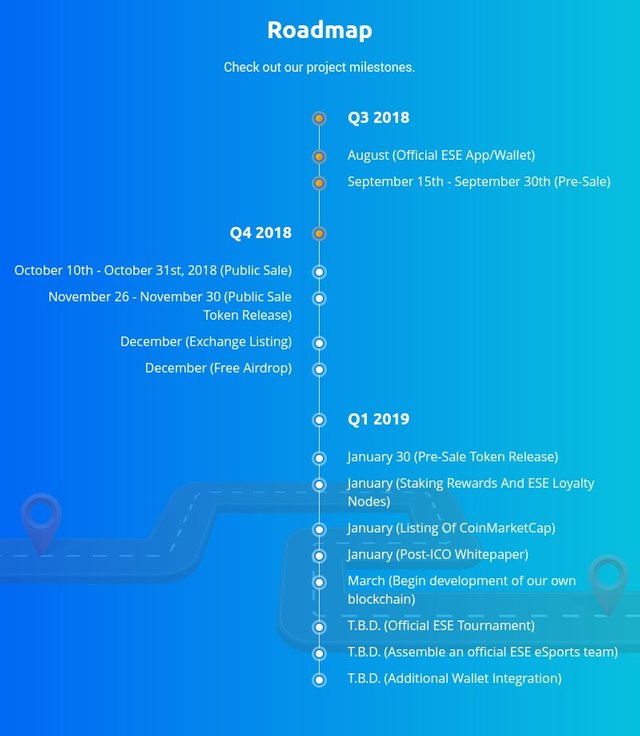 Q3 2018
August (Official ESE App/Wallet)
September 15th - September 30th (Pre-Sale)
Q4 2018
October 10th - October 31st, 2018 (Public Sale)
November 26 - November 30 (Public Sale Token Release)
December (Exchange Listing)
December (Free Airdrop)
Q1 2019
January 30 (Pre-Sale Token Release)
January (Staking Rewards And ESE Loyalty Nodes)
January (Listing Of CoinMarketCap)
January (Post-ICO Whitepaper)
March (Begin development of our own blockchain)
T.B.D. (Official ESE Tournament)
T.B.D. (Assemble an official ESE eSports team)
T.B.D. (Additional Wallet Integration)
MEET THE BRILLIANT TEAM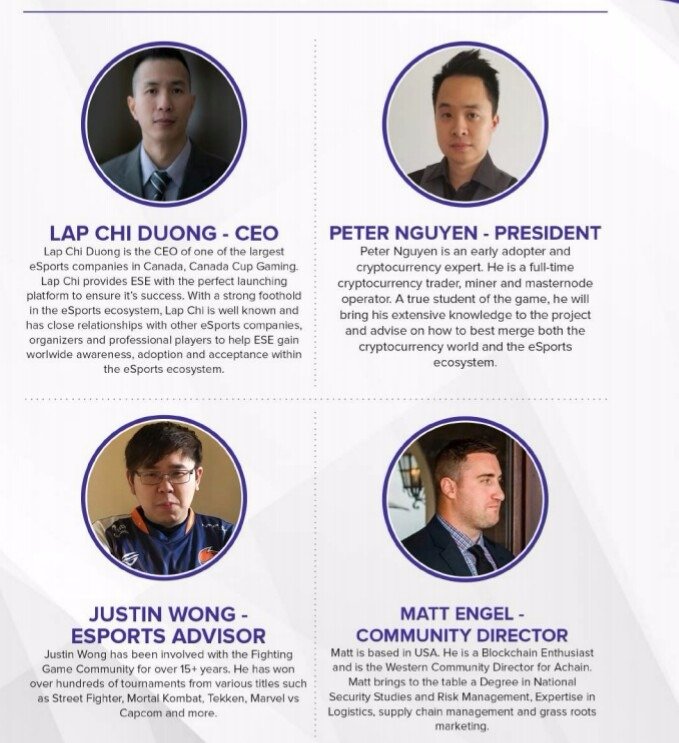 Kind Regards, ensure to join this incredible project.
FOR MORE DETAILS, CLICK/FOLLOW THE LINKS BELOW:
Website :http://www.esportsecosystem.com/
Whitepaper: https://www.esportsecosystem.com/documents/ESE_Whitepaper_V4.pdf
ANN Thread: https://bitcointalk.org/index.php?topic=4974527.0
Twitter: http://twitter.com/esportseco
Telegram: http://www.t.me/esportsecosystem
YouTube: http://www.youtube.com/channel/UC5qhLkmSzTbg1JbZWPdSFsg
<<<<<<<<<<<<<<<<<<<<<<<>>>>>>>>>>>>>>>>>>>>>>>>>>>
Author: Martilda
Profile link: https://bitcointalk.org/index.php?action=profile;u=1887582
Eth address: 0xd0D5d98857192B3931c831b7B809D47CD830da32