PREAMBLE
A storm has hit the investment market which we are not going to recover from. Crypto investment is that storm. With strict capital controls in place by most countries to control the flow of money and charge high taxes, cryptocurrency gained usage in circumventing capital controls and taxes, leading to an increase in demand. Cryptocurrency has been able to present an easy to use digital alternative to fiat currencies. Offering frictionless transactions and inflation control, investors have been prudent enough to add these currencies in their diversified portfolios as an asset, as the size of the market does not represent a systemic risk. Cryptocurrency employs the use of cryptography that assures high-security processes and verifies transactions personal to each user. Hence, counterfeiting and anonymous transactions are impossible to achieve.
While this revolution is gaining wide acceptance, Mindsync, a decentralized AI-based platform where people can be used in developing customers as experts, developers or services to create or share AI services as value has arrived.
"The research on improving artificial intelligence(AI) has been going on for more than a decade. However, it was not until last few years before developers were able to create smart systems which showed the true potential of artificial intelligence(AI) that closely resembled capabilities of humans.
The biggest reason for the revolution in AI is the advancements in big data. With the recent developments in big data have allowed businesses to organize a large amount of data into structured components which can be processed by the computers very quickly.
Another technology which has the potential for revolutionizing and transforming artificial intelligence is blockchain. The impact of blockchain is already experienced by many financial sectors through the use of cryptocurrencies like Bitcoin and Litecoins and you can see them in the headlines."
With that being said, Mindsync is a platform to help solve customers' tasks through AI/ML/DS competitions as well as a marketplace for these solutions and training datasets.
Now that I have your attention, let's get right to it.
What exactly is MINDSYNC?
Mindsync is A new platform in the access of data and speed up to created a solution in the global market. This platform that aims to solve the problem of customers in a set of data.
Mindsync project aims to provide the best solution and easily accessed, cheaper and more easily in access so it can be speed up and created a solution in the market global. Mindsync is a new project in the cryptocurrency world that has the mission is to unite the experts and hackers artificial intelligence, scientists data, the developer learning machine, the data and suppliers of the computing, investors, volunteer in one place who intend to solve the problem in the field of marketing. Experts here is necessary because it can help the customers in give a solution to what they do for getting the task of given by this project that will get in repayment return. In repayment will be accepted by customers in accordance with the rules that there will be accepted and automatic by customers.
The Customers in Mindsync project can make the competition or a challenge where the developer in the community will participate. The developer to create a solution got in repaynent and customers could use a solution.
Token Mindsync is token utility ERC-20. The number of token limited. Token Mindsync set to walk on the technology blockchain that decentralization, make sure transparency and security all the financial transactions. Mindsync is a platform single offer handling the real world applied, repay or for free. Mindsync provide solutions that contains the technology AI. and develop with a complete tested and launched on the platform. As well as on business integrated and customers successful will get Token MindSync that can be used to all the operation payment in between the platform.
The Mission
Mindsync is a platform for completing customer tasks with AI technology competition and markets for solutions and training data sets. Our mission is to bring together the best artificial intelligence and hacking experts, data scientists, machine learning developers, big data, and computing power suppliers, investors, volunteers in one place to make AI solutions better available, cheaper, simpler for various customers , accelerating its development and creating a world market for AI solutions.
The Platform
Customers post orders or assignments in the form of challenges on the https://mindsync.ai platform, with detailed requirements, data sets, deadlines. Prizes will be shared among several platform participants.
Experts help customers prepare tasks, competition rules, examine solutions for tasks and get rewarded for such work.
DS / ML developers work on shared or group assignments. The competitive nature of their work maximizes the speed of development, quality and significantly reduces the cost of solutions for customers. The accepted solution developer automatically receives the award in accordance with the rules.
All datasets and kernels (task solutions) are hashed. Hash is stored on the blockchain to check integrity and protect against changes. Solution expert reviews, developer rankings and teams are written and stored on the blockchain (for additional security from ranking forgery).
Customers get the best solution for their tasks – algorithms, and data along with expert reviews. Customers can postpaid solutions on our platform to receive additional revenue from sales.
To find a solution, developers use the miner's computing power, fog supercomputer projects, cloud providers or exchange resources. This process, provided by the mindync.ai platform, is transparent to developers and they can focus solely on the task. Computing power suppliers receive payments immediately after the use of their resources.
Communities can also post their own algorithms and data for free or for sale at https://mindsync.ai/ Investors can become sponsors of challenges and teams, pay prize funds and earn income from selling solutions. Investors can also receive part of the prize fund if they function as sponsors for teams that take part in the challenge.
MindSync tokens can be used for all payment operations among platform participants
The Features
Platformsync
Offering a single platform handling real-world problems, paid or free. The solution is made by the AI, DS, ML community: You place orders for solutions that contain AI technology; developed by members of our community, a complete test and launch on our platform. It is also possible to integrate it into an existing business or other areas.
The Use
Customers can order a completely new AI solution or use one of the ready-enterprise solutions from our repository which is ranked by Mindsync community experts who save a lot of time and also apply it to other more complicated challenges on the platform.
AIaaS APIMindsync Platform
It is possible to run a production-ready solution internally and make a request for it to use the API without applying it on an external server, that is on your side. This makes it possible to create scalable applications using AI with unlimited theoretical computing power for any device.
Token Details
Name: Mindsync Coin
Price: $0.14
Blockchain: Ethereum
Total possible tokens: 1,000,000,000
Symbol: MAI
Total tokens distributed to public: 500,000,000
Type: ERC20
Purchase methods: ETH, BTC, LTC
Token Distribution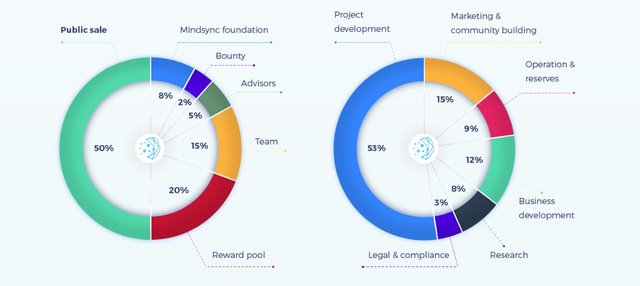 ROADMAP
MEET THE AMAZING TEAM
ADVISORS
Be a part of this incredible project. Download the whitepaper for the full scoop.
Till next time…
For more information, please visit:
Website: https://mindsync.ai/
Technical Review: https://mindsync.ai/docs/whitepaper.pdf
OnePager: https://mindsync.ai/docs/onepager.pdf
Telegram: http://t.me / mindsync_ai
Facebook: https://fb.me/mindsync.ai.official
Twitter: https://twitter.com/mind_sync
Author: Cryptoholical
My Bitcointalk Profile: https://bitcointalk.org/index.php?action=profile;u=2487106
Disclaimer: This article was published in terms of the bounty campaign. I am not a project team member or its representative but a supporter of this incredible project.