PREAMBLE
A storm has hit the investment market which we are not going to recover from. Crypto investment is that storm. With strict capital controls in place by most countries to control the flow of money and charge high taxes, cryptocurrency gained usage in circumventing capital controls and taxes, leading to an increase in demand. Cryptocurrency has been able to present an easy to use digital alternative to fiat currencies. Offering frictionless transactions and inflation control, investors have been prudent enough to add these currencies in their diversified portfolios as an asset, as the size of the market does not represent a systemic risk. Cryptocurrency employs the use of cryptography that assures high-security processes and verifies transactions personal to each user. Hence, counterfeiting and anonymous transactions are impossible to achieve.
While this revolution is gaining wide acceptance, Clarity, a single platform where small business owners can securely store all their financial and business data, such as staff contracts, bank loan agreements, insurance details, health and safety reports and so on has arrived.
"Cryptocurrencies are an enduring part of the financial landscape; they are not going anywhere. Businesses, especially small businesses, who embrace these new financial instruments, therefore, stand to possess a competitive advantage over their rivals.
There are few things for your small business to think about as the financial transactions are increasingly paperless, and we rely on a wider variety of financial instruments to enable purchases, sales, and contracts for real property.
Cryptocurrencies are essentially a peer-to-peer transaction system – they do not rely on a central bank or exchange; therefore, businesses that accept cryptocurrencies can do so without the hassle and costs of currency exchanges that businesses relying on traditional currencies must shoulder. Paperless currency is increasingly a borderless currency.
As cryptocurrencies become increasingly mainstream and universally adopted around the world, their value in enabling global business will only increase. Beyond maneuvering past exchange rate costs and risks, this technology will enable increasingly rapid, secure transactions."
With that being said, The Clarity project will help small businesses process raw data improving their decision-making strategies and improving their businesses productivity, processes and management. Processing data through traditional methods for small business is likely to contain errors due to inefficient management tools and analytical capabilities that can hinder small businesses process data effectively.
But before we go any further, please check out this video presentation to get even more acquainted
Now that I have your attention, let's get right to it.
What exactly is CLARITY?
Clarity is a single platform where small business owners can securely store all their financial and business data, such as staff contracts, bank loan agreements, insurance details, health and safety reports and so on. In fact any business document can be stored in a logical wallet system. When a user uploads their documentation or data we will be harnessing the power of blockchain to verify all of the data. Key ratios can then be mapped and charted, giving the business owner valuable insights into their business.
They are building a revolutionary platform for all small businesses that will combine the power of technology and the right advisors to make our vision a reality. One where every business owner has all their data in one place and the control over who has access to it and when. They also want to reward those who choose to share elements of their data. It's not just about control and storage, it's also about getting valuable insights into their performance and growth potential, a roadmap to design a growing, sustainable business and access to finance and previously unavailable early-stage investment to help them thrive. Giving businesses control:
Control over their data, Control over their finances; and Control over their future.
The Vision
The vision is a future where the Clarity platform is on every business owner's device. They believe Clarity will make a difference for small business owners and change the lives of those less fortunate for the better, every time the platform is used.
About The Clarity Token
The Clarity token will be a native utility token used as a vital part of the Clarity Project. The token will be necessary for the system to function and it will be independent of any other Cryptocurrencies. The Clarity token will be an ERC20 token built on the Ethereum Blockchain. This token will be used as a means of exchange to access our systems. ethereum network. Ethereum based tokens rely on the current Ethereum infrastructure where they can benefit from the following advantages and more:
Ease of listing on exchanges — The Clarity token will be easily interchangeable with other Ether based tokens as well as Ether itself. This means it will easily be able to slot in with the current exchange infrastructure. Each new listing of a token will then create liquidity within the token;
Security and predictability of the current Ethereum network;
Full use of current Ethereum clients as all ERC20 tokens are built with the same structure enabling them to utilise the same robust and well supported clients that Ether currently uses. The Ethereum based smart contract complies with the ERC20 standard.
The Features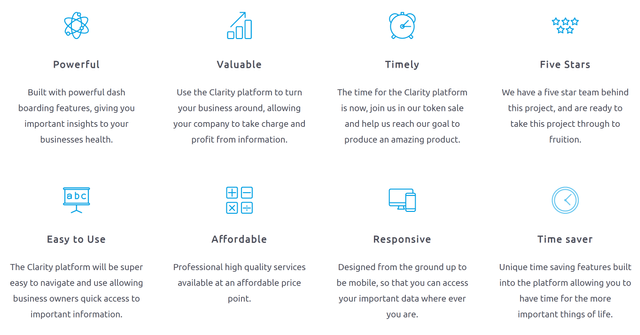 How It Will Work?
For small business
The team wants Clarity to be the one-stop shop for business owners worldwide, putting them in control of their data. An all-encompassing platform that helps them understand their numbers, how to do better and where they rank with their competitors. Core features also include file sharing, easy access to funding and third party verification using the blockchain. It will also contain details on insurance, finance, human resources and standard operating procedures. To achieve this goal, Clarity has decided to partner with industry leading companies.
For accountants and advisors
As compliance becomes commoditised, it's advise or die for accounting firms! Accountants are suffering many of the same problems as small business owners; competition, downward pressure on pricing, staffing and technological and regulatory updates. Making added value and proactivity a reality, our platform will act as an aggregator combining many existing apps in one place with blockchain being the differentiator. Clarity will provide accountants with a scalable business advisory solution that enables many of their team to deliver outstanding service, replace lost compliance revenue and the opportunity to become a true trusted advisor or the firm of the future.
For institutional investors
Institutional investors who would normally shy away from small cap investments, will have access to early stage businesses. Thanks to our platform they will be able to see a fully populated data room, all powered by blockchain. This will lead to incredibly low due diligence fees when investing in our platform's top performers. So all in all, investors will benefit from more accurate, up-to-date and reliable data, resulting in less risky and more profitable investment decisions.
The Benefits
With the data management platform initiated by Clarity, businesses will be able to minimize their costs, as the platform will help them to manage their data without setting their own platform which is costly.
Small businesses will be able to process their data in time, make decision, and ensure proper and enhanced productivity.
Errors will be minimized as the platform is well developed and tested.
Small businesses will be able to check their progress in time, and this will help them to rectify the areas that might be bringing down their productivity, if there is any.
Clarity project will help the businesses to exchange information with one another in real time without taking much time, as it was in the traditional methods.
The firms will be able to enhance their data profiling. Clarity will help the firms with large volume of data will to handle it in one platform that is easy to use.
About Token Sale
As a part of the Clarity journey Clarity will be holding a Token Sale, creating 240 million Clarity tokens and selling 220 Million tokens to the public that can be used to purchase services from the Clarity platform. The Token Sale is expected to start . This Token Sale will have a tiered pricing structure, allowing us to reward those who purchase early into the project. This way it allows for a fair and honest sale. The price structure for the Token Sale will work on the number of tokens sold. You can see how this will work below:

The Token Sale will end on 25 November 2018.
At Round 5 the price of a Clarity token is 0.00142857 ETH, at the current rate. Throughout the token sale you will also be able to purchase with both Bitcoin and Ether. Once the Token Sale is complete Clarity then burns any extra tokens that aren't sold over and above the 9% being held back for Board & Advisors, Advisors, Founders, Prizes & Bonuses,
Team Incentives as well as Liquidity.
Once the Token Sale is complete no further Clarity tokens will be created, ensuring there is only a finite number of tokens in circulation.
Prior to the Token Sale Clarity has held a private sale selling 30 million CLRTY tokens. This private sale was sold as a non-refundable sale.
Token Details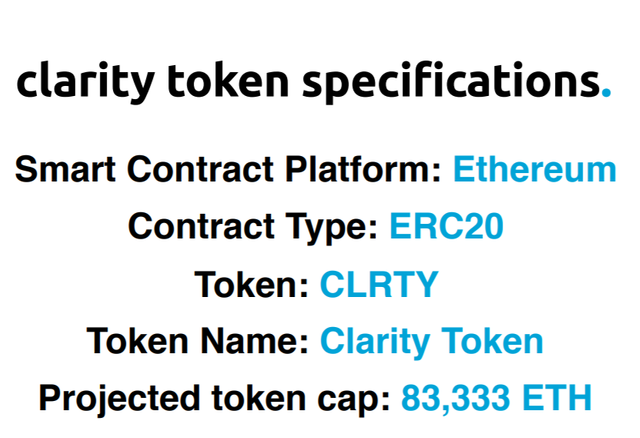 Name:
CLRTY – ERC20 Token
2 Stage Pre-Sale Rate:
1: 2500 CLRTY / 1 ETH
2: 1500 CLRTY / 1 ETH
Main-Sale Rate:
1: 1000 CLTRY / 1 ETH
Pre-Sale Start Date:
November 3rd (12:00 UTC)
CLRTY Tokens Available:
Pre-Sale: 40,000,000
Main Sale: 80,000,000
Currencies Accepted:
ETH, BTC, LTC, BCH
Token Distribution
Why You Should Be a Part of The Clarity Project?
Big Bonuses
The clarity designed the Token Sale to give early buyers the very best bonuses (up to 150%). The earlier you buy, the more CLRTY tokens you will receive. The starting price is just $0.08.
Referral Rewards
All token holders will receive a unique referral code. By sharing with your friends and community you will receive an additional 15% bonus for every purchase they make using your code.
Colossal Market
163 million small businesses across the world, with needs that haven't been met. The unique customer acquisition strategy will ensure a demand for CLRTY tokens once the platform is live.
$2 Minimum Price
Because of the demand, when phase 1 of the platform goes live in Autumn of 2019, the team can ensure that each CLRTY token used on the platform will have a minimum value of $2 USD.
Roadmap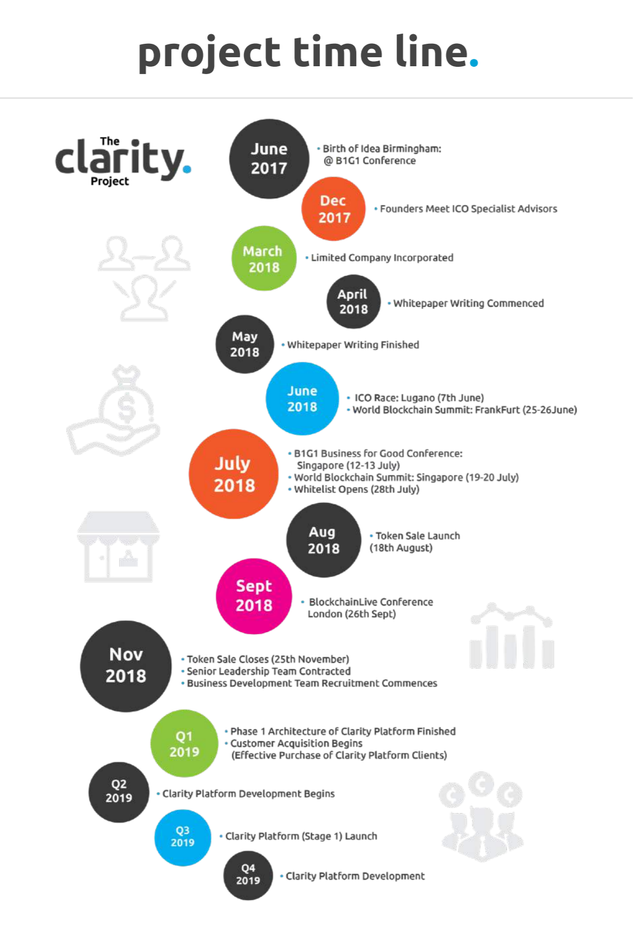 Meet The Amazing Team

Be a part of this incredible project. Download the whitepaper for the full scoop.
Till next time…
For more information, please visit:
Website :https://clarityproject.io/
Whitepaper: http://clarityproject.io/whitepaper.pdf
ANN thread - https://bitcointalk.org/index.php?topic=4479431
Facebook: https://www.facebook.com/theCLRTYproject/
Twitter: https://twitter.com/theCLRTYproject
Telegram: https://t.me/theCLRTYproject
Author: TheMichaelMatch
My BitcoinTalk Profile: https://bitcointalk.org/index.php?action=profile;u=1326035
Disclaimer: This article was published in terms of the bounty campaign. I am not a project team member or its representative but a supporter of this incredible project.