PREAMBLE
A storm has hit the investment market which we are not going to recover from. Crypto investment is that storm. With strict capital controls in place by most countries to control the flow of money and charge high taxes, cryptocurrency gained usage in circumventing capital controls and taxes, leading to an increase in demand. Cryptocurrency has been able to present an easy to use digital alternative to fiat currencies. Offering frictionless transactions and inflation control, investors have been prudent enough to add these currencies in their diversified portfolios as an asset, as the size of the market does not represent a systemic risk. Cryptocurrency employs the use of cryptography that assures high-security processes and verifies transactions personal to each user. Hence, counterfeiting and anonymous transactions are impossible to achieve.
While this revolution is gaining wide acceptance, Rally, a blockchain based marketplace where users are rewarded by advertisers to share content and join communities has arrived.
"The people who create content, video artists, writers, graphic designers and so on are responsible for the main reason many of us visit the internet at all. They're a crucial part of the web, but they aren't rewarded nearly well enough for their efforts.
That's an issue for all sorts of reasons, and it's frustrating for the people, who see a real market for their content but struggle to make a living from it. For example, people watch a billion hours of YouTube every day and yet most YouTubers don't make good money from their videos.
The good news is that could be about to change, with the help of budding technologies like blockchain. Before we get into that, it's important to take a look at exactly why the content creators and educators of the web are so underpaid.
Blockchain is a great solution to the problems of centralization, as in most cases it is used to build networks that are decentralized, with no third party in control. This idea forms the basis of many companies, like Rally."
With that being said, Rally is dedicated to attributing fair value to content sharing, putting power back in the individuals hands and rewarding them.
But before we go any further, please check out this video presentation to get even more acquainted
Now that I have your attention, let's get right to it.
What exactly is RALLY?
Rally is a platform that builds communities around a business or message using content sharing with crypto token rewards. Rally combines concepts from traditional word-of-mouth and influencer marketing with gamification and tactics that have built cryptocurrencies and their communities.
The organization as of now has a social platform that is accessible for the clients to download on App Store and Google Play. Due to the reason that this project isn't saling its tokens rather taking the course of airdrop to disseminate the tokens, there is no need for crowdsale fund.
The Rally Solution
The Rally platform rewards users to distribute an advertiser's content to their individual social network. This allows the advertiser to shift their ad budget to the user who, by sharing the content, gives it their recommendation and increases its effectiveness.
Why Rally Chose Blockchain?
Utilizing blockchain will allow Rally to record user contributions to the platform and reward them for actions that drive platform value. To realize the full potential of the content sharing economy, and the requirements of transparency, security, incentives and attribution, the Rally platform is built on top of the Ethereum blockchain.
Rally has developed an attribution model called SmartLinks, they are immutably tied to smart contracts. SmartLinks establish a smart contract directly between advertisers and users to create a decentralized, secure and transparent marketplace with a record of engagements and incentives written into the blockchain. Rally anticipates upgrading to exist on its own blockchain mainnet, becoming a native coin
To download RALLY app please click on the links below:
App Store (iOS): https://itunes.apple.com/us/app/rallyapp-by-rally/id1050316357?mt=8
Google Play (Android): https://play.google.com/store/apps/details?id=com.rallyapp.rally
SEE THE RALLY APP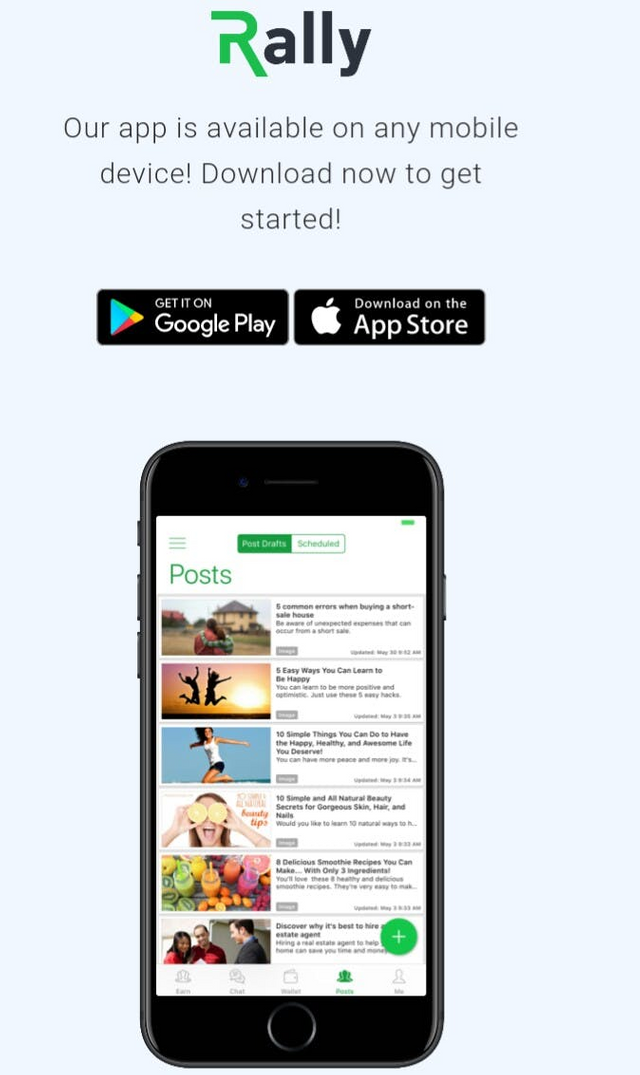 WHY YOU SHOULD CHOOSE RALLY?
You may be aware that their exist some content sharing platforms, as such you may be tempted to compare such platforms with RALLY platform on the bases that they all have a reward for content sharing.
Rally is a platform where anyone can take part and it is focused on incentivized peer to peer communication where ever they are taking place. Messages received on this platform is designed to secure privacy with the option to opt in and out.
There is a large market environment that connect advertisers with users, when advertisers create and send offers to users and engage with them, RALLY then tracks, attribute and rewards users that take action.
Rally Token provides a strong incentive for new users and advertisers to sign up, get authenticated and refer others to Rally. Authenticated users receive ongoing rewards from the activity of those that they refer to Rally. These rewards are the community royalties that are generated whenever a user earns tokens.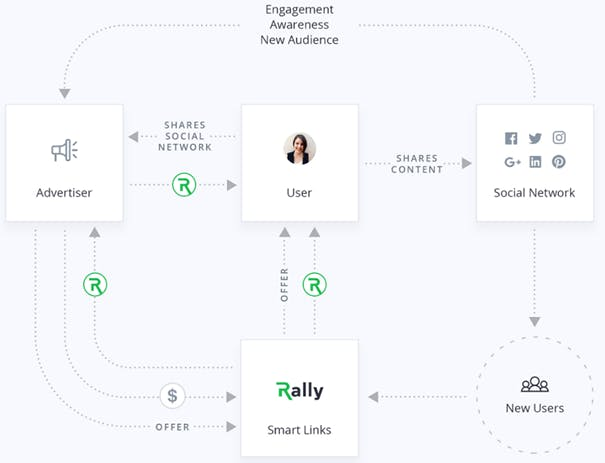 THE BENEFITS
FOR USERS OF RALLY
Expounded reach of audience
Low cost of advertisement
Increased loyalty.
HOW YOU CAN EARN RALLY?
Joining on the RALLY platform, authenticating yourself, download the Rally app and then link social media accounts
Promote advertisers and then get token
Refer someone and then claim your prize whenever the refereed users get token etc.
How your Royalty Team works
Refer
Your referrals become your Royalty Team.
Grow
When your referrals build their Royalty Team yours grows as well, five levels deep.
Unlock
With more referrals you can unlock more participation from your royalty team.
Community Royalties
The bigger your Royalty Team, the more Community Royalties you earn when they earn
TOKEN DETAILS
Token Name : Rally Token
Token Symbol : RALLY
Total Tokens : 5,000,000,000
Technical Specifications : ERC20
Token Decimal Places :18
NOTE : There won't be ICO sale but users can purchase the token on the Rally platform.
DISTRIBUTION OF TOKEN
Rally Token will be issued as an incentive for users to join, get authenticated, refer new users and engage with offers from advertisers.
Airdrop Rewards: 40% - Tokens allocated to individuals for joining Rally and inviting others to join.
Community manager: 7% - Engaged users that manage channels, curate content and community support.
Advertisers: 35% - Users that promote the Rally Airdrop with content creation and sharing.
Bounty program: 5% - Tokens to incent the Rally community to take action and be rewarded.
Company Reserve: 10% - Business development to benefit the Rally platform.
Advisers: 5% - Third parties supporting the Rally airdrop.
Company History
2015
Development began on a web-based application that gamified digital coupons. The initial game focused on players interacting with logos of brands and winning prizes. The game LogoPogo was launched using the technology, it included paid ad retargeting of visitors to the game across all major ad platforms. IOS and Android versions were added to the app store.
2016
The online ad purchase engine was launched. Customers could seamlessly purchase ads on multiple platforms (Facebook, Twitter and Instagram) from a common interface. Rally added functionality allowing users to share content peer-to-peer across multiple platforms while getting rewarded for their actions.
2017
Development of a full communications module began. All functionality was consolidated so advertisers can reach and communicate with their community directly with complete transparency. Research on integrating blockchain to the platform began. The platform achieved full attribution and transparency for advertisers and users. Daily deals, flash sales and e-commerce are made available to the platform making it a true marketplace. Integration to the Ethereum blockchain begins.
2018
The Rally points system is merged to the blockchain. The user can now see tokens in their prize wallet as earned. Work started on bringing full crypto wallet functionality to the Rally prize wallet. The Rally decentralized marketplace on the blockchain is launched.
MEET THE AMAZING TEAM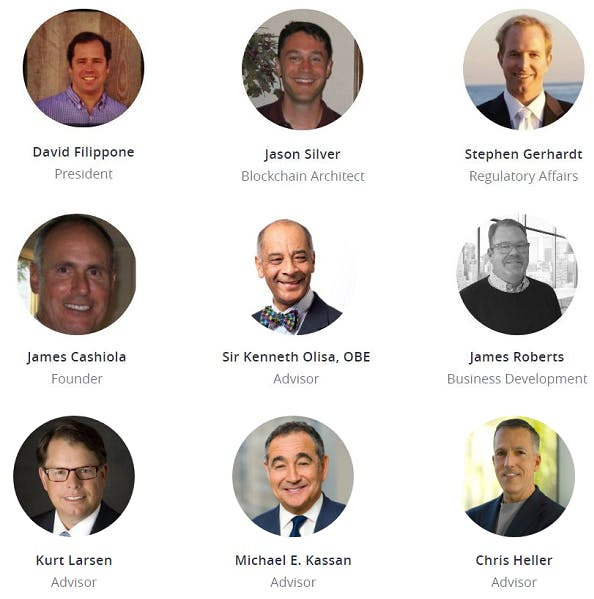 Be a part of this incredible project. Download the whitepaper for the full scoop.
Till next time…
For more information, please visit:
Website: https://www.rallyairdrop.com/
Whitepaper: https://www.rallyairdrop.com/assets/docs/RallyWhitePaper.pdf
Bitcointalk ANN: https://bitcointalk.org/index.php?topic=5032410.0
Telegram: https://t.me/rallyairdrop
Twitter: https://twitter.com/rallyapp_com
Facebook: https://www.facebook.com/rallyapps
Author: TheMichaelMatch
My BitcoinTalk Profile: https://bitcointalk.org/index.php?action=profile;u=1326035
My Ethereum Address: 0x76CC93E01A6D810a1C11bBC1054C37CB395F14C8
Disclaimer: This article was published in terms of the bounty campaign. I am not a project team member or its representative but a supporter of this incredible project.