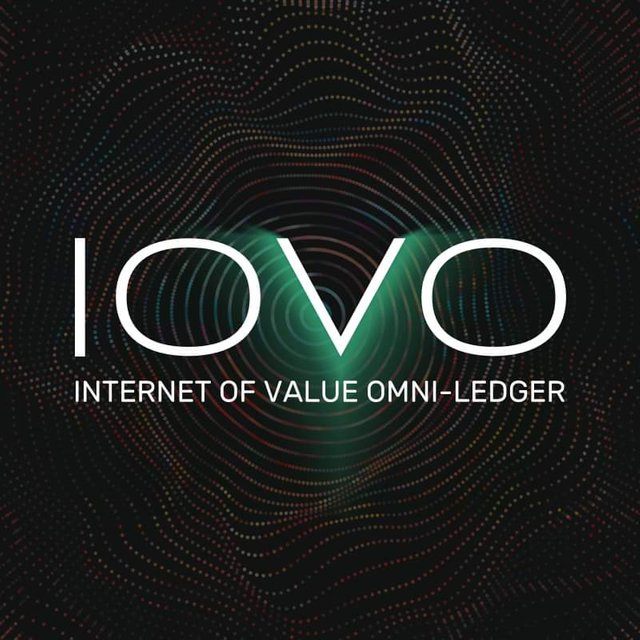 PREAMBLE
A storm has hit the investment market which we are not going to recover from. Crypto investment is that storm. With strict capital controls in place by most countries to control the flow of money and charge high taxes, cryptocurrency gained usage in circumventing capital controls and taxes, leading to an increase in demand. Cryptocurrency has been able to present an easy to use digital alternative to fiat currencies. Offering frictionless transactions and inflation control, investors have been prudent enough to add these currencies in their diversified portfolios as an asset, as the size of the market does not represent a systemic risk. Cryptocurrency employs the use of cryptography that assures high-security processes and verifies transactions personal to each user. Hence, counterfeiting and anonymous transactions are impossible to achieve.
While this revolution is gaining wide acceptance, IOVO (Internet Of Value OmniLedger), an overall open system database for the limit and exchange of data subject to each and every possible sort of quantitative value assets has arrived.
"The internet is entering a second era that's based on blockchain. The last few decades brought us the internet of information. We are now witnessing the rise of the internet of value. Where the first era was sparked by a convergence of computing and communications technologies, this second era will be powered by a clever combination of cryptography, mathematics, software engineering and behavioural economics. It is blockchain technology, also called distributed ledger technology. Like the internet before it, the blockchain promises to upend business models and disrupt industries. It is pushing us to challenge how we have structured society, defined value and rewarded participation.
Innovators like IOVO are programming this new digital ledger to record anything of value to humankind – birth and death certificates, marriage licenses, deeds and titles of ownership, rights to intellectual property, educational degrees, financial accounts, medical history, insurance claims, citizenship and voting privileges, location of portable assets, provenance of food and diamonds, job recommendations and performance ratings, charitable donations tied to specific outcomes, employment contracts, managerial decision rights and anything else that we can express in code."
With that being said, IOVO will be a universal, secure, and transparent data ownership and exchange system. Its mission is to sustain and promote individual human value.
But before we go any further, please check out this video presentation to get even more acquainted
Now that I have your attention, let's get right to it.
What exactly is IOVO?
As depicted above and from the official website of IOVO, the Internet of Value Omniledger is a next-generation blockchain (DAG) decentralized database ecosystem. IOVO is dedicated to giving control of data ownership and monetization to the people actually generating the data. IOVO will be a universal, secure, and transparent data ownership and exchange system. Its mission is to sustain and promote individual human value.
In addition, IOVO aims to promote and enhance human life and value through the use of blockchain technology on its data platform.
IOVO has put in measures to make data sharing easier through then adoption and introduction of DAPPs which has been a great and welcome development by members of the platform.
IOVO also seeks to change the data analogous paradigm to digital, so as to ensure that data generation will no longer exploited by large corporations. The decentralization that is enabled by Blockchain delimits the middlemen and directly connects users to data acquirers. This blockchain and smart contracts technologies would provide full transparency on how data is collected, verified, updated and guarantees the reward for the collectors and data owners.
One of the major missions of IOVO is to have humans placed at the fore and center of the data ecosystem with accuracy and privacy.
As the need for accurate and decentralized data sprungs on daily basis, a need for a decentralized revolution of the data network becomes needed and necessary, Iovo then seeks to tackle the challenges of data ownership and data reliability by creating an ultra-scalable ecosystem that ensures that data is as accurate as possible attesting to the obvious fact that, data needs to be decentralized, disintermediated, and incentivized and accurate. IOVO rising collaborative solutions using the blockchainn and smart contracts now make this mission possible.
By using the dAPPS tool, IOVO will be the first ever decentralized platform to revolutionize the data network generation freely and securely between data collectors and acquirers. IOVO aim is to create an ultra-scalable and highly reliable platform, so as to secure the relationship between both parties that is, the data collectors and acquirers.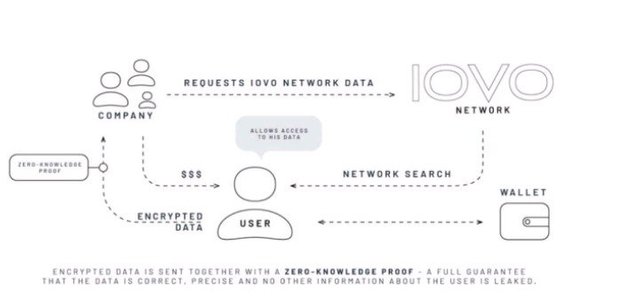 The IOVO platform will be built on different technological layers which would go along way ensuring the accuracy, efficiency, security and flexibility of data collection.
Major Solutions
IOVO is able to unravel scalability and traditional blockchain exhibition challenges like Ethereum and Bitcoin using DAG multi-blockchain that adopt blockchain technology by snowballing its performance and scalability by means of sharding.
IOVO is devoted to providing data ownership and power over data and its monetization to individuals who generate data.
IOVO is developed to safeguard total control over all its platform user's data and how it is being shared.
IOVO platform users can choose who can have access to their data and amount that can be charged for it.
IOVO assures operators of decentralized applications (dApp) and application owners full data security and also enables monetization of this data with the user consent.
Benefits of IOVO
Users are entitled to data wallet and enjoy full access to IOVO network.
Users have the legal right to their personal data.
There is transparency and security with user's data.
Users can monetize their personal data or choose to share their data with others.
Users can decide to be anonymous with their data.
dApp and application operators will have access to an exclusive universal database through data wallet.
Companies and data analysts will have access to data research and analysis.
Companies and data analysts will have direct access to with surveyed users.
THE BENEFITS OF IOVO TO dApp AND APPLICATION OWNERS INCLUDE:
Access to a comprehensive global database via data wallet.
Monetization of owned data.
Data security.
Acquisition of more users.
Unmodifiable history.
THE PLATFORM FEATURES
IOVODATABASE
The IOVO network collects data from every application developed thereby making the platform to serve as a database platform that protects and store data gathered from IOVO applications.
IOVOANALYTICS
This is an overlay application that is used to find data and acumens in database systems in IOVO network. This feature can manage and collect data in search of networks that permits a user to monetize a shared data conveniently. The basic features are; network search, data acquisition, multi-level data analysis, data exchange, data export, communication with users, fee management, data analysis patterns, and data wallet management.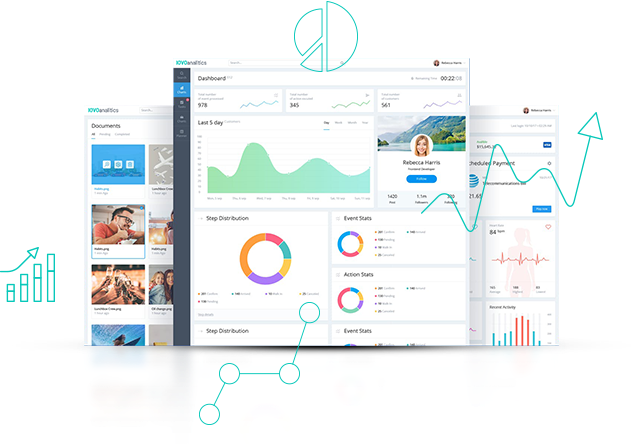 How IOVO Network and dAPPS Work?
The IOVO network and dApps
IOVO is a peer-to-peer network in which users can join it at any time and in other to start making transactions. Every user connected to the Iovo and Dapps network acts as a transmitter of transactions. They are incharge of broadcasting incoming transactions to other nodes in the network. This is to enable every transaction to reach validators in a fraction of a second. The Validators in the other way are responsible for verifying the transactions as they come. They act as check and balance system as such as to check every transaction for correctness and run their smart contract code (if present). Validators are incentivized and motivated to participate in this verification process by the network rewards, which are distributed according to IOVO's proof-of value (PoV) consensus algorithm, an extension of proof of stake (PoS).
In a centralized application network there is a central server (S) and clients (K) which communicate with it. These client devices include smartphones, tablets, and laptops. The IOVO DAG is a decentralized application network system where all users are equal. Therefore all connections are distributed evenly between random nodes within the network. The clients still exist, but some nodes function as validators (V ).
On top of this network layer, all users can develop and implement decentralized apps dApp.
Why IOVO will work?
The stability, security and performance of IOVO is guaranteed by the wellstudied components which IOVO is constructed from:
Multi-blockchain DAG - IOVO harnesses the potential of blockchain technology while maintaining scalability and performance.
Proof of value - IOVO extends the well-tested proof-of-stake algorithm to make use of a user's value instead of their stake.
Public-key cryptography - IOVO uses asymmetric cryptography to handle users' addresses. This makes all their data secure while preserving ease and transparency of usage.
Lattice-based encryption - post-quantum encryption algorithms based on learning with errors (LWE) keeps users' data secure even in the presence of a quantum computer.
Why IOVO Stands Out and Why It Is So Important?
Large organizations harvest and process the data generated by the activities of nearly every human on the planet. Individuals have no control over this, and they have no technical recourse to determine how their data is used. Data is harvested and monetized while the individuals who generate that data see no benefits. Once centralized, this personal data is easy for unauthorized, often hostile entities to appropriate.
There is a need for a cumulative universal database that can be easily browsed and analysed. The IOVO DAG is a comprehensive network database accessible to analysts and researchers from every conceivable field.
About IOVO Token
IOVO token will be used to improve the growth and development of the platform, it will be a means of reward to users. it will be used as a payment method for all transactions across the platform.
Token Details
TOKEN SYMBOL: IOVO
HARD CAP: $30 MILLION USD
ACCEPTED CURRENCIES: ETHEREUM (ETH), BITCOIN (BTC)
IOVO PRICE: 1 IOVO= $0.12 USD
UNSOLD IOVO TOKEN: BURNED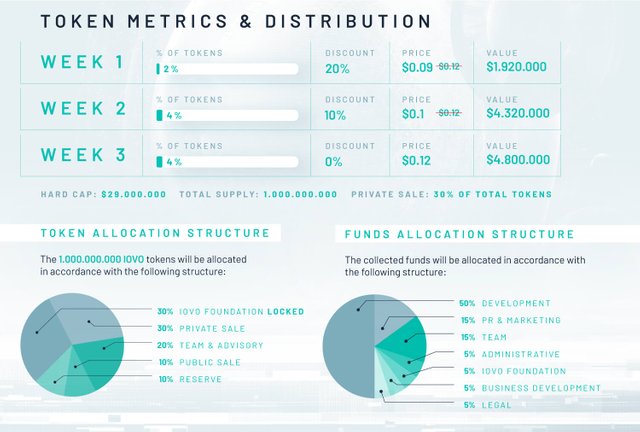 Private Sale Date: 25.10.2018 - 1.12.2018
Public Sale Date: 20.12.2018 - 31.12.2018
Token and Fund Distribution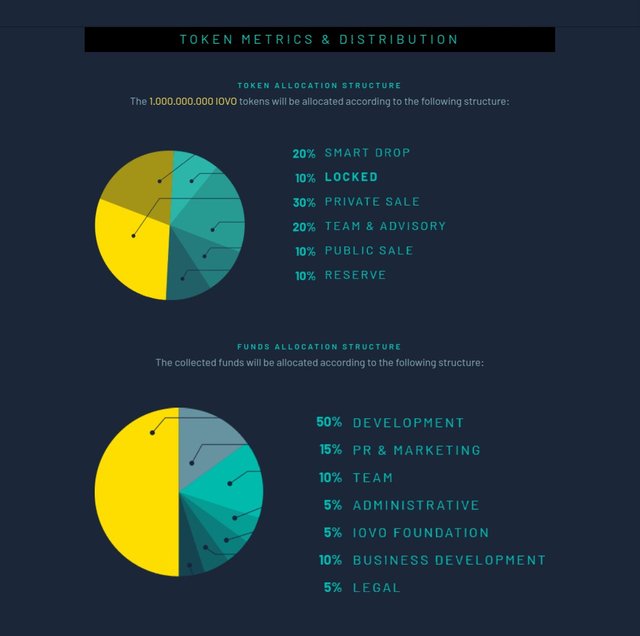 TOKEN DISTRIBUTION
20% of the total supply allocated to Smart drop
10% Is Locked
30% Allocated to private sale
20% Allocated to Team & Advisory
10% Allocated to Public Sale
10% Allocated to Reserve
FUND DISTRIBUTION
50% Allocated to Development
15% Allocated to Marketing
10% Allocated to Team
5% Allocated to Administrative
5% Allocated to IOVO Foundation
10% Allocated to Business Development
5% Allocated to Legal
ROADMAP
MEET THE AMAZING TEAM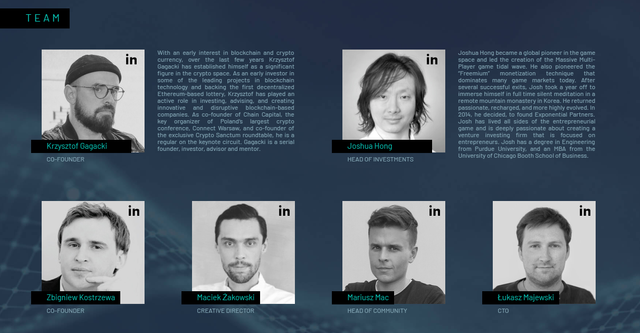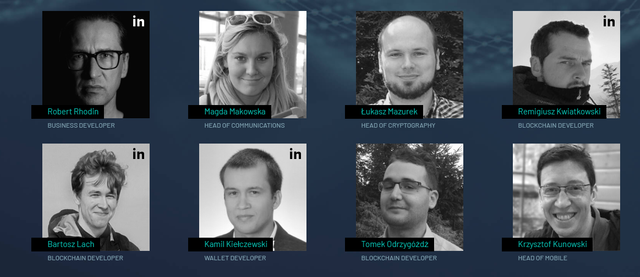 Advisors
Be a part of this incredible project. Download the whitepaper for the full scoop.
Till next time…
For more information, please visit:
WEBSITE: http://iovo.io
WHITEPAPER: http://iovo.io/assets/whitepaper.pdf
ANN TREAD: https://bitcointalk.org/index.php?topic=4509519.0
TELEGRAM: https://t.me/iovoledger
FACEBOOK: https://www.facebook.com/iovoledger
TWITTER: https://twitter.com/iovoledger
MEDIUM: https://medium.com/@iovo
GITHUB: https://github.com/iovoledger
REDDIT: https://www.reddit.com/r/iovo
Author: TheMichaelMatch
My BitcoinTalk Profile: https://bitcointalk.org/index.php?action=profile;u=1326035
My Ethereum Address: 0x76CC93E01A6D810a1C11bBC1054C37CB395F14C8
Disclaimer: This article was published in terms of the bounty campaign. I am not a project team member or its representative but a supporter of this incredible project.