PRESENTATION
A storm has hit the investment market which we are not going to recover from. Crypto investment is that storm. With strict capital controls in place by most countries to control the flow of money and charge high taxes, cryptocurrency gained usage in circumventing capital controls and taxes, leading to an increase in demand. Cryptocurrency has been able to present an easy to use digital alternative to fiat currencies. Offering frictionless transactions and inflation control, investors have been prudent enough to add these currencies in their diversified portfolios as an asset, as the size of the market does not represent a systemic risk. Cryptocurrency employs the use of cryptography that assures high-security processes and verifies transactions personal to each user. Hence, counterfeiting and anonymous transactions are impossible to achieve.
While this revolution is gaining wide acceptance, CoTrader, a transparent investment fund market on blockchain. Offers complete liquidity, asset control, security, privacy, and proven investment returns has arrived.
"Blockchain technology innovation is proliferating in the private investment fund industry. Although the use of blockchain technology in private investment fund strategies is still in its infancy, as it evolves and accelerates, the associated innovation benefits promise lasting change for the industry."
With that being said, CoTrader solves the complexity problem of investment management, and aims to become the world's largest investment funds marketplace by democratizing the $85 trillion global funds industry. For the first time in history, investors, now powered by CoTrader's blockchain platform, can have their investments managed with complete transparency, control of assets, and proof of a fund's past returns-on-investments (ROI).
But before we go any further, please check out this video presentation to get even more acquainted
Now that I have your attention, let's get right to it.
What exactly is CoTrader?
CoTrader will create a decentralised infrastructure for investment of funds. By using smart contracts, it hopes to safeguard the interests of both investors and fund managers and enable a more reliable form of investment in both cryptocurrencies and other forms of assets. CoTrader's platform will be accessible through a website or a mobile app. For a one-time gas fee, anyone will be able to become a fund manager by setting up an investment fund powered by smart contracts, setting a name and a performance fee tied to a percentage of the overall profits. The greater part of the performance fee will go to the manager, while the rest will go to the platform. Investing in a particular fund will be done by acquiring shares with COT tokens. It is expected that the manager will invest in the fund and start trading with that sum at first, while others would be able to jump in at any point. With the help of smart contracts, the manager will be able to share the fund's ROI while hiding or revealing the strategies used at their own discretion. Investors will be able to deposit or withdraw COT at will, with the fund minting or burning new shares respectively. The performance fee will be subtracted from the amount withdrawn. Since the shares themselves are going to be tokenised, it will also be possible to transfer them seamlessly to other wallets.
Trading will be done in a number of different ways. The default option may be said to be trading on specially vetted and integrated decentralised exchanges (DEXes), which will also be used to determine the value of a fund based on the current market price of all the tokens that it holds. New DEXes will be made available over time, each addition being implemented with a 30 day grace period before any trades can be made on them. Smart funds will be able to trade in Ethereum and all ERC20-based cryptocurrencies from the start, but eventually CoTrader hopes to cover all sorts of assets, including stock options and derivatives. It will facilitate trading on trusted centralised exchanges by means of a smart escrow system. Any sort of assets could be given token representations on a master account, making it possible to track them. Money set aside for trading will be released from escrow once the purchased assets are transferred to the fund. There will also be a form of investment fund that will focus exclusively on ICOs and be eligible for group discounts, streamlining investment.
The Goal
Through the CoTrader platform demonstrating funding, and discovering how you can use it for the digital world, our goal is to ensure people get maximum results in a short time and to provide more financial freedom together.We do this by linking investors on both sides of the spectrum of expertise and give them the tools to make strong financial decisions quickly and easily.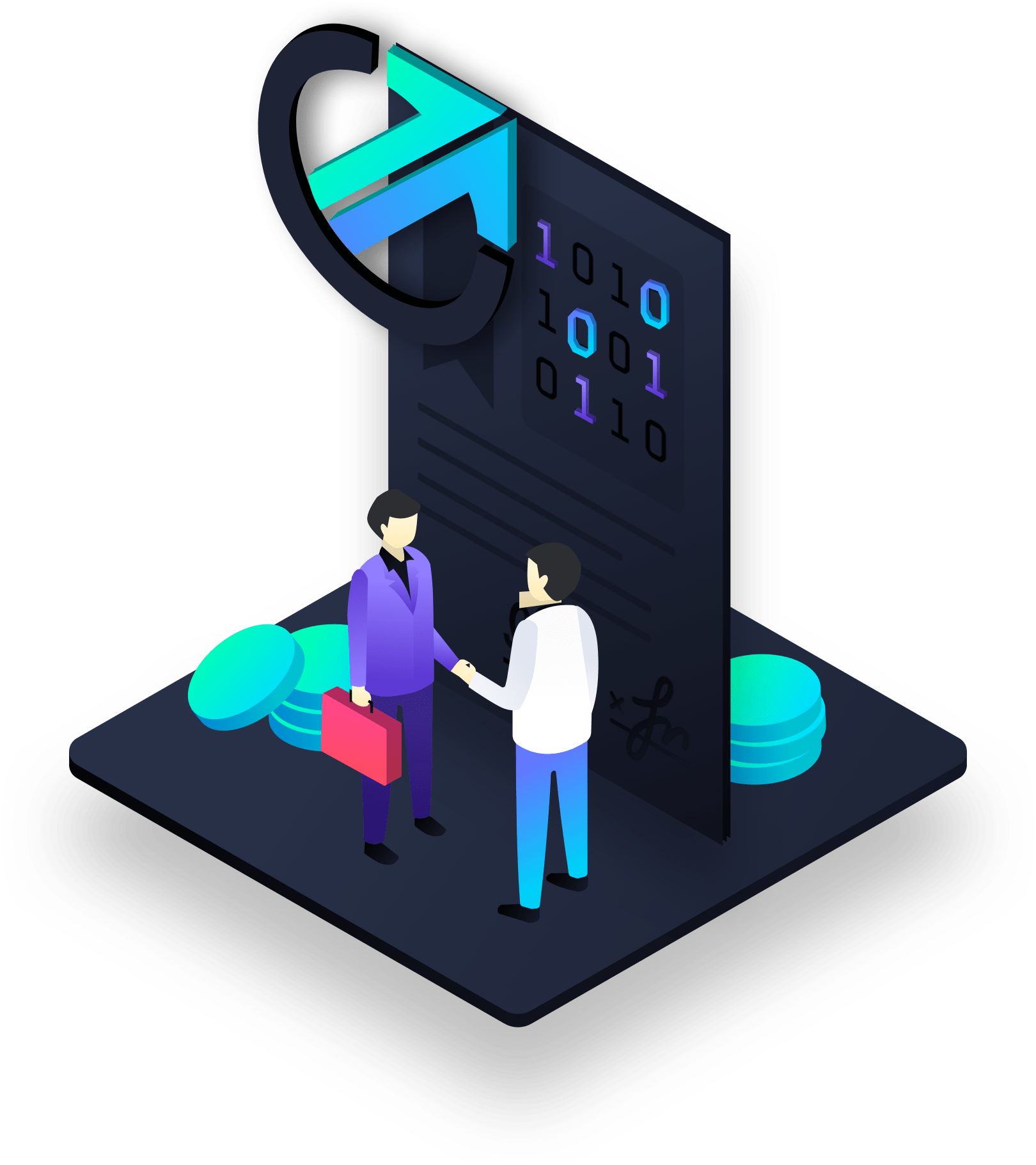 The main advantage of CoTrader's smart funds is that they allow investors to trade together rather than copy trades. The main difference is that when copying a trade copier always lags behind a reputable merchant, it always gets a worse price than the copied merchant. When trading together, all tokens are traded by one entity that provides the same price to all shareholders with the Smart Fund.
The Problem
Misunderstanding of what kind of currency investment to invest in
There are thousands of different currencies and tokens, but it's not easy to understand where to invest your money. For example, not all currencies will go up, and some may even cease to exist, so you need to understand this in detail.
Lack of basic knowledge of the storage of crypto currency
Many people do not protect their wallets or are deceived. Before you start working with crypto currency, you should find out how to secure yourself and understand what fraudulent schemes are currently in existence.
Invalid Information
Do not believe the information that is in open sources. After all, many companies that release tokens, brazenly buy advertising articles.
Top-crypt and ICO-investors enjoy phenomenal achievements in the market of crypto-currencies. Regardless of whether the market goes up or down, they surpass the majority of people who do not have the time and resources to easily achieve such results. There are thousands of crypto-currency objects and current ICO, but most people do not have enough knowledge to successfully earn on digital cash trading.
Platform CoTrader is able to solve all these problems, because its activities are open, and the work is built on blocking technology that excludes the possibility of deception of users.
The Solution
CoTrader's proprietary privacy system, which preserves smart Fund algorithms, can hide traders 'and managers' trading strategies while still publicly proving the profitability of their anonymous funds on the blockchain.
Since CoTrader is managed by smart contracts, Fund managers have the right to enter ICO and PreICO within their portfolios to take advantage of early discounts for groups that many ICOS offer.
Thus, CoTrader is also the world's first "ICO futures"market. This is due to the fact that the smart funds that will receive the distributed token-ICO in the future, may be sold. This means that if the Fund Manager attracts investors to the ICO, and some investors want to liquidate their shares, which include future ICO tokens, they can exchange them within the Fund.
Opportunities The Platform Provide
CoTrader support the trade ICO. The platform will select those ICO, which have the prospect of development.
The platform will feature all assets traded on any exchanges using our strategy. Thus CoTrader supports cryptocurrency, shorts, options, etc.
Cotrader implements a decentralized Protocol that will be fast and secure with privacy support.
Cotrader will be built on its own blockchain, which will be fast and secure with support for Smart contracts
СoTrader this market for investment funds, the structure is built on a super-DEX. Also, there is a technology of Smart funds. This Protocol is designed to enhance anonymity and standardize tokens.
The Platform will support crypto-wallet of mobile devices.
Sum up. The CoTrader project team offered an original idea-to create your own investment Fund. This initiative will provide development in the field of investment and will give new opportunities to investors. Now the team has a road map, according to which future prospects are planned. After all, testing will begin in the summer of this year, and in the autumn new trading tools will be introduced.
Differences From Competitors
Users do not need to send and store all cotrading assets in centralized exchanges.
Users have proof of ROI.
Users have a guarantee of control over the funds through a smart contract.
Fund managers and leading traders have confidentiality of trade details due to zk-SNARKs.
Token Details
COT Platform: Ethereum
Token standard: ERC20
Number of tokens released: 100,000,000,000 COT
Price per token: 1 ETH = 1,000,000 COT
Payment: ETH, BTC, LTC, BCH
Crowd sale price: 1 ETH = 700 000 COT
Hard cap- $ 10,000,000 for 25 billion tokens
Soft cap: - Presale bonus: 20% e-sale bonus ale bonus
Token Distribution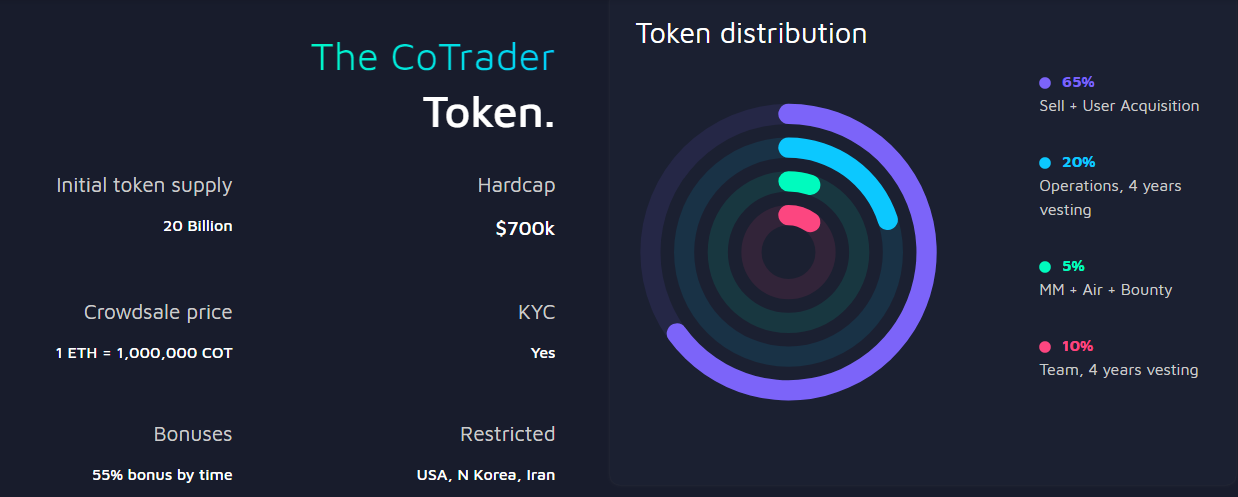 TGE ICO - 30%
MM + Bounty + Air - 10%
Operations - 45%
The team is 20%
WHY COTRADER STANDS OUT?
This platform is built on blockchain technology, which eliminates any third party intervention or information changes;
All operations, open transactions and funds do not hide anything from their customers;
Each investor is given a thorough examination of the company before investing their funds;
Only the promising company chosen will have a high return on investment;
The platform is decentralized and has no analogues on the Internet;
An experienced team that understands all possible subtleties and provides the best conditions for its customers.
RoadMap
July 2017 - MVP. Registered preliminary patents
November 2017 - Development of MVP and new concepts. Submission of application for preliminary patents
March 2018 - MVP Demonstration
June 2018 - ICO, MVP testing
August 2018 - The end of the sale. MVP on the network
October 2018 - Expansion of ICO trading instruments
Meet The Amazing Team
The Founder & CEO - Gary Bernstein
Be a part of this incredible project. Download the whitepaper for the full scoop.
Till next time…
For more information, please visit:
Website : https://cotrader.com/
WhitePaper : https://cotrader.com/cotrader-whitepaper-en.pdf
ANN Thread : https://bitcointalk.org/index.php?topic=4371801
Twitter : https://twitter.com/cotrader_com
Facebook : https://www.facebook.com/cotrader
Telegram : https://t.me/cotrader
Reddit : https://www.reddit.com/r/cotrader/
Author: Cryptoholical
My Bitcointalk Profile: https://bitcointalk.org/index.php?action=profile;u=2487106
Disclaimer: This article was published in terms of the bounty campaign. I am not a project team member or its representative but a supporter of this incredible project.