PRESENTATION
A storm has hit the investment market which we are not going to recover from. Crypto investment is that storm. With strict capital controls in place by most countries to control the flow of money and charge high taxes, cryptocurrency gained usage in circumventing capital controls and taxes, leading to an increase in demand. Cryptocurrency has been able to present an easy to use digital alternative to fiat currencies. Offering frictionless transactions and inflation control, investors have been prudent enough to add these currencies in their diversified portfolios as an asset, as the size of the market does not represent a systemic risk. Cryptocurrency employs the use of cryptography that assures high-security processes and verifies transactions personal to each user. Hence, counterfeiting and anonymous transactions are impossible to achieve.
While this revolution is gaining wide acceptance, Zamzam presents a progressive system of fair financial arrangements between individuals and organizations. Their principles are: honesty, transparency, ease of use and total control over the money for consumers.
"Bitcoin was primarily created as a peer-to-peer system based on blockchain technology to avoid banks. Here, transactions take place directly between users without the need for an intermediary. Network nodes verify transactions and records them in a publicly distributed ledger called a blockchain. Since the system has no central repository / single administrator, Bitcoin is the first decentralized cryptocurrency in existence. Since then, other cryptocurrencies like Ripple, Monero, Litecoin, Etherium, etc. have been introduced to market.
Incumbents have always had their issues with disruptors. But the truth of the matter is, one must learn to change with the times; it is either innovate or perish. While it stands true that blockchain technology stands to wipe out a lion's share of a bank's income, banks should realize that they can leverage the power to blockchain to introduce new products and offerings that would replace old revenue streams. The world is turning digital, there are no two ways about it and like it or not, we are living in a digital matrix."
With that being said, The Zamzam service allows sending cryptocurrencies anywhere in the world even if the recipient has no cryptocurrency wallet. For this purpose it is sufficient to type in the phone number on which the recipient will receive an SMS with a link for downloading the app.
Having passed a simple authorization procedure and having authenticated their identity, the user will be able to manage the received funds. The service is simple, transparent and deanonymized.
Now that I have your attention, let's get right to it.
What exactly is ZamZam?
ZamZam is a transparent, fair and efficient blockchain Bank that unites millions of people and organizations in the cryptocurrency market. This will give users the ability to control cash flow and taxation and allow users to save millions of dollars on transactions while maintaining full control over their funds. Unfortunately, commissions on the payment market p2p remain quite high. Currency conversion and high fees of banks and payment systems make p2p transfers unnecessarily expensive. At the same time, 31% of the world's population does not have a Bank account. ZamZam will work to solve these problems, make p2p transfers as accessible as possible, and help millions of people who don't have access to a strengthened financial services Bank account.
Zamzam brings cryptocurrency to the level of ubiquitous implementation: any user and small and medium business will be able to take advantage of digital currency due to the progressive ecosystem.
Today, a third of the world's population does not have Bank accounts because of the difficulties associated with opening an account for migrants and the uneducated population and the lack of trust in banks, whose bankruptcies lead to stunning losses for investors.
High rates of inflation in the national currency force the population to convert their savings as quickly as possible into foreign currency (for example-in USD), losing up to 35% of the costs of Bank charges and semi-legal exchange operations.
Blockchain technology and light wallet features allow Zamzam users to store their money converted into cryptocurrencies directly in the wallet on their mobile phone and make transfers with exclusive control over them.
It was developed by StableCoin to protect against exchange rate difference Zamzam user funds during cash transactions. StableCoin is pegged to a real, stable international currency which also allows you to save money in countries with high inflation exchange rates.
Zamzam opens the cryptocurrency market and financial services market to new players small and medium businesses. As of the current date, there is no user-friendly interface to the market that will allow, by analogy with an ordinary Bank client, to issue invoices for payment, having a history of transactions with clients and contractors, payment of wages to employees and taxes to state bodies that delegate access to the company's cryptocurrency for accountants and other employees.
Zamzam creates a client Bank to maintain the company's cryptocurrency account, which will allow you to conveniently and habitually carry out all commercial activities in cryptocurrencies.
Zam.wallet is a secure, multi-functional wallet with a user-friendly and functional interface. It plays a key role in the ZamZam ecosystem. ZamZam Bank will support most of the default cryptocurrencies, including Bitcoin, Ethereum (including ERC20 tokens) for all payment related features. This not only means that customers will be able to store and exchange these currencies, but also gives them the ability to keep balances on accounts linked to payment cards, allowing users to hold cryptocurrency just like regular money.
The Main Problems
A crowdfunding platform for Islamic projects that will allow any person to represent a socially significant project approved by the Fund committee. -Education grants for young Muslim professionals in the best universities of the world.
Building of mosques, hospitals and schools that are chosen by members of the Fund committee and ZAM Token holders.
Organization of significant Muslim holidays.
Attracting patrons who have the opportunity to realize socially significant projects.
There is another way how zamzam could implement Islamic banking, one which demonstrates the ideology of the Islamic financial system. The fact is that the zamzam bank acquires movable and immovable property for a borrower who can be both an individual or legal entity, thereby sharing the risk. In turn, a borrower acquires movable or immovable property from zamzam by installments. The price of the property contains the bank's reward. According to this approach, the zamzam bank provides a client with mortgage loans, loans for the purchase of goods, etc.zamzam is the first, or at least one of the first blockchain based projects implementing Islamic banking in the blockchain industry. This is an important step towards a big future, where a complex Islamic contract will be contained within a smart contract placed on the Blockchain.
About Zam.exchange
Zam.exchange is an intelligent currency conversion system that offers the most favorable exchange rate without a spread (the spread is the difference between the rate of purchase and the rate of sale). Zamzam is creating a future, where people can access banking services quickly, safely and without intermediaries. The zam.exchange module is integrated into the zam.wallet multicurrency wallet (you can learn more about the zam.wallet here).
Available exchange operations in zam.exchange include Fiat / Fiat, Cryptocurrency / Cryptocurrency, Fiat / Cryptocurrency, Cryptocurrency / Fiat.
How The Zam.Exchange Works?
The Zam.exchange connects to the largest traditional forex trading platforms through a special software using the FIX protocol, the international standard for exchanging data between participants of exchange trades in real time. The Zam.exchange connects to most crypto exchanges through the open source Wrapper API, which was developed by the Zamzam team and allows users to automate the receipt of requests from exchange servers. The module is able to connect to the largest platforms by interacting with them through a single interface and preserving maximum performance, security and flexibility.
The module works with Machine Learning with the following tasks:
Analysis of user applications
Monitoring of a set of cryptocurrency and forex exchanges, connected by API
The Zam.exchange analyzes all user requests and selects the most profitable platforms for performing sales operations with the lowest price for the user. We will publish a separate Roadmap on how to use Machine Learning.
Why ZamZam Stands Out?
Zamzam mission is to speed up the process of the transition from a traditional monetary system to a fully digital economy in order for banks and financial institutions all over the world to become open, fair and efficient through the implementation of blockchain and decentralized systems.
Openness
Transparency of all operations in blockchain. Real-time publication of the Zamzam bank's detailed financial activities. Open results of bank audit. You have never worked with such an open banking system!
Efficiency
Reduce costs by circumventing the chain of intermediaries and abandoning obsolete methods of managing financial organizations.
Fairness
Provide users with a choice between centralized and decentralized assets storage. Future is for hybrid systems, which give freedom of choice.
Token Sale and ICO Details
ZAM Token is the internal currency of the ZamZam Bank's blockchain, which is used to pay commissions for money transfers, purchases of ZamZam banking products, etc.ZAM token is a standard ERC-20 token. tokens are issued in the initially declared volume, additional release of tokens is not provided.
ICO Details
Blockchain platform: Ethereum
Token standard: ERC-20
Power token: 8 500 000 000 ZAM
Token face value: $ 0.02
Total amount OF Zam tokens for sale: 65%| 5 525 000 000 ZAM | $ 110,500,00 at face value
Soft cap: $ 11 100,000
Hard cap: $ 55 400 000
Accepted cryptocurrencies: ETH, BTC, LTC
Private sale period: June 18-December 3
Bonus for participants pre-sale: 35%
Pre-sale period: October 22 to November 5
Bonus for participants pre-sale: 25%
The duration of the TokenSale: November 5, December 3
Token Distribution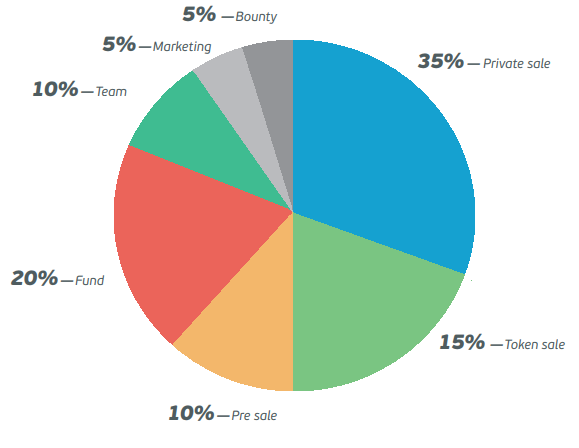 ROADMAP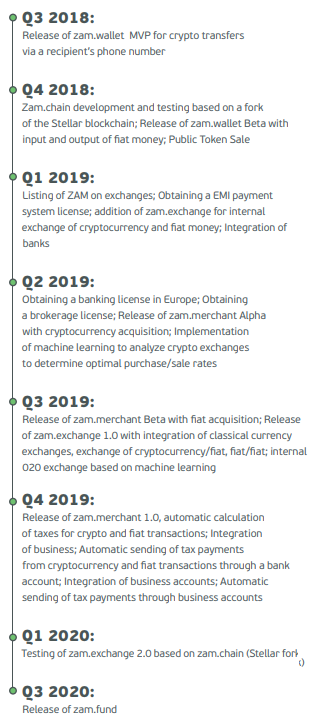 MEET THE AMAZING TEAM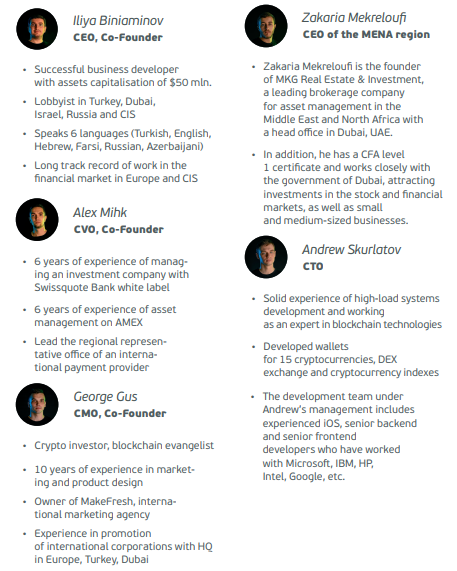 ADVISORS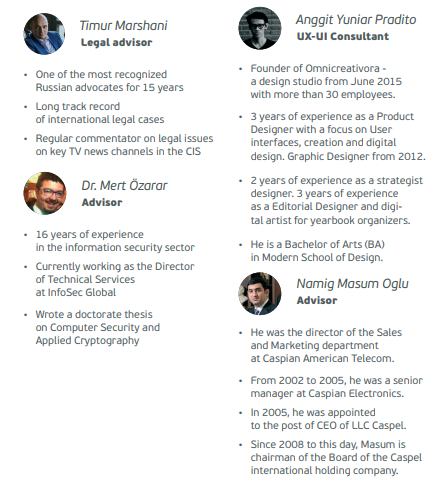 Be a part of this incredible project. Download the whitepaper for the full scoop.
Till next time…
For more information, please visit:
Website : https://zam.io/en
Whitepaper : https://zam.io/ZamZam Whitepaper English 20.08.18.pdf
Telegram :https://t.me/zamzamchat
Twitter :https://twitter.com/zamzambank
Instagram : https://www.instagram.com/zamzam.io/
Medium : https://medium.com/@zamzamofficial
Facebook : https://www.facebook.com/zamzambank

Author: Cryptoholical
My Bitcointalk Profile: https://bitcointalk.org/index.php?action=profile;u=2487106
Disclaimer: This article was published in terms of the bounty campaign. I am not a project team member or its representative but a supporter of this incredible project.