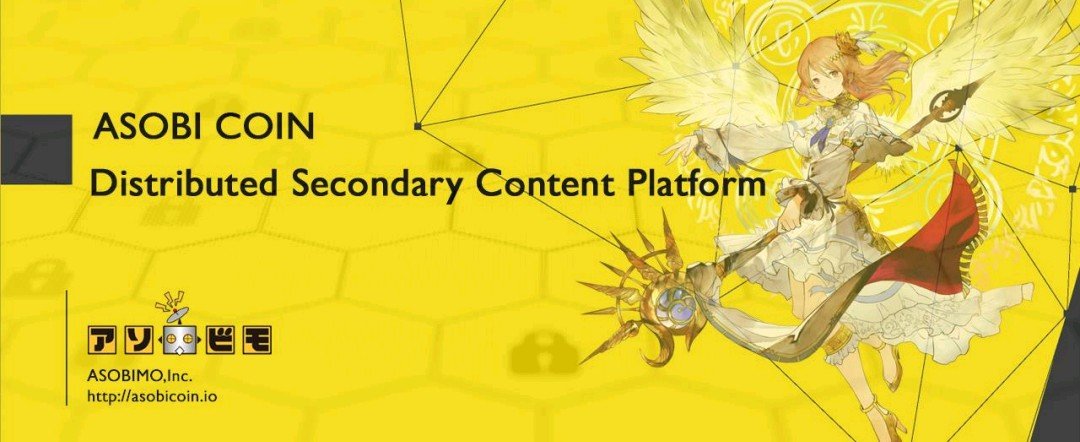 Hello everyone, I'm here again to give a good review about ASOBICOIN project with great potential. As you have known earlier before now, my review is always based on good, great project that will benefit every investors and community member. I know you must have been wondering and asking yourself right now which project caught my attention, which project really worth this great review. Now have a seat and read through the whole write up line by line.
The relationship between social networks and content creators can't be overemphasized in this dispensation, users shared content with their friends on social platforms and as a result of this, platforms then sent traffic back to the original website. Recent happenings that's alarming now is that the trend has been toward "native" content that lives within the confines of social networks and mobile apps. As a result, publishers are losing control over both the distribution channels and their audience including the power therein has shifted into the hands of social platforms that are increasingly becoming walled gardens.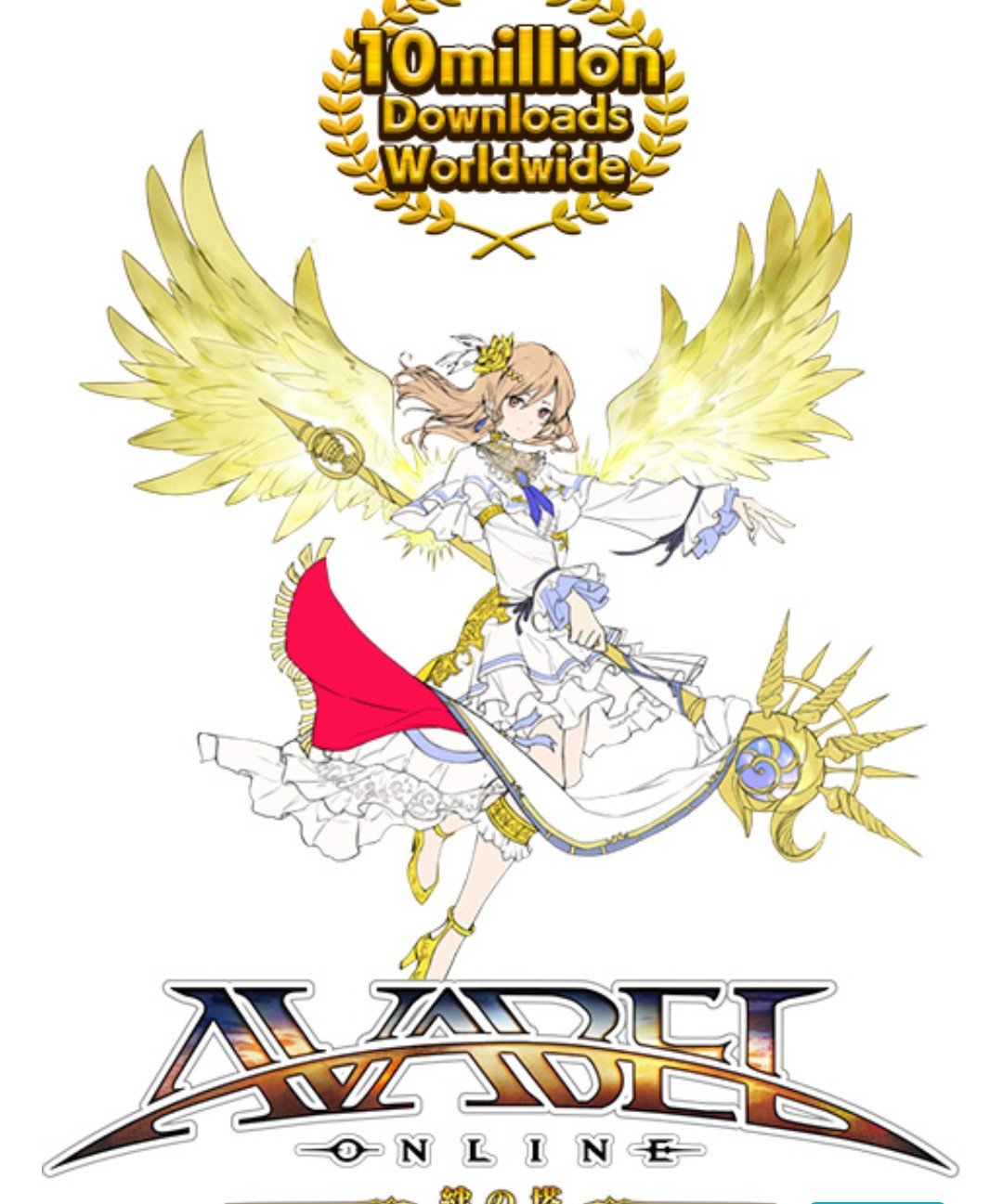 The advent of the Internet and mobile technology has greatly revolutionized a formerly traditional industry, giving it new form and new life. Ten years ago, few experts could have accurately predicted what the digital age would have done to publishing. In order to avoid publishers blindly attempting to preempt the future, it is worth critically asking i.e what will and should happen in order for publishers to be successful in the long-term...
The purpose of this project is to create its own platform, where it will be possible both to buy the product and sell it, the name of the Asobi market platform. It should be noted that such platforms already exist, but the lack of them is that users are not granted the right to own a product. For example, if one of these platforms closes, the user will not be able to use the purchased product. Asobi market will grant the right to own content, and a decentralized security system will also be used, which will protect the transaction.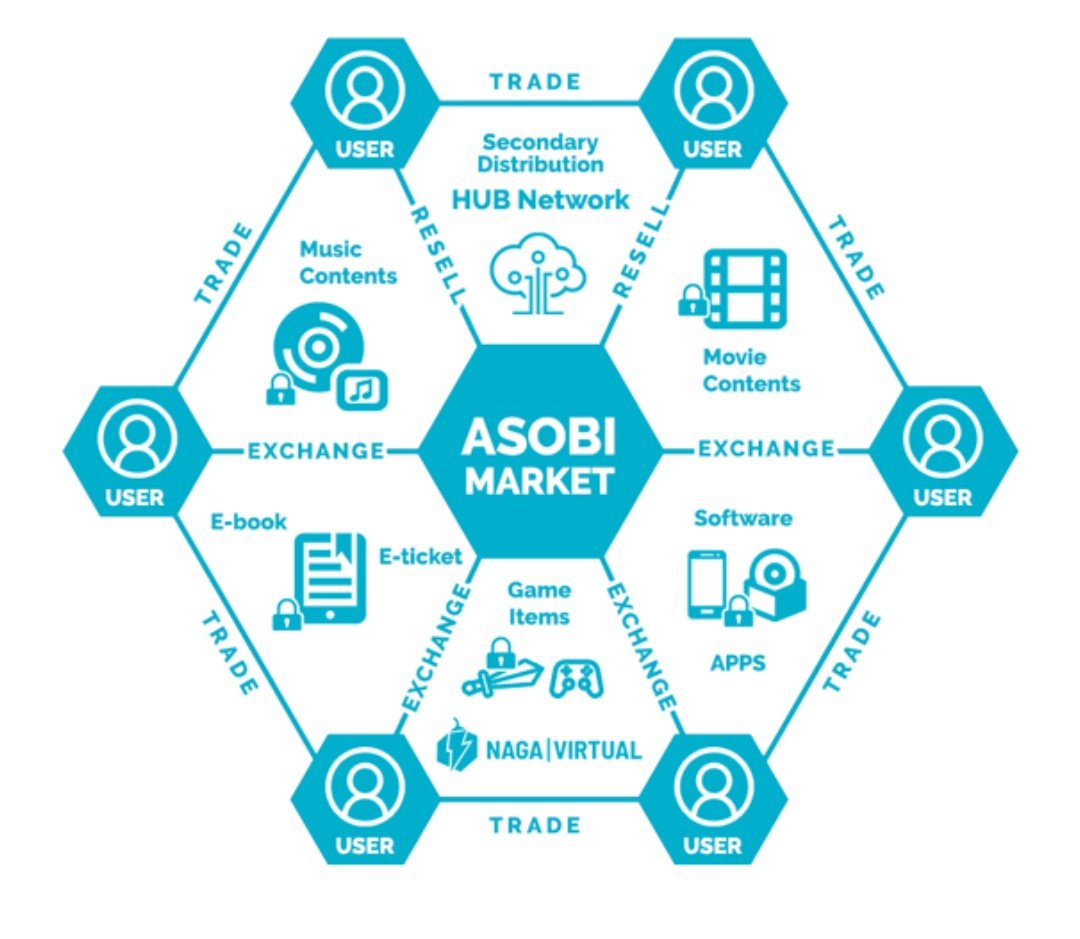 New puzzle game "Robot-game" MMORPG from Asobi
Now they announce the MMORPG developing an ICO project that uses blockchain technology and the start of registration for its newsletter. Thanks to the accumulated knowledge in the development of mobile MMORPGs, they are going to create a new kind of "Asobi" (roughly translated into the game), which revolutionizes the online games market using blockchain technology in the game.
The idea of ASOBI COIN - Trading virtual content on distributed secondary markets. The new blockchain monetary technology for publishers and users. The Asobimo DApps platform will make virtual content on the secondary marketplace a precious asset for all events, and offer a safe buying and selling revel in with minimum costs and no friction.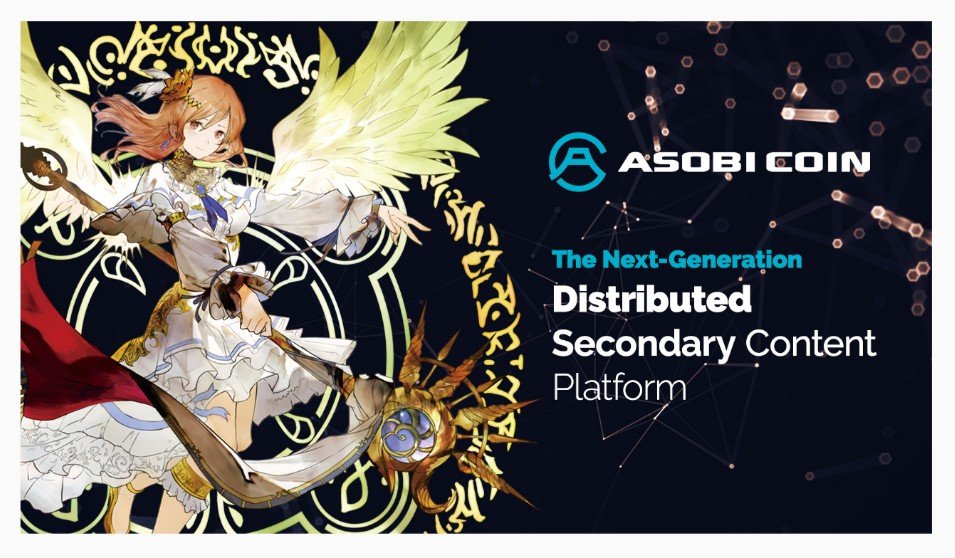 Distributed Secondary Content Platform
Secured Data Content Platform
We will provide a cloud system called "Decentralized Security System" (DSS) by using blockchain technology.
Distributed Content Platform
We will create a P2P - style distributed secondary content platform.
Details
You will be able to buy and sell digital content, such as comics, games, music that you want to share with others.
ASOBI MARKET
ASOBI MARKET uses the blockchain technology to provide a protected system to distribute secondary (used) content.
Game items
Software
e-books
Music
Videos
e-tickets
When you shop at ASOBI MARKET, we can guarantee you a safe exchange between secondary (used) content and cryptocurrency through the DSS system.
TEAM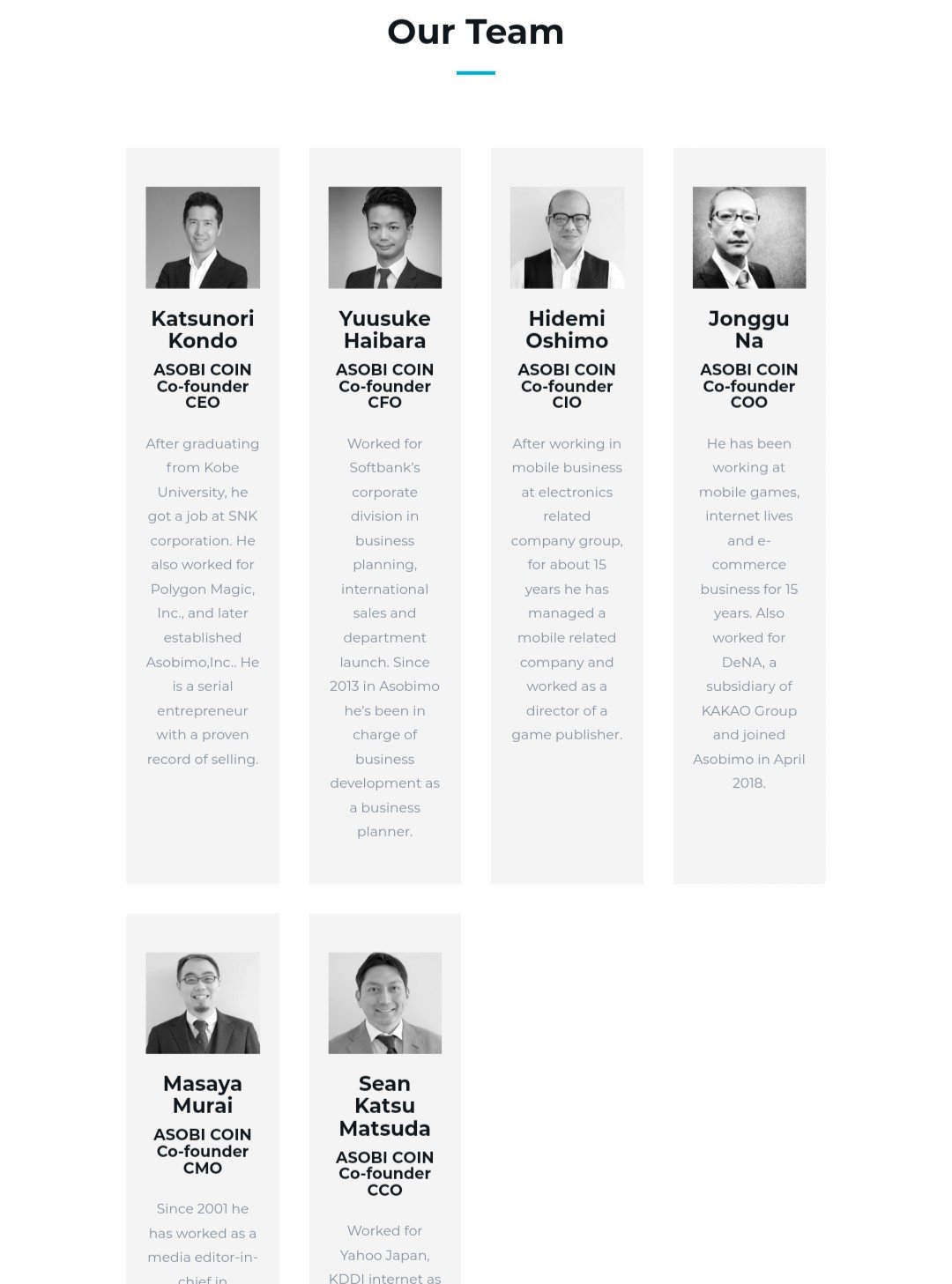 ICO and Token information :
Token: ABX
Platform: Ethereum
Token Price: 0.01 USD
Token for sale: 8,250,000,000 ABX (50%)
Token supply: 16,500,000,000 ABX
Soft cap: 5,000,000 USD
Hard cap: 50,000,000 USD
Accepting: ETH, BTC, BCH
Restricted countries: China, United States of America
ROADMAP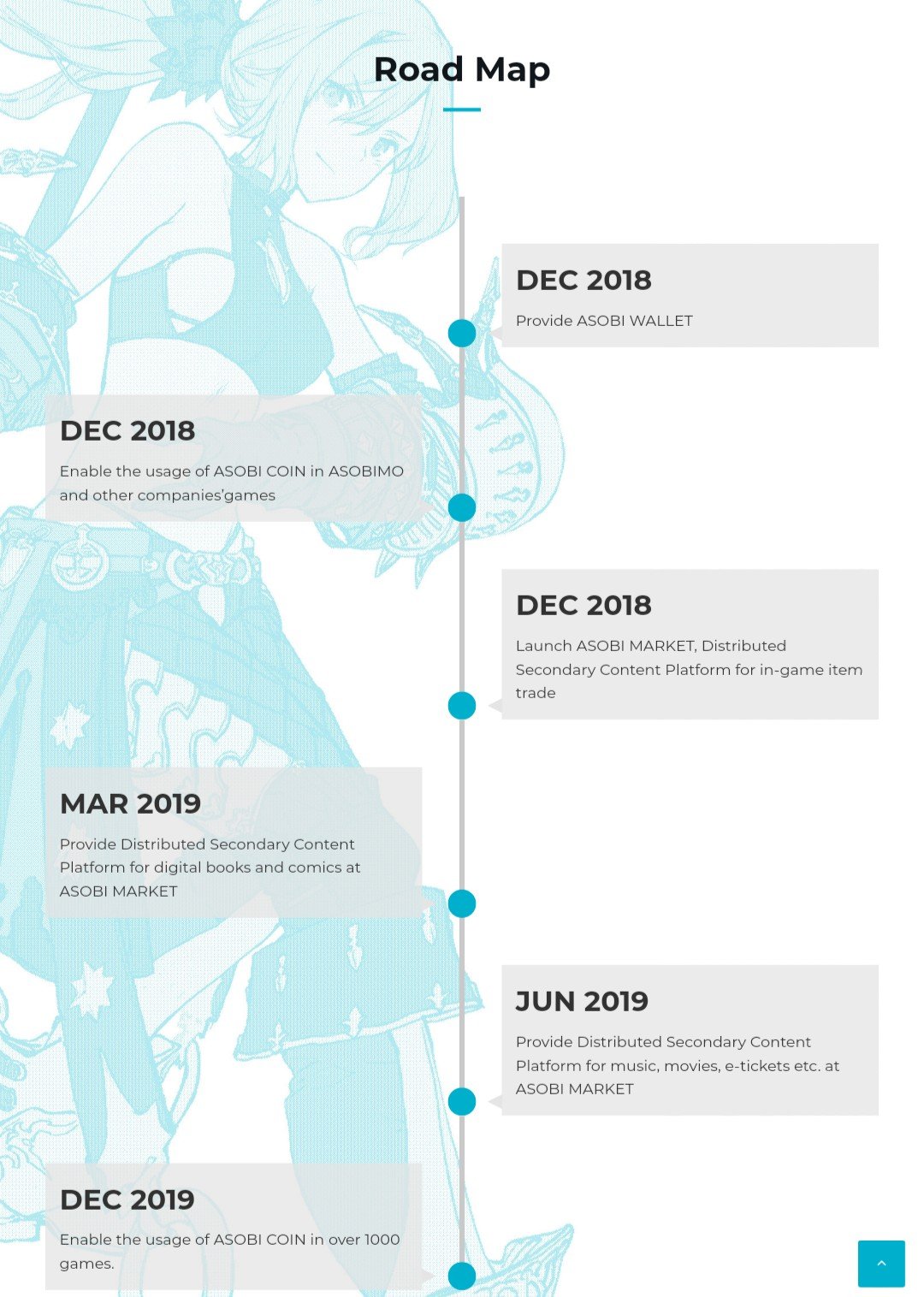 More Information:
Website : https://asobimo.io/en/
Whitepaper : https://asobimo.io/pdf/white_paper_en.pdf
Telegram community : https://t.me/AsobiCoin_Official
Twitter : https://twitter.com/AsobiCoin
Facebook: https://www.facebook.com/Asobi-Coin-130436194467568/
offstage
0x4567Acb22e23fb014AFFC1a9052Ee1e2BC9bDF18