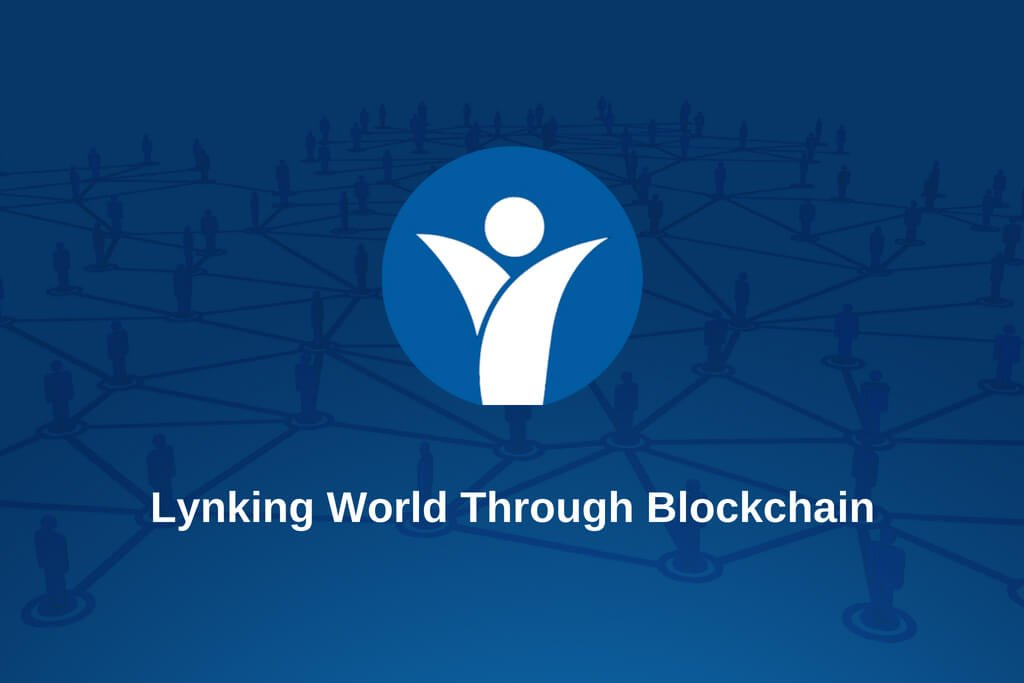 INTRODUCTION
Since the emergence of blockchain technology in 2008 when Satoshi Nakamoto introduced bitcoin, there have been rigorous efforts to apply the blockchain to several aspects of the global business process, Blockchain technology has been described as having the potential to disrupt many industries with a low-cost transaction, immutability, and enhanced security. In the years that have followed, many other blockchain implementations have been developed with each one exhibiting unique features tailored to specific use-cases.
Blockchain has made it possible to issue just about any asset via a distributed ledger framework. With the aid of cryptocurrency tokens, these assets can be given economic value in order to initiate and validate several transactional processes. Several on-chain protocols have been developed by a number of startups and established companies alike in order to create blockchain-based solutions.
As more technological advancements are uncovered, Lynked World, a blockchain-based secure platform for individuals and institutions to own, control, and share trusted digital identities, data and documents came on board.
ADVANTAGES OF BLOCKCHAIN IMPLEMENTATION
Decentralized Payment Processing
The payment processing framework for global commerce is based on a centralized system which requires the services of third-party authenticators. These third-party agents are responsible for ensuring the fidelity of the global payments system and they charge fees for their services. One of the fundamental philosophies behind the operation of the blockchain is the removal of these third-party agents and their associated cost of trust and replacing them with a robust, functioning distributed ledger payment framework.
Creating an Immutable System of Record
The blockchain is the first successful implementation of the distributed ledger framework. On public blockchains, the distributed ledger constitutes an immutable system of records that is available to all participants. The immutability of a blockchain ensures that it is tamper-proof.
Reducing Cost of Transaction
Payment processing remains the basic level of commerce but it is one that has not seen much in the way of evolution since the emergence of fintech protocols. Blockchain technology has the potential to disrupt commerce by causing a paradigm shift in the mechanism by which transactions are carried out. The fees charged by third-party actors and middlemen in the payment chain constitute a considerable portion of the cost of transactions. By eliminating the middlemen, the cost of transaction is materially diminished.
Enhanced Security
Operating on a multinational scale opens up any enterprise to the activities of hackers looking to breach the structural and functional integrity of the platform. Blockchain technology offers a robust security framework that makes it difficult for hackers to make an incursion into the platform. There is no central point of failure and hence no single point of entry for malicious digital attacks. This ensures the safety and security of the data collected by field agents and the payment processing network. that provides an accurate accounting for the entire platform.
ABOUT LYNKED WORLD
Lynked.World is a platform built upon Blockchain Technology to verify digital identity, education and professional experience. Blockchain security provides an irrefutable digitally verified block of information that is never compromised. The platform enables users to control their digital information and share directly with employers, institutions & businesses. We are moving towards a global platform that not only serves the purpose of digitalizing identities but will also become a network of trusted professionals.
The Mission
The mission is to provide a secure platform for individuals and institutions to own, control and share digitally trusted identity.
The Lynked World Key Features
A secure and trusted digital identity for all situations and purposes
Peer to peer verification of any documents and data harnessing the immutability of blockchain technologies
A single source of truth for verified data ensuring trust and authenticity of verification
Digital Identity based KYC process capabilities
Retaining total control of data in the hands of the ownersand ability to share data with consent
Removing the need of repetitive verifications for the same profile, by maintaining a clear and accessible history of verification in the blockchain
Eliminating the need for intermediaries in the Identity and data verification steps.
Digital Signatures on documents using Lynked.World Digital Identity
Here, at Lynked.World, our driving principle is to overcome the "trust barrier" in digital identities, data and documents with the help of our blockchain based application development platform.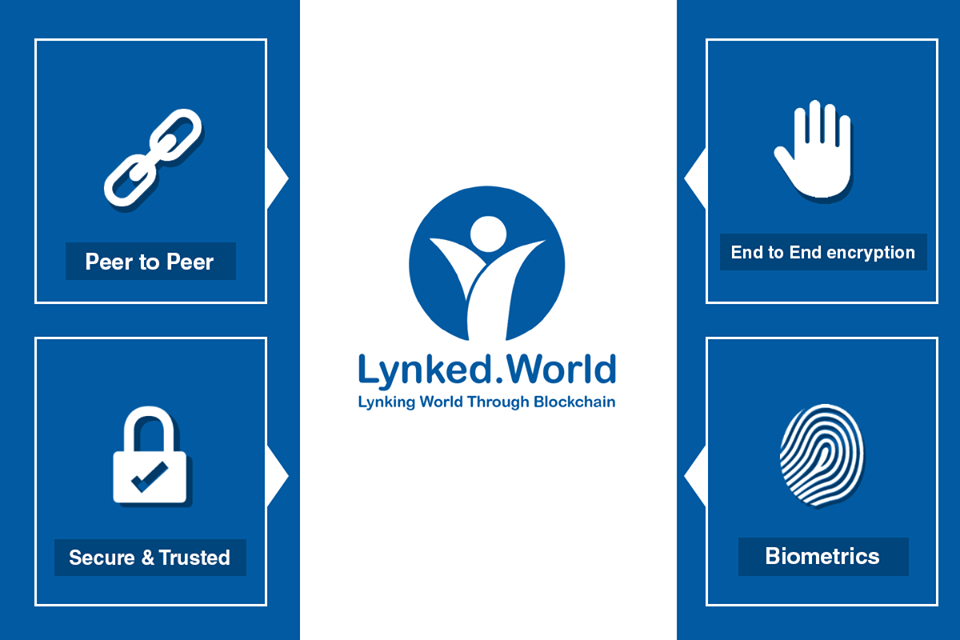 The Problems
An absence of a guaranteed secure and trusted identity of each individual and entity
No common premise for Trust and Authenticity of data across various use cases
Inefficiency and increased costs due to intermediaries involved in processes
Inability to provide access to many kinds of services over digital platforms due to the non-secure nature of digital identity and associated data
The platform is also intended as a one-window service through which citizens can apply for, and receive, various government-issued documents, such as birth certificates, residence permits, etc. Durgapur and Bankura Municipal Corporations in India have recently agreed to work with their citizens via the Lynked.World app to simplify and speed up the document and digital certificates procurement procedures.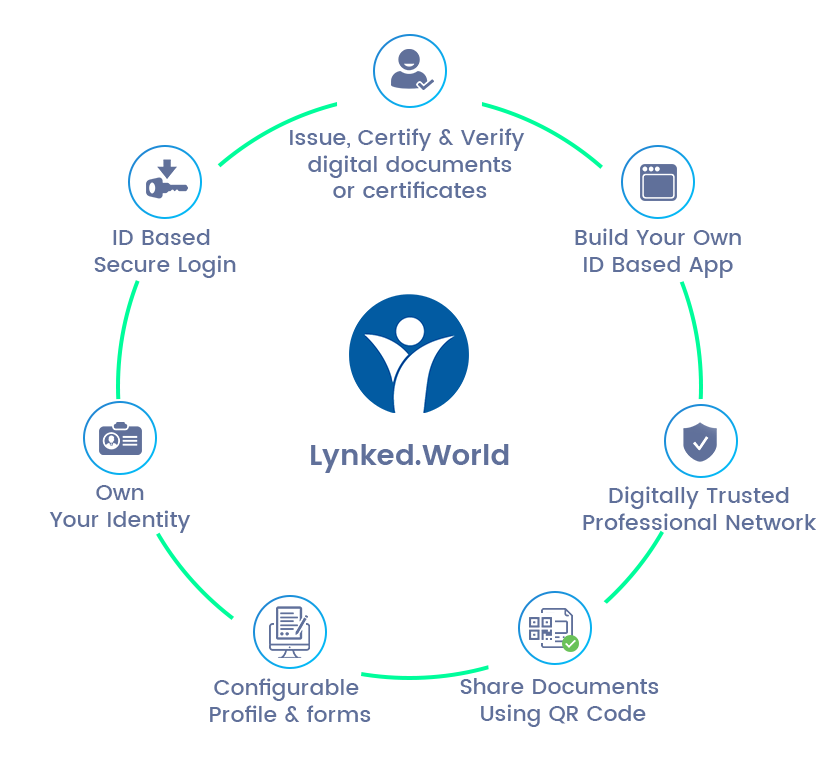 The Ecosystem
Lynked.World's eco system is a multi-faceted solution consisting of all application platforms developed from the bottom up to be able to take advantage of blockchain technology features. Our platform is based on the Ethereum blockchain and consists of feature-rich modules that solve real-life problems around the trust and authenticity of digital identities, documents and data for both consumers and companies.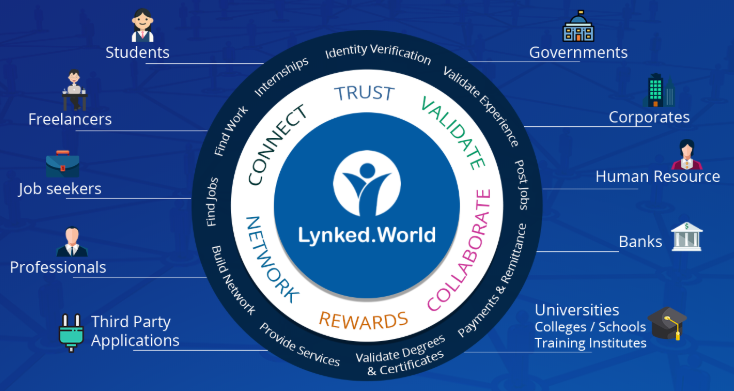 Digital wallet
Secure Storage of Identity, Data and Documents
Configured QR code
Share Identities and Documents using a QR code
Configurable Forms
Empower organizations to easily create and disseminate forms for various services
Identity & Background Verification
Ensure acceptance of digital identities and documents by releasing the power of blockchain.
Secure ID-based login
Enables limitless authentication for business applications using Lynked.World secure ID
Application Development Platform
Empower application development on platforms that uphold the trust and authenticity of identities and data
Design and Issue of Identity Cards
Design and issue identity cards for your students and employees
Easy to design identity cards using delivered templates and drag and drop features
Issued Identity cards are immutable and secure by design owing to the use of both blockchain and biometrics
Easily share identity using QR codes to get access to services and/or facilities
Protection from Identity theft and misuse
Uses and benefits of Digital Identity
Access to premises
Attendance registration
Issuing books in Library
Convenient and easy to use, e.g., Attendance can be registered by scanning a printed QR code
Paperless – Digital Identity on user's personal device
Environment friendly and cost saving
Application for a new Service (SIM Card)
Consumers joins Lynked.World
Completes his/her identity verification on Lynked.World platform
Telecom Service Provider's portal has an option to register for a new SIM Card using Lynked.World Digital ID
On using this option, the user is greeted with a QR code that encapsulates the application form for a new SIM Card along with the information about the required identity and other documents for the KYC process
Consumer scans the QR code using Lynked.World App
Consumer validates and authorizes the requested documents and data for the SIM Card application
Provided identity is verified against the blockchain via Lynked.World
Sim Card is Issued and activated
Secure Transactions
The digital identity solutions greatly remove the risk of fraudulent online transactions by indisputably identifying a person harnessing the power of blockchain.
Banks, Financial organisations and even online retail services can leverage our application features to make sure that online payments, withdrawals etc., are authentic and not being done using lost or stolen cards and/or identities. An online transaction cannot be completed until a user confirms his/her digital identity using our Lynked.World mobile app making transactions over the internet much more secure and trustworthy.
Token Sale and ICO Details
Lynked.World tokens (LYNK) are ERC20 tokens based on the Ethereum platform and as illustrated below, sales will begin for November 15, 2018 to February 10, 2019. You can get one LYNK token at a price of 0.35 USD.
Payment methods can be done with Bitcoin (BTC) and Ethereum (ETH). Sales will be divided into four rounds by offering discounts for the price of each token. You can get discounts up to 35% for initial round purchases. Make sure you contribute to the token sales date range. Token distribution will be carried out for platform development until it is ready to be implemented.
Token Details
Token Symbol : LYNK
Initial Token Supply : 200,000,000
Start Date for Public Sale : November 15 th , 2018 (9:00 AM GMT)
End Date : February 10th, 2019 (11:00AM GMT)
Number of tokens for Sale : 150,000,000 LYNK
Hard Cap : 25,000,000 USD
Token Exchange Rate : 1 LYNK = 0.35 USD
Soft Cap : 5,000,000 USD
Acceptable Currencies : ETH, BTC
Token Distribution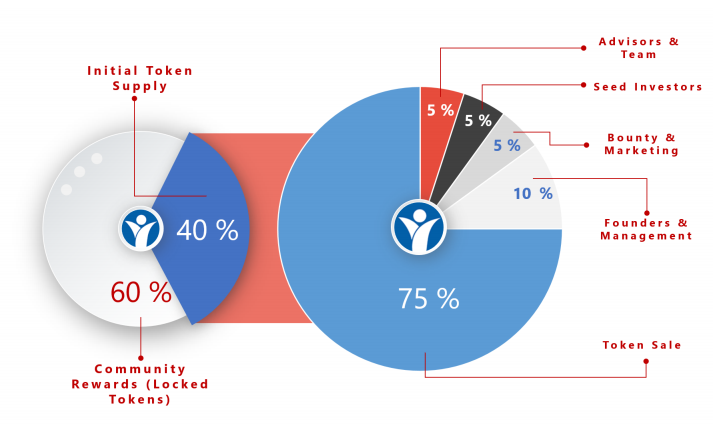 ICO Stages

RoadMap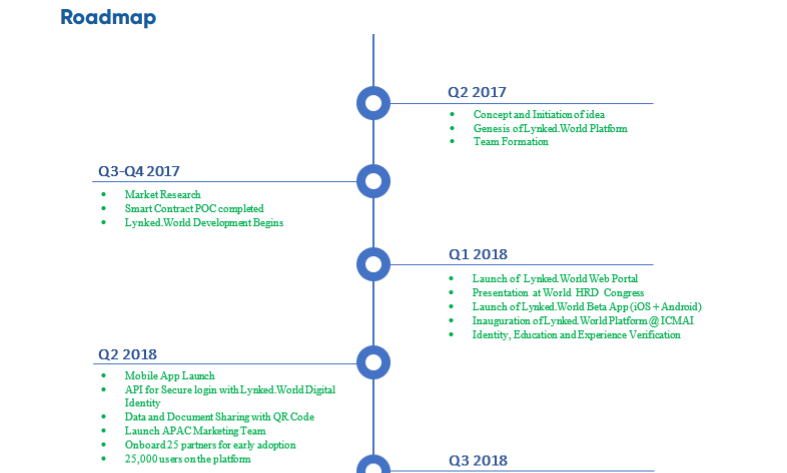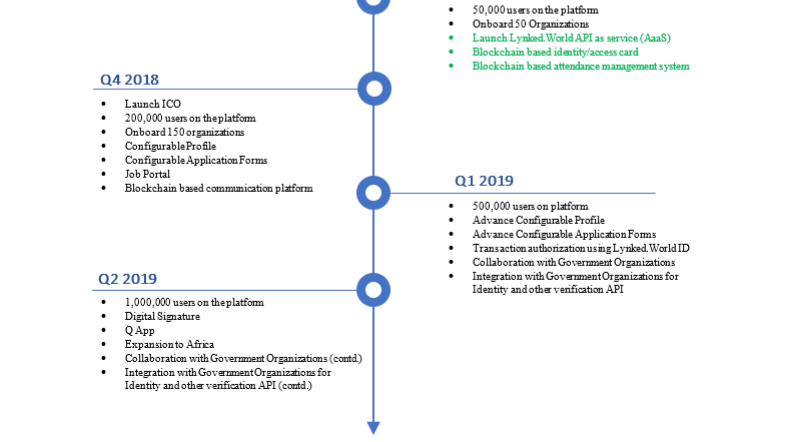 Meet The Amazing Team
Arun Kumar – Founder & CEO
Debashish Biswas – Global Strategy Advisor
Rishi – Chief Technology Officer
Alexander Mamasidikov – Chief Marketing Officer
Satya Prakash – Chief Cloud Architect
Meenakshi Mehra – Client Relationship
Saravana Kumar Malaichami – Blockchain Architect
Sunil Kumar – Business Development
Anil Boricha – Technical Team Lead
Jaydev Vaghela – Sr. Software Engineer
Bhavesh Amin – Sr. Software Engineer
Yatin Dhingani – Sr. Software Engineer
Alexis Ernst – UI/UX Architect
Nishant Kansagara – UI/UX Developer
Vishal Gohel – Sr. iOS Developer
Rajat Jaswal – Sr. Android Developer
Deepak Bajpay – Sr. Android Developer
Atulesh Kumar – QA Lead & Release Manager
Pragya Shrivastava – Test Engineer
Gayatri Sharma – Test Engineer
Suryavanshi Gupta – Test Engineer
NOTE: This article is just a guide to prospective clients, investors and every person scorching for a slice of this amazing project,
You can get more information about these project with huge potential by following the link below:
Website: https://tokensale.lynked.world/
Whitepaper: https://tokensaledev.lynked.world/images/LynkedWorld_Whitepaper.pdf
ANN Thread: https://bitcointalk.org/index.php?topic=5004367
APP: https://tokensaledev.lynked.world/#apps
Facebook: https://www.facebook.com/lynkedW/
Twitter: https://twitter.com/LynkedW/
Telegram: https://t.me/lynkedW
YouTube: https://www.youtube.com/channel/UCfi3HFpLbIifFYmRUncV5PQ/videos
PUBLISHER
bayo88
BITCOINTALK PROFILE: https://bitcointalk.org/index.php?action=profile;u=2407711