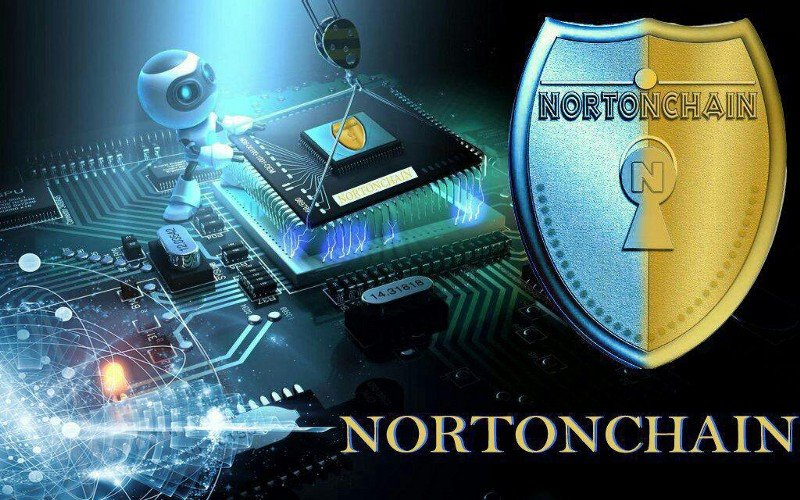 INTRODUCTION
Since the emergence of blockchain technology in 2008 when Satoshi Nakamoto introduced bitcoin, there have been rigorous efforts to apply the blockchain to several aspects of the global business process, Blockchain technology has been described as having the potential to disrupt many industries with a low-cost transaction, immutability, and enhanced security. In the years that have followed, many other blockchain implementations have been developed with each one exhibiting unique features tailored to specific use-cases.
Blockchain has made it possible to issue just about any asset via a distributed ledger framework. With the aid of cryptocurrency tokens, these assets can be given economic value in order to initiate and validate several transactional processes. Several on-chain protocols have been developed by a number of startups and established companies alike in order to create blockchain-based solutions.
As more technological advancements are uncovered, NORTONCHAIN an open source distributed ledger that is built to solve the problems faced by all existing blockchains came on board to address these problems.
ADVANTAGES OF BLOCKCHAIN IMPLEMENTATION
Decentralized Payment Processing
The payment processing framework for global commerce is based on a centralized system which requires the services of third-party authenticators. These third-party agents are responsible for ensuring the fidelity of the global payments system and they charge fees for their services. One of the fundamental philosophies behind the operation of the blockchain is the removal of these third-party agents and their associated cost of trust and replacing them with a robust, functioning distributed ledger payment framework.
Creating an Immutable System of Record
The blockchain is the first successful implementation of the distributed ledger framework. On public blockchains, the distributed ledger constitutes an immutable system of records that is available to all participants. The immutability of a blockchain ensures that it is tamper-proof.
Reducing Cost of Transaction
Payment processing remains the basic level of commerce but it is one that has not seen much in the way of evolution since the emergence of fintech protocols. Blockchain technology has the potential to disrupt commerce by causing a paradigm shift in the mechanism by which transactions are carried out. The fees charged by third-party actors and middlemen in the payment chain constitute a considerable portion of the cost of transactions. By eliminating the middlemen, the cost of transaction is materially diminished.
Enhanced Security
Operating on a multinational scale opens up any enterprise to the activities of hackers looking to breach the structural and functional integrity of the platform. Blockchain technology offers a robust security framework that makes it difficult for hackers to make an incursion into the platform. There is no central point of failure and hence no single point of entry for malicious digital attacks. This ensures the safety and security of the data collected by field agents and the payment processing network. that provides an accurate accounting for the entire platform.
ABOUT NORTONCHAIN
Nortonchain is a decentralized exchange platform where users no longer have to worry about passwords and emails to login, neither do they have to worry about private keys. With Nortonchain's AI, the exchange is capable of having users simply login with their face being recognized as their login information. Nortonchain has its representative coin called Norton Coin, which is a payment coin used on the numerous Norton Platforms, it's atomic swap capable and is used on other platforms outside of Nortonchain for countless usages.
Below is an explanation of what Nortonchain is
Additionally, Nortonchain is an open source distributed ledger that is built to solve the problems faced by the existing blockchains. Nortonchain Technology is set to rid the confirmation of transactions by miners that lead to the high cost of transaction fees and delays in delivery of funds when transferred from one wallet or account to another. With Nortonchain, users verify each others transactions and this is made very automatic through artificial intelligence embedded into each account once created, the artificial intelligence creates child of itself for each new account or wallet created and this child helps the transactions made on its wallet confirmed instantly as information about previous transactions and every transaction made is already known to the Chain. This is how distribution and validation is made possible between users account. This distributed ledger is the true intention blockchain was originally built; a system where transactions would be instant, secure and free.
OUR AIM AT NORTONCHAIN
Nortonchain serves a major purpose of being an ecosystem which embodies other independent Platforms. Nortonchain Technology is built to go miles further from the existing peers. Now, with the Power of Nortonchain Developers of different industries having minimum level of programming now have the leverage of creating and building new problem solving projects and also having the flexibility of using the added super amazing features of Nortonchain Technology. It allows for the customization and configuration of the intended new platform to be built giving them ultra-speed, tight security, simplicity, zero fees transaction and more. On Nortonchain, developers do not have to border about coding their independent Platforms. The built in AI system is programmed to execute task of all kinds through a few lines of commands issued to it through code snippets or voice commands.
The Norton Exchange Application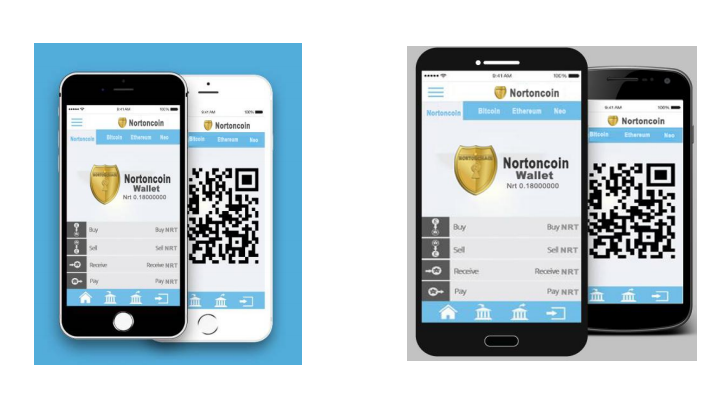 NORTON EXCHANGE with the many astonishing highlights is likewise accessible in the application frame. Tests of the application interface are appeared beneath for Android and iOS contrivances.
Advantages of Nortonchain
High Security
Nortonchain's AI is focused on building algorithms which are capable of working with (processing, or operating with) data while it is still in an encrypted state. As any part of a process data which involves exposing unencrypted data represents a security risk, reducing these incidents is the goal of Nortonchain.
Speed Of Transactions
Nortonchain Cryptocurrency is used as revolutionary digital money in the Nortonchain ecosystem. It is represented by the symbol NRT. Nortoncoin is fast and can handle over 2000 transactions per second, making it the fastest and best payment cryptocurrency.
Conditional Payments
Nortonchain adopts the smart contract concept when the certain features are met. Both reach agreement before payment.
NORTON PRODUCTS
NortonChain Atomic Swap
Norton Coin has a special wallet built with the implementation of BIP65 to enable it conduct atomic swaps.
ATOMIC SWAP or ATOMIC CROSS-CHAIN is the exchanging of two cryptocurrencies between two different parties without the need of a trusted third party
NORTON EXCHANGE
NORTON EXCHANGE combines various major sections that allow users to make a coin conversion request, find a suitable match and complete the trade using an atomic cross-chain protocol. Additionally, there is a privacy layer in the order matching so that two nodes can do a peer-to-peer atomic swap without any direct IP contact between them
NortonBot Chat System with AI
NortonBot powered by AI is set to relate and communicate with users so to give better usage and deployment on the Nortonchain platform. This bot is completely powered by AI, this makes it very smart and fast in other to relate with users most efficiently.
TOKEN AND ICO DETAILS
Nortoncoin is used as revolutionary digital money in the our ecosystem. This is represented by the symbol NRT. Nortoncoin is fast and can handle over 2000 transactions per second, making it the fastest and best payment cryptocurrency. The NRT is used on NORTONCHAIN for payments and transactions.
Token Details
Ticker: NRT
Protocol: ERC20
Accepted currency: ETH, BTC, BCH, LTC
Total tokens amount: 250,000,000 NRT
Minimum Payment on Presale/Token: 200 USD
Soft Cap on Pre-Sale: 5,000,000 USD
Bonus: 40%
Softcap: 5,000,000 USD
Restricted countries: USA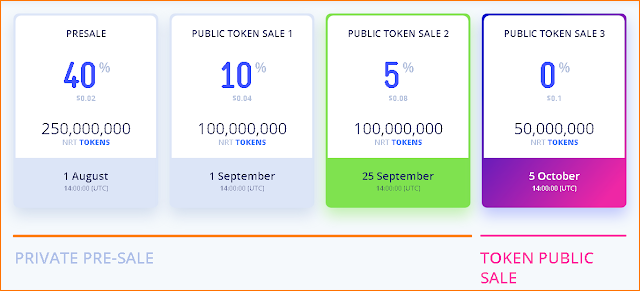 Token Allocation
50% Token sale
10% Airdrop
15% Selfdrop
5% Bounty
8% Reserve fund
2% Partner
5% Team
5% Advisors
Funding Allocation
60% Development
20% Marketing
10% Operations
8% Partnership
2% Legal
ROADMAP
Q3 2017 (JULY-SEPT)
Nortonchain Idea Team Development!
Q4 2017 (OCT-DEC)
WEBSITE DEVELOPMENT ANNUAL EVENT
Q1 2018 (JAN-MARCH)
Meeting With Partners, Website Review For Upgrade
Q2 2018 (APRIL-JUNE)
First Airdrop, Website Upgrade, Voting for listing on External Exchange
Q2 2019 (APRIL-JUNE)
Debit Card Release Listing On More External Exchange
Q1 2019 (JAN-MARCH)
Listing of Third Party ICO'S, NORTONCHAIN (Alpha Version)
Q3 2018 (OCT-DEC)
Last Rounds of Public Sales, Norton Exchange, Web Wallet Development, Second Airdrop, NRT Token Launch on Exchange, Implementation of AI modules on Norton Exchange, Annual Event
Q3 2018 (JULY-SEPT)
NortonBot, Listing on more External Exchange, Pre-Sale, Public Sale, Conference With Developers
Q3 2019 (JULY-SEPT)
NORTONCHAIN (beta version) Norton Explorer
Q4 2019 (OCT-DEC)
NORTONCHAIN [Operational] Norton Decentralized ,Exchange Android, iOS, and Desktop Wallet Development Annual Event and More to come!
MEET THE AMAZING TEAM AND ADVISORS
SAMUEL Strong: Founder/CEO
JOHN Lucky: Senior Blockchain Developer
DADAPIR Galgale: Marketing Manager
U'DEMI Sol: Software Developer
GURPREET Chauhan: Marketing & Exchange Advisor
LALIT: Legal Advisor
YUESHUYA Iesus: Developer
JESSY Kings: Graphics/Developer
LUCKY Uwakwe: Platform Development Advisor
EDUARDO Costa: Fundraising & Investment Advisor
TANNER Eastman: Community & Project Manager
NOTE: This article is just a guide to prospective clients, investors and every person scorching for a slice of this amazing project,
You can get more information about these project with huge potential by following the link below:
Website: https://nortonchain.io/
Whitepaper: https://nortonchain.io/Nortonchain-ENGLISH.pdf
Telegram: https://t.me/nortonchainEN
Twitter: https://twitter.com/nortonchain
Medium :https://medium.com/@NortonchainNRT
Facebook: https://www.facebook.com/Nortonchaincenter
Reddit: https://www.reddit.com/user/Nortonchain/
PUBLISHER
bayo88
BITCOINTALK PROFILE: https://bitcointalk.org/index.php?action=profile;u=2407711