iTrue is a blockchain project which aims to develop a decentralized platform for businesses. Businesses can use this platform to improve security of their applications. Thus, the platform is providing security to the customers' data and also they can have control over their data. iTrue platform is solving the problems of centralized systems which store user data as they are prone to hacks and breaches. The platform will authenticate the users' data with the help of biometrics which makes this platform easy to access for the customers. iTrue is a blockchain based authentication system introduces to create another line of protection for user data. The platform also ensures that users have control over which personal data is accesses by third- parties. They can also share their data in a regulated fashion and earn while doing so. This service is for individuals who would want to control what data they share and for companies and developers who would want to authenticate their users in a seamless and reliable manner. All users earn reward on the iTrue platform through a fair exchange of data according to the need of the community.


iTrue was inspired by the growing demand for authentication services for the growing number of fintech and other financial services companies. The project addresses the issues of privacy, security and the convenience of users in terms of personal data authentication. iTrue is a Blockchain-as-a-Service (BaaS) solution that integrates a biometrics-based authentication system. The iTrue platform will allow companies and developers to authenticate their users, build proprietary blockchain network and earn rewards. Users can employ the solution to get authenticated, control and manage their data and get rewarded for sharing it.


By combining biometric, blockchain and advanced database technologies, iTrue can enhance user authentication and privacy. Besides, developers can build a wide range of decentralized apps right within this ecosystem. The result is that iTrue is a resilient and, scalable infrastructure where user data are secure from misuse or data theft.
BENEFITS
Privacy
Users have full ownership of their data, and have full control over where their data is shared
Confidence
User data is stored on a decentralized platform and never on local devices, thus ensuring better protection against failures or data theft
Ease of Access
Biometric access means never having to memorize a password again, and never having to rely on a gadget like a smartphone or credit card
Participation in Data Economy
Individual users can get benefits when they willingly provide data to clients and businesses that require it, in the form of tokens or other rewards
Automation
Blockchain-as-a-service comes with authentication platform and reduces the need to build one from scratch, particularly the ID verification
Compliance with Regulation
Tokenized data sharing mechanism informs users and seeks authorization before any data is exchanged, thus complying with regulatory frameworks like GDPR
Data Exchange
Contractors who traditionally collect and process data can exchange existing data with other contractors who may hold their own data. To ensure privacy, such data sharing will still require user permission
Customized Applications
Business gain access to both turnkey solutions and developer-customized applications right within the iTrue platform
Time-to-Market and Scalability
Access to iTrue microservices enables developers to build their enterprise or consumer apps on top of the iTrue platform. Such apps can be listed on the iTrue Marketplace for businesses and users. iTrue's new type of storage also ensures speed, security, and accessibility.
Tokenized Benefits
Microservice developers get token rewards whenever other developers build upon their existing microservices; Application developers get token rewards when their solutions are utilized by other enterprises or users in the marketplace or when they are requested to customize or fine-tune iTrue applications for enterprise end-users
Extensibility and Turing Completeness
iTrue microservices are building blocks that enable developers to more quickly design and deploy enterprise or consumer applications. Developers can also build their own microservices into the platform, which other app developers can also utilize in building their own services and apps
ECOSYSTEM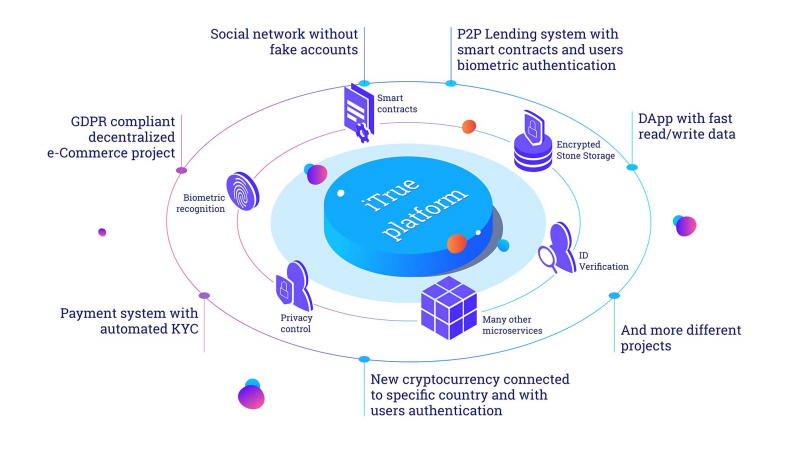 The ITU token brings together personal and commercial users into a single ecosystem with unlimited opportunities for scalability under a decentralized platform for identification and data storage. iTrue's blockchain as service platform enables applications to integrate authentication independent of passwords, gadgets and plastic cards — all through microservices as building blocks.
The platform enables users, clients, and developers to benefit from sharing and utilizing data on the platform. The primary service for authentication with biometrics can be the basis of projects by third-party developers who will be able to integrate their own features and solutions into the iTrue platform.
PROCEDURE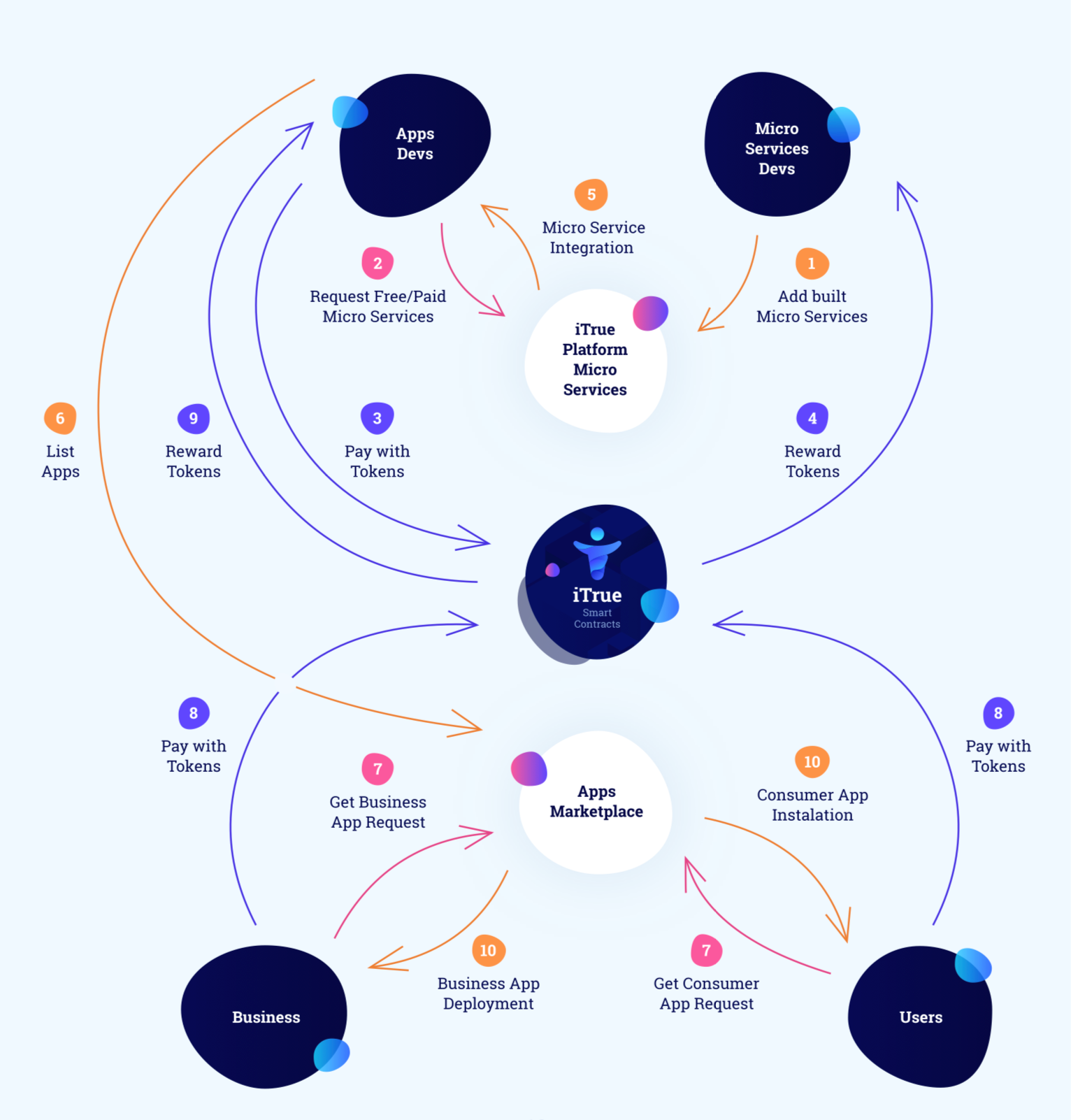 TOKEN SPECIFICATION
Token name: iTrue (ITU)
Nominal price: 1 ITU = US$ 0,01
Total amount of released tokens: 8 billion ITU
All the unsold tokens: will be burnt by the smart contract
Token type: ERC20
Total soft cap – 7,500,000 USD
Total hard cap – 40, 000,000 USD
Payment accept – Ethereum
Minimum investment – 100 USD
Price of a single ITU – 0.01 USD
Pre-ICO cost of 1 ITU – 0.006 USD
Bonus- it is available to the users and anyone can participate in it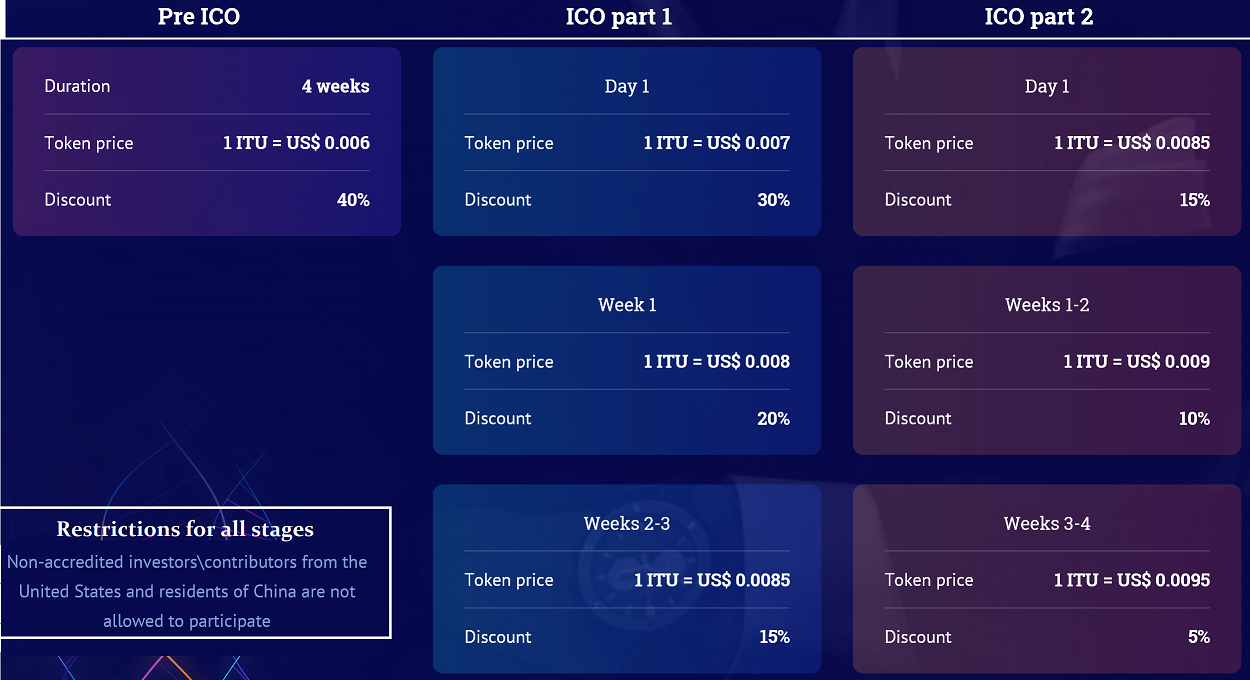 TOKEN DISTRIBUTION AND FUNDS USAGE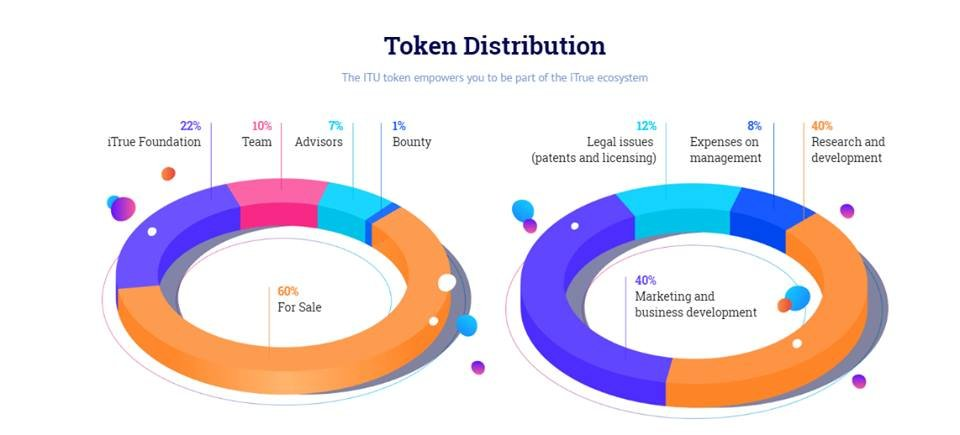 ROADMAP TO SUCCESS
Q2 – Q4 2017
Identification of competitors and market analysis
Q4 2017 – Q2 2018
Development of technical specifications, project architecture and a system of automated human face recognition
Q1 – Q2 2018
Development of Stone storage: Fast and scalable like DB, immutable and transparent like blockchain
Q2 – Q3 2018
Development of APIs to connect microservices with Stone storage
July 2018
iTrue company registration in Hong Kong
GDPR took effect. iTrue architecture and its microservices are already designed in accordance with GDPR requirements
August 2018
iTrue subsidiaries registration in India and Lebanon
Filing form D 506 exemption notice for submission to SEC, opening the token sale for US accredited investors
Q3 2018
Development of mobile applications (iOS, Android) enabling the insertion of personal data to the blockchain network and face recognition for access to personal data
Token Sale
Q3 – Q4 2018
Expansion to the Arab Maghreb Union, India and the CIS. Launch of 20 pilot projects in banking, insurance, surveillance, ecommerce industries
Opening iTrue community for third party developers; Opening the platform for third party microservices developers so they can build own microservices to expand iTrue platform functionality and community
Q3 2018 – Q1 2019
Development of a payment system and an IDV system to verify citizens of India, Bangladesh, Russia, Lebanon and Qatar
Q4 2018
Launch of the platform for Privacy Control and Data Sharing between Users and Clients. Users will be able to control their privacy and get tokens for its controlled data distribution to Clients
Q1 2019
Development of 5 additional microservices to make personal life and business processes easier and safer, available for integration to the projects of iTrue platform third party developers
Launch the platform for third party developers of applications so they can use iTrue and third party developers microservices by building enterprise/consumer apps and getting tokens on selling apps to Business and Users
Q2 2019
Launch of a fully-functional platform enabling Web 3.0 projects and DApps
Q1 – Q2 2019
Expansion to the countries of ASEAN. Launch of 50 pilot projects in banking, insurance, surveillance, ecommerce industries
Q2 – Q4 2019
Development of 20 additional micro services to solve day to day issues of Business and Users
Development of an IDV system to verify citizens of the China, Thailand and Indonesia
MEET THE SMART TEAM


ADVISORY


Kind Regards, ensure to join this incredible project.
FOR MORE DETAILS, CLICK/FOLLOW THE LINKS BELOW:
Website Link : https://itrue.io
Whitepaper Link : https://itrue.io/files/iTrueWhitePaper.pdf
ANN Thread : https://bitcointalk.org/index.php?topic=4721365
Facebook Link : https://www.facebook.com/iTrue.io
Twitter Link : https://twitter.com/Itrueio
Telegram Link : https://t.me/itrueio
Author: Martilda
Profile link: https://bitcointalk.org/index.php?action=profile;u=1887582
Eth address: 0xd0D5d98857192B3931c831b7B809D47CD830da32