Asobi Platform is the world's first Distributed Secondary Content Platform that promote trading of digital content on distributed secondary markets, which serves as the new blockchain economic era for publishers and users. Asobi Platform permit you to buy and sell digital content, such as comics, games, music that you want to share with others.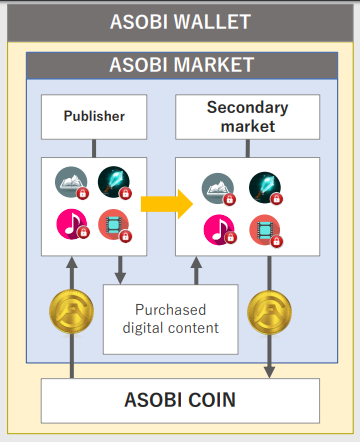 The Asobimo DApps platform will make digital content on the secondary market a valuable asset for all parties, and provide a safe trading experience with minimal costs and no friction. Asobimo DApps will provide a distributed secondary content platform with "Decentralized Security System" (DSS) through blockchain technology which will provide evidence of ownership of undeniable content. The platform offer distributed content through a peer to peer distributed secondary content platform.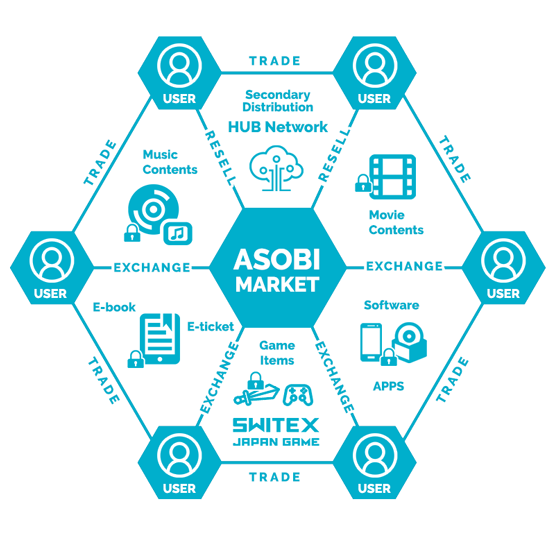 ASOBI MARKET uses blockchain technology to provide a protected system to distribute second-hand content. The current digital content services do not give licenses to users, which makes it impossible to resell or when a service closes down, the users lose their content.
At ASOBI MARKET the user owns the license, which we can guarantee through DRM, Decentralized Security System (DSS). This system enables a secure secondary digital content trade with ABX.
ASOBI WALLET
Purchase and sell various digital content directly from ASOBI WALLET
Digital content such as
・e-books
・Game items
・Music
・Videos
can be sold at ASOBI WALLET.
At publisher stores you can buy various digital content. At the secondary market you can sell your content or buy used content of a lower price. When selling actual products at a second-hand shop, it is necessary to carry or send the products to the store. However, when selling digital content at our secondary market, it is very easy and smooth. The sold amount will be automatically transferred to your ASOBI WALLET as ASOBI COIN.
Return Profits to Rightful Owners
The digital content traded at ASOBI MARKET will be on the blockchain as smart contracts and automatically returns the profit to the rightful owner. (International patent pending). Using the smart contracts on the blockchain, ASOBI MARKET will automatically bring profits to the original, rightful owners of the content. For example if you sell a digital manga book for $2, with the smart contract information the profits will be automatically distributed as follows:
・Seller +$1.00
・Publisher +$0.70
・Author +$0.30
(All this will be visible on the blockchain).
ASOBIMO and SWITEX Gmbh jointly developed NAGA Virtual, the platform for in-game items inside ASOBI MARKET. Gamers can buy or sell in-game virtual items individually or through a game publisher.
Secure game item exchange
We provide a safe, fair, and modern market for all kinds of games and virtual goods.
Profit back to publishers
At most item trades, the publishers don't get much profit, but thanks to Switex Japan's publisher friendly platform, they will get their profit from the traded amount.
TOKEN SPECIFICATIONS

ICO DETAILS
Asobi Coin is slated to be an ICO before the game comes out, people will be able to put money into an in-game currency at a reduced price within the hopes that it'll grow in cost exponentially or pay itself forward as soon as the game has been released. These sorts of currency are more commonly used to buy special in-game items tied to the currency, buy other items that could usually fee a fortune, or boost up participant progress in a few manners. Asobimo is currently raising funding through an ICO for its Asobi Coin (ABX), that is an ERC20 blockchain token with a view to act because of the number one currency in Asobimo's smartphone RPGs and underpin its own marketplace.
Token: ABX
Price: 1 ABX = 1 JPY
Platform: Ethereum
Minimum investment: 1ETH
Soft cap: 550,000,000 JPY
Hard cap: 5,500,000,000 JPY
Country: Estonia
Whitelist/KYC: KYC
Restricted areas: China, USA.
TOKEN ALLOCATION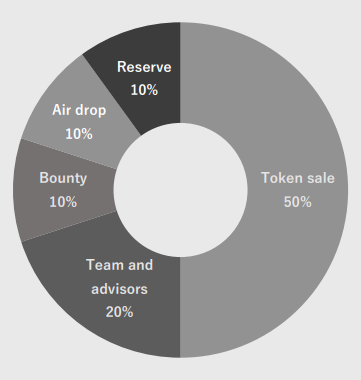 FUNDS DISTRIBUTION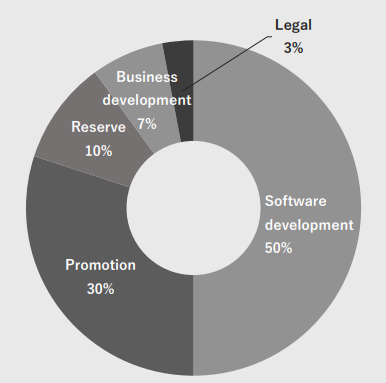 MEET THE KNOWLEDGEABLE TEAM
Katsunori Kondo - ASOBI COIN CEO co-founder
Yuusuke Haibara - ASOBI COIN Co-founder of CFO
Hidemi Oshimo - ASOBI COIN CIO co-founder
Jonggu Na - ASOBI COIN COO founder
Marco Poliquin - ASOBI COIN Co - founder Advisor & Developer
Masaya Murai - ASOBI COIN CMO co - founder
Sean Katsu Matsuda - ASOBI COIN CCO co - founder
Miho Mitsui - ASOBI COIN PR Manager
ROADMAP
December 2018 - Give ASOBI WALLET
December 2018 - Activate the use of ASOBI COIN in ASOBIMO and other company names
December 2018 - Launches ASOBI MARKET, Distributed Secondary Content Platform to trade in-game items
March 2019 - Providing Distributed Secondary Content Platform for digital and comic books on ASOBI MARKET
June 2019 - Provides Distributed Secondary Content Platform for music, movies, e-tickets etc. At ASOBI MARKET
December 2019 - Activate the use of ASOBI COIN in more than 1000 games.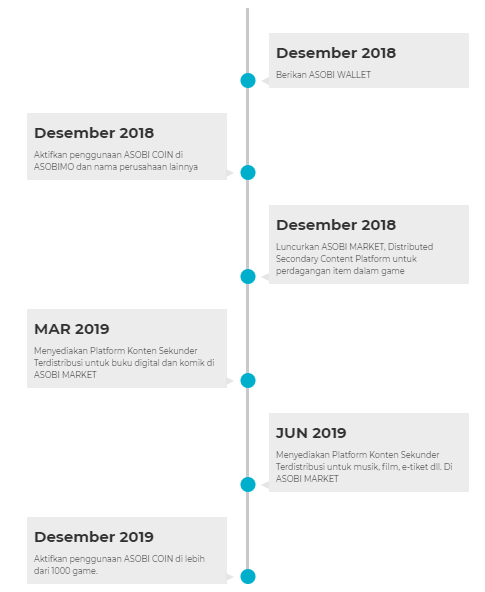 Peaceful greetings of the universe.
FOR MORE DETAILS, CHECK OUT THE LINKS BELOW:
WEBSITE: https://asobimo.io/en/
WHITEPAPER: https://asobimo.io/pdf/white_paper_en.pdf
FACEBOOK: https://www.facebook.com/Asobi-Coin-130436194467568/
TWITTER: https://twitter.com/AsobiCoin
TELEGRAM: https://t.me/AsobiCoin_Official
Published by: Harleyberry
Bitcointalk profile link: https://bitcointalk.org/index.php?action=profile;u=1620264
Eth Address: 0x2F646B6A6085d34B0Efc88C1b0DCaa8B3af2E53C