Ukraine has an opportunity to take the lead and attract more resources to its financial market by legalizing all cryptocurrencies. This will be done by Legislation currently being drafted which can include legalization of Cryptocurrencies, mining and ICO market platforms.
Currently (at the time of this whitepapers writing draft legislation is being worked on which would define Bitcoins status in the country of Ukraine. Once this is defined the Legislation will further expand on Initial Coin Offerings and Marketplace use and possible taxation.
This would be an extremely positive step for this project as it aims to assist with the legislation and eventually offer services to Ukrainian citizens.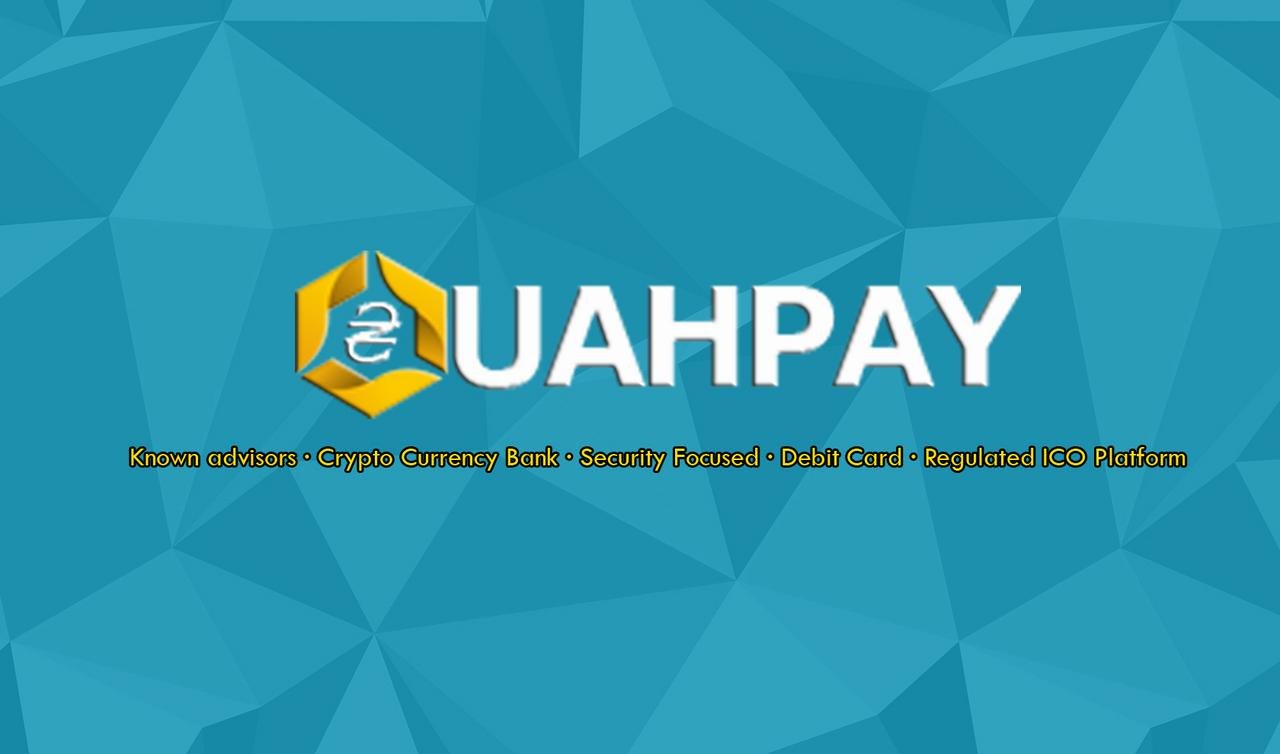 UAHPAY has been in development for over a year. Its core focus has been developing the blockchain technology, trading platform and app that will power the platform. UAHPAY has assembled an expert management team with a diverse range of skills from cryptocurrency, Ukraine Politics, banking and security.
AIM AND OBJECTIVE
UAHPay has a primary goal to create a safe banking environment for Ukrainian citizens. This needs to be built on trust and security. This can only be done using blockchain based technology. Providing the ability for our clients to exchange fiat currency in real-time without inter-bank exchange fees, access to international transfers and other banking services such as low-interest rate loans is one of our key objectives.
UAHPAY will offer money wallets in 23 fiat currencies initially which will cover most of the Global currencies such as EUR, USD, GBP and UAH. In addition, partnering with Coin payments we will offer support for over 55 popular cryptocurrencies. Our primary goal is to work with Central Banks around the world and assist in implementing new forms of Government-backed Digital Money. for more info please read the white paper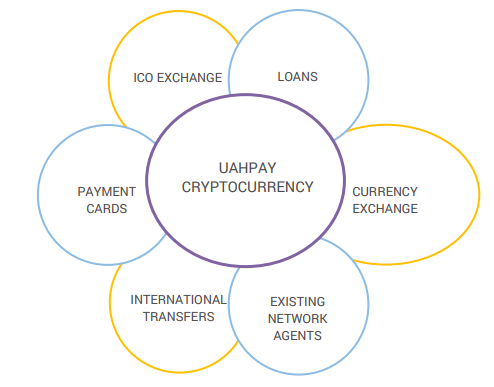 ROAD MAP
UAHPAY has been in development for over a year with its operations & team now based in Kiev, Ukraine. We strongly believe that this solution has the power to transform a nation and provide a stable banking platform for its citizens.
DEVELOPMENT OF PLATFORM
The required crypto coin platform for cryptocurrency exchange and banking platform has been completed.
PRE-ICO & ECONOMIC FORUM
Start date for our PRE-ICO is September 22nd, which will run for 30 days. During this time we will be at the Kyiv International Economic Forum lobbying the Government of Ukraine and speaking to various partners.
INITIAL COIN OFFERING
50% of the UAH tokens will be distributed to raise the necessary capital to build a successful global Crypto bank.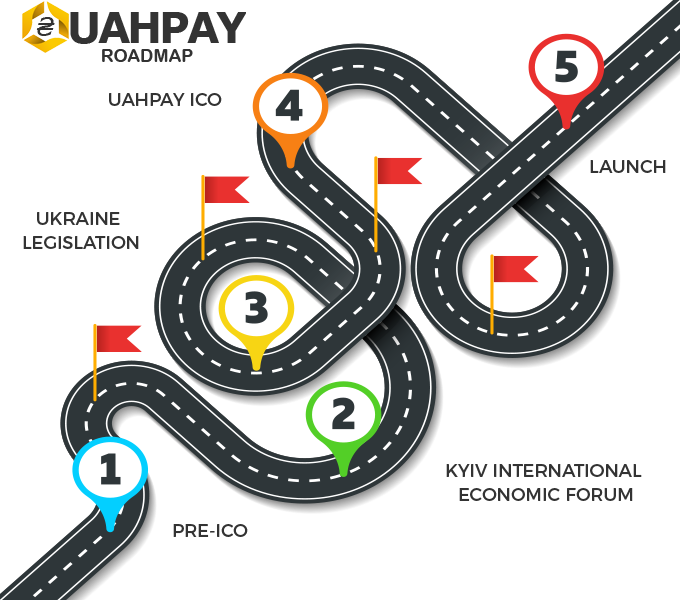 UAHPay Card and App Features
The UAHPay card will be issued by two of the World's leading issuers and processing platforms. We will be listed on two stock exchanges and will hold two bank licenses in Germany and Ukraine. Our goal is to have a North American Banking license as well in the future in order to capitalize on other markets.Our processing platform is a Mastercard and Visa accredited processor with Level 1 PCI DDD compliance. We will provide in-house technical support and card holder concierge services.Our UAHPAY app is proprietary and built for both IOS and Android operating systems which integrate all our services in an easy to use and intuitive UI that is easy to understand and use.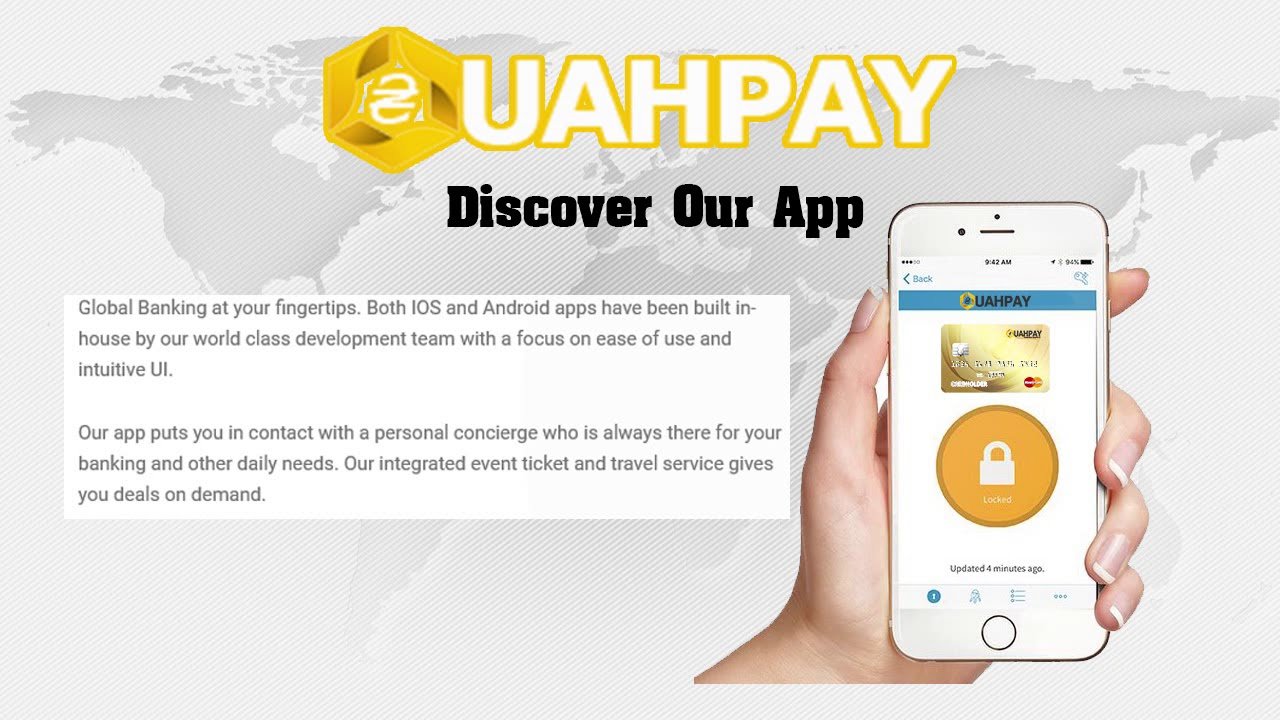 The UAHPAY PRE-ICO, PRE-INITIAL Coin Offering
Our Pre-ICO will be open for one month starting September 22nd at 12:00 AM EST. We offer an exclusive Black Card to our VIP Founders who contribute more than 25 BTC in our Pre-ICO phase. Our VIP program includes a separate 10% revenue share pool, lifetime VIP No Fee Bank Account, concierge, Airport Lounge Access. Participating at any level has a ton of rewards which include tickets to the Kiev International Economic Forum and VIP access.Our Pre-ICO will consist of a sale of 5% of our available tokens which will be used to determine the price of our Initial Coin offering.
This will increase to 10% if we reach our initial goal within 7 days. If we do not reach our minimum pre-sale goal of 5% of available tokens we will refund the total amount of the purchase including the transaction fees. Funds raised in our Pre-ICO will be used as follows: 25% Development, 25% Marketing, 25% Government Licensing & Legislation, 15% Salaries, 10% Card Issuance & FX Exchange. To implement UAHpay's vision, we are launching an initial coin offering (ICO) at the end of November to issue UAHpay tokens publicly.The tokens called UAHPay (UAH) will be issued during the ICO. The pre-ICO will be launched to determine how many tokens to be issued in total. Pre-ICO participants will be issued redemption certificate codes which will be redeemable on the day our ICO is launched and the token becomes publicly traded on exchanges. Only 10% of the tokens will be distributed during pre-ICO. Our HARDCAP will be 1 Billion UAHPay Tokens (UAH).
TOKEN Creation & Commissions
During the initial coin offering (ICO), UAHPay as a company will issue virtual currency tokens called UAHPay tokens (UAH) on the blockchain operated by Smart Contract. Token holders will receive weekly revenue share commissions of all net transaction, exchange and other fees. These commissions include fees earned from payment processing; fiat currency exchanges card transaction fees.Please review the commission tables below for more information :
Additional UAHPAY Network Features & Services
In time UAHPay will introduce new products to our clients which will include an advertising CPA Network Platform, an Amazon like B2B Network for emerging products. Our dating platform called dateukrainianwomen.com is almost complete and will be offered to the general public as an ICO in a few months.
Our goal is to offer a all-in-one Global ICO launch platform with Banking ServicesUAH TOKEN Allocation
The UAHPAY Tokens will be allocated among the participants of the Pre-ICO and our ICO. Our advisors and management will also be issued tokens as our business progresses.PRE-ICO Participants will be allocated 10% of all tokens issued ICO Participants will be allocated 40% of all tokens issued SECONDARY COIN OFFERING participants will be issued 30% of all tokens management Team and Employees will be allocated the 9% of all tokens remaining over time for performance bonuses. 1% of all tokens will be used for bounties during the Pre-ICO and ICO phase.Advisors & Political Advisors will receive 5% of all tokens for their insights and guidance. The final 5% of our issued tokens will be used as a company reserve for future project investment and lobbying efforts in Ukraine.The final 5% of our issued tokens will be used as a company reserve for future project investment and lobbying efforts in Ukraine.
Revenue Share & Regulation
The value of each token will increase overtime as the revenue share is paid out weekly from net transaction revenue. How this is paid out is paid out depends on participation in our Pre-ICO and ICO offering.Net Revenue commission will be paid out on a weekly basis to token holders thereby increasing the values of the tokens purchased.Tokens can be sold on exchanges for current public rates.Licensing is one of the key assets of any financial institution. UAHPay's primary goal after its Pre-ICO is to begin the process of obtaining a payment institution license that will be able to operate in European Economic Areas (EEA). Further it will seek financial bank licensing in Ukraine and in North America (FINSEN and FINTRAC).
UAHPAY Timeline
The development of UAHPay has come a long way in a very short time. Our continuing efforts Politically in Ukraine has placed us in direct contact with high level ministers and other parties that will have a positive influence on when we officially launch our platform to the general public. Recent developments include being invited to speak at the Kiev International Economic forum where over 1,500 highly influential political and partners will be attending.
For more information visit
Website — https://www.uahpay.com
Whitepaper — https://www.uahpay.com/uahpay-v1.pdf
Medium — https://medium.com/@uahpay
Facebook — https://www.facebook.com/uahpay
Twitter — https://www.twitter.com/uahpay
Github — https://github.com/uahpay/
Slack — https://uahpay.slack.com/
Telegram — https://t.me/uahpay/
Announcement — https://bitcointalk.org/index.php?topic=2198436
Bitcointalk Profile link: https://bitcointalk.org/index.php?action=profile;u=1082634