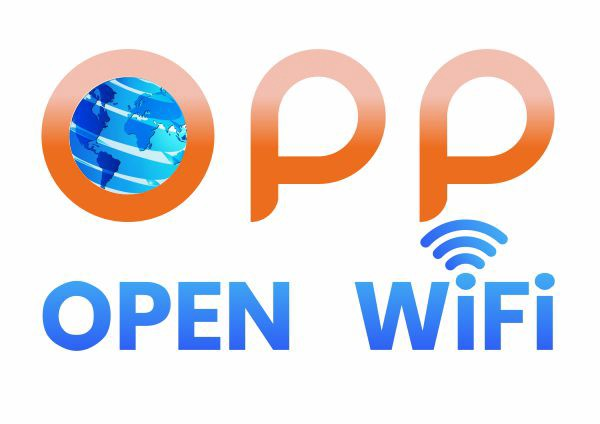 In 2017 the cryptocurrency market saw a massive influx of optimism and popularity. After a market cap increase of over $600 billion, it was no surprise that the cryptocurrency market saw massive media coverage from financial channels, news articles, and stories of instant wealth. Apart from stories of wealth potential, cryptocurrencies gained popularity because they carried the potential for a new era, an era of true transparency and decentralization. This potential for transparency and decentralization seemed hugely unlikely in the digital world, however cryptocurrencies proved to be a force promising to change that. The rise of cryptocurrency and subsequent attention brought to blockchain technology has prompted nearly every industry to evaluate the benefits of integrating the technology into their operations. One such firm at the forefront of blockchain innovation is Opp OPEN WiFi a community driven service with the sole purpose of creating a global, free to access open WiFi hotspot network and rewarding each contributor for being a part of our cause.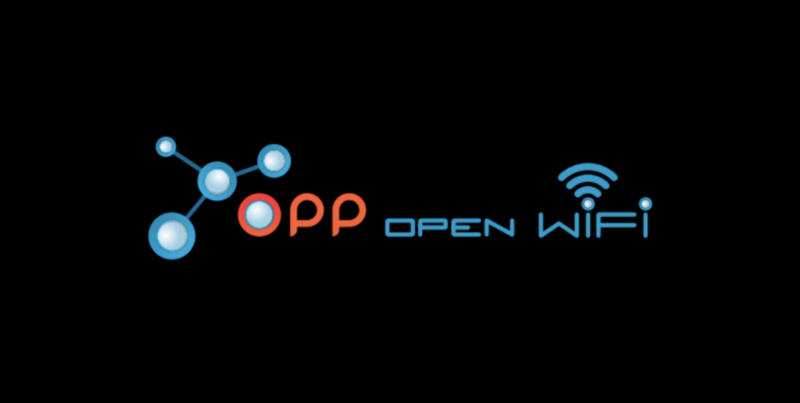 What is OPP OPEN WIFI?
OPP Open WiFi is a community driven service with the sole purpose of creating a global, free to access open WiFi hotspot network and rewarding each contributor for being a part of our cause.
There are close to 2.5 billion smartphone users globally, 80% of which are active on social media. WiFi access has become part of our daily lives. Yet amazingly 76% of us frequently find ourselves in a position where access is not available, or where access is blocked by a demand for payment.
From those 2.5 billion people we aim to recruit 25 million people like you over the next 4 years to join our community of "Hotspot Hosts". Together we can build a free to access, open and secure global decentralised WiFi hotspot which will have a positive effect on the daily lives of hundreds of millions of people.
The hotspot Hosts are people like you who pay for mobile data, pay for WiFi access at their homes or at their place of work. The research shows that more than 80% of us do not use all the data we pay for. We will put that money back in your pocket. We will pay you every day for making part of that data available to our global network.
The Mission
The Open WiFi OPP will use blockchain technology to incentivize people to become Hotspot Hosts to help build free, open and safe access to free decentralized WiFi hotspots that will have a positive effect on the daily lives of hundreds of millions of people. Host Hotspots are ordinary people who pay for cellular data, pay for WiFi access in their homes or at work.
OPP Open WiFi Features
OPP have created a cryptocurrency token with which they will pay their WiFi Hotspot Hosts, this token can be used to make purchases on Amazon or be converted into Pounds, Euros or USD.
OPP community can exchange tokens from their dashboard and use the value in a number of ways. Each time a member exchanges tokens OPP will make a commission on the transaction.
Each OPP Hotspot host will select the number and frequency of advertising messages they wish to receive. These messages will take the form of "push notifications". Hotspot users will also see advertising messages as they log on the hotspot.
OPP advertisers will be billed for each push notification that they send and for each banner advert that is shown to hotspot users.
How it works?
In order to become a Hotspot Host you need to register and then download our mobile app or request a home / business router from our website. The first 100,000 routers will be provided completely free of charge.
You decide how much data you wish to donate. Our app will activate the mobile hotspot function on your smart device and "OPP OPEN WIFI" will be seen by guest Users wishing to access the web. The system is totally secure for both the Hotspot Host and the guest user. The system is designed to work with home and business WiFi too.
Market Research
Open WIFI System team has done survey in which they asked different questions like
How you frequency access your internet?
How much Data Cost you each month?
Do you want to donate your data?
After getting positive response from audience they consider it to really build an Open WIFI System in a block chain system where every work will be transparent to users.
By using smart contracts they are achieving this; every host will be given a certain activity, he will get his reward right after he completed his activity. In secondary contract, hosts will see messages from advertisers for earning OPP Tokens and advertisers will put up push messages. Every transaction will be processed through Escrow smart contracts and every data will be secured in OPP cloud server.
The Block Diagram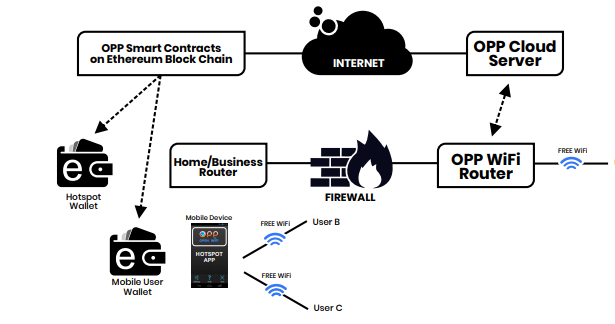 Open WiFi OPP Concept
OPP Open WiFi is the simplicity and clarity of business models. Many commented on how expensive contracts and access to Smartphone internet in their country. OPPs can put money back into their pockets, Open WiFi OPP will take obstacles that prevent people from getting web access every day. OPP Open WiFi gives them the choice of internet providers in their country. Paid to share is a strong idea that this business is destined for great success. Many Open WiFi OPPs will reach mass adoption and introduce crypto to tens of millions of people. Uber, Airbnb, and even Facebook.
TOKEN SALE
ICO/ITO are a new way for business to raise funds. Our aim will be to raise $40 Million from token sale and ITO (initial token offering). These funds will be used to buy the hardware, develop the technology, support our stakeholders, fund our day to day operations, marketing and staffing so that we can build a network of 1 million Hosted WiFi Hotspots within 12 months of going live and 25 million within 4 years. Please see the White Paper for a detailed explanation.
At the token sale, there will be 142 million tokens for Founders and Investors available at discounts ranging from 50% to 10% depending on how early the token purchase is made.
The sale of OPP tokens will include a bonus structure that incentivizes early participants, starting with pre-sale investors.
ROADMAP
May 2018
Launch Website ITO/ICO Registration
Launch marketing
June 2018
Open VIP and Founder token sale
Establish Telegram community
Expand existing social community
Engage PR
Announce Advisor team
Launch GitHub
Publish smart contract address
Share details of prototype
August 2018
Public Sale
Register with exchanges
Beta test Smartphone App
Develop Dashboard functionality
Establish contact with advertisers
September 2018
Conclusion of public sale
Token distribution to investors
Launch Smartphone App
Dispatch routers
Beta test affiliate retail links
October 2018
Launch dashboard
Expand team to handle increased traffic from Hotspot Hosts
Finalise deals with affiliate partners
Establish deals with advertisers for push notifications
Start Hotspot referral program
Initiate marketing activity to recruit Hotspot Hosts
Nov – Dec 2018
100.000 Hotspot Hosts
Launch online retail experience
Fully functionality of dashboard
Expand digital marketing


![alt text](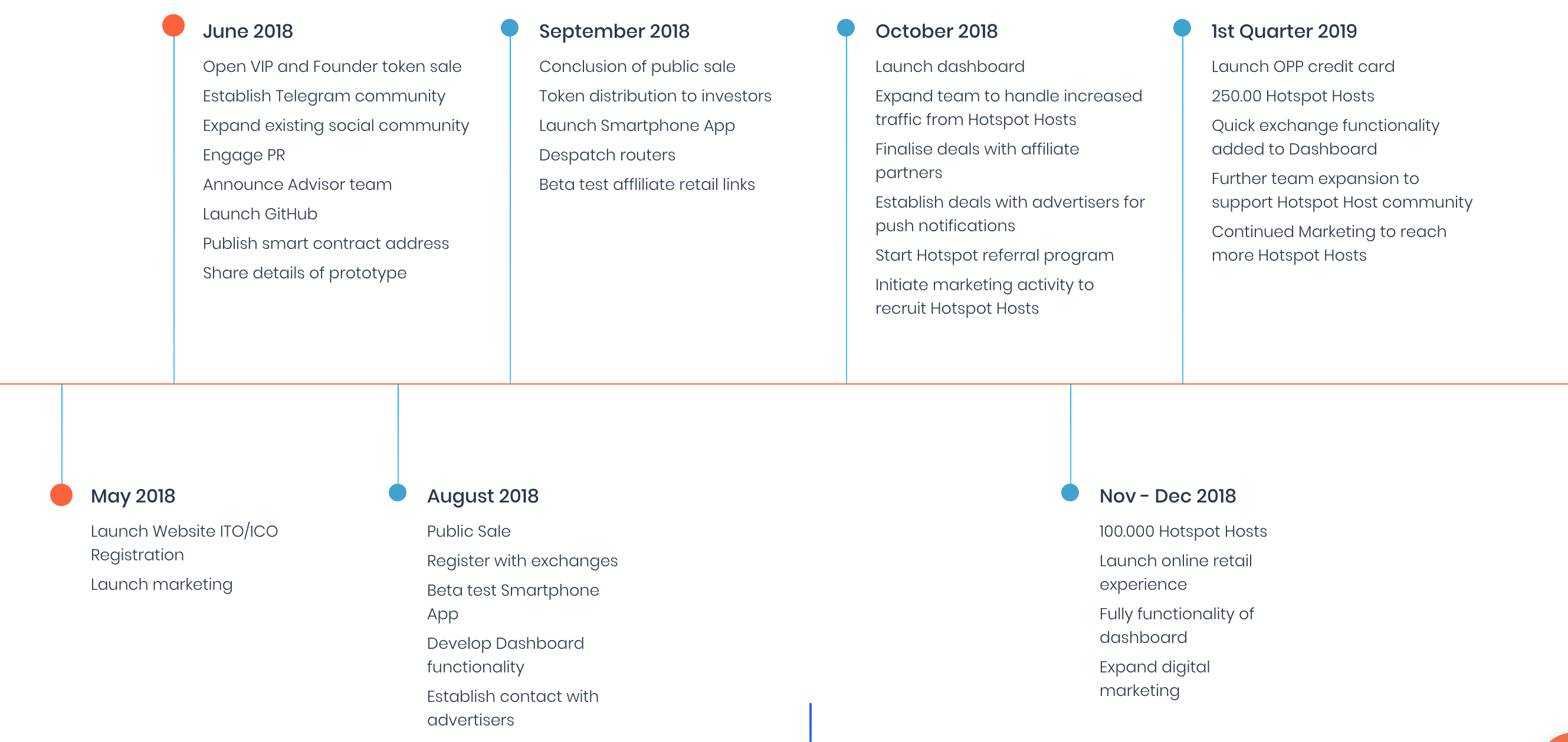 2000 - Martin and Phil worked together and established a commercial Utility Brokerage negotiating supply contracts for commercial Gas and Electricity.
2003 - Our Bucharest office opened and Leo joined the team. Leo's office was responsible for back office functions, customer support and lead generation.
2008 - Our business evolved and we became highly successful in telecommunications. Carina and Susan joined the business at this stage.
2010 - We introduced a mobile telecommunication division serving the B2B and B2C. Alongside this we added more consultancy services to our portfolio.
2014 - Our tech team developed router based Guest Wifi Hotspot firmware. Our USP was to allow our B2B customers to monetise their WiFi. Having joined us a year or so earlier, Jo, as our head Digital Marketer, was responsible for developing the additional features provided by the firmware that made the Guest Wifi Hotspot an incredible marketing tool for our customers.
2016 - With continued R&D the product developed, sales grew, now we have customers in 15 countries. We then added further Google based digital marketing products and services to offer our clients a greater level of customer engagement.
2017 - We started work to develop our Guest Wifi solution to serve the Smartphone market. Our vision for OPP Open Wifi was born.
2018 - Market research was conducted to gauge the popularity of our business model. Further R & D on mobile app. Configuration of OPP Open Wifi ICO.
TEAM




Martin Regan/ Entrepreneur & CEO
Phillip Legg/ Head of Technology & Security
Leo Antipov/ B2B Sales Director
Joanna Nemes/ Marketing Coordinator
Violeta Raducanu/ Community Manager
Alex Andrei/ Community Manager
Alexandra Pascariu/ Community Manager
Michael Peach/ Market Analyst
Iulian Gheorghe/ Senior SEO, Web Developer
Susan Lawry/ Head of Accounts
Claire Loe/ Accounts Support
Carina Regan/ Email Marketing Manager
ADVISORS
Jared Polites/ Blockchain Marketing Specialist
Jorge Rodriguez/ Project Security
George Han/ Blockchain Advisor
T Aravinda Babu/ Expert Technology Adviser
For more information, please visit the links i have provided below;
Website : https://www.oppopenwifi.com/
Whitepaper : https://www.oppopenwifi.com/oppwhite20180627.pdf?t=v6
Bitcointalk ANN Thread : https://bitcointalk.org/index.php?topic=4713287
Facebook : https://www.facebook.com/OPPopenWiFi
Twitter : https://twitter.com/OPPopenWiFi
YouTube : https://www.youtube.com/channel/UCQcPXBhjClQiiMvHJBlegXg
LinkedIn : https://www.linkedin.com/company/opp-open-wifi/
Github : https://github.com/oppopenwifi
Reddit : https://www.reddit.com/r/OPPOWiFi/
Medium : https://medium.com/opp-open-wifi
Telegram : https://t.me/oppopenwifi
Author: BrainerdPaul
BitcoinTalk profile link: https://bitcointalk.org/index.php?action=profile;u=1680409