Dove Network is a global and decentralized platform, used to manage the points are cumulative and loyalty programs. Analyze a large number of loyalty programs from the use of different points, which the developer did not find a good application. This leads to direct damage to users, as well as loyalty programs are not successfully implemented and increase company liabilities.


Dove Network users can easily integrate and manage Dove Network tokens and direct you to any company worldwide within the Dove Network Wallet. Users can also easily redeem their points for Dove Network tokens or Token Dove Network for Points Partners. In addition, the Dove Network wallet: a channel ad, which offers advertising partners or coupons to users or partners in real time. This enables Dove Network partnerships to attract more customers and drive more loyalty programs. In addition, in the Dove Network Store, users can purchase products or services through partnerships.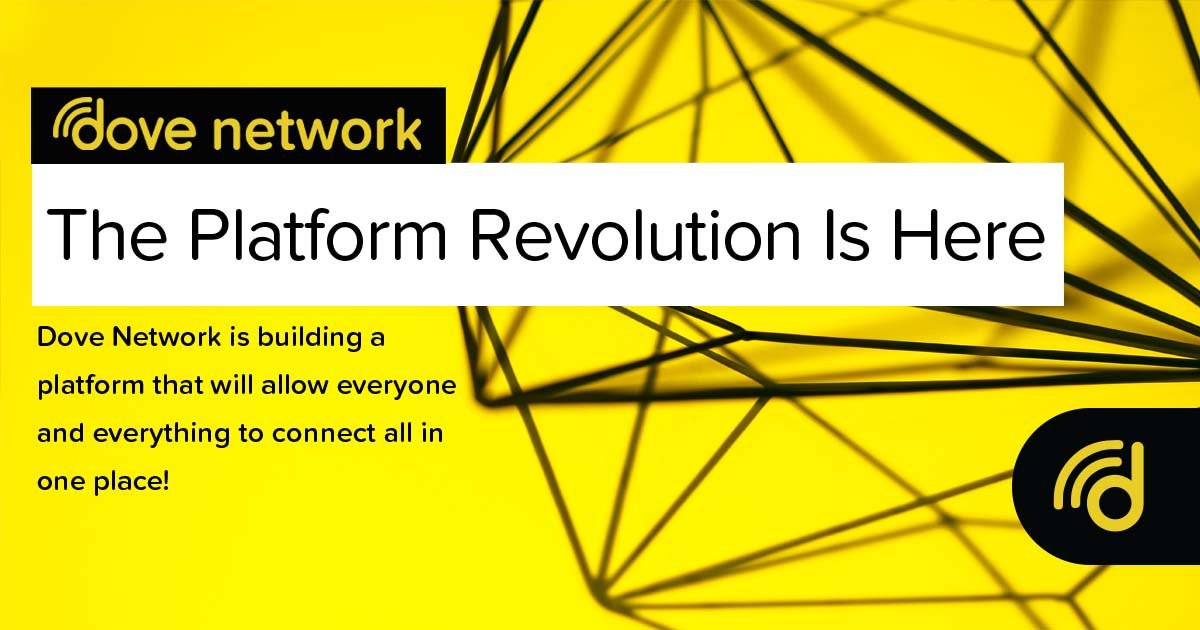 Dove Blockchain is ERC20 compatible DOVE token, decentralized peer-to-peer data capacity exchange built through blockchain DAPPs. The Dove DAPP is provides the best way to decentralize the traditional ISPs' data network. Protocols and measures for security purposes are in place in the smart contract to make sure that transactions are identified, authorized, and validated.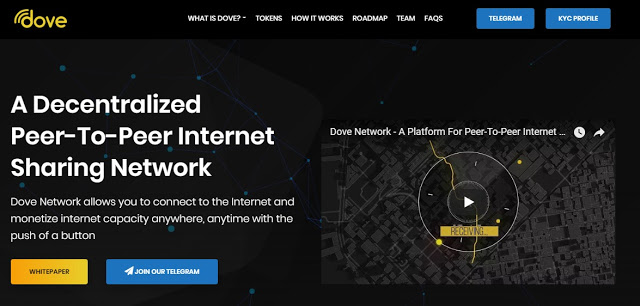 The Dove's mesh network is built on top of the ISO infrastructures that are already in place. This network along with the blockchain technology enables users in the network to trade their internet data capacity. It gives more control to the consumers than what the traditional data market of today offers.
HOW DOVE NETWORK PROJECT WORKS: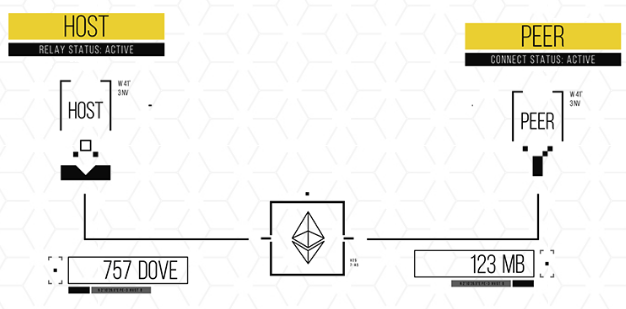 This is the simple way this network works in terms of registering a device. Once you have installed the Dove Network App on your Mobile, Computer, or wireless router, it creates or imports an ERC20 Wallet, which is used to settle the Dove Coin transactions.
If you want to buy or sell excess data, all you need to di is create a plan.
There are three important steps in the entire cycle.
Register the device, both buyer and seller to the network along with location and plan specification. Then configure plan preferences and initiate AI powered Smart Algorithm. Then the devices will securely connect to the best possible option around.
A decentralized, peer-to-peer Internet network uses atherium blockchain to distribute data on the network. Now whenever you press a button, you can connect to the internet anywhere.
TOKEN DETAIL



Token Dove Network is designed as a token-compatible ERC20 on the Astraleum platform and use of blocking technology. Dove Network's target group are airlines, travel agents, market leaders, and online stores around the world. With such benefits, the Dove Network, based on sophisticated, safe and effective blocking technology, will control billions of dollars in global markets.
Token name: DOVE
Total inventory: 10,000,000,000 DOVE
Current Status: private
Know Your Customer (KYC): Yes (KYC Page Reference)
MVP & Technology: Yes (Whitepaper Reference).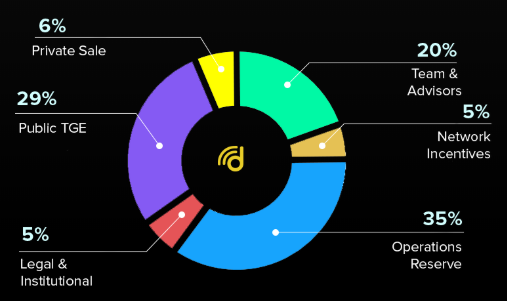 THE GREAT TEAM
DOUGLAS SCHWARTZ - Co-Founder & CEO
HARDY WANG - CIO & APAC Operations
Nihar Bhagat - Senior Graphic Designer
Nilesh Bhimani - Front-End Developer
Arvind Chakraborty - Front-End Developer
ALAIN VIVIERS - Co-Founder & COO
Chris Halaschek - Main Technical Adviser
BLAKE RAMSAY - Legal Counsel
Eman Hashem Safadi - Strategy Advisor & Blockchain
Yash Shah - Lead Mobile Application Development
Paritosh Mehta - Senior Business / System Analyst
Pavithra Kumar - Developer & Developers Blockchain
Mithlesh Jaiswal - Website & Mobile App Developers
GANESH MOORTHY - Co-Founder & CMO
PETE WHITTINGSLOW - Director of Business Development
Lin Wang - APAC Manager
Mahendra Panchal - Technical Leader of Blockchain
Lalit Patadiya - Back-End Developer
Sunny Kapoor - Android Development Lead
Piyush List - Developer & Developers Blockchain
SANDEEP KUMAR DAS - Back-End Developer
Austin B. Mills - Blockchain Legal Counsel
Vinny Azevedo - Marketing Advisor
Harshad Goswami - Blockchain Architect.
ROADMAP
Peaceful greetings of the universe.
FOR MORE DETAILS, CHECK OUT THE LINKS BELOW:
Dove Network ★ https://dove.network/
WHITEPAPER ★ https://dove.network/wp-content/uploads/2018/06/Whitepaper.pdf
ANNOUNTCEMENT ★ https://bitcointalk.org/index.php?topic=4391471.0
TWITTER ★ https://twitter.com/dovenetworketh
FACEBOOOK ★ https://www.facebook.com/dovenetworketh
TELEGRAM ★ https://t.me/dovenetworks


Published by: Harleyberry
Bitcointalk profile link: https://bitcointalk.org/index.php?action=profile;u=1620264
Eth Address: 0x2F646B6A6085d34B0Efc88C1b0DCaa8B3af2E53C