The huge success achieved by cryptocurrency over the years is no longer news has it has opened a lot of opportunity doors and making the business excellence that is the dream of many investors a reality. Starting with the invention of cryptocurrencies and the awareness creation of making this digital asset known to people, wasn't an easy task, but it was a task that was worth all the troubles. Cryptocurrency started with Bitcoin, was invented or rather established by the man known and called Satoshi Nakamoto in the year 2009. Dating back to 2009 when people were still struggling to believe in the prospects that come with digital currency and the cryptocurrency market generally, the only money or currency that could be referred to as cryptocurrency asset was Bitcoin.
The cryptocurrency concept, over these past few years, has covered a wide variety of digital tokens and coins amounting to 2,000 by the 16th of Sept. 2018, and all of these is built on no other foundation than the blockchain technology, which has always had the sole aim of inventing a transparent and fair credit community. It is held in view, that more than 50,000,000 (50 million) investors all over the world who engaged in cryptocurrencies, and they are either traders, holders or just normal people who are enthusiasts of cryptocurrencies. In 2017, there was an emphatic growth that can well be described as explosive, when varieties of cryptocurrency exchanges had to pause the registration of new users and investors, though temporarily. The fact does not dwell entirely on the growth recorded in the number of digital coins, tokens and users, the market value has also consequently expanded. In the beginning, digital currency had no value because not many investors understood the platform and were afraid to invest their money, but today, it has now gotten to a stage where digital currencies now have a combined market cap of over USD 200,000,000,000.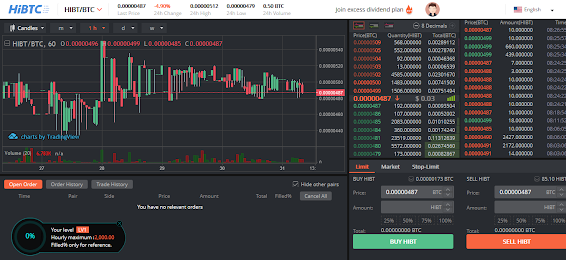 ABOUT HIBTC: Hibtc exchange is a safe and secure exchange, It has partnered with some security companies, using multi-layer firewalls, multi-signature, and cold hot money bag isolation programs to maximize the security of user assets on the exchange. The exchange will be utilizing the trade mining business model, where it will distribute up to 50 of HIBT Token to it users based on its transaction + token holding mining model, as at yesterday [06-step 2018], 91,755.75 USDT wasSince the inception of cryptocurrency in 2009, different exchange platform have surfaced, a whopping number of above 500 have been known and 1500 cryptocurrencies have been brought to life ( there is a chance that this number continue to increase geometrically as each day goes by), so the question is what unique offer is HIBT Exchange platform bringing on board.
The world is going completely crypto. Daily platforms are been set up to maximize the opportunities that come with this digital asset. HIBT is one of those exchange platforms that makes the exchange of cryptocurrency available either in ETH, BTC, LTC and many others. HIBTC exchange has been operating for a while. The exchange platform started in July 2014, but since the vision is to get the customers to enjoy more exchanges which are not made available on several other platforms, the exchange platform choose to go the community-based model as an alternative to the already known centralized business model which perhaps allow theft, fraud, inefficiency or security breach since the centralized business model is not far from been monopolised.
FEATURES OF HiBTC EXCHANGE PLATFORM
HiBTC offer technical support and trading instructions to the investors on the platform. Being new to cryptocurrency trading or already an expert, there is no need to think much because HiBTC exchange platform will over trading instructions every user of the platform need
HiBTC platform guaranty 100% safety of users and investors digital assets. The security mechanism of user's asset on HiBTC is very tight and am assuring people that they can't lost any of their asset data on HiBTC exchange platform.
One reason many users run away from some exchanges is their slow transaction framework, some exchanges are not built to handle much transactions per second and when the transactions exceed such a limited number, problems starts arising, the brilliant minds behind HiBTC knows this and they have created a conducive framework for professional and amateur traders alike where they can trade and never have to worry about the speed of their transactions because HiBTC is built to handle 2,000,000 TPS (Transactions Per Second).
HiBTC offer technical support and trading instructions to the investors on the platform. Being new to cryptocurrency trading or already an expert, there is no need to think much because HiBTC exchange platform will over trading instructions every user of the platform need.
HiBTC will also offer investors risk hedging instruments. Many invest don't even know the risk before investing in a cryptocurrency. Never bother much because HiBTC exchange platform offer risk hedging instrument to guild all users.
HIBTC EXCHANGE PLATFORM TOKEN
With so much to offer from the exchange platform, there is a need to have the platform identity via which these unparallel benefits can be enjoyed. The only token issued by HIBTC trading platform is HIBT. This token will be generated in three parts namely the Mining part which comes from 50% transaction mining, the thawing part which accounts for 43% of the token generated and the remaining 7% coming from the Early putting parts.
Holders of token stand to gain diverse benefits from this digital enablement symbol ranging from the ability to enjoy revenue distribution to the ability to list recommendations and many other benefits. Isn't that amazing.
TOKEN INFO

HIBT is the native token of HiBTC platform. There will be 10 billion of HIBT tokens issued and this number is fixed. The initial allocation of the tokens is according to the scheme shown below:
There are some privileges gained through holding HIBT tokens which are:
Revenue Distribution Stake
Revenues obtained from the platform will be distributed among the HIBT token holders. The distribution will be made daily based on the bonus rules.
Dividend Bonus Program:
HiBTC offers a program called "Dividend Bonus Program," which is a reward sharing program for members. Rewards are divided among members based on the volume of transactions and the number of HIBT members held.
Dividend Bonus is calculated as follows:
Bonus you earn = Platform Revenue * ratio * (Number of HIBT you have / current circulation of HIBT)
Calculated once per hour. At the following day, the amount accumulated yesterday 24 hours will be issued to the user's wallet.
CONCLUSION
Conclusively, HIBTC as an giant exchange platform has numerous benefits that will be accorded to its prospective users. They include Safety of their information, efficiency, risk control, revenue sharing , transparency and orderliness for which it basic aim.
Information about the project:
Official site: http://www.hibtc.com/
Whitepaper: https://www.hibtc.com/om/about/en-us/whitepaper.pdf
Bounty Thread: https://bitcointalk.org/index.php?topic=5016151.0
Facebook: https://www.facebook.com/profile.php?id=100027855751559
Twitter: https://twitter.com/HiBTC_Exchange
Telegram: https://t.me/www_HIBTC_com1
Link Profile; https://bitcointalk.org/index.php?action=profile;u=926910
Lancusters