What is Every Media blockchain Platform?
EMP is aimed at an ecosystem that compensates equally and fairly for all players that participate in them, such as advertisers, users, service administrators, content producers and developers. The usual huge web portals and SNS-media create a huge amount of profit from the content and personal information of the user. However, until now, data owners have not received compensation for their contributions. EMP is a platform of the media block, which compensates all participants.
In order to solve the social problems caused by BAADD media, we propose an ecosystem which anyone can implement a decentralized service by unbundling the mechanism of the media and combining blockchain technology and coin-ecosystem for value exchange.
Economic inequality due to distribution monopoly
Traditional media business under Attention Economy has faced a stage, where it cannot grow itself.
Distribution of Economic profits for a few of large media firms.
A vicious circle of BAADD Media's exclusive expansion.
Biased dissemination of information and political abuse
Information is concentrated by traffic that concentrated on a few of large media firms.
Only the information selected for the media is exposed to the user.
Attempt to exploit exposed information.
Personal information leakage
Companies who aim to collect Big data, excessively store and collect personal information.
BAADD Media's cases of hacking personal information have been continuously found.
Infringement of personal information sovereignty
The media collects personal information that the user does not recognize.
An unexposed business revenue structure for BAADD media's profit creation.
Using the personal information for the advertiser of BAADD Media to reach their own purposes.
Digital addiction
BAADD Media's Psychological manipulation for maximizing of advertising impact.
Users' emotional problem and social problem occur due to the media contents addiction.
EMP Ecosystem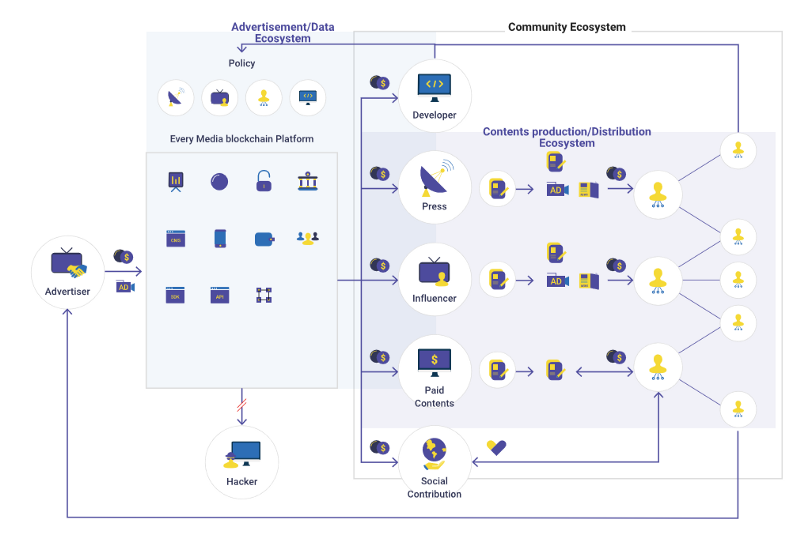 EMP targets the ecosystem as shown below. For more information, see the Technical Paper.
Project objective
Among the main objectives of this project developers distinguish:
creating a mechanism for fair distribution of rewards from content and advertising;
providing support for developing social media;
restoration of the right to exercise control over personal data;
provide users with the content they want to see.
Among the ordinary participants of the platform are:
a writer who creates articles and receives an award from users;
the consumer is able to influence the writers by disseminating their content;
an advertiser that provides honest advertising to the target audience.
The main coin of the platform is EVE, which can exchange within the platform on EXP or ADD in a 1 to 1 ratio.
Platform tokens
EVE token is your Principal coin That's traded within the system and signifies a liquid asset Which Can Be purchased or sold when buying coins for Marketplace. It is possible to send EVE to other people at no cost via the bag address offered by the platform.
The ADD token is a reward which may be had mainly for the donation to advertisements, and it contains the exact same high liquidity since EVE. It could be purchased or sold in the stock exchange.
EXP is an advantage where the usefulness minutes of EVE and ADD are united. EXP isn't an advantage which may be processed, but it's a network advantage that performs many roles in the ecosystem. It's utilized as fuel that Permits You to perform more tasks and is a Form of inventory and, at Precisely the Same time, the righ to vote
Detail ICO
Token name: Every Media Coin (EVE)
Type: ERC20
Price: 1 EVE = 0.26 USD
Minimum target collection: 30,000,000 USD
Payment method: ETH
Total issued tokens: 1,000,000,000 EVE
ICO will be conducted in pre-sale and main sale phases, and the main sale will be conducted across 2 phases.
Pre-Sale: Begins on August 6, 2018 at 7 pm GMT.
The main sale: September 10, 2018 7:00 pm GMT.
The distribution of tokens is as follows: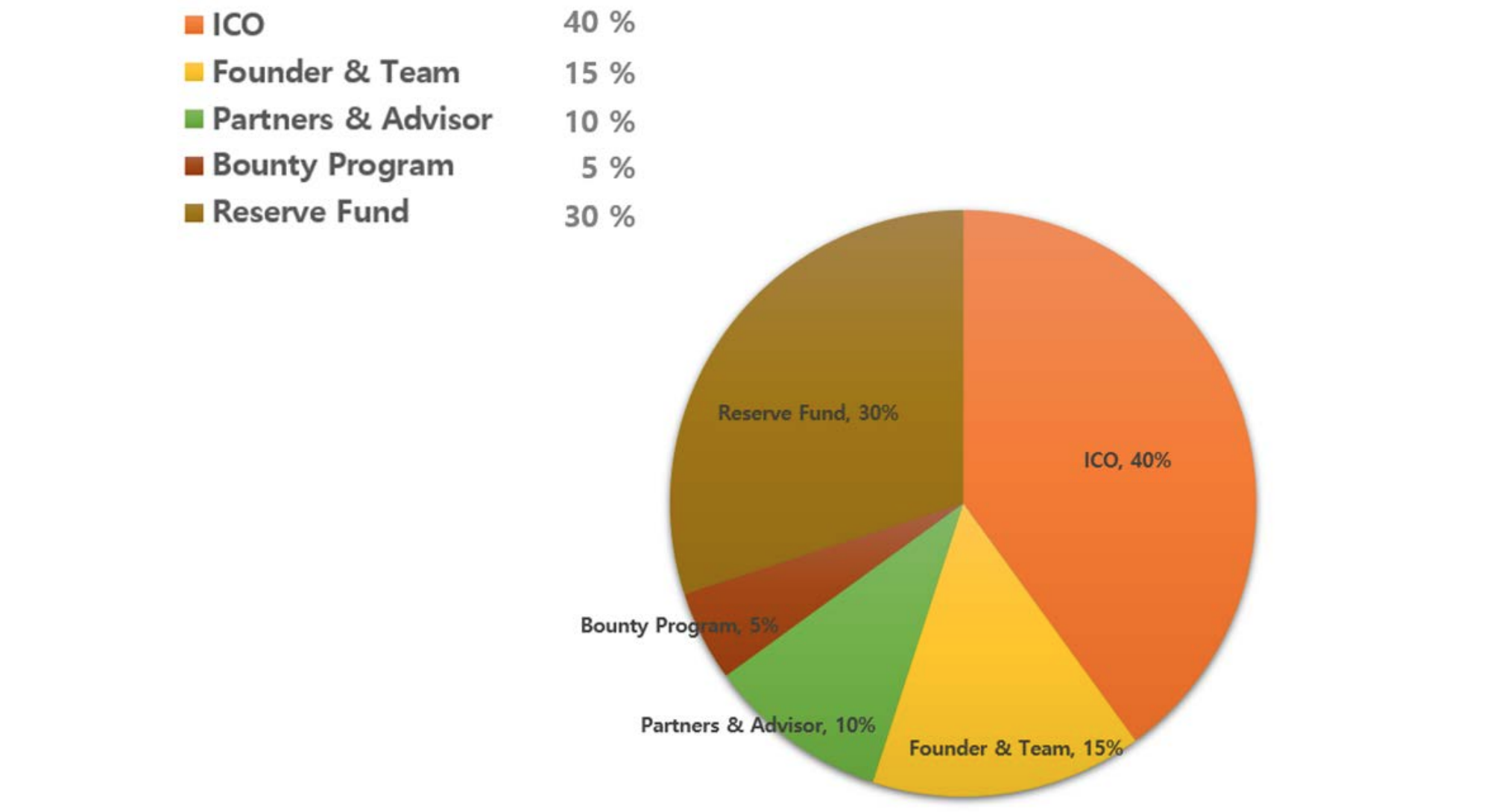 Roadmap
Every Media blockchain Platform accomplishes a developmental goal in a short period of time and carries out the plan as stated below to conduct a quick distribution of EVE coin.
2017
Idea (Decentralized Media Platform) Born
2018.03
Wallet v1.0 Launch
DAJO(Decentralized Autonomous Journalism Organization) Concept Born & Media Business Market Research
2018.05
P2P Exchange Hurbit v1 Launch
2018.06
TJNT Nonprofit Organization Foundation (Singapore)
2018.Q3
P2P Exchange Hurbit v2 Launch
EMP White Paper v1 Release
MOU for Establishing DAJO (ETNews, Kukmin Ilbo, Herald, Nordic Chinese Times)
EMP Private Sale Open
2018.Q4
Listing EVE Token on Exchange
Q2 2019
EMP Test Net v1 Launch
Q4 2019
EMP Main Net v1 Launch
Existing EVE Token Swap
EVE Blog, Kpop DApp Service Launch
DAJO Participant(Press) DApp Service Launch
Q2 2020
EMP Main Net v2 Launch
EMP(Every Media Blockchain Platform) is a media specialized blockchain platform that benefits all participants including Author, Consumer, and Advertiser.
The Web giants such as huge Web Portals and SNS media have previously been making a huge profit out of users' contents and personal data. EMP team will resolve social problems caused by BAADD media and create an ecosystem where users will be compensated.
To create such ecosystem, various strategic partners and advisers participate in EMP project.
Team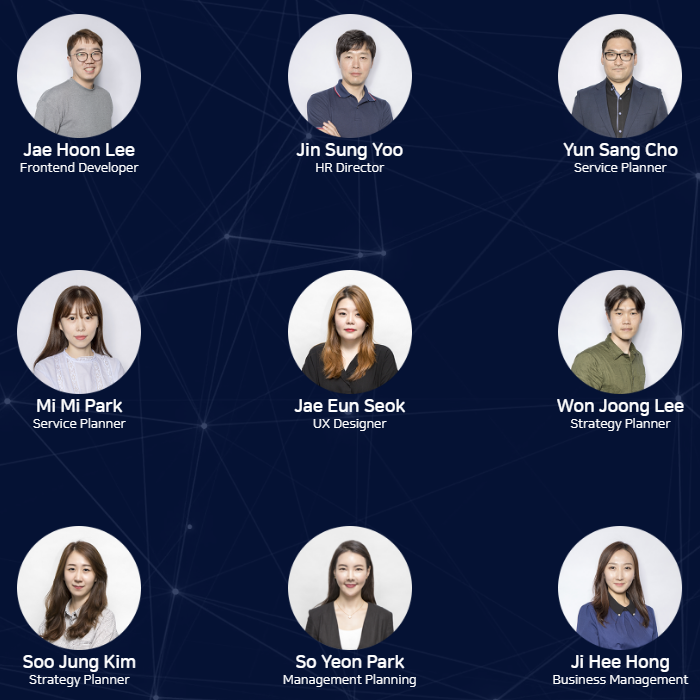 To find out more about HiBTC, use any of the following links:
WEBSITE: http://everymediaplatform.io/en/
TELEGRAM: https://t.me/everymediaplatform
WHITEPAPER: http://everymediaplatform.io/en/whitepaper/EMP_Whitepaper_EN.pdf
FACEBOOK: https://www.facebook.com/official.embp/
TWITTER: https://twitter.com/emp_official_tw
MEDIUM: https://medium.com/@emp_official
YOUTUBE: https://www.youtube.com/channel/UCba6YlAB608FI9wWrNrMJ7A
Author
Forum Username: olitaptapan
Forum Profile link: https://bitcointalk.org/index.php?action=profile;u=1566451
wallet address 0x4832C1D8352841b26577695dEc7B741187D5d1fA
#EMP #ICO #Blockchain #cryptocurrency #presale #TokenSale #startup #BountyCampaign #Investment #Exchange #Crowdfunding #Bitcoin