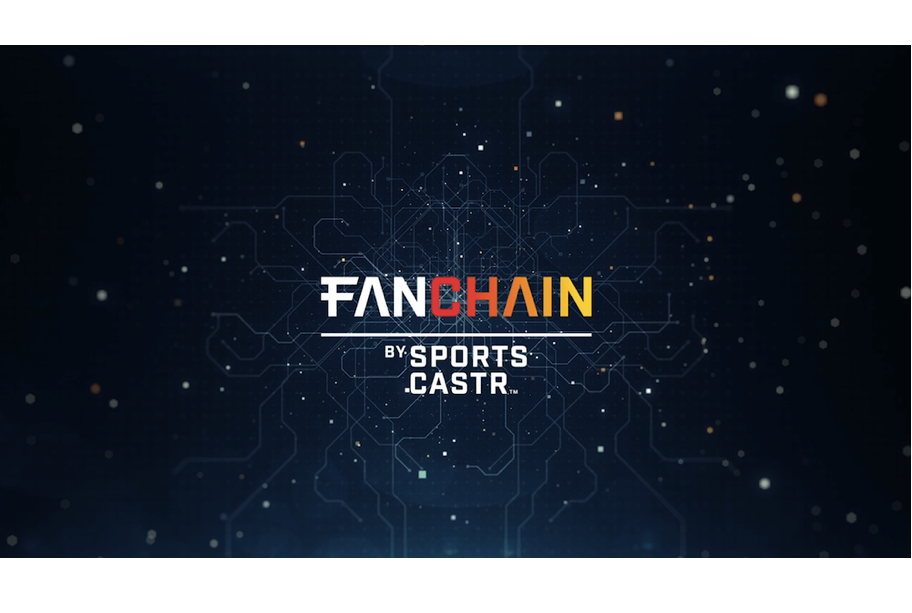 The role of a fan as a passive consumer is in the distant past. Fans rely on other fans for authentic reactions and commentary, and media entities, teams and social networks rely on fans for content production, virality, and crowd-sourced marketing.
The problem with the shift from fans as passive consumers to active content producers is that fans are not benefiting from the value they are creating for their favorite teams (and for other fans). Even though sports leagues are securing record-high distribution deals — and social networks are generating billions in revenue from usergenerate-content — fans have yet to be factored into the equation.
FanChain provides a framework in which fans are rewarded with a token that can be used within the sports ecosystem to which they contribute, and creates a feedback loop that incentivizes the community to contribute to the social conversation that they rely on for an optimal sports experience. FanChain introduces the concept of "Mints," which are powered by a DApp and which allows third-party entities to distribute FanChain tokens that are stamped with a specific sports team, league or event.
FanChain is a cryptocurrency created specifically for sports fans, athletes, teams, leagues and sports media. Backed by sports legends and powerhouses including NBA Commissioner Emeritus David Stern & more, Fanchain is designed to fuel a decentralized sports entertainment ecosystem to meet the unique needs of the global sports market.
FanChain intends to build a decentralized global sports entertainment ecosystem that utilizes a unique token platform to incentivize and reward active participation, content production, and ecosystem growth. Using SportsCastr's live-streaming platform, FanChain tokens can be paid to commentators who live-stream their own individual commentary for their own individual fanbase, giving television consumers the option to pick their favorite commentator.
As the FanChain token is the fuel that powers SportsCastr's digital economy and user-rewards program, SportsCastr will act as a powerful on-ramp for new FanChain token adopters. SportsCastr will incentivize and reward its users — both content creators and engaged viewers —through a two-currency system. This two-currency system involves an In-App Currency, "Tix," that mimics currencies commonly used in social games (e.g. FarmVille, Clash of Clans) and FanChain tokens, which are tokens built on the Ethereum blockchain.
FANCHAIN FEATURES
Digital goods will allow viewers to reward sportscastr's with FanChain tokens. Viewer can use these digital goods to tip their favorite contributors throughout a broadcast. Viewers who send the greatest value of digital goods climb the fan leaderboard for that sportscastr, earning notoriety and garnering attention for their own streams.
Pay-per-View and Subscriptions
Viewers will be able to use FanChain tokens to unlock pay-per-view ("PPV") streams and other paywalled content. This premium content may include live sporting events, private chats, behind the scenes footage, or select user-generated-content that is not publicly available.
Apps, websites, media publishers and other entities will be able to easily accept FanChain tokens for goods, services and access by integrating a FanChain token payment gateway called "FanPay". The software-plugin will allow third-parties to easily offer discounts or offers to holders of specific team tokens, both online and on-location.
SportsCastr plans to develop a web-based trading exchange where users may exchange the stamped FanChain tokens of one team for FanChain tokens stamped with a different team. This will allow users to build a collection of stamped FanChain for their favorite teams while reducing tokens stamped with teams they have less allegiance to.
A wallet for web and mobile devices will be developed that will provide a visual breakdown of FanChain tokens by team, the ability for users to select and send team specific tokens, the ability for users to send specific stamped FanChain tokens to other users and to see and consume offers available to those who hold specifically stamped tokens.
All users of the SportsCastr platform will be exposed to an easy-to-use, highly-secure integrated FanWallet. The wallet will allow users to send and receive FanChain tokens, convert FanChain tokens to Tix, and track their in-app earnings and purchases… all from within a single app.
HOW FANCHAIN WORKS
A user creates content, or some other value, for a specific sport, team, game, league or related event on a UGC platform that is approved to be a Mint.
The user receives FanChain tokens containing metadata that are "stamped" with the team, league or sporting event that the user created content or value for as a reward.
FanChain token compatible wallets will show a user's total balance of FanChain tokens, and additionally provide a visual breakdown of the stamps that are associated with their tokens.
This results in content/value-producers being rewarded with FanChain tokens that are unique to their favorite sports, teams, leagues
Third-parties can then offer special discounts, access, digital goods, promotions and features to FanChain users who hold a certain number of stamped tokens of a particular team, league, or other sport related events and organizations.
BENEFITS OF FANCHAIN
Fastest Live-Video Platform
Stream HD-quality video ... instantly, with one click. Thanks to adaptive bit-rate technology, the video quality will automatically adjust based on your mobile or wi-fi connection speed. What's more, the ultra-fast delivery from SportsCastr makes it the lowest-latency live-video platform out there *, resulting in an ideal second-screen experience while watching games at home or from the bench.
Direct Scores, No Studio is Required
Now it's your turn to be a color commentator. Start streaming about the game being played, and SportsCastr will make you look like you're on a big screen, complete with a graphics scoreboard and a play-by-play update ... all in real time, and updated faster than what's shown on the cable. SportsCastr offers real-time game scoreboards from NFL, NBA, NHL, MLB, CFB, CBB, and even EPL and WNBA.
You no longer have to be in the studio to look like a professional. From automatically generated on-screen graphics, to dynamic end times, SportsCastr will make it look like you're on TV, no matter where you are. Even better, all elements in SportsCastr can be clicked and interactive, allowing viewers to engage with you and your broadcast in unprecedented ways.
With native iPhone apps and a fully responsive web interface, SportsCastr is always within reach ... literally. SportsCastr is the only live-video platform that allows viewers to watch live-streams on any mobile device, without the need for an app. When you're ready to stream, just download the app or run it directly on your laptop or desktop computer.
Find a broadcaster from around the world, and follow your favorite personality so you never miss an update. When your favorite is served, SportsCastr will instantly send you a notification that lets you watch with one swipe. Can not watch live stream? Visit channel announcers anytime to pursue an action.
Experience the Game Together
Sports are more fun when they socialize. Connect with other viewers who are watching and chatting directly with the broadcaster. Regardless of where you are, you no longer have to be in the same room to enjoy the game with fans like you.
FANCHAIN TOKEN
The FanChain Token is based on the ERC20 standard, but adopts the ERC721 style feature when distributed or received from the FanChain ecosystem (including a wallet that adds support for DApp).
Like the concept of "color coins", FanChain tokens are symbolic combinations that can be converted into non-changeable tokens. Although the FanChain tag is fully compatible with ERC20, this tag can store additional address information when applied to the ERC20 specification. This additional metadata contains details about team balances, leagues, or event symbols.
The FanChain view is not compatible with the ERC20 monitoring management transfer portfolio or is concerned about additional metadata ("mark"), but additional data stamp can be displayed on any system associated with FanChain rituals for each symbol (for example, data for teams or leagues).
Unlike token levels, as in the case of ERC721, the ability to store metadata printed at the address level increases. This includes:
Low Gas Price: Transfer between addresses requires transaction transactions but can be done with simple and inexpensive group operations (even if a particular event, league or character team is transferred). Using DApp FanChain significantly reduces gas consumption. As a result, transactions consume slightly more gas than large ERC20 operations (especially when compared to ERC721).
Token Details
Token name: FanChain
Ticker: FANCY
Token type: ERC20 with ERC721-style characteristics
Payment received: ETH
Maximum token sold in ICO: 330MM
Maximum tokens minted: 600MM
Decimal: 4


Token Distribution


ROAD MAP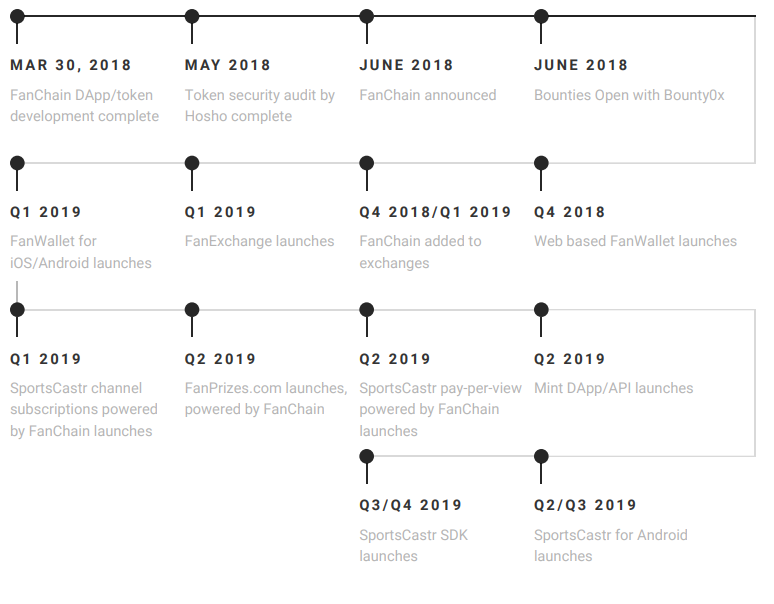 TEAM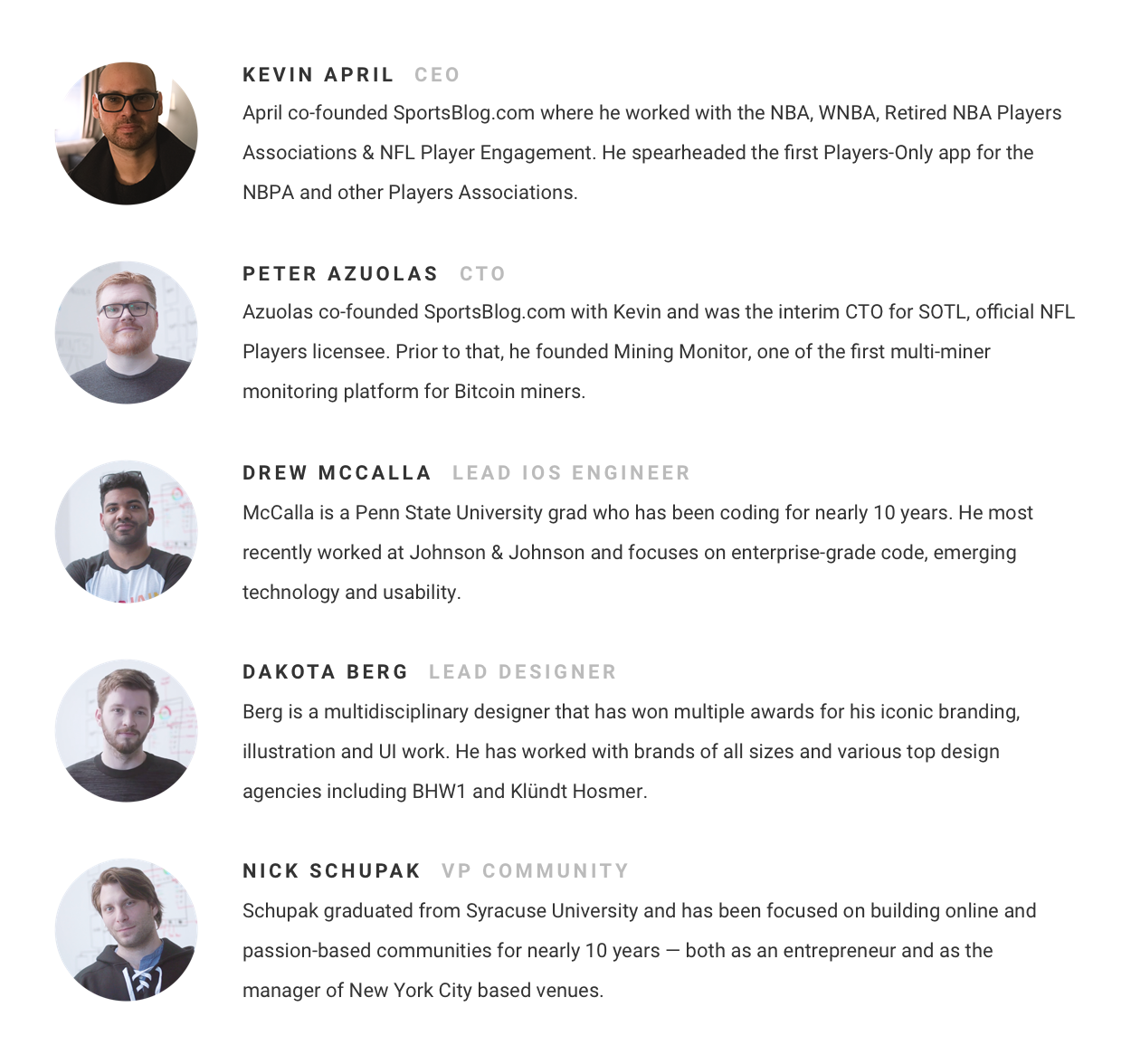 For more information, please visit:
Website: https://www.qryptos.com/ico/FANZ
Whitepaper: https://qryptos.s3.amazonaws.com/uploads/ico_project_info/white_paper_file/9/QUOINE_FanChain_WhitePaper_1.0g.compressed.pdf
Reddit: https: //www.reddit.com/r/SportsCastr/
Facebook: https://www.facebook.com/sportscastr
Telegram: https://t.me/joinchat/HMX3kA5Y_7f1BO7i_jRqSA
Twitter: https://twitter.com/sportscastrlive
LinkedIn: https://www.linkedin.com/company/sportscastr
Instagram: https://www.instagram.com/sportscastrlive/
Bounty Thread: https://bitcointalk.org/index.php?topic=4690168.0
Author: JigaMola
Bitcointalk profile: https://bitcointalk.org/index.php?action=profile;u=1847143