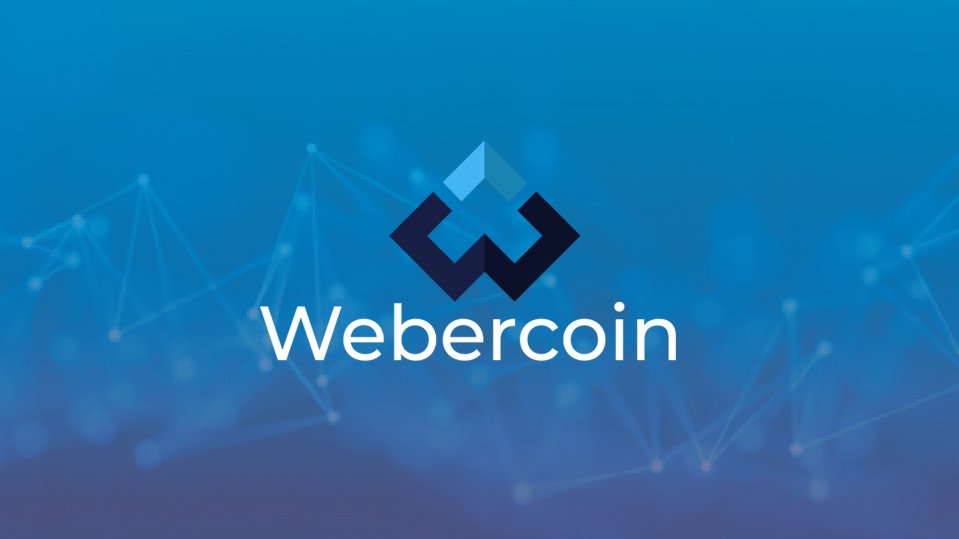 The Blockchain is a rapidly growing technology that is engulfing every possible business domain. Therefore, many reports published have predicted a huge rise in the Blockchain market. According to reports, the Blockchain market is expected to extend to over 20 billion dollars by 2024. It is counted in one of the most promising new technologies that are hoped to change the future of businesses and the internet.
Basically the rise of cryptocurrency and subsequent attention brought to blockchain technology has prompted nearly every industry to evaluate the benefits of integrating the technology into their operations. One such firm at the forefront of blockchain innovation is Webercoin
You may be contemplating on the crypto coin that will be best for your investment. You might have even found yourself investing in one of these Cryptos but you did not gain your profit as you expected because, some developers, after hitting their target and making a huge sum of money, dropped the project, and left investors in the middle of no where. All hopes are not gone. Lets start a new page in you new or next journey to investment for profitable earnings. I will be introducing you to WeberCoin which has created a token that fuels the WeberHub marketplace which connects businesses to users on an easy-to-use platform rewarding them for engagement on the platform, all within an Ads network system.
What exactly is Webercoin?
Webercoin is the token that fuels the WeberHub marketplace which connects businesses to users on an easy-to-use platform rewarding them for engagement on the platform, all within an Ads network system. Using Webercoin, the primary token on the platform, as well as other widely used tokens, businesses connect with their customers better, and customers get rewarded for using the platform.
WeberHub is the platform that brings them together, increasing interaction between businesses and customers, with low-cost advertising and seamless processes.
The Problems

The Solution
Blockchain transparency: Blockchain will fully provide openness on a safe and efficient network. All transactions on the WeberHub platform will use Webercoin tokens which are cryptocurrency built on Ethereum technology.
Safe platform: WeberHub is a platform built on the Ethereum platform and is one of the most reliable platforms. So that users don't need to worry about theft or data loss. User privacy will be guaranteed, and no data will be sold to third parties.
Effective advertising with prizes: On the WeberHub platform, all business owners will be rewarded for placing their ads on the platform and users will get an award for ranking or recommending the business.
Appreciate the market: The WeberHub platform is a digital marketplace where business owners can meet their desired audience, and users also have the opportunity to connect with their own business.
Advertising shopping returns: At WeberHub, all users are guaranteed to return a good investment in ads placed on the platform, and the low cost of the ads placed.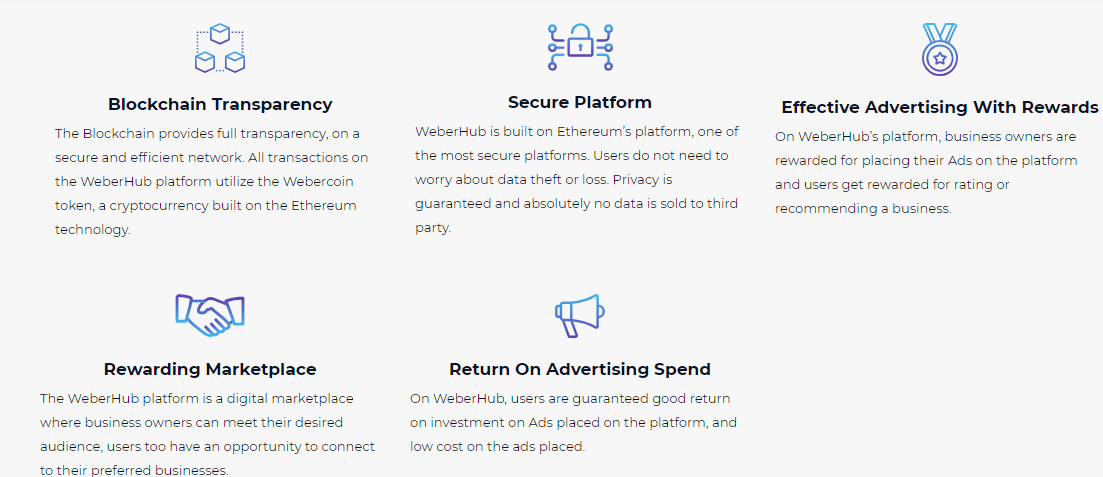 How Does WeberHub Work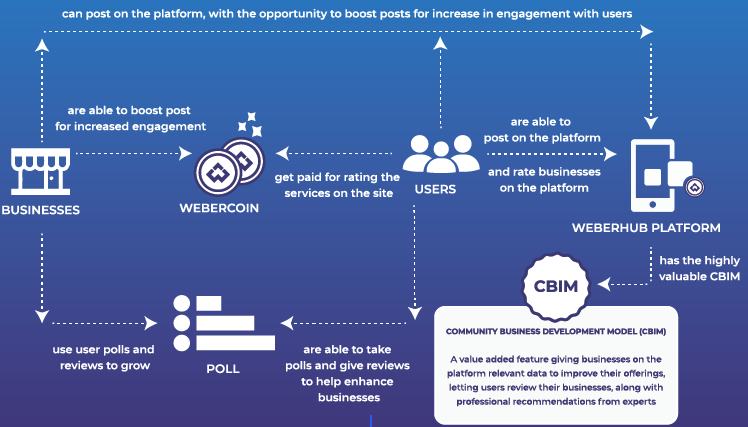 A Marketplace Like No Other
On the WeberHub platform, businesses and their ideal users get to connect as closely as they want, without complex and costly processes. Through interactions, reviews, recommendations and more, users get rewarded as they connect with their preferred businesses without barriers. In addition, all the platform's users' information is stored securely on Ethereum's platform on the blockchain, users have no fear of their personal information being accessible to unwanted parties.
Problems In The Current Marketplace
In the social media advertising landscape, it is becoming increasingly difficult for users to engage directly with businesses, and for businesses to connect with customers who are interested in what their business has to offer. Businesses find it hard to connect with social influencers and to leverage stronger relationships with them to grow their user base. Also, costs for advertising on traditional social media platforms have skyrocketed, and platforms do not create marketplaces where businesses and users can interact in a seamless and positive way. Users lack privacy as their information on existing social platforms are accessible to external parties.
Solution For Businesses
With Webercoin, businesses can reach customers that are more inclined to purchasing from them, and at much lower advertising costs than current social media platforms, giving them increased return on their advertising investment and better relationships with their customers, impacting their bottom line positively.
Solution For Users
Users get access to a wide array of products and services in their localities and beyond, that meet their specific needs, with the opportunity to rate the businesses and get rewarded for doing so.
Decentralized App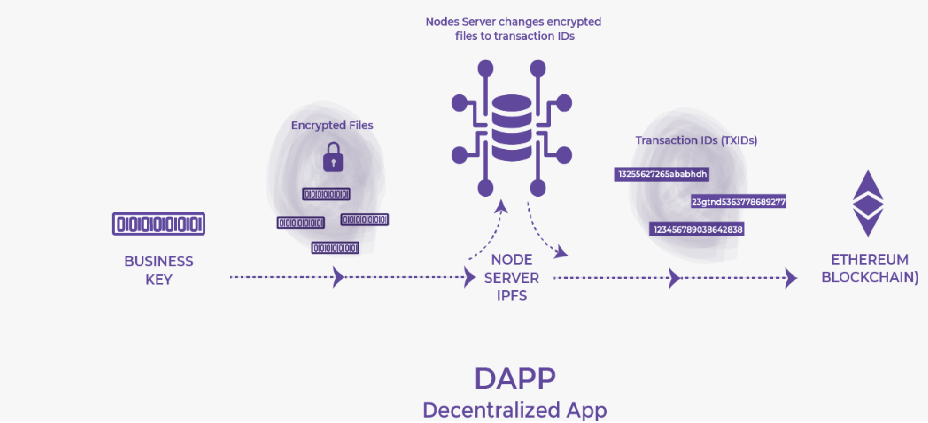 The Webercoin Token (WBC)
The tokens shared on the platform reduce barriers that prevent entry into the cryptographic ecosystem, making it simple and beneficial for non-cryptocurrency users to adopt the platform. The Webercoin token (WBC) is used to reward both businesses and users, enabling them to earn through activities such as rating businesses on the WeberHub platform, whose offerings stand out. The Webercoin token will be used to collect advertising revenue through sponsored adverts.
Token Details
Token - WBC
Price - 1 WBC = 0.0003488 ETH
Bonus - Available
Bounty - Available
MVP/Prototype - Available
Platform - Ethereum
Accepting - ETH
Minimum investment - 50 USD
Soft cap - 200,000 USD
Hard cap - 20,000,000 USD
Whitelist/KYC - KYC & Whitelist
Restricted areas - US, China, South Korea
RoadMap

TEAM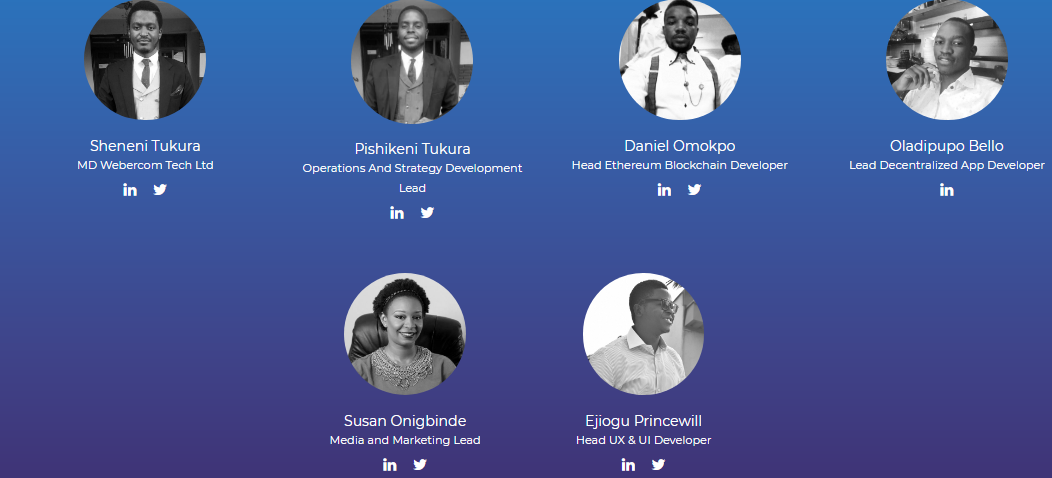 ADVISORS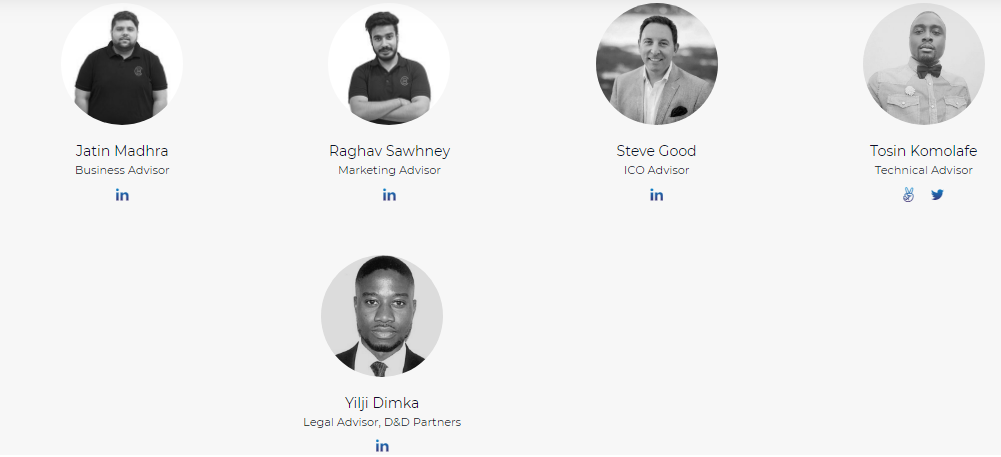 PARTNERS

For more information, please visit the links below;
WEBSITE: https://webercoin.io/index/
WHITEPAPER: https://webercoin.io/wp-content/uploads/2018/03/Final Litepaper.pdf
BITCOINTALK LINK: https://bitcointalk.org/index.php?topic=4873256
TELEGRAM: https://t.me/joinchat/Edg_FBJ30a-jrBSNr5aaHQ
TWITTER: https://twitter.com/webercoin
FACEBOOK: https://web.facebook.com/webercoin/
YOUTUBE: https://www.youtube.com/channel/UCgK16rllpLAM3mgTQWkMBlw
INSTAGRAM: https://www.instagram.com/webercoin/
Author: BrainerdPaul
BitcoinTalk profile link: https://bitcointalk.org/index.php?action=profile;u=168040