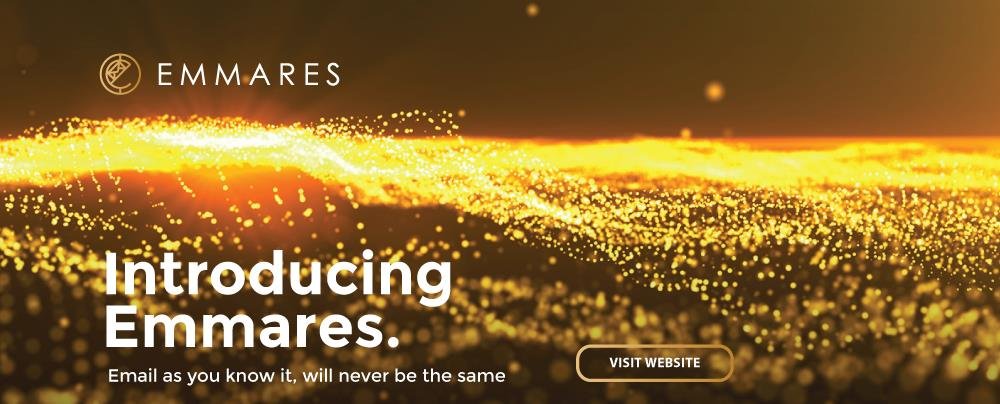 Cryptocurrency has emerged as the true saviour for the users of the digital world and has provided us with a new hope of trust and transparency. The market capitalization and the number of users across the world is a clear indication of the popularity of Bitcoin in such a short span of time. A few years back nobody cared about cryptocurrencies but the situation has totally changed today. People, governments and business have become interested in the cryptocurrency and the technology behind it. Many cryptocurrencies have been launched in the market but i will be introducing you to a visionary projects that come to life in the form of ICO's which is EMMARES a platform that is is creating a global digital reputation of email content providers and their contents. Based on trusted evaluations and Quality score, recipients can find the best content based on their interests.
ABOUT EMMARES
EMMARES is creating a global digital reputation of email content and content providers. Recipients are rating received emails and are rewarded by EMA tokens for the fair evaluation of the content quality. Good rated content appears higher in the content directory and attracts more new customers. EMMARES is connecting high-quality email content with interested recipients. Encouraging better quality content, lower frequency, and fair content evaluation, EMMARES brings new value, an expanded audience for email marketers and less spam with only desired content for recipients. With EMMARES a new digital channel with ultimate RoI is born and transfers email marketing into trusted and wanted medium.
Vision
We envision a world in which the content of email marketing has a much higher caliber. With our service, email marketers will be compelled to consistently produce better content from time to time. Reliable evaluation will help all of us to minimize spam. EMMARES will launch a new golden era of email marketing. We would like to email marketing represents trust and quality in the minds of the public.
Mission statement
Email marketing is used more than any other digital marketing channels, but its impact is nothing like what it is. This is due in large part to the fact that so much of the content used in email marketing is very low quality. Customers want information offered marketers email but they will not accept low-quality information.
By using intelligent service offered by EMMARES, users can finally get content marketing emails according to their standard and tailored for them based on their gender and their territory. Our mission is to make the world free of spam and play a major role in exposing the possibility evaluation of dynamic content delivery systems and smart.
Solution Provided
EMMARES potentially interfere with the digital advertising market by delivering return on investment, is far more important than traditional online advertising. As the first service of its kind, the EMMARES delivers a new approach to online advertising through email and give a new dimension on email marketing.
Enrich the quality of the contacts list and generate prospects and new traffic marketing purposes is most often mentioned. Providers spend most of their budgets in this arena hoping to achieve that goal. The most common way we do at the moment is through web advertising. There are many different techniques to increase engagement, but all have a common goal – to build contacts and constant communication with prospective customers. Classic web advertising used to collect email addresses and permission to send the content via email. Statistics and estimates indicate that only Google who generate more than $19 billion dollars of advertising. Conversion rate through such channels are much higher than through traditional channels and vary in different sectors.
Through evolution, marketing communication tool evolved from the classical marketing and advertising methods to digital. This changes the core concepts of marketing. The importance of TV and media classic faded and, with budget and targeted e-campaign, e-marketer is now able to achieve better results and more scalable. Currently, anyone can calculate the cost per new prospects or cost per click on their website and see your conversion rate.
Email marketers using innovative techniques to measure and improve processes through web presence. A/B testing, techniques maximise the involvement of the marketing automation or only a few of the most common.
But Email remains the only territory of web presence, where the result could not be achieved in an easy way with just a pay digital added. Get new customers being targeted is still one of the most important goals, because the targeted customers a better conversion.
This time, with the possibility of a staggering blockchain technology, we could introduce the intelligent service EMMARES, which brings together the source of information with consumer information. This results in a higher ROI and lead clearly targeted. We hope that the revenue is given to web advertising will be partly allocated to email marketing and this will generate a better ROI.
The main reason is email marketer generalize all customers as their email marketing campaign. The fact is there are many customers that don't have interest to the product or service that they offered. In long term, it can lower their trust and comfort when using the product or service from company. Basically, with solution that EMMARES provide, the marketing campaign can go effectively. The message will be able to receive by customer and it will produce the good result for the marketer.
How EMMARES System Work?
There are two different ways that this system works. The first one is for marketers. For marketer, EMMARES will provide information about the customer that has interest in their product, service or any content that they want to promote. This will increase the effectiveness of their campaign.
More than that, marketers also can use EMMARES system to expand their marketing range. This will give them better results. More than that, this system also has rewards system that can give benefits for marketers.
For recipient, this system will work as assistance that will be a filter to provide content that they really need. So, no more spam email marketing. More than that, recipients also can evaluate the email marketing content from the marketer, and by doing that, they will get tokens. The token can be used for many purposes in EMMARES system environment.
TOKEN AND ICO DETAILS
Public Presale and ICO: May 5th 2018 — Sep 30th 2018
Token: EMA
Total tokens supply: 500.000.000 EMA
Tokens for sale (pre-ICO & ICO): 255.000.000 EMA
Softcap: 2.000 ETH
Hardcap: 35.000 ETH
1 ETH = 5100 EMA
EMA is an ERC20 Token implemented in the Ethereum blockchain app platform.
EMMARES TOKEN SALE IS LIVE! STAGE 2 IS SOLD OUT AND STAGE 3 IS FILLING UP (15% bonus! ), hurry up and get your EMA tokens
You can be part of this project by visiting this link; https://register.emmares.io/check.php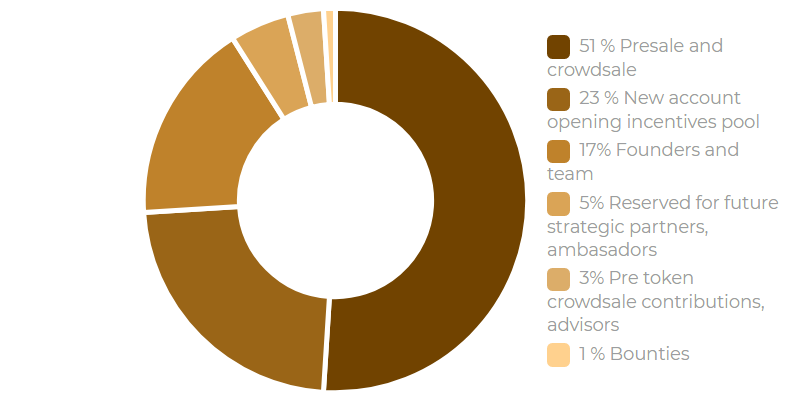 Token distribution;
51 % Presale and crowdsale
23 % New account opening incentives pool
17% Founders and team
5% Reserved for future strategic partners, ambasadors
3% Pre token crowdsale contributions, advisors
1 % Bounties
ROADMAP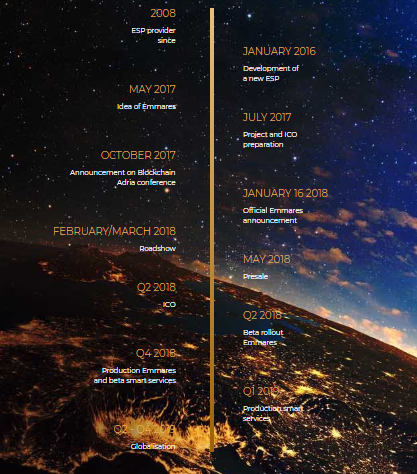 TEAM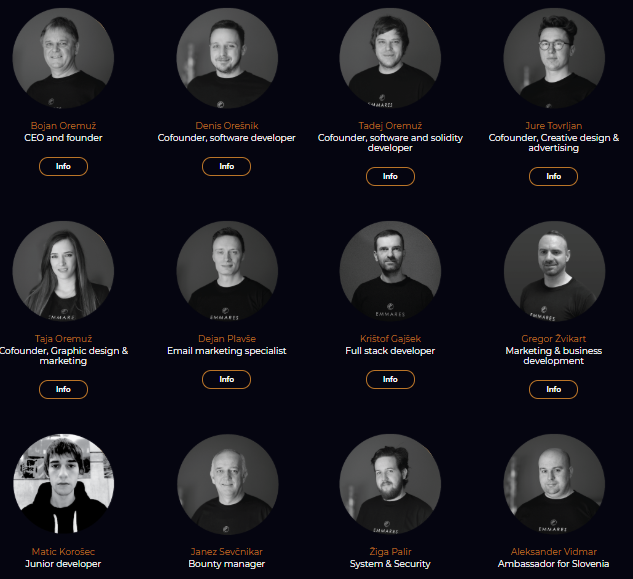 FOR MORE INFORMATION PLEASE VISIT THE LINKS BELOW;
Website: https://emmares.io
Whitepaper :https://emmares.io/whitepaper.pdf
ANN : https://bitcointalk.org/index.php?topic=2807216.0
Facebook :https://www.facebook.com/groups/1109245045873390
Twitter : https://twitter.com/emmares_io
Telegram: https://t.me/emmares
Author: BrainerdPaul
BitcoinTalk profile link: https://bitcointalk.org/index.php?action=profile;u=1680409