The influx of people into the cryptocurrency market has made an astronomical rise in the adoption of blockchain technology. Numerous supporters, investors from different field of professions and businesses around the world have embraced new technological innovation which has helped reshape the world. One firm at the forefront of this innovation is LANEAXIS which has developed a platform that is harnessing the power of the blockchain to connect shippers directly to carriers, cutting out expensive intermediary freight brokers who charge up to a 30% commission and many others i will be writing about in this article.
ABOUT LANEAXIS
LaneAxis is a patented technology built to connect Shippers directly to Carriers, giving both real-time visibility and proactive control over every shipment — as well as cutting out expensive middlemen. LaneAxis is now building a blockchain solution to transform the transportation industry.
LaneAxis is in the process of transforming the global logistics industry by building a Shipper-to-Carrier direct optimization blockchain network powered by smart contracts. The platform, once in action, will drive massive, cost-saving efficiencies into the industry and fuel growth of new business paradigm in freight logistics. LaneAxis Virtual Freight Management is patented technology built to connect Shippers directly to Carriers, giving both real-time visibility and proactive control over every shipment — as well as cutting out expensive middlemen. LaneAxis is now building a blockchain solution to transform the transportation industry.
The laneaxis blockchain is built to connect shippers directly to carriers, completely detached from unnecessary and costly third party intermediaries. Much in the same way that traditional travel agencies have essentially been replaced by online travel booking sites. Self-executing smart contracts are the future of freight tendering. A shipper's contract can be uploaded to the blockchain's immutable ledger with self-executing actions taking place as soon as specific contract requirements are met and verified. Blockchain technology can create a "digitized roadmap" of routes, and smart contracts written into the blockchain can trigger the transfer of funds to a driver instantaneously once a delivery has been completed. It typically takes one to three weeks for most carriers to get paid. With smart contracts, payment is made instantly once the proof of delivery is confirmed. As LaneAxis' driver community grows, smart contracts will give carriers immediate access to freight. This will provide value to both the shipper in terms of cost reduction, and to the carrier in terms of increased revenue by reducing empty "deadhead" miles.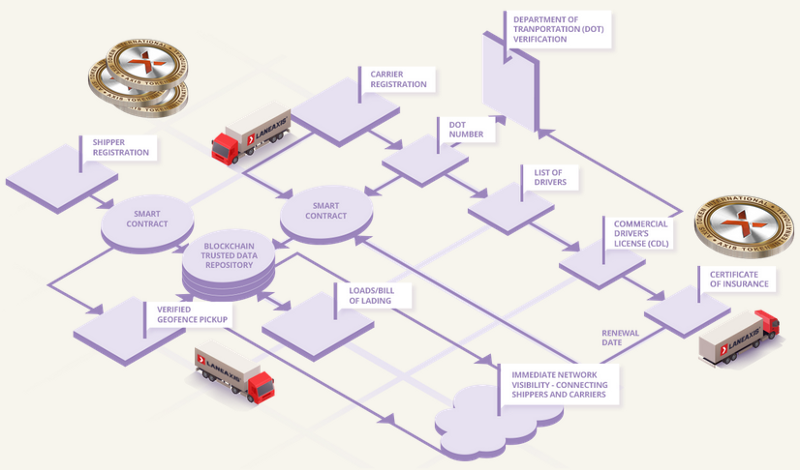 FEATURES OF LANEAXIS PLATFORM
LaneAxis Real-Time Tracking and Documentation
Cloud-based and highly-secure, the LaneAxis Virtual Freight Management desktop and mobile app delivers real-time shipment visibility and data via GPS, predictive analytics and true shipment control for shipping companies. The platform allows users to monitor all shipments in real-time, adjust geo-fence sizes, receive alerts when hitting milestones or problems and transmit documents instantly (such as Proof of Delivery). The direct result for everyone: money saved, time saved, processes streamlined, products moved faster and more efficiently – all at a low cost-of-entry.
LaneAxis Driver Mobile App
The LaneAxis mobile app provides Carriers full visibility into the status of its Drivers – preventing distracting calls and the need to have the Carrier fax or mail key documents such as the Bill of Lading or Proof of Delivery. The load manifest is transmitted directly to the driver's mobile phone. Carriers also benefit from verifiable real-time Pickup and Delivery confirmation, avoiding unjustifiable fees from Brokers/Shippers. The intuitive, easy-to-use app also allows for instant accident reporting (take a picture and send), immediate document uploads via the app, and fast payment turnaround. This allows drivers to avoid freight factoring services, which pay drivers immediately, but charge a percentage of the load transaction to do so.
The Laneaxis software solution
The Laneaxis platform providing a app for mobile and pc that app shows the real time shipment data to the senders via GPS. this platform allows to monitoring shipment in real time receive the alert message of target get reached. The app is easy to use and allows instant message of accident reports.
Shipper smart contracts
A shippers contracts can be uploaded to the blockchain. The blockchain technology can create a digitized road map of routes written in smart contracts this triggers blockchain technology to transfer funds or amount to drivers.
How The Platform Works
The LaneAxis Blockchain verifies and stores all key data and documents involved in a freight movement, including Shippers' contracts, insurance certificates, Department of Transportation registration numbers, and Commercial Drivers License information. During transport, the LaneAxis ledger stores critical data in real-time, including proof-of-pickup, GPS location tracking, exception management, and proof of delivery. The LaneAxis Token serves as an API key granting access to the LaneAxis Blockchain Ecosystem.
The LaneAxis Blockchain injects total security and data integrity into the notoriously disorganized freight and logistics sectors. Utilizing smart contracts on the blockchain's immutable ledger, Shippers and Carriers can now deal directly with each other, bypassing expensive third party freight brokers.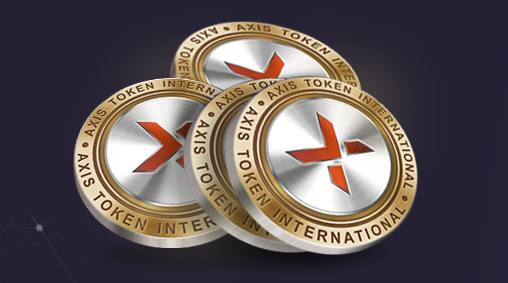 TOKEN AND ICO DEAILS
The "AXIS" token will serve as the gateway to LaneAxis' immutable ledger, digitally bolted to the LaneAxis blockchain. The "AXIS" utility token will function as an API access key, as well as a means of transacting services, features, and rewards within the LaneAxis blockchain ecosystem.
The TGE will take place between June 1, 2018 through October 25, 2018, and can be accessed via our website: https://www.laneaxis.io
TOKEN ALLOCATION
• 20% AXIS for Private Sale
• 49% AXIS for Pre-Sale
• 20% AXIS for Public Sale
• 2% AXIS Bounty Tokens
• 2% AXIS Team
• 5% AXIS Reserve
• 2% AXIS Community Tokens
Total Circulation: 500 million AXIS tokens
TGE Hardcap: 300 million AXIS tokens

WHY YOU SHOULD INVEST IN AXIS TOKEN
TRANSPORTATION EXPERIENCE - The LaneAxis platform was built by logistics veterans with decades of combined industry experience.
BLOCKCHAIN EXPERIENCE - Our blockchain engineering team is comprised of some of the most skilled and highly-regarded blockchain architects in the crypto space.
TRUE UTILITY TOKEN - The AXIS token is the key mechanism providing users independent access to all immutable data and business intelligence stored on the LaneAxis blockchain.
THIRD PARTY PRAISE - From Forbes to one of the co-founders of Ethereum, independent analysts have examined the LaneAxis blockchain business model, and concluded it is solid, viable, and necessary.
AVOID MARKET VOLATILITY - By purchasing AXIS tokens, supporters are applying their research and intelligence into an established company offering a true solution to a real problem. This is in sharp contrast to traditional crypto purchases, which rely on the whims and waves of the exchange markets.
ROADMAP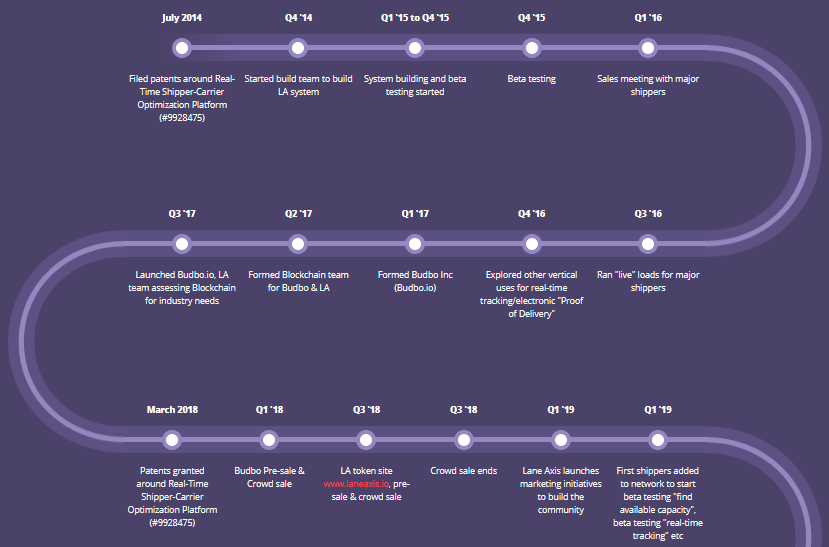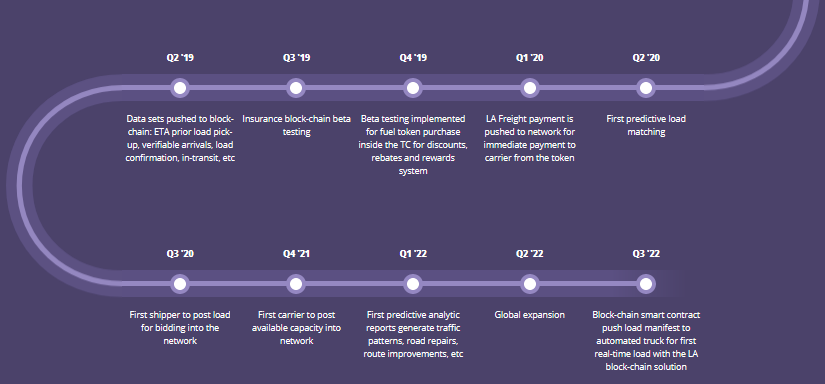 TEAM


Rick Burnett
(CEO).
Luke Patterson
(President).
Jacob Patterson
(CTO).
Mason Burnett
(VP of Blockchain integration).
Gary Heitz
(Chief Operating Officer).
Clint Johnson
(VP of Sale).
Matt Guinn
(VP of Trucking Operation).
Andrew Rivera
(Communication Director).
Amarpreet Singh
(Senior Blockchain Engineer).
Divyashish Jindal
(Senior Engineer).
Ankur Siddha
(Blockchain Marketing Specialist).
Prateek Dimri
(ICO/Token Sale Manager).
Mark Williams
(Director of Business Development).
David Patton
(Sales Manager).
Alex Williams
(Sales Team).
Tom Reid
(Sales Team).
Megan Jones
(Corporate Operations).
Charles Sellers
(CPA).
Jason Giorgio
(Financial Strategy Team).
Ellie Burnett
(Logistics Coordinator).
ADVISORY BOARD


FOR MORE INFORMATION PLEASE VISIT THE LINKS I HAVE PROVIDED BELOW;
Website: https://www.laneaxis.io/
Whitepaper : https://laneaxis.io/assets/whitepaper/laneaxis-whitepaper-eng.pdf
Bitcointalk : https://bitcointalk.org/index.php?topic=3620267
Telegram : https://t.me/laneaxis
Twitter : https://twitter.com/LaneAxisVFM
Facebook : https://www.facebook.com/LaneAxisVFM/
LinkedIn : https://www.linkedin.com/company/laneaxis
Medium : https://medium.com/laneaxisvfm
YouTube: https://www.youtube.com/channel/UCZykDsDoopUJAKetqexGPag
Author: BrainerdPaul
BitcoinTalk profile link: https://bitcointalk.org/index.php?action=profile;u=1680409