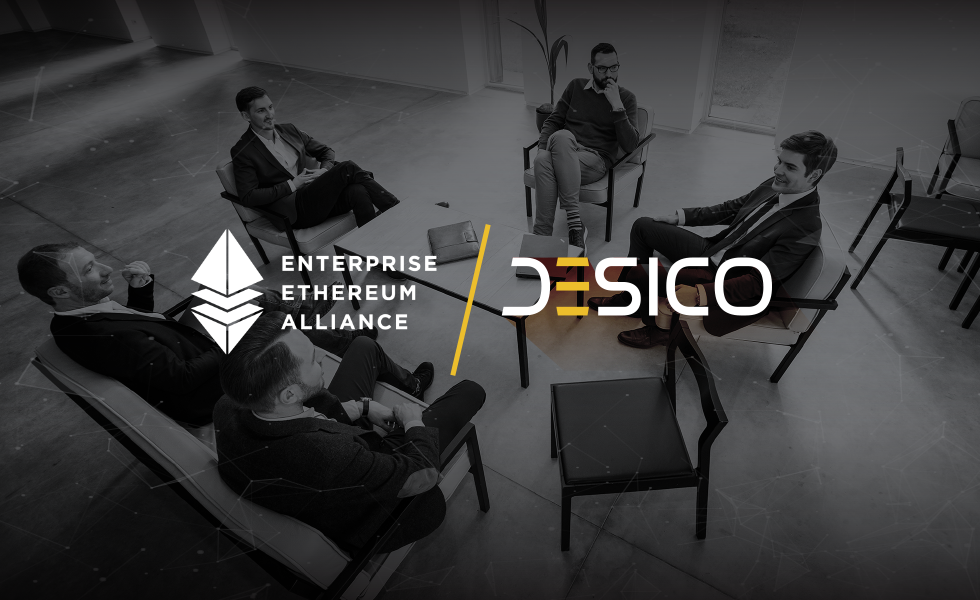 Introduction
Crypto-currencies, and, in fact, bitcoin, are actively developing, which entails irreversible economic changes. Many have heard that cryptocurrency is a modern financial tool, but not everyone understands exactly what tokens are and why they are so important. Tokens are a specific type of e-currency, companies that are going to launch their own ICO, use them to further develop the project and attract new investors. But carrying out ICO is quite a complicated process, which requires a special approach - it is necessary to provide every detail to make it really successful. Today this segment faces many difficulties.
About DESICO
Blockchain technology and cryptocurrency are gaining in popularity very quickly. This technology is going to have a profound impact on society in the future with mass adoption of the technology. Currently, many initial coin offerings are for utility tokens. These types of tokens do not give a person any ownership in the company, rather they are an accepted form of payment for use within their platforms. They operate on the basis that price should rise in the future based on supply and demand for the token. The other type of tokens that can be offered for sale are security tokens. There are very few companies issuing security tokens due to many legal complications. Security tokens can pay out dividends and give ownership to token buyers. As an investor myself, I much prefer to invest in security tokens. These types of tokens are quite similar to the traditional purchase of stock. Security tokens can give rights to company assets, the right to voting, and more.
DESICO is going to operate a platform and ecosystem for companies to issue security tokens while being fully compliant with laws. This should pave the way for making it much easier for companies to launch security tokens instead of utility tokens. With the help of DESICO, hopefully, security tokens can really start to gain in popularity among people holding token sales. There is a huge potential market for this type of service. DESICO aims to provide a low cost and fair solution for businesses to raise capital. Within the DESICO ecosystem, a utility token will be used to act as a payment method. Token holders will also receive priority when it comes to purchasing new security tokens. The company is registered in Lithuania and will be fully legally compliant.
DESICO will help businesses with many aspects of launching a security token. They will provide support for organizing a company, preparing initial coin offering documentation, marketing, and technical support. Businesses will have this support throughout the fundraising process, and then their tokens will have an immediate listing on the platform. DESICO estimates that the cost for launching an ICO on their platform will be about a third of the cost when compared to using other services. The DESI token is the utility token that will be used on the DESICO platform to pay for services and investment purchases. Within the DESICO ecosystem, they will have their own exchange. This will allow for the immediate listing of new security tokens once fund raising has been completed. This is a great feature of the ecosystem, because often times new tokens have trouble getting listed on exchanges. It can also be quite costly to get a new token listed on a major exchange. This solution offered by DESICO is great for small businesses.
Problems
What exactly could prevent the ICO from carrying out:
When buying tokens, almost all people want to become full-fledged investors in a "promising project." They want to control all the activities of the company, manage its assets. But the reality is much more pragmatic - the owners of the tokens can only use their currency, no total control is provided.
Fraud. Today, there are many examples of how the ICO was simply a screen, scammers raised funds from investors and disappeared. No one can guarantee full-fledged security in this segment.
Transactions are carried out too slowly, many customers do not want to face additional time costs.
Key components of this ecosystem
Key components of this ecosystem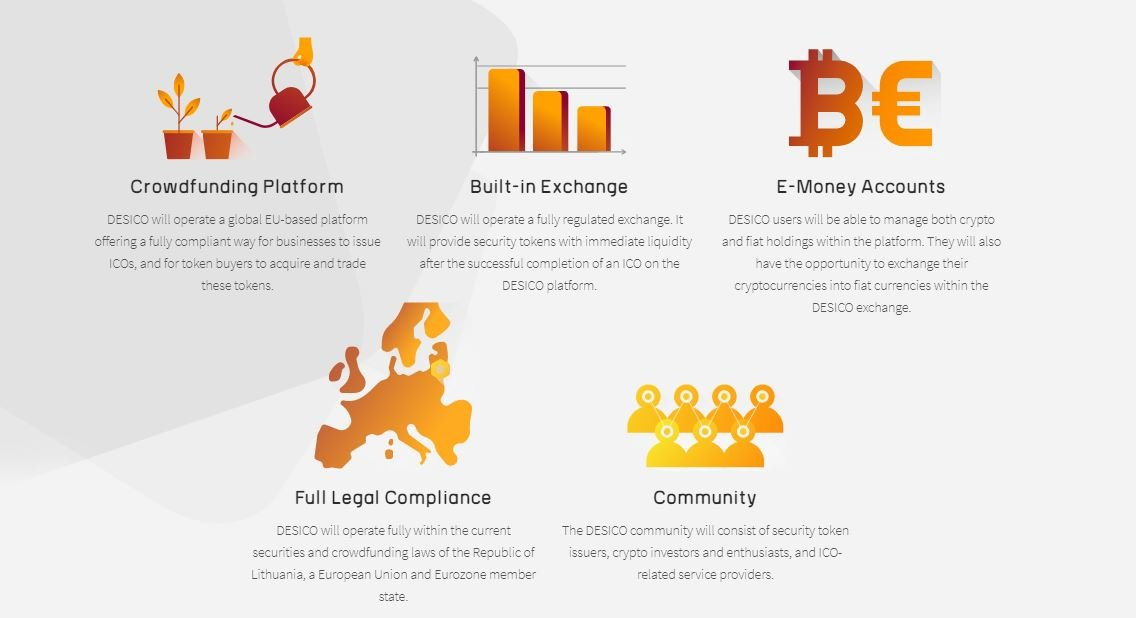 Solution
The team of talented professionals who decided to create a decentralized DESICO platform analyzed the current situation in order to find the best way to solve problems. DESICO is a unique platform, it is here that you can conduct ICO, adhering to all existing standards - no scammers, fake tokens and other problems. The platform focuses on investment tokens - why is this direction chosen? It's all about the specifics of such tokens - owners get much more rights, while tokens need competent protection.
The goal of the developers is to create a secure decentralized platform that will allow transactions with Security Tokens to be performed at the proper level without risks and problems.
What will the DESICO ecosystem be ?
The developers are aimed at truly global scales - they are going to create a decentralized platform that will allow the rapid release of certain tokens. Buyers will be able to purchase them without fear of the possibility of encountering scammers - developers use all the advantages of the blockchain to level the existing problems.Built-in exchanger.
The presence of its own regulated exchanger will allow safe and high-quality implementation of all necessary transactions. No intermediaries and search for other sites, customers will be able to work inside the platform.Electronic means. Customers will have the opportunity to buy cryptocurrency, using not only tokens, but also fiat funds. It is very convenient and practical, given the current realities.No problems with the law. Here it will be possible to create tokens that fully comply with all existing legal standards.
At the same time, the clients of the project will be able to avoid problems with scammers.Community. Publishers of security tokens, project investors, buyers - all of them will become part of a huge community built on the features of the blockchain.
Token info
Token DESI
Platform Ethereum
Type ERC20
Price in ICO 1 DESI = 0.08 USD
Tokens for sale 410,000,000
Investment info
Accepting ETH
Distributed in ICO 51%
Soft cap 3,500,000 USD
Hard cap 32,000,000 USD
Distribution token
DESICO will sell 51% of total token supplies during the crowdsale event. DESICO tokens that will not be put into money. The tokens allocated to the team will have a 12 month lock-up period.

Roadmaps
2015 Q3
DESICO core team establishes p2p lending platform. Key features: real time bidding, automated investments, secondary market, user friendly interface.
2017 Q1
DESICO core team launches crowdfunding platform for businesses.
2017 Q3
DESICO core team receives E-money license.
2018 Q1
DESICO core team - becomes a member of the ICO regulatory development team, setup by the Ministry of Finance of the Republic of Lithuania.
2018 Q2
Formation of developers team. Promoting the platform among blockchain community.
2018 Q2/Q3
DESICO Tokensale.
2019 Q2
Launch of Security ICO platform - Beta version.
2019 Q3
Launch of payment system for Crypto/fiat.
2019 Q4
Launch of built-in exchange.
Opening of office in Amsterdam and Berlin.
2020 Q4
Launch of Security ICO platform - full version.
DESICO Team
The DESICO core team project has experience in developing a platform for community mobilization, and thus can develop clear development plans and set realistic goals for the project. debut of DESICO. Below we list a summary of the major steps completed before the DESECO token and the planned development schedule in the future. Our goal is to launch a fully operational platform within 20 months of completing the DENI Token sales event. Key platform functionality will be available for early user testing in beta, which we expect to launch within 6 months of the token sales event. While DESICO will initially be based in Lithuania, we intend to expand and set up offices in other European countries.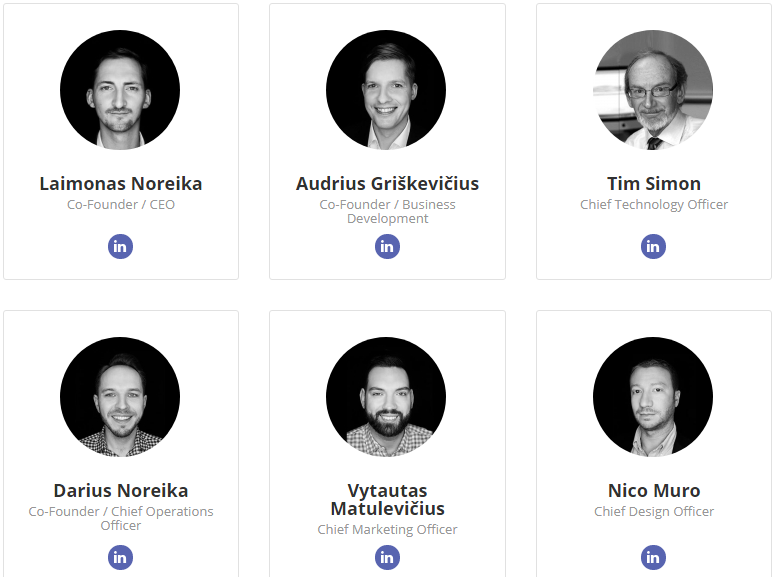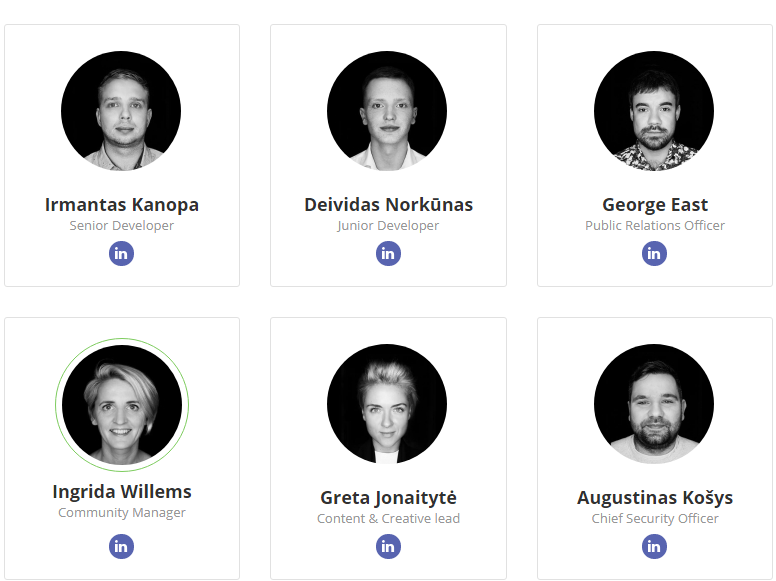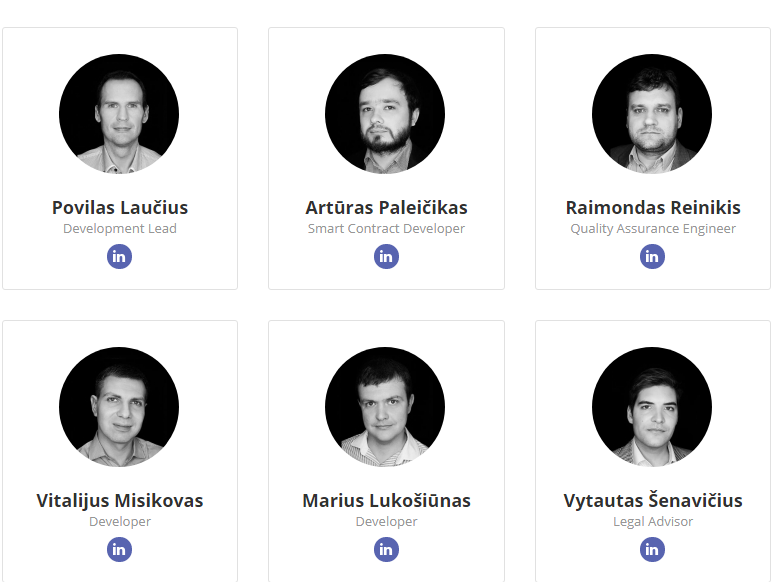 Advisors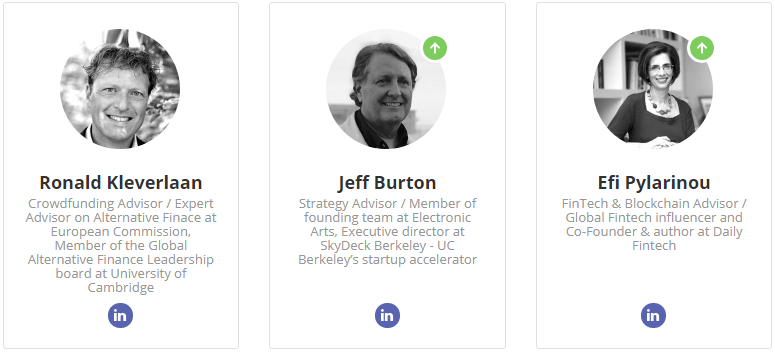 Conclusion
The developers are confident that the DESICO decentralized platform will become a truly successful project. Now they are doing everything to attract investors, raise funds, to implement the plan. The project is a unique solution - security and speed of transactions, here are its main features. Lithuanian developers have created a roadmap to show potential investors the main stages of work on the project. At the same time, they expect to collect the necessary amount of funds to quickly launch their own ICO. To make sure that the project is really experienced professionals, you can consider their other offspring - Draugas.It. This is a social network that is based on the blockchain and guarantees maximum protection for its customers.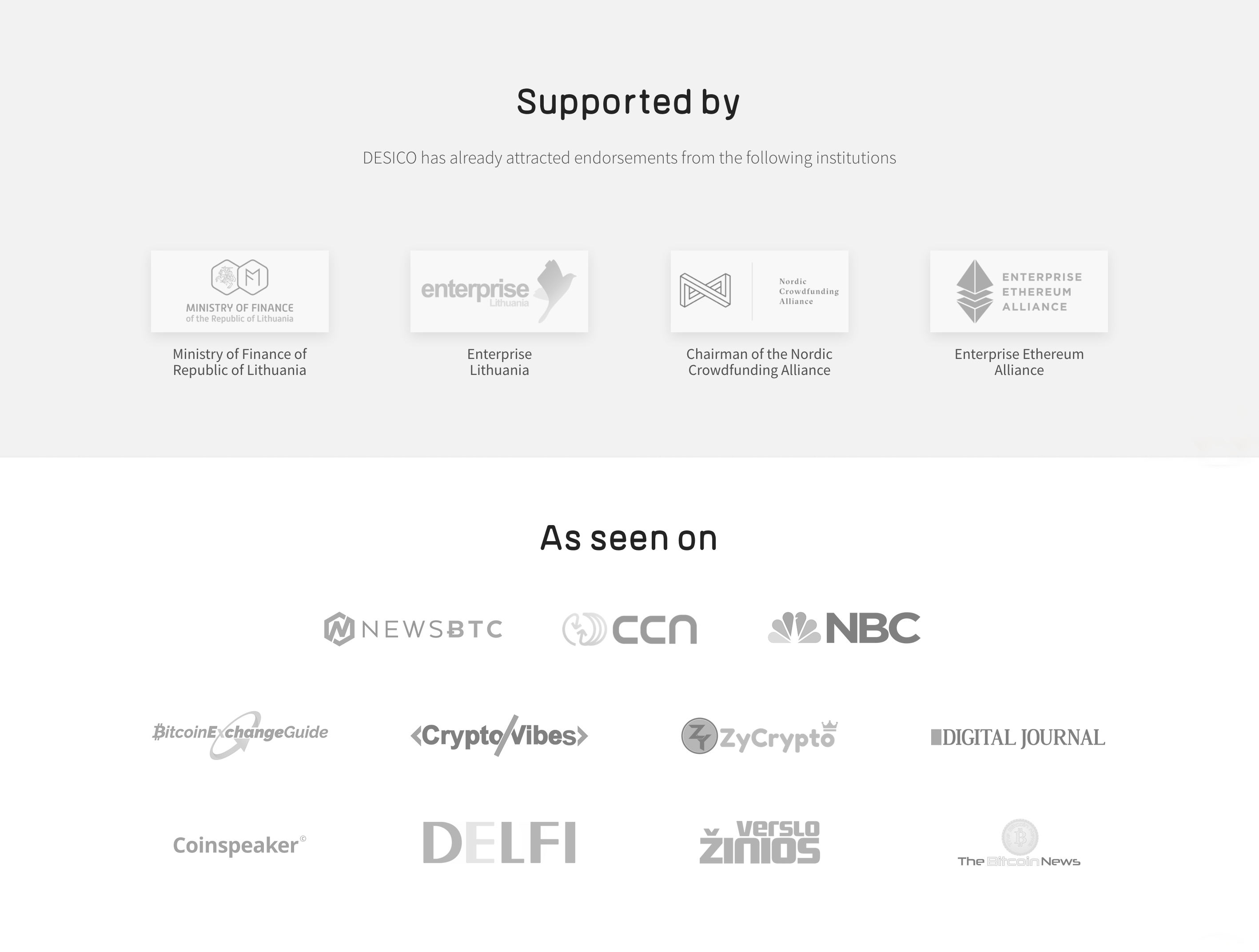 #desico #ICO #Blockchain #cryptocurrency #presale #TokenSale #startup #BountyCampaign #Investment #Exchange #Crowdfunding
for more information please follow the link below
Website : https://www.desico.io/
Whitepaper : https://www.desico.io/docs/Whitepaper_240518_v2.pdf
Twitter: https://twitter.com/desico_io
Facebook: https://www.facebook.com/desico.io/
Telegram: https://t.me/desicochat
Author
Forum Username : olitaptapan
Forum Profile link : https://bitcointalk.org/index.php?action=profile;u=1566451
0x4832C1D8352841b26577695dEc7B741187D5d1fA