PRESENTATION
A storm has hit the investment market which we are not going to recover from. Crypto investment is that storm. With strict capital controls in place by most countries to control the flow of money and charge high taxes, cryptocurrency gained usage in circumventing capital controls and taxes, leading to an increase in demand. Cryptocurrency has been able to present an easy to use digital alternative to fiat currencies. Offering frictionless transactions and inflation control, investors have been prudent enough to add these currencies in their diversified portfolios as an asset, as the size of the market does not represent a systemic risk. Cryptocurrency employs the use of cryptography that assures high-security processes and verifies transactions personal to each user. Hence, counterfeiting and anonymous transactions are impossible to achieve.
While this revolution is gaining wide acceptance, The Kryptoin ETF System, a patent-pending platform that enables a digital token to be exchange-traded with a basket of cryptocurrencies that represents any index or sector has arrived.
Before I take you on this voyage, please check out this video presentation
Now that I have your attention, let's get right to it.
What exactly is KRYPTOIN?
Kryptoin is a blockchain project which is aiming to develop an ETF System platform which will enable creation of digital token. This digital token will hold the value of combination of cryptocurrencies which belong to the same set of blockchain nodes. Blockchain integration will solve the security issue and transactions demand which are faced in the conventional ETF system. Kryptoin ETF tokens will be used in this ecosystem and the users can trade or exchange the underlying assets at Kryptoin trading desk. Kryptoin strives to push the evolution of the ETF by incorporating decentralized systems and Artificial Intelligence to create the best ETFs of the new economy.
Furthermore, the Kryptoin Cryptocurrency Blockchain ETF System is a platform upon which ETF tokens can be created to track and encapsulate indices formulated to represent the evolving digital currency markets.
The Purpose
The purpose of KRP Tokens is to initially seed the ETF ecosystem and generate the ETF Token for the Kryptoin Blockchain 10 Index. The KRP Tokens will be exchanged for the KRYP token only after all the rounds of the "Dutch Auction" have been completed and when the trading desk opens for exchange. KRYP will then be tradable on the exchanges and usable within the Kryptoin ecosystem.
The Goal
The goal of the system is to create an ETF token system that will allow users, whom we anticipate will be Global Asset Managers and Individuals, to assemble creation units or indices to fit their specific investment objectives and preferences. Most ETF tokens that will be launched would be on blockchains that are readily supported by other exchanges. Consequently listing them on future decentralized exchanges is very likely as the protocols to list and trade them are readily accessible.
The Solution
KRYPTOIN is building the crypto ETF based on the blockchain technology. The platform provides an easy experience for the cryptocurrency investors. The cryptocurrency token created on the platform is based on the Ethereum blockchain. A mega wallet application is created on the platform in which users can register. There are various levels on it which can be cleared according to the different requirement. The first ETF index of the ten largest cryptocurrencies is already running on the platform. The other kind of index on the platform include KRYPTOIN ICO 100 and KRYPTOIN anonymous 10.
Kryptoin Ecosystem
The ecosystem will be capable of assembling a creation unit and composing an index to be better than the conventional ETF ecosystem. Kryptoin ecosystem will consist of Megawallet application which will create wallet address for users, connect to all the blockchain nodes, allow users to deposit or withdraw digital currencies and perform many other functions. The Megawallet will be connected to 10 blockchains which are Bitcoin, Bitcoin Cash, Dash, Ethereum Classic, Ethereum, Litecoin, NEO, Monero, XRP and USDT.
The platform will also consist of a trading desk which will integrate Bittrex and Bitfinex exchanges. The trading desk will enable the users simultaneously to buy/sell across exchanges.
There are different roles and responsibilities based on user's level which will differentiate the Megawallet access among different levels:
Level 1
The users of first level will be able to only deposit/withdraw ETF tokens and cryptocurrencies from their wallets. They can also buy or sell ETF tokens on the platform.
Level 2
The level 2 users will be able to redeem the ETF tokens and exchange these tokens at greater or lesser amounts.
Level 3
Here the user will be able to use the services of trading desk. The users can also carry out their transactions in BTC, ETH and USD(T).
Level 4
The level 4 users will act as ETF token issuers to the level 3 users. This level will also consist of Asset Under Management (AUM) which will give added security to the users for their tokens.
Level 5
The level 5 users are also known as administrators who are responsible for monitoring the health of the platform and the blockchain nodes. The administrators will examine the transactions taking place on the platform.
The Features
Kryptoin provides the ability to generate each unit of cryptocurrency in accordance with its parameters, use Megawallet application to manage user's cryptocurrency. Kryptoin user interface and website will have all the security features and scalability of a high-quality web application.
The Advantages
The unique development of Kryptoin is the patented "Megawallet" application, which allows simultaneous connection of the leading blockchain-based platforms to one network node, namely Bitcoin, Dash, Bitcoin Cash, Ethereum, Ethereum Classic, Monero, Litecoin, NEO, USDT, XRP. Megawallet functions allow conducting all transactions between users and write them to a single database. Work in Megawallet is possible on one of five levels, endowed with different capabilities.
The ETF trading system is totally different from Closed-End Fund (CEF) system. They are offering Kryptoin Blockchain 10 under the index forum where they will track the index consisting of the top 10 largest capitalized and liquid cryptocurrencies.
ETFs can track every performance of an underlying index, commodity or basket of assets. This is very helpful to the users who want to or need an exposure to certain markets and do not want to purchase the individual assets. From this, users can avoid large dealing costs and save their time.
From Kryptoin ETFs, users can simply purchase a single token which will track the fortunes of all the coins in the index.
Platform For ETFs
A specialized trading platform that is required by ETFs. Trading desks make markets, provide liquidity and are able capitalize on exchange arbitrage once Kryptoin is listed on the exchanges.
ETF's require a specialized hedging mechanism. This mechanism sets it apart from closed end funds and standard tokens because it allows the coin to trade with a true NAV even though it is may not be listed on the exchange in the beginning stages
Unlike closed end funds, large block trades can be executed in an ETF regardless of trading volume on the exchange with no impact on the price. When a large customer buys or sells a block or large quantity of a closed end coin on the exchange it wil affect the price of all the other coins.
An ETF unique infrastructure fundamentally different and the Kryptoin platfrom was built to provide the highest liquidity for trading and hedging of all positions of the coin on or off the exchange.
The Token Sale and ICO Details
Kryptoin will hold a Initial Token Offering in the form of a Dutch Auction. This token sale event will issue Ethereum ERC20-compliant tokens to registered participants according to the 'Kryptoin Distribution Document'. The sale process will be executed by the Smart Contract. The details of the smart contract can be found in GitHUB and the smart contract audit has been performed by security auditor Coin Mercenary.
Token info
Token KRP
Platform Ethereum
Type ERC20
PreICO price 1 KRP = 0.10 ETH
Price in ICO 1 KRP = 0.12 ETH
BONUS
Bonus in Presale - 40% Bonus in Round 1 - 24% Bonus in Round 2 - 18% Bonus in Round 3 - 12% Bonus in Round 4 - 6% Bonus in Round 5 - 3%
Tokens for sale 1,078,825
Investment info
Min. investment 0.1 ETH
Accepting ETH
Distributed in ICO 60%
Soft cap 28,557 ETH
Hard cap 114,311 ETH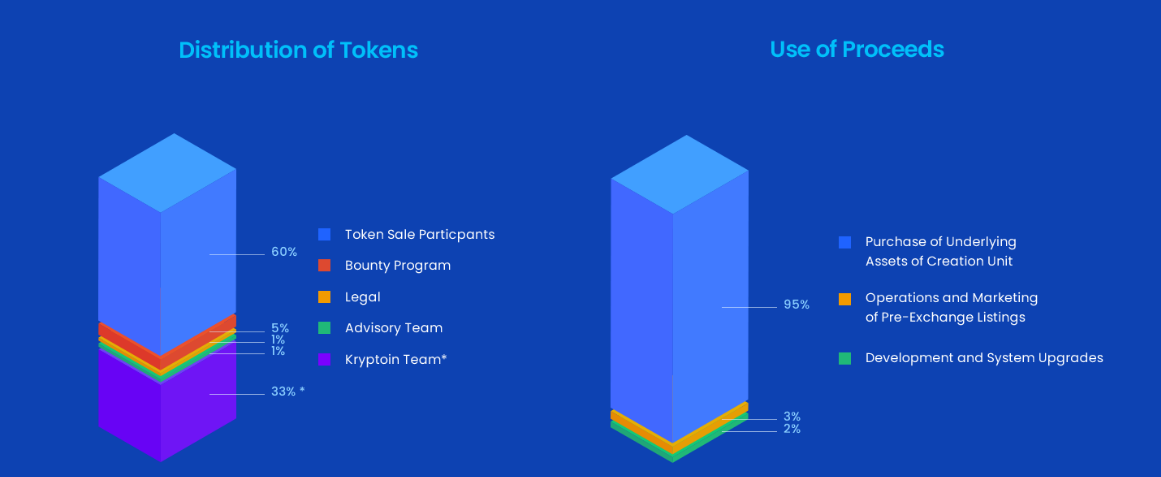 RoadMap
April 2017
Conceptualization
June 2017
Whitepaper published
September 2017
Installation of 12 Coins
October 2017
Bittrex API Integration
November 2017
Kryptoin Big 10 Index and NAV
January 2018
Trading Desk
February 2018
Testnet on and off chain
Kryptoin Big 10 ERC20 Test Token
Megawallet and AUM
March 2018
MVP
Q2 2018
Update to Kryptoin AUM 2.0 Decentralized API
Release of Emerging ICO ETF Coin
Installation of 100 Coins
Release of Kryptoin Mid 25 ETF Coin
Installation of 25 Coins
Release of official Kryptoin Big 10 ETF Coin
Token Sale + Airdrop
Meet The Amazing Team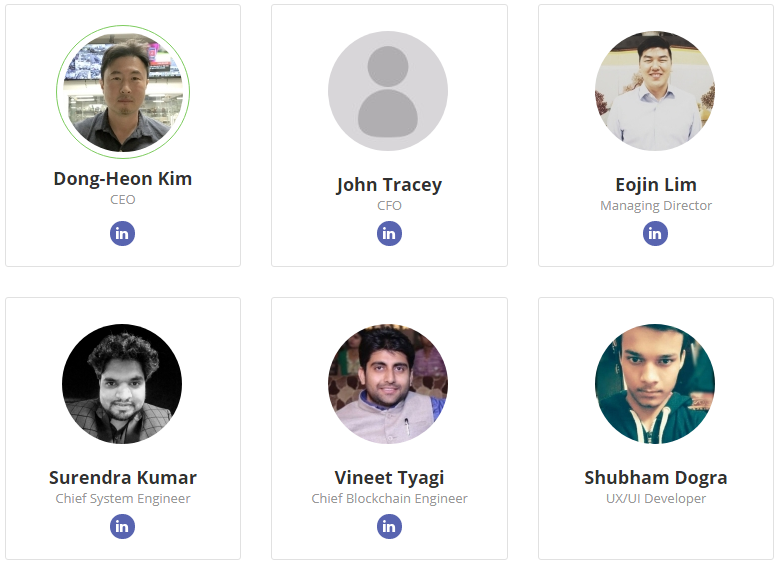 Donnie Kim - CEO
Experienced entrepreneur with a demonstrated history of executing the necessities for growing businesses. Skilled in marketing, strategic planning, platform development and creating profitable ecosystems. Strong business development professional currently focused in fintech specifically blockchain ETFs and the future of cryptocurrency.
Tariq Ali Asghar – CIO
Tariq Ali Asghar is a seasoned Canadian Technology Entrepreneur with over two decades of outstanding experience in the Financial and Technology (Fintech) Industry in USA, Canada & Internationally. Tariq has championed digital innovation successfully for driving robust growth strategy in number of organizations, right from Fortune 500 Companies to disruptive start-ups to United Nations.
Eojin Lim - Managing Director
He was the Director of Acquisitions at 888 Auctions Inc where he was responsible for the acquisition of property and on-the-spot preliminary fair market valuations. He also developed Business Process Management and implemented business and cataloguing system workflow processes
Advisors

Be a part of this incredible project. Download the whitepaper for the full scoop.
Till next time…
For more information, please visit:
Website: https://kryptoin.io
WhitePaper: https://kryptoin.io/whitepaper
ANN Thread: https://bitcointalk.org/index.php?topic=3914897.0
Telegram: https://t.me/kryptoinETFs
Facebook: https://www.facebook.com/kryptoin
Twitter: https://twitter.com/@kryptoinETF
Medium: https://medium.com/@kryptoin
Author: TheMichaelMatch
My BitcoinTalk Profile: https://bitcointalk.org/index.php?action=profile;u=1326035
My Ethereum Address: 0x76CC93E01A6D810a1C11bBC1054C37CB395F14C8
Disclaimer: This article was published in terms of the bounty campaign. I am not a project team member or its representative but a supporter of this incredible project.