The influx of people into the cryptocurrency market has made an astronomical rise in the adoption of blockchain technology. Numerous supporters, investors from different field of professions and businesses around the world have embraced new technological innovation which has helped reshape the world. UBEX is creating a global decentralized advertising exchange where companies advertise effectively, while publishers profitably tokenize ad slots on their resources. Ubex project presents a platform of programmatic advertising based on neural networks and smart contracts which provides a change in advertising system from traditional pay-per-click scheme to the payment of targeted actions.
ABOUT UBEX
The Ubex platform will provide ample opportunities not only to publishers and advertisers, but also to companies that need regression analysis of user data. The system's neural core, which is responsible for making decisions at all stages of the life cycle of the advertising material, will have an API, access to which can be provided to partner companies. The behavioral decision-making blockchain allows one to evaluate user data and make a judgment about the perceived interests of the user. This regression estimate can be used not only to display advertising materials, but for other purposes as well. The API will provide an opportunity to retrieve a list of expected categories with an estimate for each based on a query with user data. Training the system core to obtain relevant and accurate forecasts is a laborious process. In this regard, the platform will provide the ability of adding statistical data to the site user's actions, which can be used as a training sample for the system's core. The site owners who provided data will receive a reward proportional to the contribution of the data provided for training the system core. These actions are similar to mining, when users are rewarded for labor-intensive work (providing statistical data for the formation of a training sample.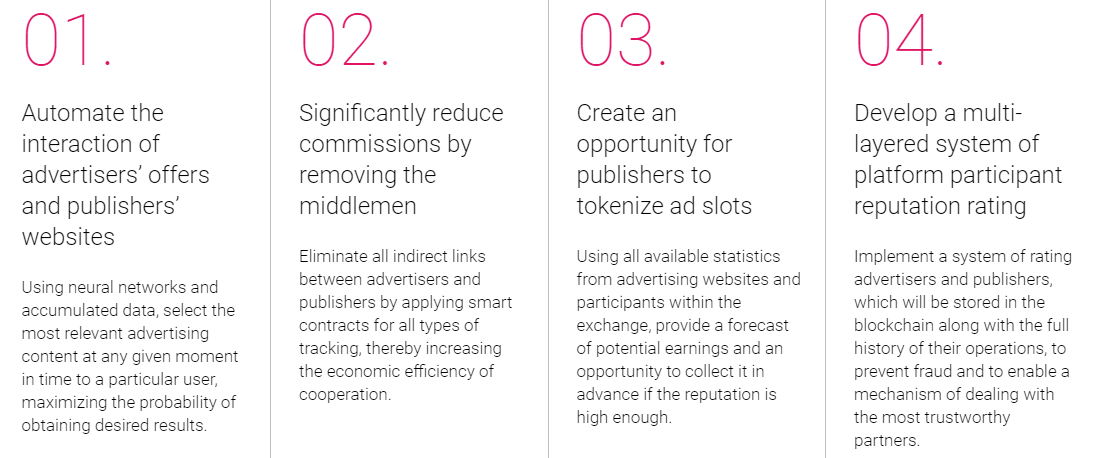 PROBLEMS UBEX IS PROVIDING SOLUTIONS TO
Ubex believes users, advertisers, and publishers — the three participants in the global advertising ecosystem — are facing various problems with today's advertising systems, including:
Users
Irrelevant or annoying advertisements
Overpayment for products and services due to multiple intermediaries and high commissions
High risks due to the use of coercive advertising methods by scammers
Advertisers
Uncertainty of achieving results as advertisers are forced to pay for clicks and displayed ads without a guarantee of actual sales
Difficulty in figuring out all available advertising channels, leading to higher overhead expenses and the need to hire additional staff
Ineffectiveness in certain advertising channels, with the ineffectiveness only becoming apparent after the budget has been spent
Publishers
Struggle to find advertisers to fill advertising slots
Face low earnings and the inability to forecast future payments from advertisers
Payment delays and non-payments from dishonest or low-quality advertisers
THE UBEX SOLUTION
By using smart contracts on blockchain, Ubex allows for the transition to the Cost-Per-Action model of payment, eliminating fraud and the need for clicks.
Ubex offers the solution as smart contracts on blockchain. Because of Ubex purchasing system, the technique of purchasing the advertising slots on a desired website for placement is simple and transaction risks are also less. Once the payment is complete, the advertiser can purchase advertising slot according to the specified requirements set for the target audience, geography and time of displays.
With the help of Ubex's neural networks, the ubex algorithm selects the most current advertising offers for certain customers, thus enhancing the chance of getting the desired outcome. Hence the advertisers can decrease the average cost of attracting the customers by half.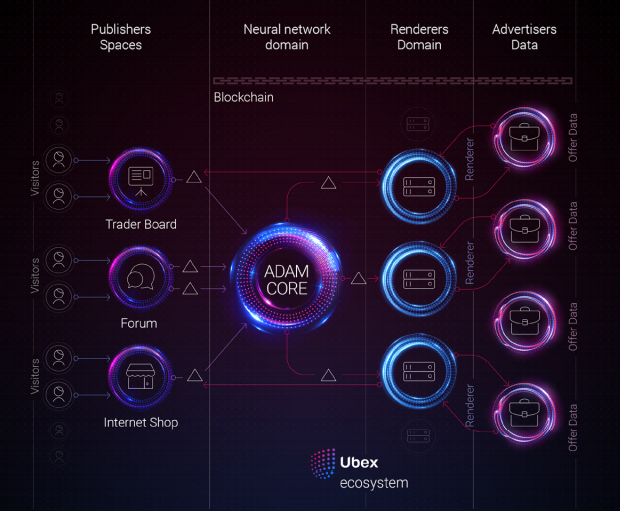 The system core named Advanced Decentralized Advertising Marketing (ADAM) is responsible for making the decision to display advertising materials. This decision is based on the data stored in the blockchain as well as on the model data of the neural network stored internally.
THE UNIQUENESS OF UBEX
Neural networks maximize purchasing efficiency:
The Ubex's advertising purchasing algorithms lie on neutral networks that process information about each visitor to the member networks' websites. The neural networks evaluate the interests of users, calculate the likelihood of targeted actions for all advertiser offers, and choose the most suitable advertisement.
Blockchain based smart contracts minimize participants' risks:
Ubex aims to solve the problem of low confidence in the purchase of digital advertising. Smart contracts allow making the relationship of advertisers and publishers (owners of ad slots on sites) as transparent and fair as possible, as well as minimizing the risks for all parties. By applying such an approach, Ubex allows passage from the traditional pay per click scheme to the model of payment for targeted actions, the fairest and interesting model for advertisers.
How Ubex Decentralized Blockchain AI Advertising Exchange Works
Ubex aims to solve problems in the advertising industry using neural networks and blockchain technology. Ubex is building a global decentralized advertising exchange where companies can advertise efficiently while publishers can effectively tokenize ad slots on their websites.
Some of the core goals and functions of the platform include:
Automate Interactions Between Publishers And Advertisers:
Ubex wants to allow publishers and advertisers to securely interact with each other without the use of a middleman — even when the two parties have no reason to trust each other. To do this, Ubex will use neural networks and accumulated data to select the most relevant advertising content at any given moment in time to a particular user, maximizing the probability of obtaining desired results. Ubex will also have a reputation system and smart contract system to provide secure P2P transactions.
Reduce Commissions And Middlemen:
Ubex will replace middlemen with blockchain technology. That means there are no layers between advertisers and publishers. Ubex will use smart contracts to allow publishers and advertisers to interact directly with each other. That means publishers can earn more money while advertisers can lower unnecessary transactional costs.
Publishers Can Tokenize Ad Slots:
Ubex makes it easier for publishers to tokenize ad slots. Publishers can post statistics from their websites online, making it easier for advertisers to choose high-performing websites for their next ad campaign.
A Multi-Layered Reputation System:
Ubex will have a multi-layered reputation system that rates advertisers and publishers. This reputation data will be stored in the blockchain along with the full history of the individual's operations. The goal is to reduce fraud and enable a way of dealing with the most trustworthy partners.
Pay Per Result:
Ubex describes its model as a "pay per result" model. Using blockchain technology, Ubex will pay based on each blockchain-verified results.
Advertising Campaign Management:
Ubex will give advertisers full control over their campaigns, including detailed reports and data filtering, data importing and exporting, detailed campaign statistics charts, and transparent transaction control through blockchain.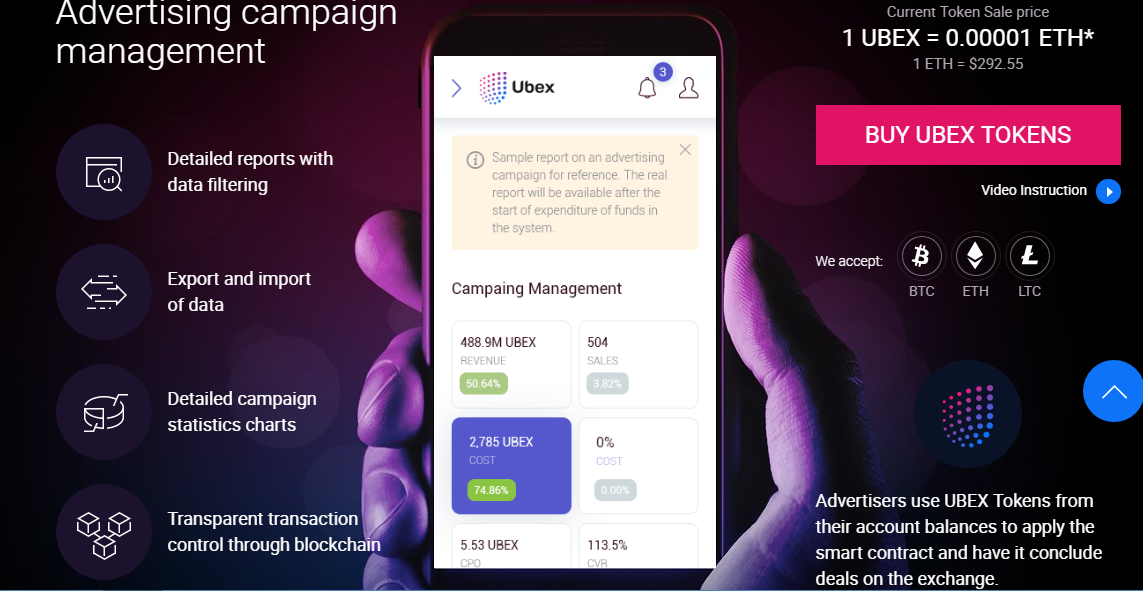 TOKEN AND ICO DETAILS
Ticker: UBEX
Token type: ERC20
ICO Token Price: 1 UBEX = 0.00001 ETH
Hard cap: 24,000 ETH
Soft cap: 4,000 ETH
Accepts: ETH, BTC, LTC
You can get your UBEX Tokens here https://tokensale.ubex.com/register?locale=en as Token Sale is Live now.
Ubex revolves around a native token called UBEX. Advertisers spend UBEX tokens from their account balances to access the smart contract and make deals with publishers.
UBEX tokens are ERC20 tokens on the Ethereum blockchain.
Also have it in mind that Advertisers will use UBEX Tokens from their account balances to apply the smart contract and have it conclude deals on the exchange.
ROADMAP
TEAM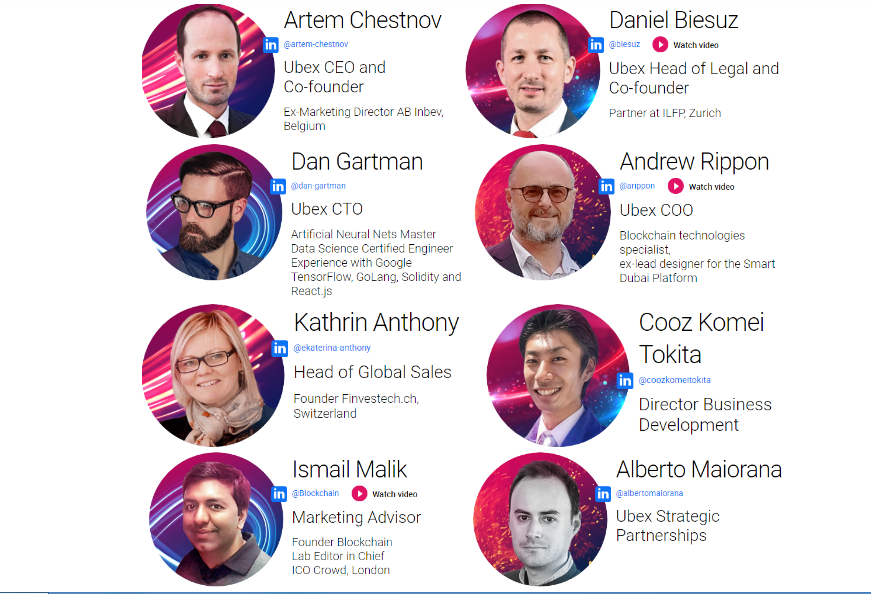 PARTNERS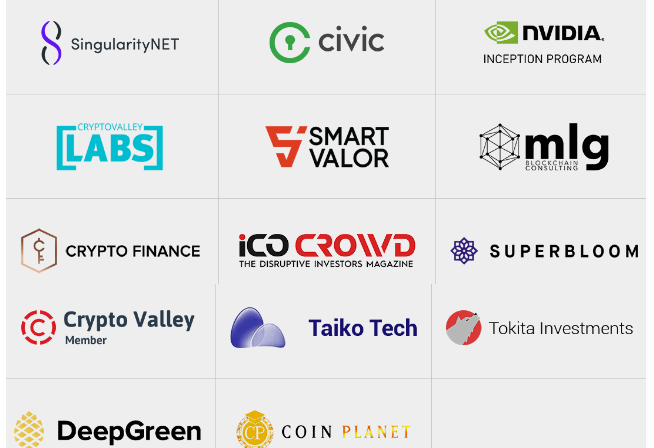 FOR MORE INFORMATION PLEASE VISIT THE LINKS BELOW;
Website: https://www.ubex.com/
Whitepaper: https://www.ubex.com/wp/Ubex-Whitepaper-en.pdf?1535
Facebook:- https://web.facebook.com/UbexAl/?_rdc=1&_rdr
Medium:- https://medium.com/ubex
Reddit:- https://www.reddit.com/user/UbexAl
Telegram:- https://t.me/UbexAI
Twitte:- https://twitter.com/ubex_ai/
Bitcointalk:- https://bitcointalk.org/index.php?topic=3393244
Linkedin:- https://www.linkedin.com/company/ubex-ai/
Youtube:- https://www.youtube.com/c/UbexAI
Github:- https://github.com/ubex-ai
Author: BrainerdPaul
BitcoinTalk profile link: https://bitcointalk.org/index.php?action=profile;u=1680409