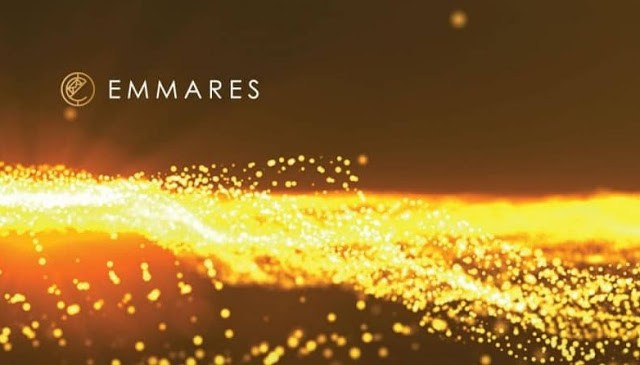 ABOUT EMMARES
EMMARES – Email marketing is part of the concept of digital marketing that uses email and the internet as a means of communication. Email marketing has the advantage of being a "direct" product of your direct sales, your sales, your goods, or your services. Email marketing is basically the same as a general email, but there is a difference in the purpose of persuasive content.
What exactly is EMMARES?
Emmares is a platform for evaluating systems that are highly beneficial to marketers (senders) and recipients of e-mail. This platform connects high quality email to interested recipients, encourages better quality of content, less frequently, and evaluates content fairly.
Furthermore, EMMARES is creating a global digital reputation of email content providers and their contents. Based on trusted evaluations and Quality score, recipients can find the best content based on their interests. EMMARES is a company that develops a smart mail system for e-mail users. It will use a content scoring tool to determine the quality and interest of the audience. This is useful for the sender, they receive direct feedback from the audience on their marketing program. As such, they can monitor and improve the effectiveness of their actions. It is also beneficial for the recipient, they can get the results of the evaluation of incoming content. Imagine a world of e-mail without spam, with only high quality targeted content. EMMARES (Email Marketing Rewarding System), is an evaluation system that highly benefits email marketers (senders) as well as email recipients (therefore everyone who uses email). EMMARES minimizes spam with its global content evaluation system. Mailing recipients will evaluate received emails and they will be rewarded with EMA tokens. An adequate rewards pool will help trusted and highquality email marketers reach targeted new customers. Cleaning the internet of unwanted low-quality content will bring trust and transparency to users.
Email has become one of the most widely used form of communication. In today's world, emails (with SMS and social media) has replaced traditional letter and regular home phone, which is the mainstay of communication forms a decade ago. In February, 2017, the Radicati Group estimates the number of email users worldwide reached 3.7 billion and the number of emails sent per day to around 269 billion. The amount of email that is equivalent to nearly 2.4 million emails sent per second and about 74 trillion emails sent each year.
EMMARES is going to usher in a new golden age of email marketing. We want email marketing to represent trust and quality in people's minds.
At EMMARES, We envision a world where content is highly relevant email marketing. With our service, email marketers and anti spam providers will be able to produce better content and they will be rewarded for it. EMMARES will bring a new golden era of email marketing, and we would like email marketing represents trust and quality in the minds of the community.
VISION
They envision a world where the content of email marketing is higher. With our services, email marketers should always create better content. A reliable evaluation will help us all to minimize spam. EMMARES will launch a new gold age of email marketing. They hope that email marketing will represent trust and quality to the public.
MISSION
Email marketing is more than any other digital marketing channel, but the impact does not depend on the substance. This is largely due to the poor quality of much of the content used in email marketing. Customers need e-mail information provided to marketers, but they will not receive poor quality information.
By using the smart service provided by EMMARES, users can end their marketing emails according to their own criteria and adapt them to their genres and territories. Their mission is to drive the world out of spam and play a key role in finding possible delivery of dynamic content and intelligence systems.
GOAL
Emmares' main goal is to support and encourage marketers to continue to produce better content while improving reliability, which will help minimize spam.
This is a potential platform for the digital market industry, and the return on investment is very good, more important than traditional online advertising. As a first class service, this platform offers new online advertising methods through email and offers a new dimension to email marketing.
HOW DOES THIS PLATFORM WORK?
EMAIL MARKETERS
By signing up to EMMARES system, email MARKETERS get a chance to reach more targeted customers that are interested in their content. As they are sending content that is well accepted by their recipients, they get a chance to use EMMARES system for expanding their reach and work toward better results and higher ROI. They invest in the rewarding pool, which is a base for rewarding EMMARES users (Email recipients), who evaluate their content.
RECIPIENT EMAIL
In return for evaluating the content that they receive from various email marketers (senders), the recipients get tokens from the rewards pool. For each assessment, the email recipient (user) receives tokens from the email marketer whose content was evaluated.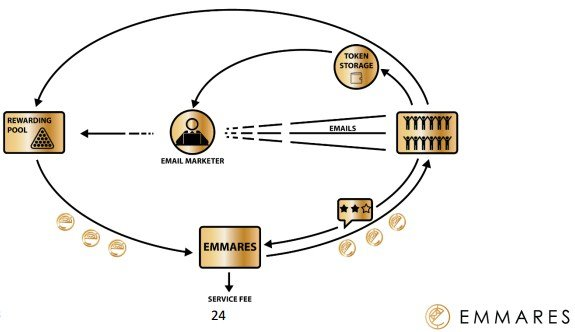 EMMARES system is so revolutionary as we are making it possible for content providers to be matched with the people who really want their content. This facilitates targeting that is exponentially more effective than anything else on the market. Recipients are getting tons of emails, most of them of irrelevant and undesired. By evaluating relevancy and content quality on our blockchain-based system, they will receive rewards in the form of EMA crypto-tokens, which they will be able to use for the email ESP service, other email smart services or trade them.
WHO BENEFITS
Email marketers – Publishers
Token buyers
Mailing recipients – Evaluators
TOKEN AND ICO DETAILS
Public Presale and ICO: May 5th 2018 — Sep 30th 2018
Token: EMA
Total tokens supply: 500.000.000 EMA
Tokens for sale (pre-ICO & ICO): 255.000.000 EMA
Softcap: 2.000 ETH
Hardcap: 35.000 ETH
1 ETH = 5100 EMA
EMMARES TOKEN SALE IS LIVE! STAGE 2 IS SOLD OUT AND STAGE 3 IS FILLING UP (15% bonus! ), hurry up and get your EMA tokens
EMA is an ERC20 Token implemented in the Ethereum blockchain app platform.
You can be part of this project by visiting this link; https://register.emmares.io/check.php
Token distribution;
51 % Presale and crowdsale
23 % New account opening incentives pool
17% Founders and team
5% Reserved for future strategic partners, ambasadors
3% Pre token crowdsale contributions, advisors
1 % Bounties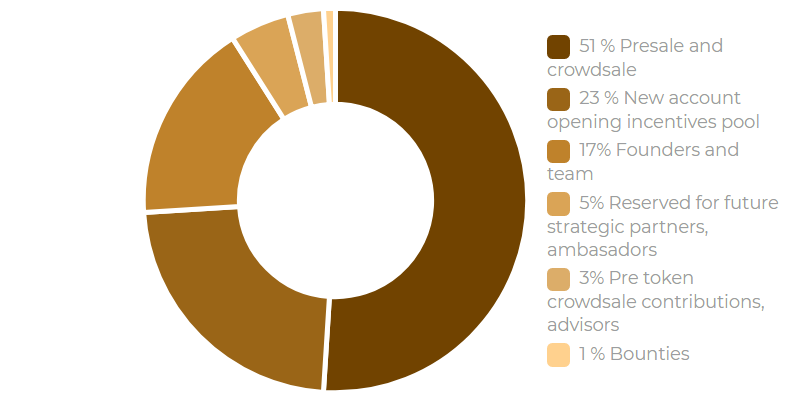 ROADMAP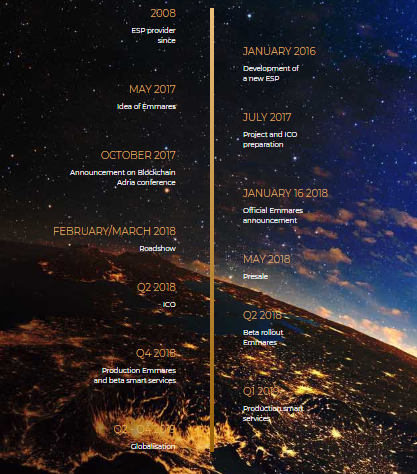 TEAM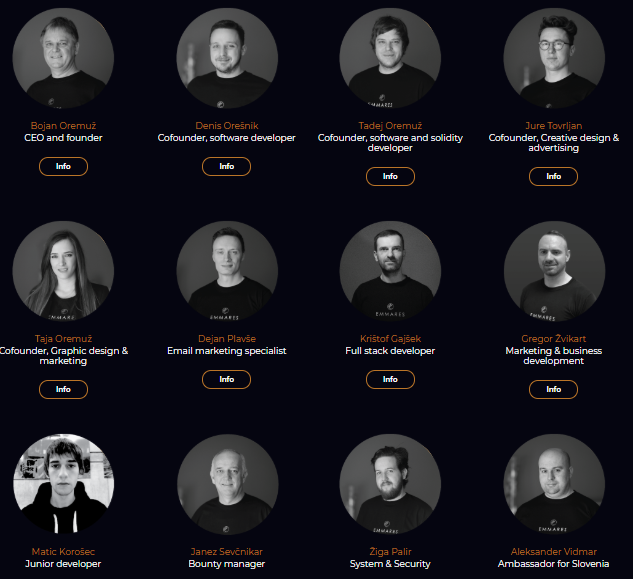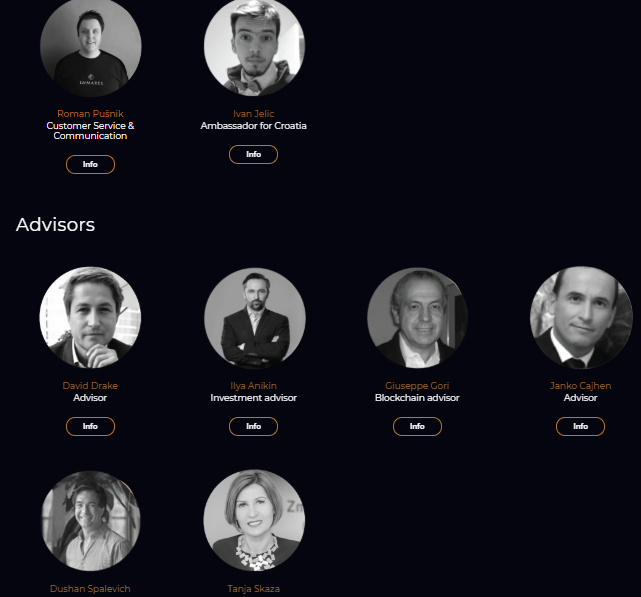 For more information, please visit the links i have provided below;
Website: https://emmares.io
Whitepaper: https://emmares.io/whitepaper.pdf
Bitcointalk: https://bitcointalk.org/index.php?topic=2807216.0
Twitter: https://twitter.com/emmares_io
Telegram: https://t.me/emmares
Author: BrainerdPaul
BitcoinTalk profile link: https://bitcointalk.org/index.php?action=profile;u=1680409