Cybersecurity is an ever-growing topic of concern. As technology continues to advance, malicious cyber threats and attacks grow at an unprecedented pace. Unfortunately, today's security solutions and products are outdated, reactive, and completely inadequate when protecting us from the dangers that face our smart home devices, self-driving cars, or the technology that we place within our bodies. Small incremental updates to an antiquated paradigm won't fix the problem. It's more important now than ever for individuals to protect themselves and their private information with a solution that takes a holistic approach to cybersecurity.
Cyber attacks increase exponentially every year. Available on the market, antivirus solutions are becoming obsolete and less effective before the pressure of virus attacks. The most advanced experience of the struggle, the newest and most effective solutions are in the hands of the government and large corporations, as before. There is a shortage of security professionals in the labour market. According to experts, the demand for them will be more than three million people in 2020.


HEROIC has created a threat mining algorithm. Miners can be ordinary users who have installed the anti-virus HEROIC on their computer. And if their computer caught the threat. with which the Arc reactor has not yet encountered, the miner will receive a reward for this, first of all. Secondly, the Guard immediately begins to look for solutions to combat cyber attack. The found solutions are immediately available to all users of the system HEROIC. On this, in other matters, based on the basic principle of the HEROIC.


HEROIC.com is taking a new approach to AI-powered threat protection. Utilizing big data, artificial intelligence and the blockchain, combined with a decentralized peer-to-peer threat protection platform, HEROIC.com will change cybersecurity as we know it and make next generation solutions freely available to everyone. HEROIC.com will empower and incentivize developers and companies to create the next generation of cybersecurity through the HEROIC.com Ecosystem, which includes an open threat intelligence exchange called HEROIC Arc Reactor, a unified security management platform called HEROIC Guardian, and a Research and Development environment. The motivation for collaboration within this Ecosystem will be incentivized through the blockchain and the use of HEROIC.com's cryptocurrency.
Heroic's main purpose is to intelligently protect the world's information. Artificial Intelligence is enhancing the protocols to make security powerful and easy to use. Users even businesses are more prepared to adapt against any cyber threat issue. Heroic is using AI to collect data analytics, make a difference among malicious and non malicious files, build a new method to detect threat equivalent and diagnose important exposures across the networks.
Similarly, Blockchain Technology strengthens transactions purely easing direct payments among software developers, businesses and users. Heroic engages to use a secures blockchain based ledger enabling to obtain, manage and transfer Heroic Tokens (HRO). Heroic will continuously encourage and reward users devoting to the Ecosystem. Thus, enable to make and receive payments for distribution and manage threat data. Heroic's ways of work are based upon the Ethereum's working protocol.
HEROIC.COM ECOSYSTEM
The HEROIC.com Ecosystem (the "Ecosystem") is an open, intelligent and incentivized cybersecurity ecosystem based on the blockchain, that protects against current and next-generation cyber threats. Its core components are:
HEROIC Arc Reactor is an open, decentralized cybersecurity threat intelligence exchange powered by the blockchain. Arc Reactor's purpose is to provide an open repository of cyber threat intelligence, simple programmatic access to the data, and an efficient marketplace for the data.
Data providers include but are not limited to individual threat miners, open-source threat intelligence providers, organizations of all sizes, and data partners. Collected data passes through an extraction process to pull relevant attributes that are then normalized and saved in a distributed database. The collected data along with its attributes are then ready to be used to train machine learning algorithms which will ultimately allow scoring and classification of samples.
Guardian is a unified, cloud-based cybersecurity platform. It provides a simple, online interface for individual users, families and businesses to manage all the pieces of the cybersecurity puzzle. Guardian utilizes the threat data from Arc Reactor and combines it with artificial intelligence to predict and prevent cyber-attacks.
Guardian will enable software developers and organizations to develop additional integrations and apps that connect with Guardian and its data layer. These integrations will enable developers to grow and monetize their creations, leading to a still more robust and holistic cybersecurity platform.
Research and Development Environment
The R & D Environment will provide developers, organizations and companies alike with a central location to visually and programmatically interact with real-time and historical threat data provided by Arc Reactor.
Developers can research, develop and test their own algorithms in a secure, hosted environment. The environment will also provide access to community contributed algorithms and software to analyze and block threats, with the capability to turn overwhelming and disparate data into actionable insight and intelligence.
Individual users will take advantage of participating in the ecosystem. They will use the multifunctional software. Users will protect their devices. But they will earn HRO tokens as well, thanks to their computer system reports about threat cyber secure. Thus, users' devices engage in the Ecosystem and form a strong pool of individual devices.
Developers will receive HRO tokens as a reward for researches in the sphere of cyber data safety. They will receive an access to open-source cyber threat resources and get the opportunity to become a part of talented community, that is inspired to create cybersecurity algorithms and create solutions for the future data safety.
Such structures as businesses, universities and government institutions can be interested in participation in the ecosystem. Organizations will create their own software, by integrating data collected by Art Reactor with internal cybersecurity systems. We can notice such benefits for organizations as access to cyber threat intelligence and compensation for contributions to development of cybersecurity items.
HOW IT WORKS
HEROIC.COM has been designed to provide multiple levels of access, value and support in order to stimulate accelerated research, development and integration of advanced cybersecurity technologies, in addition to ensuring universal access to these technologies. The larger the Ecosystem grows, the stronger it will be.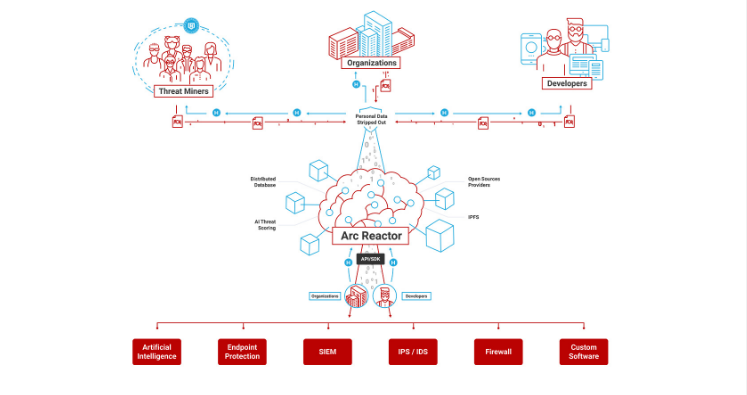 ECOSYSTEM PARTICIPANTS
Individuals (Users and Threat Miners)
Threat miners receive intelligent threat protection while allowing their devices to anonymously become part of the HEROIC.com Ecosystem. Miners participate by running the threat protection software on their devices and using it in normal everyday activity. Encountered threats seamlessly pass through an anonymity shield to strip any personally identifying information and are then shared to Arc Reactor for the greater good of the community. As threat miners encounter, verify and contribute threats, they receive compensation for their contributions in the form of HRO tokens.
Benefits for Threat Miners:
Intelligent Threat Protection
Compensation for participation on the network
Access to HEROIC Guardian
Protection for Devices and Cloud Services
Help Make the World More Secure
Organizations are essential to the HEROIC.com ecosystem as they contribute vast amounts of threat data and provide for an efficient marketplace of that data. Organizations will have open access to the entirety of the Ecosystem for use in protecting their own data, receiving compensation for contributed data, integrating it with third-party branded products and services, and building their own software. Organizations may include businesses, schools, non-profits, mining-pools, governments and others.
Benefits for organizations:
Compensation for Data Participation
Access to Open Threat Intelligence Exchange
Enhance 3rd Party Cyber Solutions
Build Custom Solutions and Applications
Developers will have open access to the entirety of the HEROIC.com Ecosystem. The core benefit for developers is the R & D Environment which provides the ability to research, develop, test and distribute their own software and algorithms. Developers will be compensated for their creations which may include intelligent algorithms, software tools, and full software systems. Ecosystem compensation is made exclusively through the HRO token.
Additional benefits include:
Access to threat intelligence repositories
Robust community of developers
Ability to research, build and test algorithms
Revenue stream to devs and security experts
Compensation for threat-blocking algorithms
Download and use data for research and products
Build decentralized applications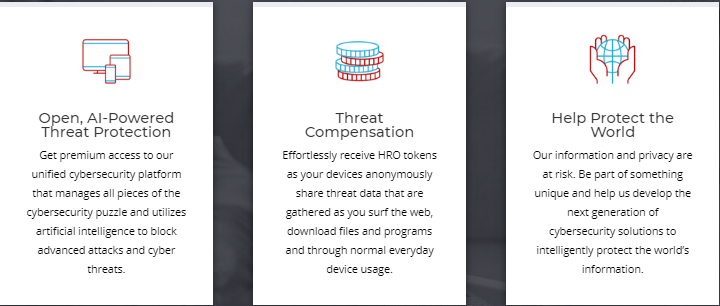 HEROIC TOKEN
The HEROIC.com Ecosystem is powered by the HEROIC Token which incentivizes users, developers, and organizations to participate in the growth of the network. While receiving advanced threat protected, network participants seamlessly contribute anonymized threat data which is used by the community to develop intelligent cybersecurity solutions, better-protecting everyone involved.
Token Details
Token – HRO

Platform – Ethereum

Type – ERC20

PreICO price – 1 HRO = 0.09 USD

Price in ICO – 1 HRO = 0.1125 USD

Pre-sale: 01.06 – 31.07

ICO: 01.08 – 01.09
BONUS
20% Pre-Sale Bonus. Tiered bonuses during the public sale.

Tokens for sale – 500,000,000
Investment Details
Min. investment – 1,000 USD

Accepting – ETH, BTC

Distributed in ICO – 50%

Soft cap – 2,500,000 USD

Hard cap – 41,000,000 USD
Token and Funds Allocation


ROAD MAP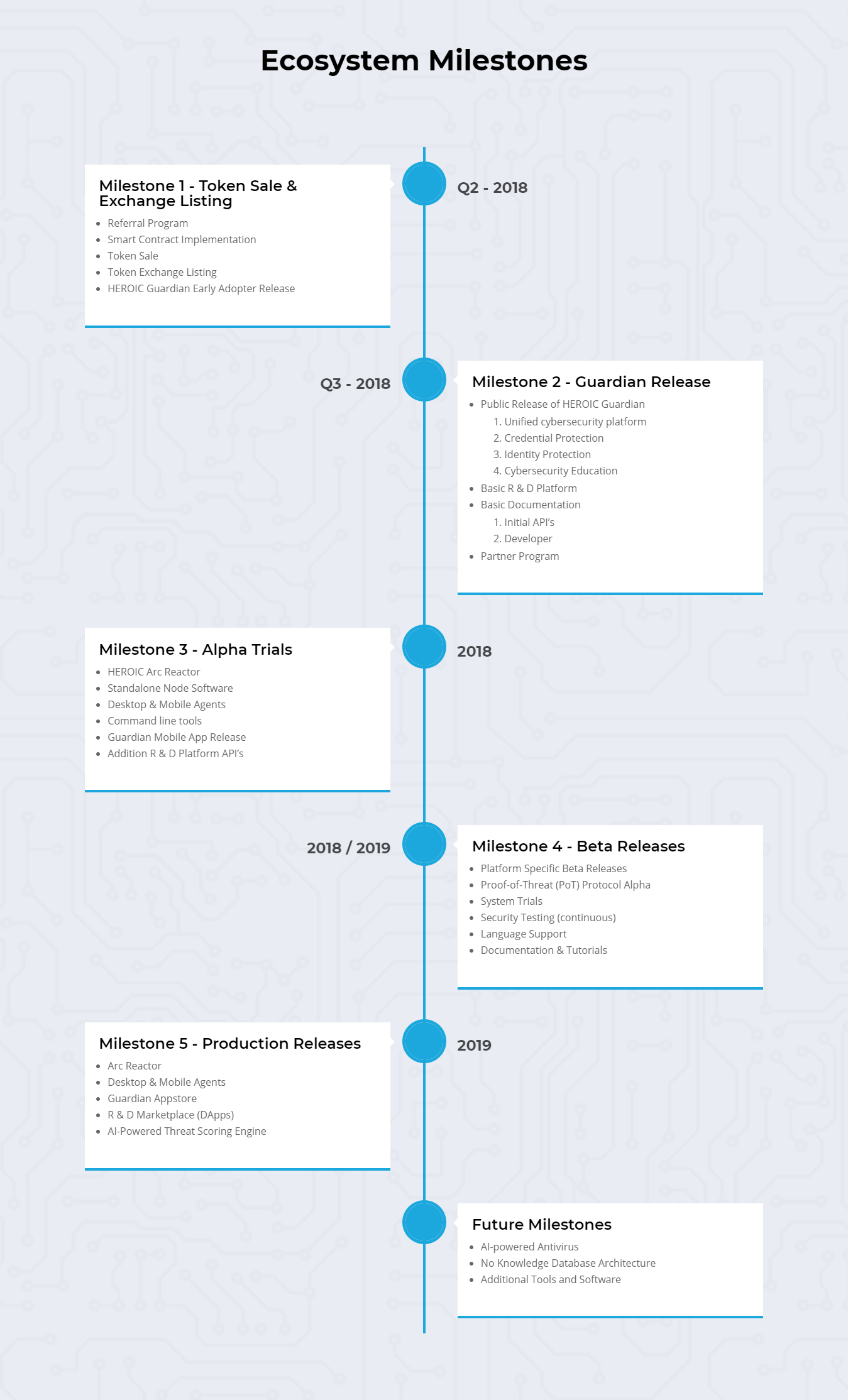 TEAM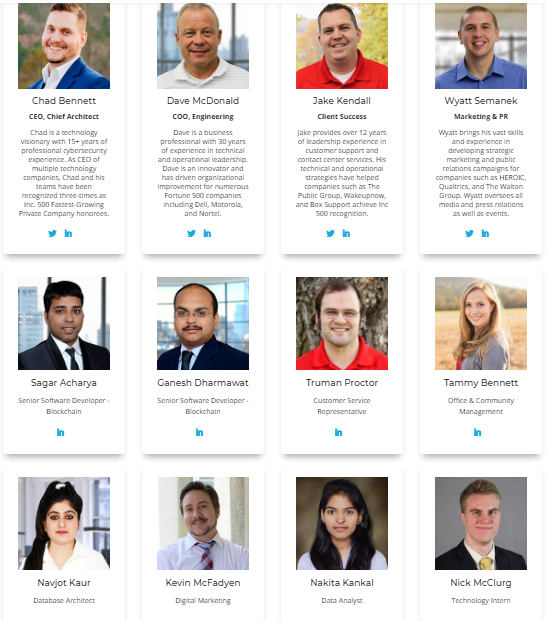 ADVISORS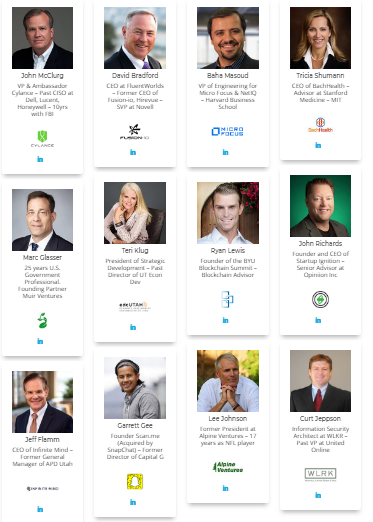 For more information, please visit:
Website: https://tokensale.heroic.com/
Whitepaper: https://tokensale.heroic.com/wp-content/uploads/2018/02/HEROIC_White_Paper_V1.pdf
Telegram: https://t.me/heroicdotcom
Medium: https://medium.com/heroic-com
Twitter: https://twitter.com/heroiccyber
Facebook: https://www.facebook.com/heroiccybersecurity/
Linkedin: https://www.linkedin.com/company/heroic-cybersecurity/
Instagram: https://www.instagram.com/heroiccybersecurity/?hl=en
Github: https://github.com/HeroicCybersecurity/
YouTube: https://www.youtube.com/c/HEROICCybersecurity
Author: JigaMola
Bitcointalk profile: https://bitcointalk.org/index.php?action=profile;u=1847143