About Inmusik
Inmusik is an ecosystem based on a blockchain database that supports the music industry, streaming, and social interaction, with cryptocurrency rewards and a financial framework on which future music industry applications can be built.
Currently, the music industry has centralized business management among performers and musicians. The label firms are looking for young talents, producing, releasing albums and placing them in popular playlists and music charts among users. The downside of this method is a significant risk for music companies, as they invest without guarantees that the performer or musician will be accepted by the audience.
Innovation platform Inmusik is the dependence of the size of the musicians' remuneration on the degree of their value for the fans. The degree of "value" in turn will depend on the attention of the audience. And for users, the innovation will be a reward for activity, which will serve as an excellent incentive for them to choose this platform and benefit Inmusik among its many competitors.
The Problem
Did you know as sacred and as valuable as music is considered to be, to the point of comparing it to life, most of its creators don't really get the right amount of appreciation and compensation they deserve from their work?
Creating music does take a significant amount of time, resources, and energy. It's so unfortunate that the value creators of music or rather creators, in general, get back from their work compared to the time, energy and resources spent is very little. That is just the reality of how the creative universe currently is.
The main reason for this is simply because the music, art, and entertainment industries have been dominated and are run by centralized companies/middlemen who only care about themselves and not the artists or supporters of the artists' work. Their main agenda has always been to profit from and exploit both creators and listeners.
The Solution
Despite the challenges mentioned above, there is good news for both creators and supporters of art(music). This good news lays inside the new blockchain technology and smart contracts. When it comes to blockchain tech, there is no need for middlemen or a specific centralized entity controlling/holding too much power. Blockchain ensures both creators and supporters are not exploited in any way and get real value back for adding value. It brings real empowerment and therefore its time to kiss unfairness and exploitation goodbye.
Apart from being used in the music/entertainment industry, It can be applied to a wide variety of industries that we'll look into some other day.
In this article, we are going to take a brief look into a project called Inmusik that is already applying blockchain in the music industry to ensure that both listeners and creators of music are empowered and get value back for contributing value.
The Inmusik platform has been created specifically for:
Musicians
Listeners
Record labels
Let us look at how it works.
Inmusik for Musicians
The Inmusik platform has been created for both signed and independent artists.
Music creators and artists who post their music/content on the Inmusik platform will get rewarded in $OUND tokens everytime their music is streamed by fans.
They will also get rewarded for attracting new fans and when fans bet on their success.
These reward payouts will be fast, secure, transparent and instant.
Musicians will, therefore, be able to get compensated for their hard work fairly and in the right manner.
Inmusik for Listeners
Listeners and fans will get incentives and rewards for their active contribution to the Inmusik streaming app. They will earn tokens for:
Supporting their favorite artists and helping them succeed
Discovering new songs
Curating and Voting on new music
Basically, listeners and fans will be rewarded for their general interaction on the platform and the rewards will obviously be in $OUND tokens.
Inmusik for Record Labels
Inmusik will have a copyright management system for the entire music industry which will all be created on the blockchain.
The platform will also allow real-time tracking and monitoring of earnings and also offer an automated distribution of payouts.
InMusik Platform opens new opportunities to blockchain community
This platform will enable several things in the industry that is not and can not be always possible without the inducement of blockchain technology.
REWARDS SYSTEM AND INCENTIVIZATION
Fans are rewarded for simply being active and listening to cool musics that you love! Finding great new music and helping it surface pays your great efforts. Voting helps great music bring their name too into the public
FAIR PAY-OUT OPPORTUNITIES FOR THE ARTISTS
With the complete decentralization way of the blockchain, Artists earn more because the way and procedure is fair and transparent way and connect directly with fans. Designed for signed and independent artists
FINANCIAL TRACKING
With 3rd generation distributed ledger and smart contracts, every cent of revenue can be easily automated and transparent.
FASTER LIQUIDITY
Faster pay-outs, meaning earned currencies can instantly be withdrawn within your fingertips.
Token info
Token $OUND
Platform Ethereum
Type ERC20
PreICO price 1 $OUND = 0.10 USD
BONUS
20% Bonus Token for every token purchased.
Tokens for sale 200,000,000
Investment info
Accepting BTC, ETH, LTC, Fiat
Distributed in ICO 50%
Hard cap 400000000
Roadmap
Q2 2018
Token Private Sale.
Press & Media Network Outreach.
Partnerships & Advisors Onboarding.
Bounty Campaign.
Q3 2018
Token Public Sale.
Wallet Beta Launch.
Q4 2018
Issue of $OUND tokens.
Wallet Full Launch.
Streaming Platform (Web) Beta Launch.
Start of Licensing Structure Development.
2019
Mobile & Web Platform Launch
Enterprise Platform Beta Launch
Team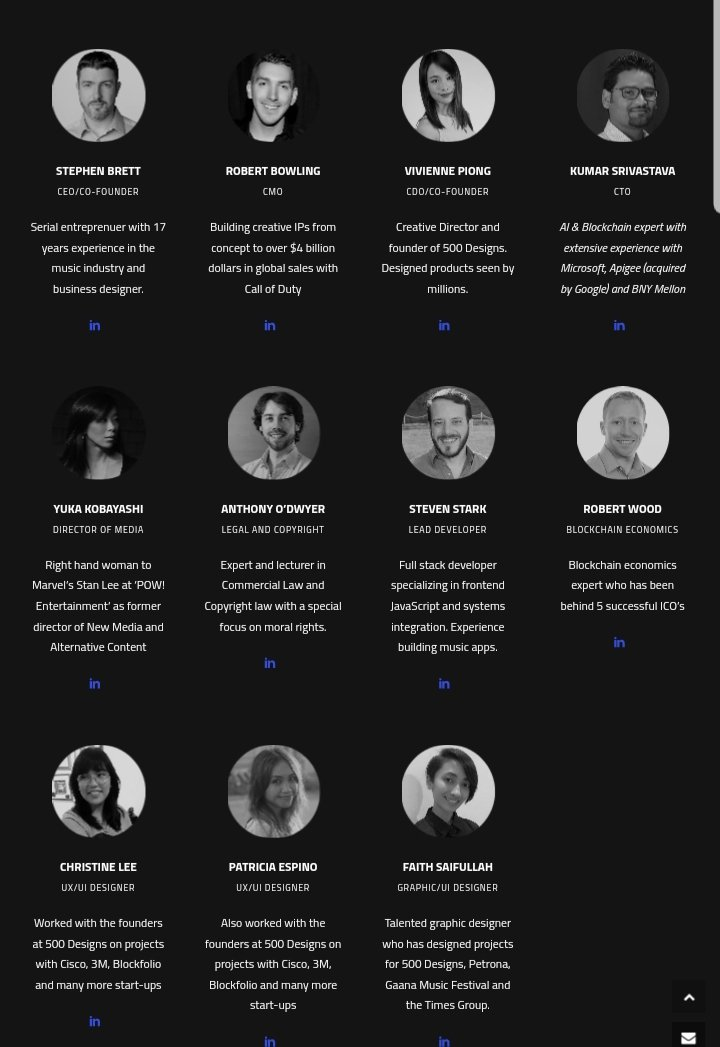 Advisors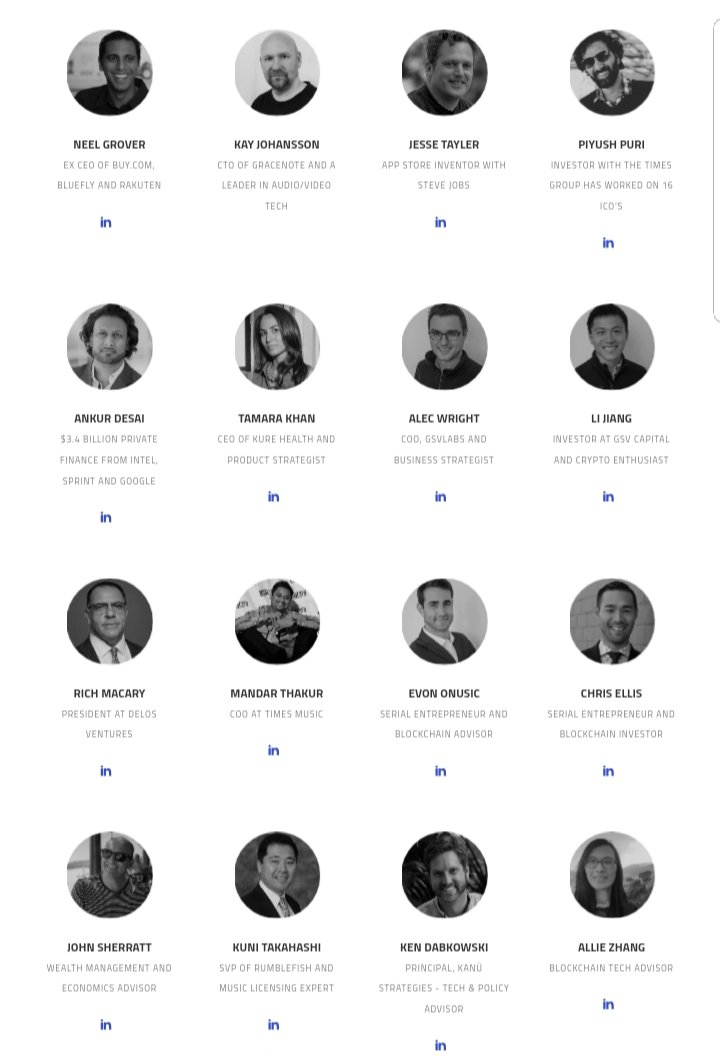 #inmusik #ICO #Blockchain #cryptocurrency #presale #TokenSale #startup #BountyCampaign #Investment #Exchange #Crowdfunding
To know more about InMusik Platform, You can visit the following
https://inmusik.co/
https://inmusik.co/wp-content/uploads/2018/05/inmusik-wp-v1.1.pdf
https://twitter.com/InmusikOfficial
https://www.facebook.com/WohooInMusik/
https://www.linkedin.com/company/inmusik/
https://t.me/inmusik
Author
Forum Username : olitaptapan
Forum Profile link : https://bitcointalk.org/index.php?action=profile;u=1566451
wallet address 0x0e73B7eB5a98731e25fcCf33919cED46a7aE0e50