Extradecoin is a crypto currency trading platform. Investors can sell crypto on the stock exchange. Extradecoin is created with the desire to provide a quality, reliable and secure financial platform for investors. In addition, we strive to bring the latest technology platforms with the best user interface experience on the Extradecoin platform and at the same time create ecosystems to maximize the benefits for the community.
Extradecoin uses the security mechanisms of Amazon Web Services. Extradecoin systems require authorization of the account, customer identification and 2FA security for logging on. Different individual systems can not interact with each other if they are not approved and not controlled.
Extradecoin will provide a wallet service with several signatures on client accounts. Multi-signature is a high-tech technology for providing personal information security. These wallets will consist of two private keys: one of them belongs to the user, and the other – to Extradecoin. All private keys will be stored on a separate server.

EXTRADECOIN'S SPECIAL
MARGIN TRADING
To increase profitability for investors, Extradecoin supports them make margin trading on the platform. Margin trading allows the trader to open a position with leverage; they can trade margin with double the amount of deposit. Besides, investors are required to pay a margin fee. This fee depends on the time that investor makes the transaction and the amount of deposit.


OKEN PLAY
Extradecoin understands users' needs for entertainment hence we have integrated our Game ecosystem into the platform trading platform. Investors can not only trade coin, exchange on the platform but can also play games on the Exctradecoin's Blockchain platform. And TokenPlay is not just entertainment; Gamers can make money from Extradecoin
3 Worms – Dice Game – Diamond Game – Kitty Meow


LISTING ICO
Integrate and introduce new ICO projects to the community. Investors can use ETH to buy ICO project tokens they want. These ETH will be transferred to the ICO managers, and they will transfer the token back to the investor. When the ICO ends, investors can use this token to trade on Extradecoin.


THE EXCHANGE
SECURITY
Extradecoin employs Amazon Web Services' security mechanisms. Extradecoin systems requires account authentication, client identification, and 2FA security to log in. Different individual systems cannot interact with each other unless approved and monitored.
MULTISIGNATURE WALLET
Extradecoin will introduce a multi-signature wallet services on client accounts. Multi-signature is a highly advanced technology for private information security. These wallets will consist of two private keys: one held by the user and the other is held by Extradecoin. All private keys will be stored on a separate server.
The Main Function
Extradecoin will allow investors to spot trades through limit orders and market orders. In addition, the company will support margin trading with high-margin companies that are integrated with the loan platform. In the near future, Extradecoin will also build decentralized exchanges. Through a decentralized platform, investors can transact cryptocurrency without restriction. Extradecoin will develop new trading models, including transactional decentralization in Blockchain to meet different investment requirements.
Cryptocurrency News Updates
The latest news on the cryptocurrency market as well as the latest breakthrough technologies will be updated in the "News" section to provide a multi-dimensional picture and detailed market information to investors.
Offline and Online Training
To support new investors who may not be familiar with cryptocurrency and to improve transaction efficiency, Extradecoin will launch Online and Offline training courses. Investors coming to Extradecoin will be trained in market knowledge, trading skills and have the opportunity to meet with professional traders.
Report Analysis and Evaluation
Periodic reports on the cryptocurrency market will be developed by professional analysts with knowledge of current technology and who have long-term investment experience in the market. At the same time, Extradecoin will execute a detailed review of ICO lists on the trading platform to help startup companies. It will also help identify potential ICO projects that have sufficient quality and profit potential for our customers.
24/7 Customer Support
To bring the best quality of service to our customers, Extradecoin will deploy multiple customer support channels that will operate 24/7 to answer questions, help new features of website features, receive user feedback, assist in handling transactional issues and notify customers if a problem occurs.
Borrow Platform
To increase profitability for investors, Extradecoin will play the role of an intermediary, in a platform that connects lenders and borrowers. Investors may have unused cash in their Extradecoin wallets so they can lend each other to earn an additional monthly income. Investors, who want to increase their capital and seek new investments, can contact Extradecoin to find suitable loans.
Margins mechanism
Investors who want to borrow money on Extradecoin need to find suitable loans based on platform rules. The requirement to borrow is that investors should at least have the least amount of coins they want to borrow. This is the margin to be used to guarantee investor loans. The borrower will be able to get a coin loan with a registered coin and, at the same time, the interest will be paid by the coin that is registered back to the lender. For example, an investor holds the ETH; they can borrow an ETH loan at ETH and pay monthly interest using ETH.
Investors can borrow up to the amount they deposit, which means they will have twice the amount and investors can use all this money to trade. Every month, the investor must pay interest in accordance with the terms of the loan. Interest will be deducted directly from the borrower's account on the date of interest payment. On the maturity date, the investor must pay both the principal and interest as agreed at the beginning, plus 1% transaction fee.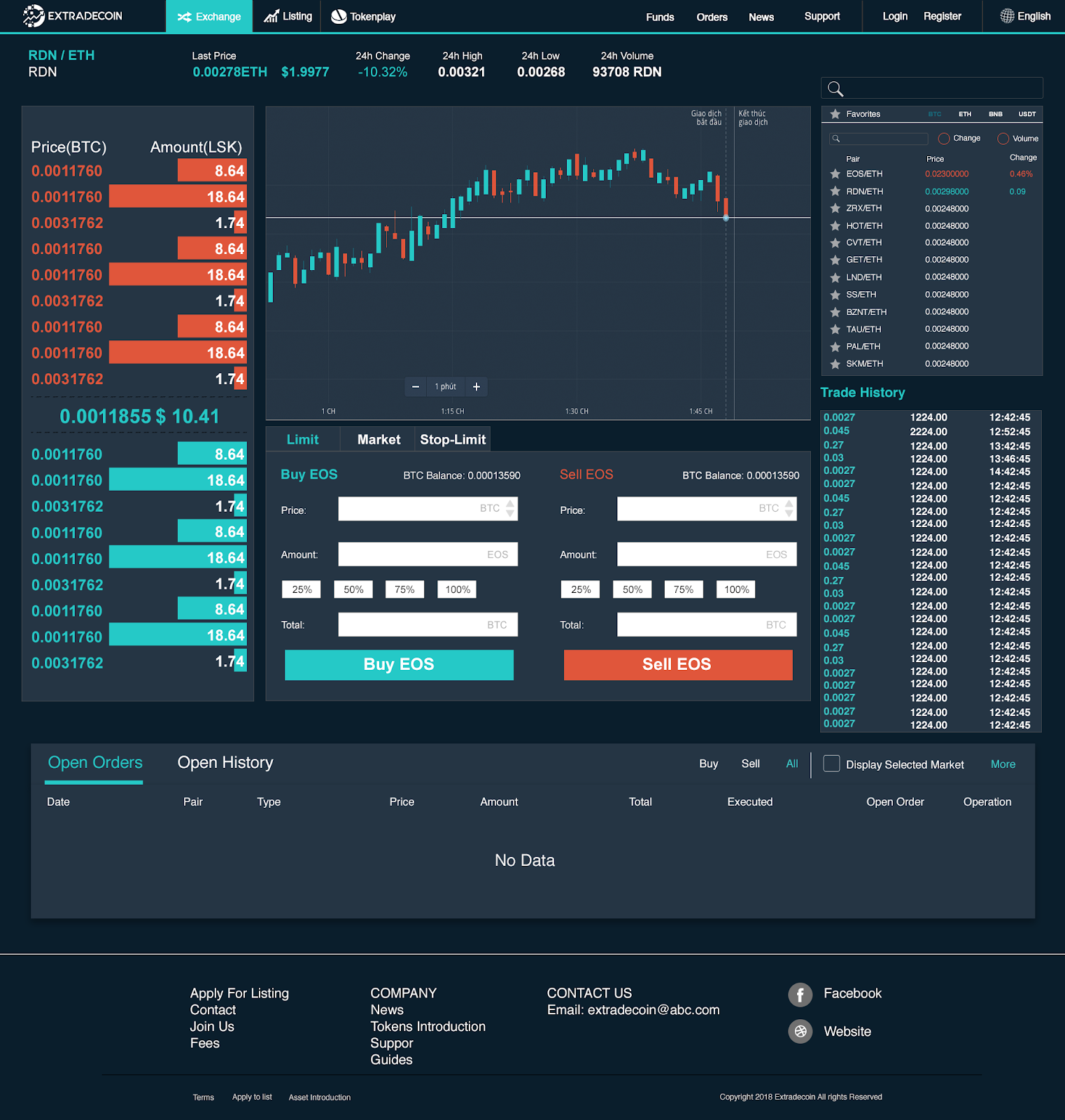 ICO Details
General information
Token : ETE
Platform : Ethereum
Standard : ERC20
Quantity : 250,000,000 ETE
Price : 1 ETH = 5,000 ETE
( + Bonus 10 % )
Payment : ETH
Soft cap : 5,000,000 USD
Hard cap : 10,000,000 USD
Pre ICO
PRE – ICO PRICE
1 ETH = 6000 ETE
(+ BONUS 20%)
Buy more than 100 ETH, bonus 30%
Start : 07/01/2018
Completion : 08/31/2018
ICO
Price : 1 ETH = 5,000 ETE
( + Bonus 10 % )
Start : 09/15/2018
Completion : 10/15/2018


ROADMAP
September 2017
Brainstorming and planning for the initial deployment of a project

December 2017
Research and analysis started, the project began

May 2018
Filling of the main functions for the coin market Investors

June 2018
Private sale for Angel Investors

July 2018
Publication of ICO plans and the Technical Document for Investors

August 2018
Pre-sale official launch. Launch of a new office in Singapore.

September 2018
ICO begins
November 2018
The launch of the official exchange platform called "Extradecoin.com" with a high degree of security

December 2018
Mobile apps (Android, iOS) released

January 2019
Start the development process for the ICO listing function Token Play functions and game functions for the coin

June 2019
The goal to become the number one trading platform in Southeast Asia

March 2020
Launching a new office in the USA

June 2020
Community development in Africa

TEAM
Mr. Duyen Tran Founder & CEO
Mr. Phi Hoang Blockchain Developer
Mr. Khanh Le Community Manager
Ms. Linh Phan Lead Operation
Ms. Nhu Nguyen Lead Content
Mr. Lam hoang Lead Support
Mr. Phu Tran Lead Design
Advisers
Savio Gomez Fintech-Blockchain / AI & ICO
Tim de Rosen CEO ICO Direct
Dmitry Pshenin Founder ICO Board
Jae Shim Founder & CEO Bravo Coin
Vladimir Loskarjov Founder & CEO Dylyver
Bogomil Alexandrov Co-founder & CEO Cargo Coin
Mardo Soo Founder ZANTEPAY
Shane Rushent Digital and E-commerce CEO
Loren Minel Andronie CEO & Founder at xCrypt Ltd
More Information Contact :
Website : https://extradecoin.com/#/
WhitePaper: https://drive.google.com/file/d/1ZOZiqfFTu71UiY5-FAWTnHWa2uKqH4wV/view
ANN Thread : https://bitcointalk.org/index.php?topic=4789548
Facebook : https://www.facebook.com/extradecoin
Telegram: https://t.me/extradecoinofficial
Twitter: https://twitter.com/Extradecoin1
Bitcointalk profile: https://bitcointalk.org/index.php?action=profile;u=1048360