In the world of CryptoCurrencies there are many coins and many wallets to store them, causing inconvenience to people, also there are issues of Loss of coins due to hacking, exchanging coins in real time etc .currently Cryptocurrencies are used as a storehouse of value or speculation or as an alternative investment asset.
Also in the real world, there are many millions of people who do not have a basic bank account like refugees for example or the underprivileged and the poor. Also, the cost of transactions in some use cases is high.
Well, Centra just solved the puzzle of using cryptocurrencies in the day to day life.


Centra is a debit card with support for crypto conversions in a currency, which can be used anywhere in the world where VISA or MasterCard is accepted. This card allows its owners to use it in real time mode in more than 36 million places in 200 countries of the world with zero commission. Today, the Centra card is already capable of supporting the crypto currency: Bitcoin, Ethereum, ERC-20, Litecoin, Dash, Zcach, Ripple, and others. The main goal of the card is to provide its owners with a convenient and fast, safe service access to their funds in the crypto currency. This card automatically converts the crypto currency into the desired currency when performing any transactions (transfer, pay, etc.).
All Centra service is divided into several main directions, for myself I have identified 3 important directions and tried to disassemble them in more detail:
Marketplace cBay.io
The marketplace is an analog of eBay for purchases and sales of thousands of different everyday goods and all this can be purchased for the cryptocurrency. You can pay for the goods directly from the card or purse Centra or any other purse. This site guarantees a 30-day return policy.
Engine Conversion Module (CCE)
This module in real-time mode automatically and almost instantly converts the cryptocurrency into a phyta currency at the most favorable rate without any commissions!
Centra Wallet app
Using the Centra Wallet app for Android and iOS devices, as well as for websites, you can easily manage and manage your funds in the cryptocurrency without having to go to the bank. At the same time, the level of protection of the card and wallet meets all international safety requirements. Moreover, all funds are fully insured against theft, hacker attacks. Also, users can choose which cryptocurrency to use as the main for crypto conversions. The user can also activate or deactivate his Centra card using this application.

Centra is a cryptocurrency holder. These are people who already have access to alternative currencies. They are part of international buyers and will be the people who benefit most from CCE Centra (Currency Distance Engine) and its features offer them the best exchange rates.
The second group of users will be the holders of fiat (traditional) currencies whose transactions are important to speed, low cost and security, and anonymity on the blockchain-platform. This group of customers is faced with excessive banking commissions in the exchange of traditional methods.


It was delivered at the World Economic Forum that blockchain-technology is one of "the latest technology 2016". It also states that by 2025, 10% of the world's gross domestic product will be translated into blockchain-technology.
Thus the rapid development of blockchain technology-any intermediary in the financial services industry, whether it is moving, storing, lending, selling or transferring money, will be exposed to blockchain-technology.
The world of strong cryptocurrency is embedded in our daily lives. However, not as many people as we would like, and cryptocurrency is familiar with the scope of its use. Those who use cryptocurrency as a method of calculation have many difficulties and problems with sharing and storage. With the increasingly popular cryptocurrency also increased interest in the scheme of his dishonest mining scam.
Today, the debit card is limited, it is only available to people who have invested in ICO. There is a black and gold card:
a black card is for people who have invested a minimum of 100 ETH to get a gold card, you must invest at least 30 ETH. If you are interested in a debit card, it's time to participate in the ICO, as it ends in 5 hours! The contribution to ICO is really a very good choice!
There is also a Centra Titanium Card and Centra Blue & Virtual Card .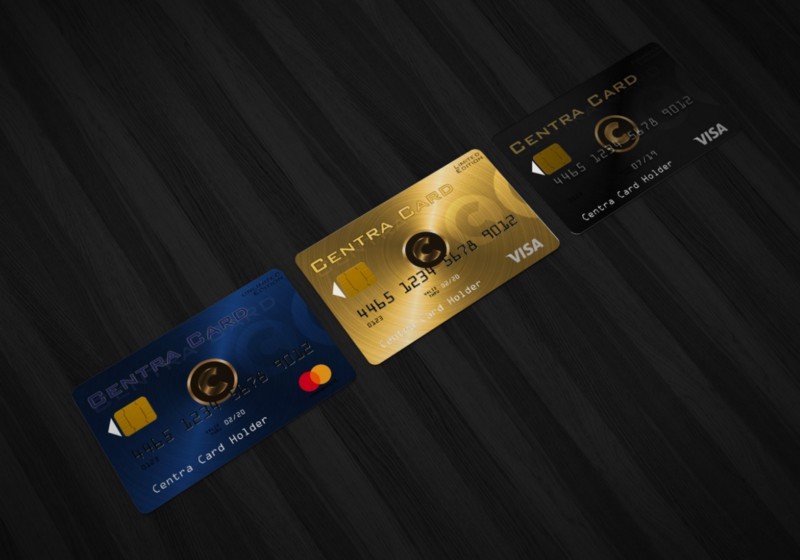 Centra Titanium Card is specifically designed for people in whom there are high costs, about 250,000 US dollars a day.
A traditional blue plastic card has a spending limit of $ 5,000 per day. Withdrawal is limited - only $ 1000 per day.
ICO
This time Centra Tech opens crowdsale for their token sales as well as cards for their platform transactions, you can have Centrs Tech card Once you become the first 500 contributor of 100+ ETH (For Centra Black) or the first 1000 contributor of 30+ ETH (Centra Gold) , Centra Tech will send a TXT transaction to get info on the name and shipping address. In crowdsale Centra Tech accepts transactions using BTC, ETH or LTC provided that you do not use wallet exchange to make investment transactions especially if you invest using ethereum, because CTR tokens is smart contract based from ethereum so it will automatically transfer a number of tokens according to the size of your investment.
The Centra token is available during the initial sale.
After the ICO is over, the token will be available on the exchanges.
The beginning of the sale of the tokens was dated August 5 and will last 5 more hours! Now for 1 ether you can get 200 CTR tokens . In total, 100,000,000 tokens are available.
The distribution of tokens will be as follows:
68% - are intended for investors;
20% - will be implemented to expand and develop the project;
12% - allocated for the team and consultants.
For more information visit
WEBSITE :https://www.centra.tech/
WHITEPAPER :https://www.centra.tech/CentraWhitePaper.pdf
TWITTER :https://twitter.com/Centra_Card
SLACK :https://centratech.herokuapp.com/
TELEGRAM :https://t.me/CentraTech
MEDIUM :https://medium.com/@Centra
ANN BITCOINTALK :https://bitcointalk.org/index.php?topic=2114806
MY BITCOINTALK PROFILE:https://bitcointalk.org/index.php?action=profile;u=1159668