Hello friends, Today I will talk about a very exciting ICO project. We will discuss how ZIXX as a masternode cryptocurrency is offering secure, instant and private transactions. But before we go into the full details of the project in our world today the first generation of the digital revolution brought us the Internet of information. The second generation—powered by blockchain technology—is bringing us the Internet of value: a new, distributed platform that can help us reshape the world of business and transform the old order of human affairs for the better.
Blockchain is the ingeniously simple, revolutionary protocol that allows transactions to be simultaneously anonymous and secure by maintaining a tamperproof public ledger of value. Though it's the technology that drives bitcoin and other digital currencies, the underlying framework has the potential to go far beyond these and record virtually everything of value to humankind.
In this sea of innovation and new technologies there are visionary projects that come to life in the form of ICO's and today i am going to present you with one of the most promising ones on the market. The ZIXX COIN

ABOUT ZIXX
ZIXX is a premium third-generation masternode cryptocurrency. As standard, it offers secure, instant and private transactions. Benefits include high rewards, charity projects, low maximum coin supply, low emission rate and a full-time team. ZIXX will provide solution for investors, anytime, anywhere, and with a shared masternode you can starting invest 10 ZIXX, You do not need to get thousand coins to start earning, with something like this the team will make a huge difference on the crypto market, and be ready, for the next months the project will break all barriers.
Zixx masternode has several packages that would not only benefit its members but would also benefit the society at a large. Some of the services that Zixx masternode offers aside performing secured instant and private transactions are:
Percentage increase of XZX Holders
One of the thing that has increased the value of bitcoin over the years is that most cryptopreneurs are holding it as asset and that has limited its supply to some members within the crypto community. It is based on this same concept that the Zixx Masternode would operate. As a marketing strategy to penetrate into exchange platforms with a significant value the Zixx Masternode Network offers its loyal members a great percentage of 80% of tokens that they are holding in their possession. This would serve as an incentive to cause members within the network not to engage in any form of panic sales and by so doing increase the value of the XZX coin with time.
This would go a long way help sustain the value of the XZX coin against volatility. With this system in place I urge all potential investors to invest into the Zixx Masternode Network.
Reward system for Miners
Miners within the Zixx node network would receive great rewards of about 10% of the total supply of the XZX token suppply. Just like the beehive network where the worker bee finds food and stores them in the hive of their colony and the queen and king both copulate to increase their ecosystem Zixx masternode would reward its loyal miners with five coins upon locating each block within the blockchain.
Basic and Simple User Interface
User interface is one of the basic features that every development team has to provide its members with for easy and efficient performance but it is rather unfortunate that most masternode platform that are on board currently does not have the best of user interface when it comes to simplicity. Let's not forget that this network would consists of several people who have different knowledge on how masternode network works.
Well look no further than Zixx Masternode Network when it comes to creating a user interface that has the best of a simplified user in interface for members it easily understand how to use and interact on the platform. The development team have done the necessary research and have put together the basic user interface with clear and well-labelled definitions that would help members understand its platform.
Designation of Node for Charity Purposes
We live in a society where some are fortunate to have life going on all smoothly but others who also due to several reasons which i don't want to bore my readers with are leaving life in harshful situations. Many philantropist and foundation have helped in the best of ways that they can to help the under privileged individuals within our society.
Zixx Masternode Network would also contributions in the form of charity giving to the society which members on the platform are going to approve on. The care of Zixx Masternode for the needy in our society is so overwhelming that the team has designated some portion of its node to generate funds which would support its charity activities. Members would have the opportunity to bring up any charity project that they have identified and upon approval from the Zixx Masternode Network in the form of voting, that donation would be made on behind of all members of Zixx Masternode Network.
FUNCTIONS OF MASTERNODE
Masternodes are continually communicating with other nodes, creating a decentralised network.
Providing increased privacy transactions.
Performing instant transactions.
Partaking in governance and voting.
Allowing budgetary and treasury systems.
Zixx project is well prepared in such a way that it put the welfare of masternode holders who can earn 80% reward. Listed below are some of the benefits these masternode holders stand to enjoy:
Very impressive and high reward: 80% reward for masternode holders
Low total coin supply: 22 million coins maximum (around 110.000 coins pre-mined)
ADVANTAGES OF USING ZIXX
Security
Unlike conventional coinage-prone currencies, cryptographic rules applied to coins keep their owners from the same risk.
Able to act as a global currency
Although each country has its own currency, coin remains present and enters it. coin knows no national borders, does not waver due to political conditions in government, and is not affected by anything.
As a protector of inflation
Like gold, coin is thought to act as a protected value of inflation. coin can suppress excessive inflation rate.
Savings
Coin is a new form of community savings that is applied with a system that is not troublesome. In addition to saving coin, all the usual financial intermediaries in banks can be eliminated. The holders also do not need to pay service fees and registration.
TOKEN DETAILS
Symbol: XZX
Algo: Neoscrypt (ASIC resistant)
Coin type: POS/Masternode
Max supply: 22 million coins
Pre-mine: about 0.5% of total supply
Coin emission: Around 100.000 coin per month
Block time: 2 minutes/block
Block reduction: 10% until 1 XZX/block
Masternode collateral: 1.000 XZX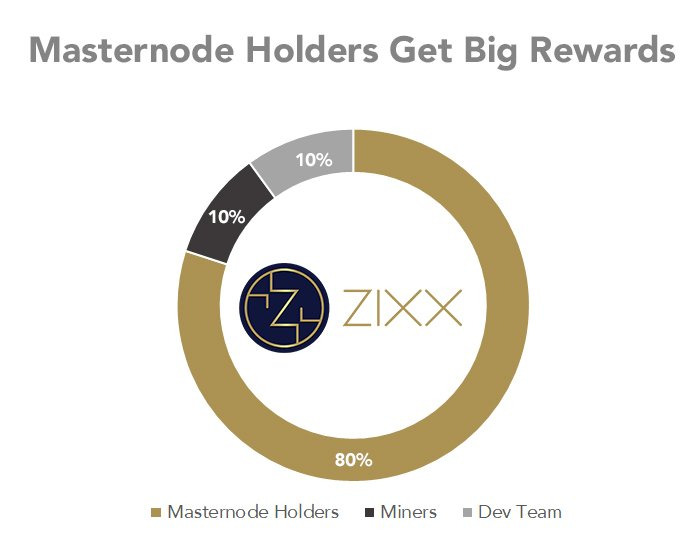 ROADMAP AND DEVELOPMENT PERSPECTIVE
Week 1 – May 2018:Pre-launch Promotion + Advertisement
Anakin Bot Launch + Invite Bounty launch
Anakin Wallet (Windows, Mac, Linux) Wallet launch + Auction 1
Phase 1 Presale coins released + Auction 2
Phase 2 Presale coins released + Auction 3
Phase 3 Presale coins released + Auction 4
Phase 4 Presale coins released + Auction 5
Masternode ranking site listings
Week 2 – May 2018:Boba Fett Bot + Wallet V2 Launch
Promotion + Advertisement Phase 1
Cryptobridge Listing
Q3 2018 :Cryptopia Listing
On 28 June, Zixx went live on Cryptopia, the popular New Zealand crypto exchange.
Fiat Gateway
Soon you can buy and sell Zixx with Euro. Direct Euro/XZX and XZX/Euro Pairings.
Extended Bounty Campaign
Campaign to promote Zixx on social media platforms, including Bitcointalk.
Zixx Web Platform (beta launch)
This is a hub for crypto/masternode enthusiasts. Zixx powers all the transactions. Planned features include :
An automated multi-coin shared masternode service,
Masternode reviews, rankings and information
Q4 2018:Incorporation
Zixx and its charitable body, Zixx Foundation registered as corporate entities.
Whitepaper Published
Bitfineon Listing
Pending approval, Zixx to trade on Bitfineon cryptocurrency exchange.
Eudaemon (beta launch)
A blockchain-powered app that performs verified actions to easily install, monitor, upgrade and repair masternodes.
Charity Governance Enabled
Masternode holders can vote on funding charity projects proposed by members of the community.
Multi-platform Bots
Reddit and Telegram Bots launch (beta versions)
FOR MORE INFORMATION PLEASE VISIT THE LINKS BELOW;
Website: https://www.zixx.org
ANN: https://bitcointalk.org/index.php?topic=3573842.0
Facebook: https://www.facebook.com/ZixxCrypto/
Twitter: https://twitter.com/ZixxCrypto
Reddit: https://www.reddit.com/user/ZixxCrypto/
Steemit: https://steemit.com/@zixx
Discord: https://discordapp.com/invite/wEtdDz4
Author: BrainerdPaul
BitcoinTalk profile link: https://bitcointalk.org/index.php?action=profile;u=1680409