EXTOKE is a team with a very simple vision: to be the standard of exchange of tokens ERC20.
Rather than different implementations made by each site and more or less successful, there would be a standard that would be used by all decentralized exchanges. This is a true protocol, such as HTTP for Web sites, for example.
EXTOKE offer a way to exchange crypto-currencies directly between individuals. It is different from traditional exchanges.
Website : https://www.extoke.com/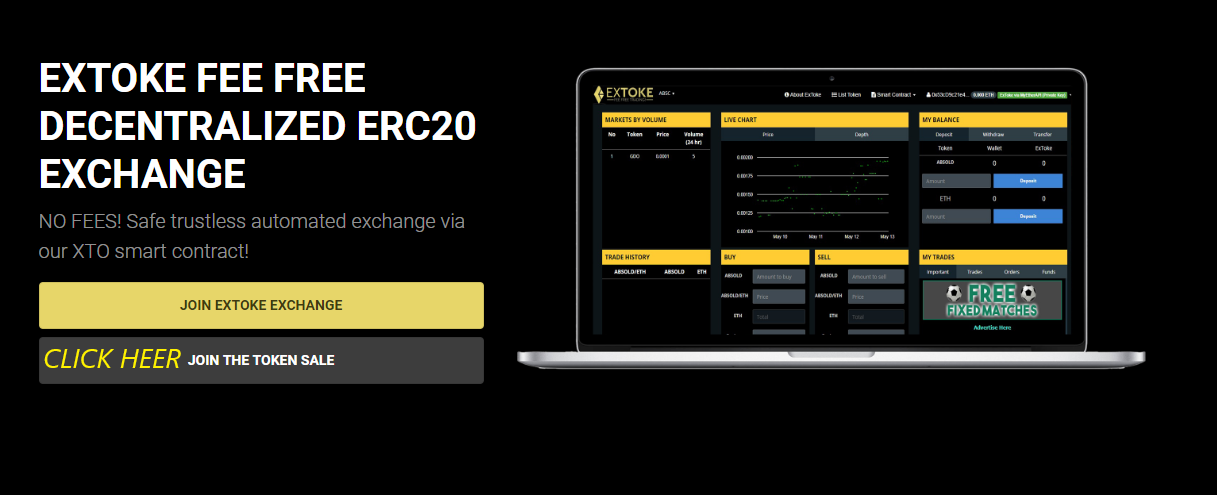 First of all let's start by explaining very quickly what a FEE FREE DECENTRALIZED ERC20 EXCHANGE is. It's peer-to-peer trading and is totally Open-Source. No one has control of it if it is only you. You are the sole holder of the funds.
EXTOKE can help you with more resistant to piracy than centralized exchanges :
No server (works through a variety of nodes in the network)

High confidentiality (no information required for use)

Total control of your funds

The closure of this type of exchange is complicated for the authorities. (unless malicious software)
Website : https://www.extoke.com/
Why you should pick Extoke ?
We can say that Extoke is a forum where everyone posts an ad in order to find a seller or a buyer. No connection to an account is required. Each user publishes an advertisement of the bulletin boards where they indicate what they wish to sell. The whole system is based on intelligent contracts.
Decentralisation allows Extoke to be solid and reliable in the face of a possible failure. When a centralized exchange is compromised, millions of dollars and thousands of users are affected at the same time. In a decentralized system, the impacts of attacks or failures exist for only a single user and its funds. Users are in control of their own security, which has proven to be much more efficient than any other centralized entity.
There is a fixed cost associated with trying to hack an exchange or an individual user. The difference is the size of the reward. If you put up a multi-million dollar bounty for a specific exchange attack, then you can expect much more effort put in place to compromise this exchange than the one that would be put into attacking your account Individual.
Overall, Extoke seems to have created a platform that works very well with an excellent user interface. The application provides users with the ability to perform P2P transactions in a secure environment, while retaining access to their crypto-currencies throughout the transaction process.
In view of its large number of transactions carried out from the demo day it shows a strong demand of the community for this type of platform.
This project is certainly one of the most advanced and will probably be one of the successes of 2018.
Official Website: https://www.extoke.com/
ICO Page: https://www.extoke.com/tokensale.html
Whitepaper: https://www.extoke.com/white-paper.pdf
Twitter: https://twitter.com/ex_toke
Facebook: https://www.facebook.com/extokecom/
Bitcointalk ANN: https://bitcointalk.org/index.php?topic=4506005.0
Github: https://github.com/extoke/
Official Telegram Group: https://t.me/extoke
Bitcointalk profile: https://bitcointalk.org/index.php?action=profile;u=1048360