PRESENTATION
A storm has hit the investment market which we are not going to recover from. Crypto investment is that storm. With strict capital controls in place by most countries to control the flow of money and charge high taxes, cryptocurrency gained usage in circumventing capital controls and taxes, leading to an increase in demand. Cryptocurrency has been able to present an easy to use digital alternative to fiat currencies. Offering frictionless transactions and inflation control, investors have been prudent enough to add these currencies in their diversified portfolios as an asset, as the size of the market does not represent a systemic risk. Cryptocurrency employs the use of cryptography that assures high-security processes and verifies transactions personal to each user. Hence, counterfeiting and anonymous transactions are impossible to achieve.
While this revolution is gaining wide acceptance, Bitex, a decentralized platform that aims to be the first global crypto ban which enables consumers and merchants convert local fiat currency into over 500 currencies at reduced rate and quickly has arrived.
Now that I have your attention, let's get right to it.
What exactly is BITEX?
Bitex is a decentralized platform that aims to be the first global crypto ban which enables consumers and merchants convert local fiat currency into over 500 currencies at reduced rate and quickly. The platform also offers users the opportunity to have their own personalized wallets and private keys that will not be shared with the platform. The goal is to avoid volatility of the cryptocurrency market to enable users have the exact amount they requested. Furthermore, users have access to personal loans and their crypto will be used as collateral which will be given back immediately the loan is paid back.
BITEX will provide hyper-localized crypto-banking services through their global platform to promote efficient growth across multiple continents, focusing predominantly on Asia. Cultures differ in their banking preferences - a localized strategy allows for more focused and calculated decision making.
The Bitex crypto-banking solution is created to benefit those that are poorly or not served by traditional banking system. This new cryptobank will re-establish the very purpose for which a bank was created in the first place (an institution that helps the economy function and grow by providing a way to manage savings, provide means for payments and money transfer, and facilitate loans). The Bitex has identified the Asian and Middle East markets as they are growing and, from notice, need a robust cryptocurrency based financial system. It is thought that, the impact of the Bitex platform will be best demonstrated in these markets.
We're taking the sociable attributes that banks offer, such as community partnerships and building a local presence and combining them with the benefits and the efficiency that a decentralized blockchain provides.
THE BITEX BLOCKCHAIN CRYPTOCURRENCY SOLUTIONS
The component of shock always emerges in each task. it makes the specialty and main issue of availability. Bitex is a network impactful bank meeting its reality worldwide money related network effectively. This "propounds the tasks and hyper-localized"(ico.bitex.global) for an all around characterized digital money saving money activities. The simplification is to make a dependable framework and adjust for clear ideological develop inciting and advancing blockchain keeping money development. This earnestly keeps up the effectiveness, adequacy and beneficial nature of the Bitex activities including the blockchain.
The reality of the matter is that societies vary, as is inclination. This additionally implies the selections of networks on their monetary dealings is molded in an unexpected way. Along these lines, bitex plans to connect this hole and make a fit connection for managing an account tasks progressively however reliant on blockchain selection instrument and frameworks. In this manner, Bitex will saddle all managing an account activities and make its vital nearness following the inclination of its locale in a more straightforward, adaptable, essential and kept up central occasion by and large. Besides, Bitex will give all required saving money administrations of installments tasks, exchanging, withdrawals, stores and advances by and large with the compelling influence of digital money structures. Bitex is one of a kind in the entirety of its keeping money outlines and hubs.
SERVICES OFFERED
• A decentralized, distributed and immutable ledger which cannot be affected by any single point of failure or compromise.
• A global scale, unhampered by national boundaries, although subject to national/local laws pertaining to banking and finance.
• The ability to conduct escrow payments through cryptography rather than traditional, time consuming payment methods.
• The ability to carry out pseudonymous transactions between parties where trust is captured through cryptographic means rather than written contracts or external supervision.
• Include cryptocurrencies as equal partners to fiat currencies in transactions between individuals, individuals and businesses, and between businesses.
FEATURES
• EZBitex: the currency exchange and banking infrastructure with a decentralized, distributed and immutable ledger provided by Bitex, which underpins the functioning of the entire system
• BitexPay: the next generation payment solution for both consumers and merchants.
Knowing fully well that Bitex is precise in all its banking designs and nodes, This emphatically maintains the efficiency, efficacy and effective nature of the bitex operations related to the blockchain. Blockchain-based solutions built on Ethereum, using public distributed ledgers, cryptotokens and smart contracts offer participants a means of creating value through trusted and transparent interactions on a global scale. This structure is particularly suited for the creation of a banking platform. Hence, bitex hopes to bridge this gap and create a harmonized link for banking operations dynamically but dependent on blockchain adoption mechanism and systems. As a result, bitex will harness all banking operations and create its strategic presence following the preference of its community in a more transparent, scalable, quintessential and maintained focal example commonly. Furthermore, bitex will offer all wanted banking offerings of bills operations, buying and selling, withdrawals, deposits and loans in maximum cases with the powerful strength of cryptocurrency frameworks.
TRADING ON EZBitex PLATFORM
Consumers that wish to trade in cryptocurrencies using the crypto-exchange services of the EZBitex platform will populate a Trading Wallet associated with their account. The crypto assets in this wallet can be used for various orders for margin trading, limit trading, leverage, etc. Consumers participating in trading will pay trading fees denominated in each cryptocurrency they sell whereas for fiat currency the fees will be converted into XBX tokens at the current market price on the EZBitex exchange automatically.
The EZBitex platform will offer APIs to key functions of its global platform to allow developers to create local banking applications. To this end, Bitex will provide the following resources:
● The Bitex Open API will allow local merchants to implement BitexPay and "Powered by Bitex" applications that are tuned to local needs (e.g., language support);
● A Bitex Marketplace where various merchant applications developed through the Bitex Open API are available to other merchants;
● A Bitex Developer Program that encourages local developers to work with local merchants to bring novel applications to the Bitex marketplace
THE BENEFITS
CONSUMERS
The Bitex crypto-banking solution requires consumers to maintain their own crypto wallets (the Holding Wallet) on their mobile devices. No private keys for this wallet are shared with the EzBitex platform. A truly decentralized way of storing the other customer wallets (Payment Wallet, Trading Wallet, etc.) on the Bitex platform and using the platform only when needed will allow Bitex to ensure that customer assets are safe from hacking or other attacks. Alongside with this, Bitex will encrypt development source code as well as use PCI Standard Certification for security in the near future.
A personal, mobile wallet makes the Bitex crypto-banking solution widely available, as recent studies show that mobile penetration is widespread throughout the world and allows a greater percentage of the population in under-developed countries to participate in financial transactions than have access to conventional banking services.
By maintaining control over one's wallet, and sharing only certain amounts deliberately with Bitex for various purposes such as purchases or transfers, consumers will not have their entire crypto assets under the control of a centralized entity (as is the case with current crypto-exchanges) with all the security risks that it entails.
Consumers will not arbitrarily or capriciously be denied the ability to purchase cryptocurrencies in any exchange using credit cards offered by third parties that are "Powered by Bitex" or their BitexPay debit cards. EZBitex as the card processing network will ensure that such transactions are authorized by the card issuer.
MERCHANTS
Merchants have multiple options for receiving payments - via a mobile EZBitexPay app, QR codes, and card readers.
Online merchants can add BitexPay as a payment option to their e-commerce portals.
Again, for simple merchants (such as street vendors) the ubiquitous mobile device can be the merchant's receiving wallet. There is no need to have a traditional bank account.
GOVERNANCE
Funds raised during the ICO will be governed jointly by the shareholders of the local, licensed companies in each of the countries where Bitex will operate. A local company will be registered in each country where Bitex will operate, with the company obtaining any licenses necessary to operate as a local crypto bank.
Those shareholders that hold greater than 50% of the shares of the local company can vote on the directions to be taken and use of the funds raised in the ICO. A financial audit will be conducted by three or more companies to reassure investors that the funds raised during the ICO are used to develop the crypto-banking infrastructure.
FINANCES
Bitex Global has already raised USD 2,760,000/- through the sale of Bitex franchise licenses to partners in twelve countries. The money raised from local licensees will be used for creating the local infrastructure needed to support the EZBitex banking platform, including registrations, salaries, legal and regulatory aspects, and localization of the software. The money raised during the ICO will be used for developing the common platform that can serve every country, the overall security infrastructure, and the implementation of common peripherals such as ATMs, card readers and kiosks.
Bitex XBX Token - Token Sale and ICO Details
The XBX token is therefore the utility token that allows various stakeholders in the Bitex financial ecosystem to use its offered services.
BITEX is conducting an Initial Coin Offering of its utility token, XBX.
All transactions regardless of the EZBitex platform will require payment of fees in XBX tokens. Such as BitexPay, Bitex Atm, Bitex Debit Card, Powered By Bitex card and so on.
XBX token utilizes a unique design that not only powers the banking infrastructure but also rewards user loyalty while cultivating a robust developer ecosystem. By developing a mechanism to encourage adoption of the Bitex services, Bitex is able to bring more local services to its users while also increasing the supply of merchants.
Bitex
0.55% of XBX token is burned as transaction fees.
32.75% of the transaction fees collected will be used to provide a discount to consumers staking XBX tokens on their own transaction fees.
TOKEN Distribution Model and Economics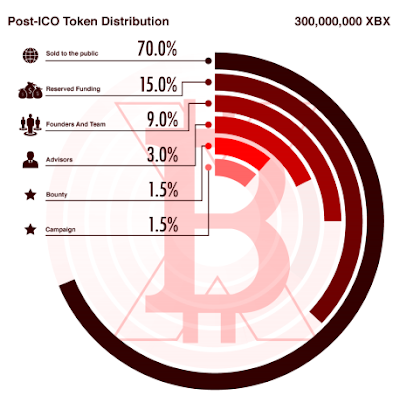 70% - Sold to public
15% - Reserved funding
9% - Founders and Team
3% - Advisors
1.5% - Bounty
1.5% - Campaign
FUNDS DISTRIBUTION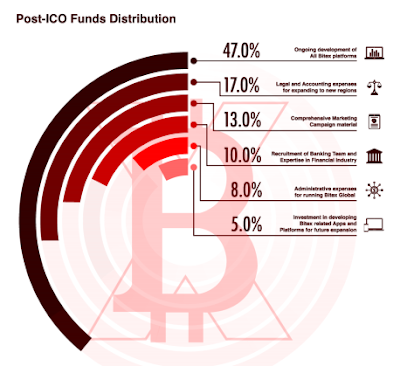 17% - Legal and accounting expenses for expanding to new regions
47% - Ongoing development of all Bitex platforms
13% - Comprehensive marketing campaign material
10% - Recruitment of banking team and expertise in financial industry
5% - Investment in developing Bitex related Apps and platforms for future expansion
8% - Administrative expenses for running Bitex global
ICO Structure
Symbol: XBX
Token name: Bitex Coin
Total supply: 300,000,000 XBX
Soft-cap: 1,000,000 XBX
Hard-cap: None
Pre-ICO Token price:
0.5$ = 1 XBX
Cost of 1 token XBX:
$0.7 to $1.0 at end of token sale
Term of token sale:
90 days with the possibility of an automatic early completion in pursuing the final goals of ICO.
Expanded goals after start of ICO: Impossible
The technical limitation of the number of tokens: 300,000,000 XBX
Adjustable emission:
The tokens remaining unsold after the pre-ICO and ICO phases will be vested in a Bitex company account controlled by a smart contract. The smart contract will be programmed to release each month to the Bitex community 1⅔ % of the total tokens initially held.
Secured ways to purchase tokens:
XBX tokens will be available for purchase using Ether (ETH), and the following fiat currencies: CHF, EUR, USD, GBP, DKK and SGD and Bitcoins (BTC) will be updated soon.
ROADMAP
Q2 2017: Bitex Business project structure constructed
Q3 2017: Company registration and beginning of development. Work on:
Holding Wallet
XBX Token (ERC20 Protocol)
Trading Wallet and EZBitex platform
Mobile App (Android and iOS)
BitexPay and "Powered by Bitex" software kit
Q2 2018: Beta test and launch
EZBitex Platform V 1.0 with Trading wallet, Payment wallet and the Holding Wallet
Mobile App EZBitex
Upgrade of security structure and support center
Q3 2018: EZBitex Platform V 2.0 with BitexPay and Powered by Bitex & savings Wallet.
Bitex B2B and B2C payment platform and BitexPay Merchant App with GPS locator and BitexPay Merchant App Kiosk
Q4 2018: EZBitex Platform V 3.0 with Loan Wallet
BitexPay Module and POS
BitexPay API key develop and bug testing "Powered by Bitex" card
BitexPay API key release for corporate payments
Q1 2019: EZBitex Platform V 4.0 – API based card and its integration for POS (via Bitex API)
Q2 2019: BitexPay Escrow Account V 5.0 – payment Gateway implementation
MEET THE AMAZING TEAM
Mr. Harith Motoshiromizu – Founder and CEO, Bitex Global
Mr. Nicolas Louis Laurent Berthoz - Co-founder and CTO, Bitex Global
Mr. Junjiro Sato - Co-founder and CIO, Bitex Global & License Co., Owner Japan
Mr. Ryan La France - Co-founder and CFO, Bitex Global & License Co., Owner Philippines
Mr. Yusuke Asai – CPO
Quentin D. - Web Developer
Raphael T. - Blockchain Developer
Security Manager – Undisclosable (Banking Security Developer)
Raj W. - Technical Project Manager
Shashwat G. - Full Stack Developer
Ankur B. - Backend Developer
Gopal T. - Backend Developer
Gunjan G. - iOS Developer
Daljeet S. - Android Developer
Chandan K. - Sr. Java Web Developer
Neha G. - UI/UX Designer
Anuj B. - UI/UX Designer
Himanshu K. - Blockchain Developer
Aditi N. - Quality Analyst
Palak S. - UI Developer
Be a part of this incredible project. Download the whitepaper for the full scoop.
Till next time…
For more information, please visit:
Website: https://ico.bitex.global/
Whitepaper: https://ico.bitex.global/docs/XBX-Token-WhitePaper.pdf
ANN Thread: https://bitcointalk.org/index.php?topic=3651047
Twitter: https://twitter.com/bitex_global
Telegram: https://t.me/joinchat/IV2i4Q6llH7ttm5n9hqT5g
Facebook : https://www.facebook.com/bitex.global/
Instagram: https://www.instagram.com/bitex.global
Author: TheMichaelMatch
My BitcoinTalk Profile: https://bitcointalk.org/index.php?action=profile;u=1326035
Disclaimer: This article was published in terms of the bounty campaign. I am not a project team member or its representative but a supporter of this incredible project.