Fluzcoin, an independent retail coin structured in computer-aided governance, solves the problems of speed, cost, compliance and excess volatility; ushering in a true retail coin ready for mass adoption. Fluzcoin's Artificial Intelligence (AI) algorithm, EUNOMIA, overcomes crypto-economic volatility with real-time, computer-aided market corrections to the Fluzcoin supply and demand.
The value generated by minting new Fluzcoins is maximized by Fluzcoin holders in the form of dividends; meaning the accumulation of Fluzcoin, results in an appreciation path similar to traditional cryptocurrencies even though the value of an individual Fluzcoin may never skyrocket.
Fluzcoin's computer-governed economy results in a transparent and predictable fluctuation path, compared to FIAT and crypto-currencies. Fluzcoin's clever, patent-pending (United States patent application pending 62/648,206) coin minting rationale creates additional value without the need for energy intensive crypto-mining infrastructure.
FLUZCOIN is a smart Retail Currency and Fluzcoin is targeting $ 23 Trillion Markets, enabled by an algorithmic central bank and revolutionary appreciation paths, 100% KYC compliant and with zero transaction costs, is set to play an important role in crypto retail mass adoption.
TECHNOLOGY
Fluzcoin is deliberately configured as technology agnostic. For the start it has chosen JP Morgan Quorum forked from Ethereum, in a version customized for institutional needs. The adoption of a validated solution, JP Morgan Quorum last generation permission based blockchain, enables high throughput as well as data privacy.
Fluzcoin will also provide its own wallet to store, sell, buy and pay with Fluzcoin at retail through practical QR code scanning. Corporate Fluzcoin wallets will provide merchants with the necessary accounting input to reconcile Fluzcoin payments.
FLUZCOIN ECOSYSTEM
FLUZCOIN POS PAYMENT FLOW
Consumer is equipped with free app that is Fluzcoin wallet as well as additional features, for example tracking of free coins distributed to Fluzcoin holders, search of nearby stores accepting Fluzcoin and providing special deal redeemable for Fluzcoin only.
A merchant is displaying the total amount of the cart on a conventional cash-desk screen along with conversion into Fluzcoin amount.
Payment invitation is presented by a scannable QR code, which may be unique for each transaction (or come from a pool of reusable addresses).
A user acceptance of the payment is embedded into scanning action – once the QR code is scanned, transaction is fired.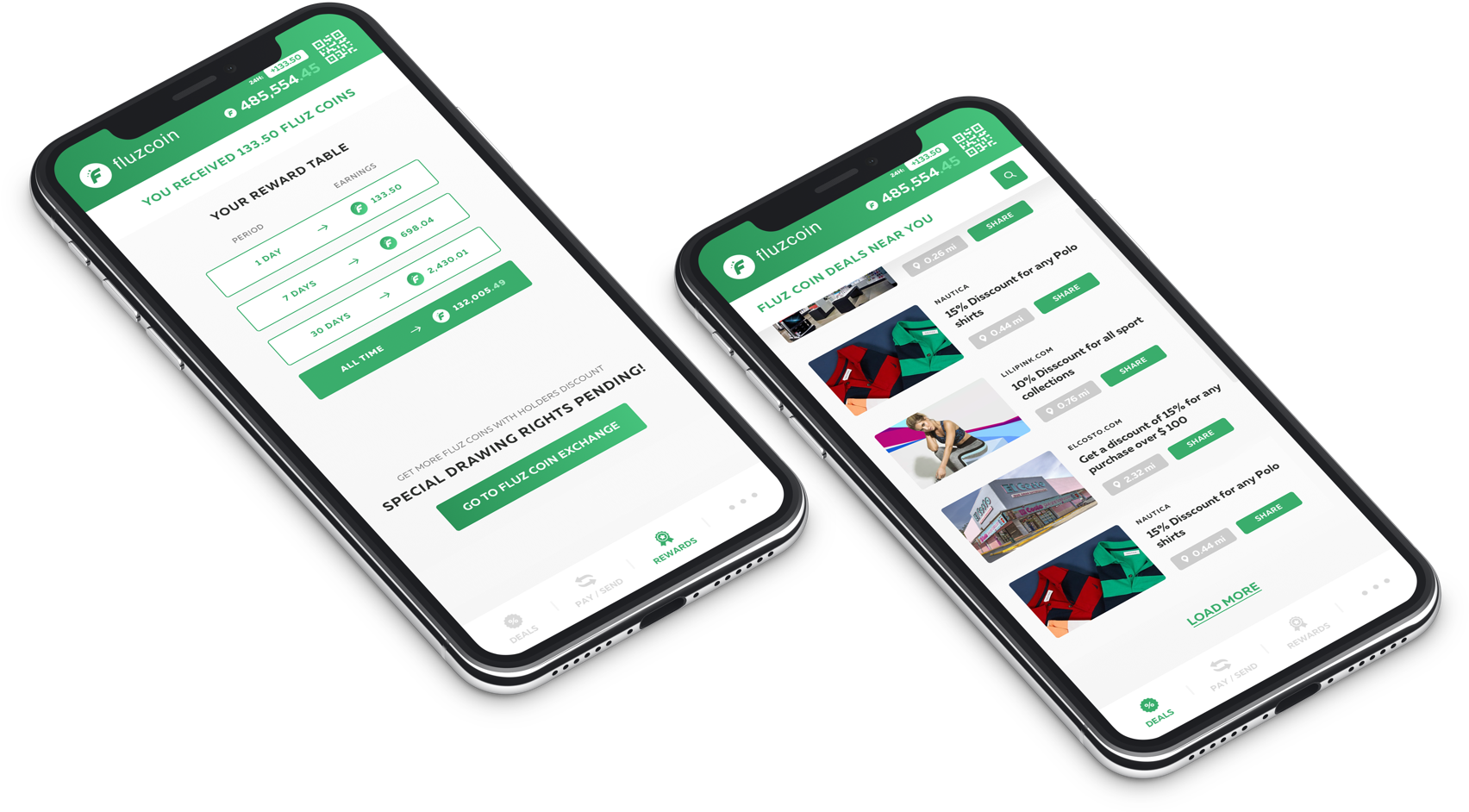 Fluzcoin, patent pending intelligent retail currency
Pump & Dump resilient retail coin
Non-speculative by design
Algorithmic market interventions
The Fluzcoin artificial intelligence (AI) stabilization algorithm will constantly adjust to deliver a smooth appreciation path, thus eliminating speculative volatility that so much affects cryptocurrencies and deters confidence in these.Through machine learning algorithms, coin bond issuances and Fluzcoin holder dividends, Fluzcoin aims to provide the confidence needed for wide acceptance as a medium of exchange and furthermore, a store of value.
ICO SETUP
In order to establish Fluzcoin, Fluzcoin Global Inc will undertake a compliant ICO. The proceeds of the ICO will be used to configure the technology and to engage in significant marketing efforts. Even though the coin and concept might be clear and value promoting, it is crucial to market the coin and to accumulate additional consumer trust through brand building and the creation of a monetary model backed by liquid reserves that will pride for the stability of the coin and the mitigation of potential volatility. While the initial targets will be in focused markets, the vision is to create an independent global currency.
Retailers are invited to participate in the ICO and are incentivized for early commitment. Post-ICO retailers will join based on current market conditions.
3,223,000,000 Fluzcoins shall be created for the initial ICO.
Token Sale and ICO
65,78% => of coins are sold.
34,22% => are distributed as follows.
3,29% => Team and Advisor Coins
3,29% => FluzFluz Network Reward Coins Drawing Right
6,30% => Fluz Coins Ltd
9,31% => ICO Bounty Marketing+Post-ICO Merchant Incentive Coins and Consumer Airdrops
12,04% => Bonus Coins for ICO participants
Use of funds
50% => marketing
3% => Legal&Compliance
10% => IT development and monitoring
7% => Admin overhead
10% => Fluzcoin Reserve
20% => commercial retailer onboarding
ROAD MAP

TEAM BEHIND THIS INCREADIBLE PROJECT
Executive Team
STEFAN KRAUTWALD - Commercial Director
DAVID ROSENBLATT - Corporate Development Director
ANTONS SAPRIKO IT - Director | Scandiweb
CEOGLEBS VREVSKY - Marketing Director
ULDIS BAUMERTS - Product Coordinator
DAVID M. LEIBOWITZ - Japan Manager
DAVIS KRIKAUSKIS - Delivery Manager
AIGARS PAVLOVICS - Head of Operations
TECHNICAL ADVISORS
Raghavendra Srinivasan

Florian Burkart

Ruchika Kumar

Mario Cohen
EUNOMIA FOUNDATION
Andreas Antrup - Council Member

Vikram Nagrani - Council Member

José Abbo - Council Member

Karl Karlsson - Council Member
ACTIVE BOARD ADVISORS
Maurice Harary

Lars Rydström

Keith Teare

Karl Karlsson

Anil Benard-Dende

José Ruiz

Dr. Sebastian Fourné

David Adelman

Isaac Levy

Alberto Tarazi.
For more information, please visit:
WEBSITE: https://fluzcoin.io/
WHITEPAPER: https://fluzcoin.io/docs/Fluzcoin_Coin_Sale_Whitepaper.pdf
FACEBOOK: https://www.facebook.com/fluzcoin/
TWITTER: https://twitter.com/fluzcoin
REDDIT: https://www.reddit.com/r/fluzcoin/
MEDIUM: https://medium.com/@fluzcoin
YOUTUBE: https://www.youtube.com/channel/UCdK-HoZdmvmC-9bS5TeJT0g
TELEGRAM: https://t.me/joinchat/FaUXnVJkE62Onj6NcXuiPw
Author: JigaMola
Bitcointalk profile: https://bitcointalk.org/index.php?action=profile;u=1847143