With global terrorism, cyber crime and high powered sponsored air crashes as well as the inordinate need for people to become financially autonomous being very high in relation to the exponential growth of the world population, HAI rise up to the undoubting challenge of solving the problems using energy, brainstorming and scientific approaches that are not only optimal but dependable. Following the problems created by hackers and other fraud related cases, it is obvious that financial losses are high among traders.
Again, information that are available to people are now easily accessed. For example, piracy is highly prevalent in the music industry which leads to low profit level for those involved. It is also noted that the big very companies have the bad habit of inducing monopoly which have negative indices on the upcoming business owners. Some of the above problems are what the HAI are willing to solve so that people can derive utmost utility in their investments.
HAI means hybrid artificial intelligence. It is regarded as the heartbeat of modern development in terms of industrial growth. Basically, HAI has the primary target of providing adequate enabling economic environment that will enable small business owners to compete more favorably with already established industries.
Through secure blockchain platform, HAI allow all users to benefit optimally from token transactions.
It is the first Hybrid Artificial Intelligence to combine 3 critical sectors that rule the economy of our environment even though we can't see it so clearly.
The main purpose of HAI is to provide the chance to small business owners to compete against big companies with millions of dollars destined to market research and marketing, have the chance to do profitable trading and finally to protect themselves and their business from criminals of all over the world.
Creating a powerful Hybrid-AI combined with an ecofriendly infrastructure there are no boundaries, providing the opportunity to operate this HAI system through the use of the block chain technology (ERC20 tokens & Smart Contracts) all users with HAI tokens will be able to benefit from the project.
Vision
Vision for the HAI Project is to create the first Hybrid Artificial Intelligence capable of detecting new cyber-threats, the opportunity both traditional financial markets and data applied to business intelligence.
Multiple infrastructures in every industry have flaws or misconfigured elements, allowing malicious users to abuse their systems or even try to attack them in order to get a personal benefit at the expense of other people, this is why we need more than just power. It has been proven in multiple competitions that Artificial Intelligence is superior to humans when it is transformed raw information into usable knowledge.
Features of the HAI project
A traditional AI system is very expensive and not available for normal users, with HAI the game changes, providing a cheap and powerful AI capable of:
1- Market Prediction
In order to have a successful trading experience, many hours or even days of research are needed to decide when to make a trade, normal people do not have that time, you do not have that time. HAI does the heavy lifting so you can spend time doing what you really love, but if you are deep into market research HAI can help you to take better decisions, 1 HAI and 1 brain is better than just a brain.
2- Threat Hunting
Attackers are becoming smarter and enhancing the complexity of their tools, it will be HAI the one who is going to protect you and even your business from these criminals, using threat hunting, malware analysis and behavioral analysis techniques.
3- Decision Making
Business Intelligence can help small business to increase their sales analysis of possible scenarios, market research and product development. Just because we do not start with tons of resources it does not mean we are unable to compete against bigger competitors, HAI provides a cheap research and decision making helper platform for you and your ideas.
Attributes of HAI system
HAI (Hybrid artificial intelligence) has the following distinguishing characteristics
-Tough and secure HAI platform that prevents hackers from invasion.
-Valid decision making arising from sophisticated business intelligence in the HAI platform
-Through feasibility studies that enable prompt research and development.
HAI Tokens
The HAI Project was born thinking about solving issues that nobody was able to solve in years and are more urgent to solve as these problems are becoming bigger and bigger. Artificial Intelligence is the solution, creating a system capable of outrunning thousands of humans in just a fraction of an hour, saving thousands of hours and more important, saving money, a lot.
A HAI token is meant to represent a percentage of the actual network power, allowing an user to use the AI for purposes within the scope of the project, this will be done using a web application developed by the HAI Project's team which will lock up tokens for a given amount of time also the users will be able to upload data to the AI (a guide will be provided) and receive reports for that data.
At the very beginning the HAI tokens will be issued using the Ethereum Platform, creating 70,000,000 HAI. Once the ICO is over and the main block chain is launched a token swap is planned, migrating to an independent network with no congestions, big fees or scalability problems.
The three stages of token sale are synchronized and yield similar ratio in terms of output. The Ico has the highest token distribution in the HAI distribution hierarchy. The current distribution of token in HAI platform is judged as follows
Bonuses: 5%
Research: 5%
Team: 5%
Advisor: 5%
Pre-ICO: 15%
ICO: 65%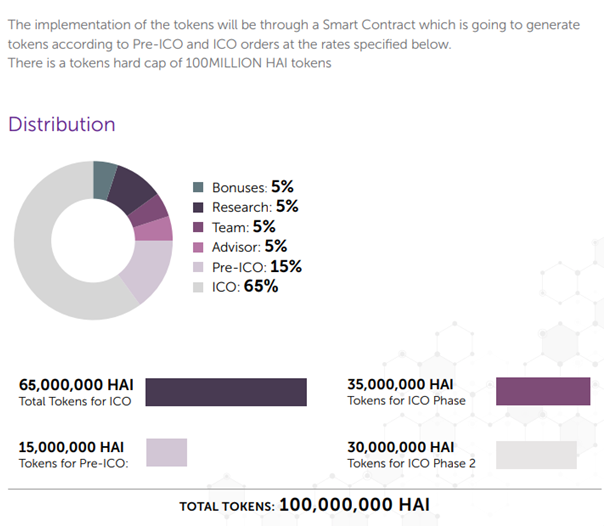 TEAM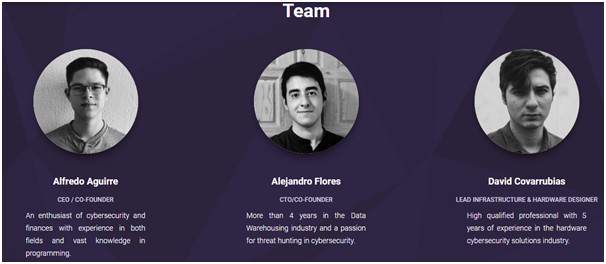 For more information, please visit:
Website: https://haiproject.com/
Whitepaper: https://haiproject.com/documents/HAIProject.V1.0.1.pdf
ANN Thread: https://bitcointalk.org/index.php?topic=3246367
Facebook: https://www.facebook.com/officialhaiproject/
Twitter: https://twitter.com/ProjectHai
Telegram: https://t.me/HAIProject
Author: JigaMola
Bitcointalk profile: https://bitcointalk.org/index.php?action=profile;u=1847143