Utilising Blockchain technology, automation, and AI the Cryptobank sector can reduce Banking costs for customers drastically. The Cryptocurrency market currently has 4-5 million daily users, this is expected to rise to 600 million in the years to come. As such a scalable Cryptobank platform, offering trusted brands the opportunity to offer their customer following a Cryptobank with a fully managed back-office and system, ensures Baanx.com can create maximum market penetration at a vital moment in the growth of digital currencies. Let's see what's Baanx ICO has for us.

Baanx.com stands for open source, open access, and open network – we are leading huge change in developing crucial products with innovative functions. Being the "Amazon of
Blockchain Crypto-Financial Services means we can scale more quickly than our 1 brand competitors and take the Baanx network powered by BAANX BXX to a dominant market position.
Baanx.com is the World's 1st Decentralised Cryptobank, scaling in numbers of Cryptobanks to bring Cryptocurrency use into everyday life through trusted brand names and a trusted platform. Any qualified entity can create their own Licensed Cryptobank Brand and deliver to their customers using Baanx's rules-based platform which shares Banking Licenses between startups.
Bitcoin began decentralized currency, Baanx.com begins decentralized Banking through our values of Open Source, Open Access, Open Ownership.

Advantages of the Baanx tokens
Savings interest, Investment returns, Loan interest and capital payable/repayable in BXX, increasing demand for BAANX BXX

Baanx.com Cryptobanks trade assets, customers, brand followings in BXX using smart-contracts

BAANX BXX needed to open a Baanx.com Cryptobank and all Profits paid to all Crypto-Financial Services Brands in BAANX BXX

BAANX BXX is purchasable (post-ICO) on both the BAANX system and on External Exchanges as a Utility Token.
ROAD MAP

ICO Pre-Sale Details
Register to participate! :
Pre-Sale starts on the 8th April 2018 at 1pm UTC
Symbol :
BXX
Quantity :
8% Tokens available at Pre-Sale, 100 million BAANX Coin
How to participate :
Join the Baanx Cryptobank Revolution and Remove the Traditional Bank Monopoly Forever by Building the World's Largest Decentralised Ownership Cryptobank Network. Shared Ownership is the Key to Fairness and Trust, Join our Community and Change the Future Now.
25% DISCOUNT, REGISTER ABOVE
Pre-Sale - 1 BAANX = €0.075 / $0.093 at the Pre-Sale
ICO - 1 BAANX = €0.1 / $0.125 at the ICO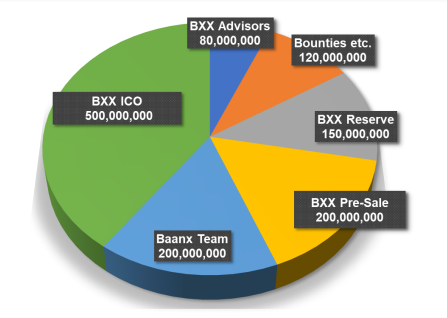 NOTE: The ICO is live now dont miss it
For more information
Website: https://baanx.com
White paper: https://baanx.com/sites/all/themes/baanx/4thAprilLatestWhitepaper.pdf
Facebook: https://www.facebook.com/Baanxcom-154789665294218/
Twitter: https://twitter.com/baanxcom
Telegram: https://t.me/Baanxcom01
Author: https://bitcointalk.org/index.php?action=profile;u=1082634