Onlive is a new revolutionized platform operated based on blockchain technology and at fully utilise decentralized peer-to-peer network to change completely the market of streaming multimedia and remote consulting. Everyone who wants to contribute can do it by means of sharing computing capabilities and bandwidth mean while the decentralization of the system and creating a new economy will be ensured by smart stimulation of depositors. Onlive utility token is called ONL and all unsold tokens will be burned. The main ICO has already started and ends on 11 April 2018. The On.Live platform will allow you to get consultations from specialists right from your home with a wide range of functions for organizing mass and individual broadcasts.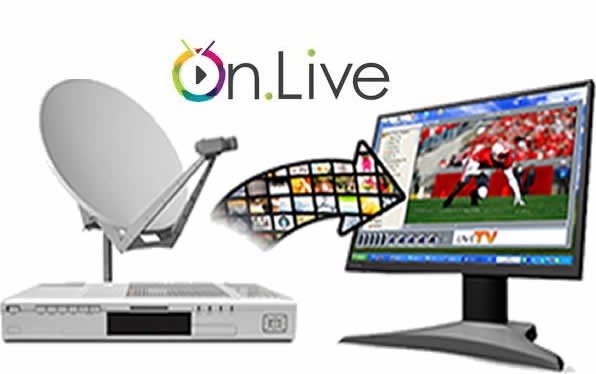 The goal of On.Live developers is to become one of the best companies in providing solutions in the field of video conferencing. The On.Live platform will erase the border between people. Customers who were previously forced to travel to other cities to get advice from a highly qualified specialist will not do this now because launch On.Live would join the broadcast and find out everything they need right from home. On.Live provide free and paid airtime, access to the broadcast is not limited - all are connected in addition to paid airtime, the viewer transfers the necessary amount of crypto currency to the organizer, and then receives a private link.
OnLive platform offers all service providers opportunity to sell their services to anyone who is interested in it. This platform also provides its clients with such set of services as:
planning the schedule of direct inclusions;
the possibility to broadcast in HD quality;
offering convenient billing, chat, special offers, including mutual exchanges;
OnLive can be useful for those who deal with law services, medical practice, education, insurance, etc;
it can be used while studying foreign languages, searching for a job or if you need some consultations on weight reduction or financial advice.
OnLive offers HD broadcasts permit unlimited number of viewers, wherein such models as "per minute" and "pay-per-view" will be used. What is really convenient for consumers is that OnLive allows them to schedule upcoming live broadcasts by themselves. This platform also has high-performance B2B and B2C technologies.
OnLive permits sports broadcasts, TV, SVOD (video-on-demand subscription), musical events, programmes about medicine, healthy eating and so on. OnLive offers consumers of this network to earn money by using their computing resources for retransmission and transcoding of signals. It is all possible owing to decentralized market of transcoding and transit nodes. There is the transaction protocol OnLive, which is created for live broadcasts. It also allows every user to confirm transactions when transmitting a video stream.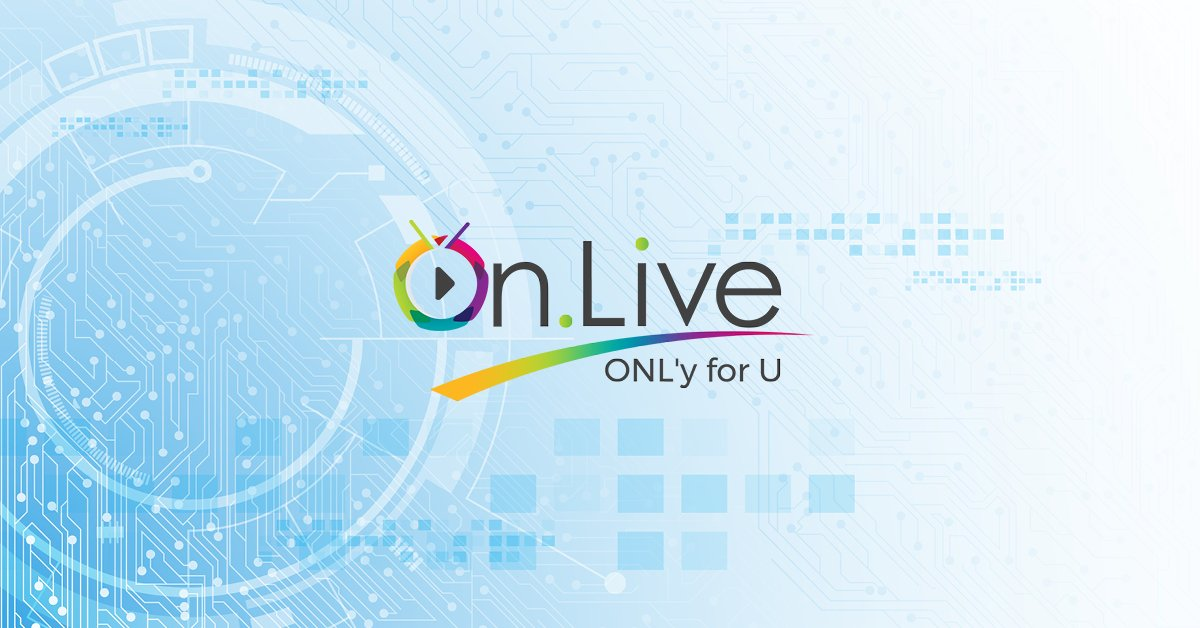 HOW THE PROJECT WORKS?­­
The working is really simple and similar the way our TV sets work and charge us for the channel. Cheers, you don't have to buy that expensive idiot box. Your smartphone and a decentralized wallet are enough. The service provider or the broadcaster creates his channel with a fair basic price. Thr price can be per view(PPV) or per minute(PPM) as decided by the channel creator. The transcoder transcodes the video into the necessary formats and quality. He adds his charge to base fair and routes the videos to the customers who paid. In case of an excess number of viewers, the relay nodes look after the scalability and ensure instant live streaming without any transmission delay. The recipients here are free to choose to buy content directly from the transcoder or the relay node.
The recipients now can choose from available broadcasts and services, the content they want to view and pay for the offer they find most suitable. Just the same way, you pay for the channels you choose on your TV sets. On.Live also allows monthly subscriptions model of payment other than PPV and PPM. Isn't it great to utilize your TV time more economically and make perfect use of this hour by connecting to the people who might help you in your growth and life needs?
S.W.O.T. ANALYSIS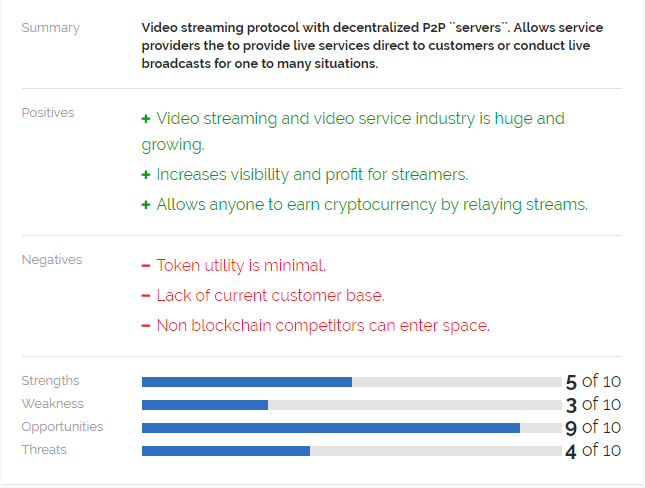 TOKEN SALE DETAILS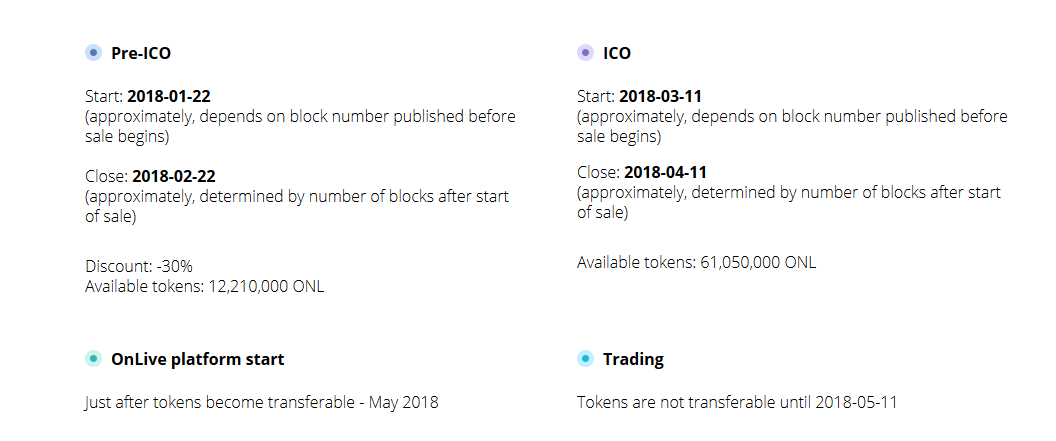 ONL is built as a marker ERC20 on the block chain Ethereum
Token type: Utility
Token Token: ONL
Maximum Token: 111,000,000 ONL
Tokens available in the preliminary ICO: 12,210,000 ONL
Tokens are available in ICO: 61 050 000 ONL
Hard cap to ICO: 14,000 ETH ICO Hard cover: 100,000 ETH
Pre ICO
Pre-ICO Start: 2018-01-22 11:00 UTC
Close: 2018-02-22 Discount: -30% Price ICO Available tokens: 12 210 000 ONL
ICO
Start: 2018-03-11
Close:
DISTRIBUTION OF TOKEN
Pre ICO 11%
ICO 55%
ONL purse 11%
Founder 11%
Bounty 6%
Advisers 5%
Legal insurance 1%
Revenue Usage
CAPEX 3%
Loyalty program 115
Marketing team 8%
RCS -other expenses 55
Marketing adds 19%
RCS - support group 6%
RCS development team 31%
Marketing of other 9%
Council and administrative team 6%
other expenses 2%
The pre-ICO is already live. It closes on 21st February 2018. The hard cap for presale is a little over 12 million ONL tokens. Over a quarter of the funding target is reached with current distribution at 3.2 million ONL tokens. ONL is the utility token in On.Live ecosystem. The maximum supply for entire crowdsale is 111 million ONL tokens. ICO will feature 61 million of those tokens. The hard cap for presale and ICO in terms of capital is 14000 ETH and 100000 ETH.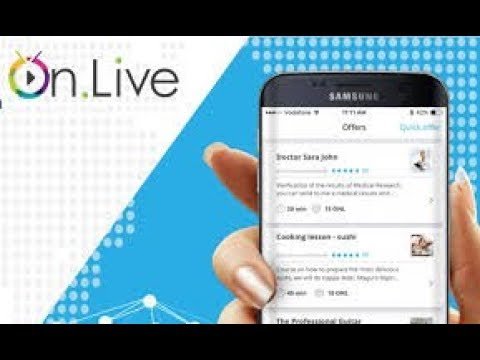 ONLIVE TOKEN ALLOCATION


ROADMAP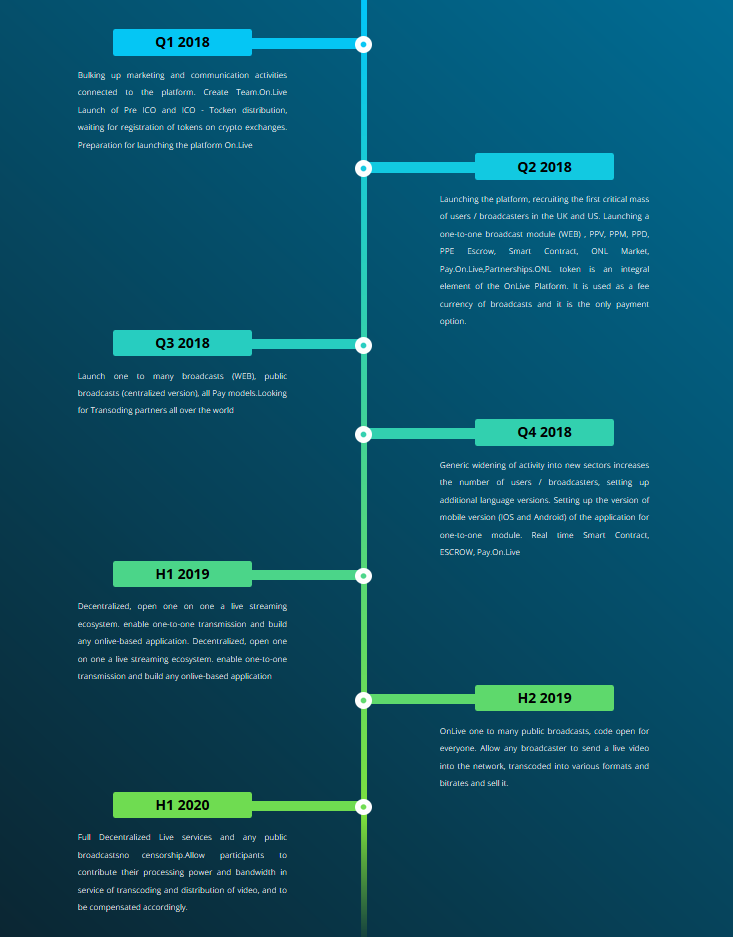 Kind Regards, ensure to join this incredible project.
CHEERS
FOR MORE INFORMATIONS, KINDLY CONTACT/FOLLOW THE LINKS BELOW:
Website - https://on.live/
Whitepaper – https://on.live/documents/OnLive_Whitepaper.pdf
Bitcointalk - https://bitcointalk.org/index.php?topic=2738965.0
Telegram - https://t.me/onlive
Author: Martilda
Profile link: https://bitcointalk.org/index.php?action=profile;u=1887582
Eth addres: 0xd0D5d98857192B3931c831b7B809D47CD830da32