FLOGmall is an e-commerce site created specifically for Global Users, regardless of distance or User domicile. FLOGmall allows its Users to sell a wide range of products and services using the FLOGmall token. Just like inside the Mall, Users will be able to find different types of products and services provided by other Users like LiveStore. LiveStore is just like a collection of video content, but LiveStore contains a variety of writings and blogs about sellers, stores, goods, and services. FLOGmall will make your shopping activities simpler and easier. FLOGmall platform aim to completely change the market of goods and services, using extensive experience, in-depth knowledge, as well as the interest of the largest sellers and ordinary users around the world.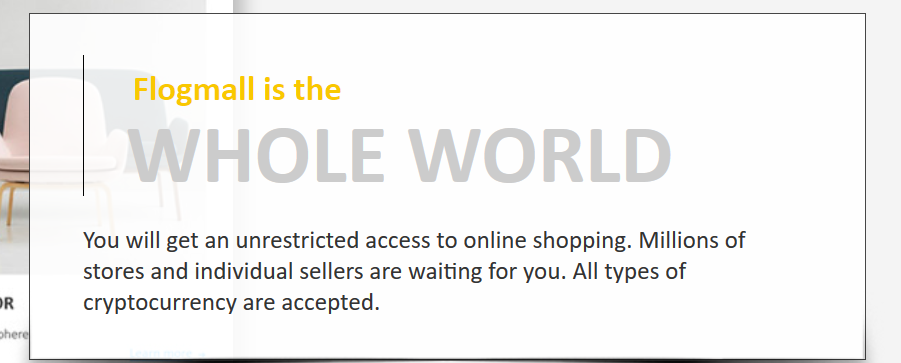 FLOGmall is an innovative platform that brings together sellers and buyers around the world in which anyone can easily buy goods through using crypto currency. FLOGmall platform allow buying and selling goods, travel, rent an apartment, rent a car and many more things, all without the participation of fiat money bypassing the commissions of payment systems and banks.

FLOGmall hope to implement an e-commerce platform so that users can buy anything in any region and sell anonymously or openly, and ensure users are satisfied and facilitate online purchases without worrying about the huge transaction costs or security of the transactions they commit. blockchain comes with the offer of fast and secure online transactions and supports all types of data and cryptocurrency. FLOGmall platform operate based on blockchain technology where transaction is recorded/maintained and can not be changed and reduce the possibility of data fraud. Using blockchain for transactions and transparencies, creating transparent and fair markets open, democratize value distribution and narrow down relationships between advertisers, network providers, and customers. Flog mall objectives includes: purchase and sale of goods and services for tokens on a single site, live shops with convenient navigation for users and provide thousands of private ads for the sale of goods and services.

FEATURES
FLOGmall platform offers no intermediation between retailers and wholesalers, which undoubtedly allows customers to provide products and services at very low prices. Another interesting fact of this platform is that buyers themselves determine in what product or service they need, without imposing products by retail chains.
Sellers working with FLOGmall are no longer obliged to invest marketing money, which allows to reduce the price of the goods for the buyer. On this platform, you can effortlessly create full-fledged marketing programs to encourage and motivate customers.
FLOGmall platform creates a feature, wherein Users can view directly through Livestore about sellers, stores, goods, etc. provided in the FLOGmall Platform. Inside Livestore Seller may show a percentage of the video directly, so that User knows how Seller works or how the Product is made.
Seller may also advertise, insert important messages, online video announcements (streaming) directly on the FLOGmall Platform, so Users know about the developments of the Seller's store or get information on discounts directly.
The FLOGmall team also provides a token, which can be used to transact, and earn a cashback or discount for every use of this token. Each transaction is secured by a smart-contract system, so the level of transparency in this Platform is unquestionable. Users will be greatly benefited by using tokens in any of their deals, as they cost less and are also safer.
FLOGmall also created a feature, where Pengguan can buy and sell goods/services for more than 1800 different altcoins. That way FLOGmall also stimulates a huge growth for altcoin transactions.
The FLOGmall team also developed a feature filter, where the User can filter the results of the Seller he wants so that the User can avoid the Seller who has a bad reputation. FLOGmall also lets users create their own online store with anonymous systems, and any opening of stores or services on the FLOGmall Platform is not taxable.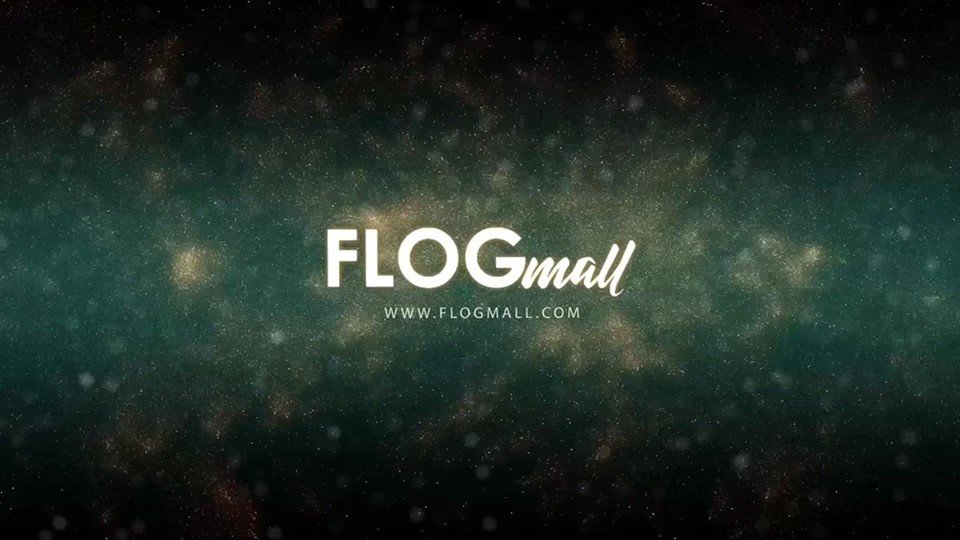 BENEFITS FLOGMALL OFFERS
Presentation of the store in video format. The opportunity for a buyer to see how your store looks, how employees work in the office, or how the process goes on production, significantly increases the buyer's confidence in the company that offers the product or service. To do this, simply record a video, or perhaps make a live broadcast. This is especially cool when in real time the buyer watches as the workflow passes.

A video greeting from the business owner to his potential buyers. This is an excellent opportunity to immediately position the audience to yourself, thereby increasing the chances of selling your product among a billion users.

Separate video dedicated to each of the goods. After all, it's no secret that about 60% of all purchases are made after watching the video (video review, advertising, etc.). This will allow you to present your product in all its glory and to distinguish it qualitatively among analogues.

Own video blog, where you can cover all the most interesting events from the life of the company, or congratulate your fans on the holidays and significant achievements. This will convert your customers into fans, and loyal customers.

Live broadcasts during which you can do immediately sales, such as auctions, sales, etc. In recent years, many stores are beginning to use video sales and this format will gain more and more turns in the future.

Advertising by means of video. There will be an opportunity within the platform itself to promote the services of your online store through video advertising. And the downloaded video will cost the logo (watermark) of the seller, which allows you to reduce the risk that your content will re-run.
TOKEN SALE DETAILS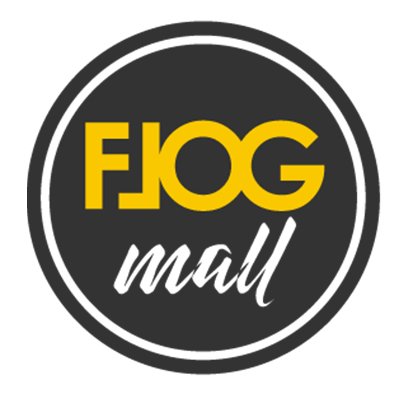 Name: Mallcoin (MLC)
Suppy: 250 000 000 MLC
SELLING RATE OF MALLCOIN: 1 MLC = 0.000333 ETH
Price: 1 MLC = 2,000 ETH
Accepting: ETH, BTC
Soft cap: 2500000 USD
Hard cap: 5000000 USD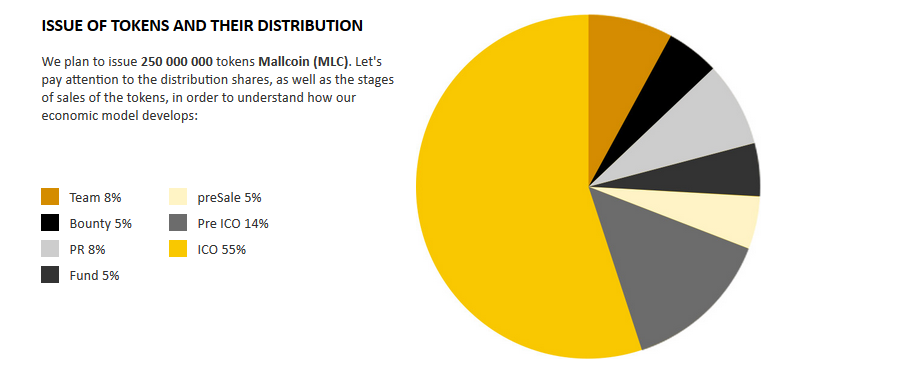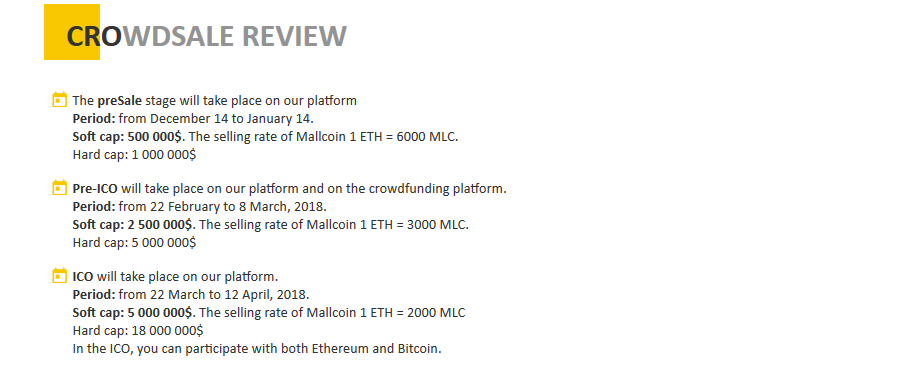 ROADMAP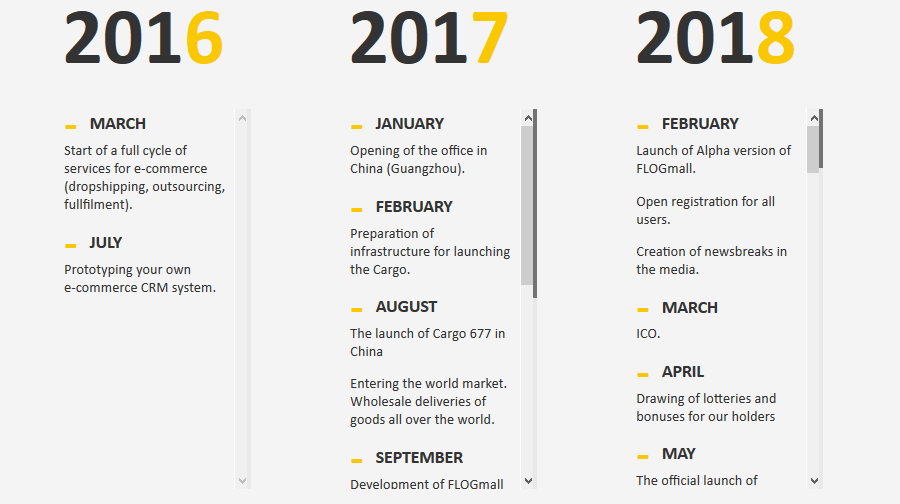 MEET THE TEAM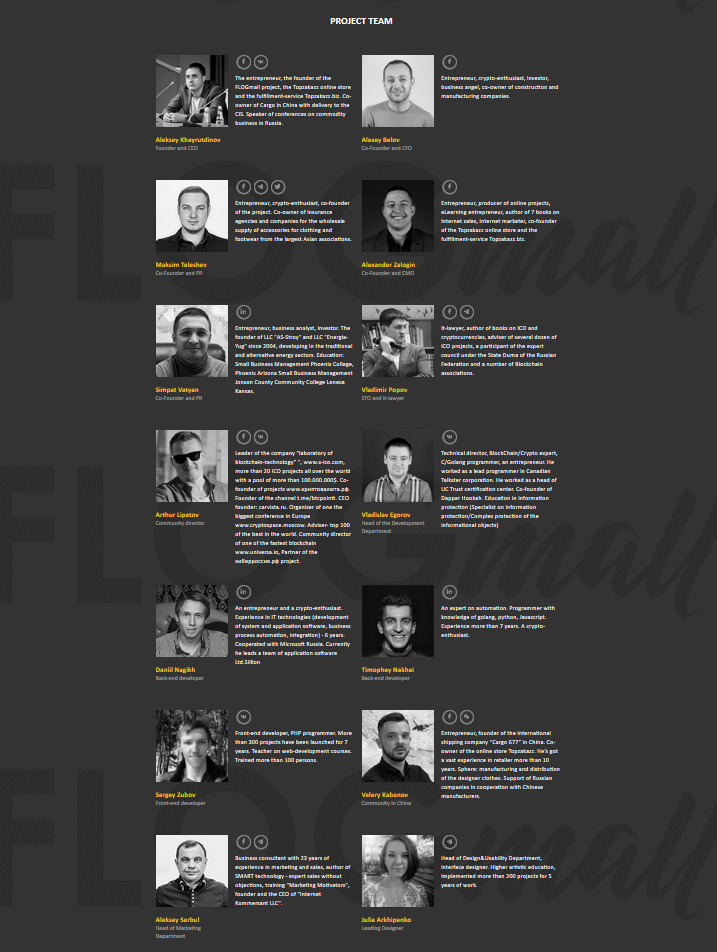 Kind Regards, ensure to join this great project.
FOR MORE INFORMATION, CLICK/FOLLOW THE LINKS BELOW:
WHITEPAPER: https://flogmall.com/wp/
TELEGRAM: https://t.me/flogmall
TWITTER: https://twitter.com/flogmall
FACEBOOK: https://www.facebook.com/flogmallico
Author: Martilda
Profile link: https://bitcointalk.org/index.php?action=profile;u=1887582
Eth addres: 0xd0D5d98857192B3931c831b7B809D47CD830da32![alt text](image url)