INTRODUCTION
Invoice Financing is the process of businesses selling off their due invoices to financers or investors at a discounted price.
This practice involves three parties – businesses, customers, and financers. The businesses sell their invoices to the financiers who collect the money from the customers after the credit period expires.Invoice Financing is usually done when businesses are in an urgent need of cash. With multiple parties involved, the process gets quite hectic at times.
Invoice financing is when a seller issues an invoice to a buyer that will pay that invoice at a later date. But if the seller needs the money faster, they can sell the invoice to a financier and get the money now. This way, the seller has sufficient cash flow. Intern, the buyer would pay directly to the financier. Everyone wins!!! The seller gets money faster, the buyer has time to pay the invoice and the financier makes a profit by giving the seller a little less than the invoice is worth in the form of a fee. The Invox Finance Platform is an invoice lending platform tapping into the US$2.8 trillion invoice financing industry.
Currently, there is only one other competitor in the world - Populous Invoice Discounting, which has a market capitalization worth over $ 800 million at the time of writing. Invox Finance respects the goals that the Populous team aspires to. The currently centralized accounting environment needs to be disrupted and both Invox Finance and Populous are at the forefront.
HOW IT'S WORKS
Sellers who have invoices they want to sell to speed up cash flow Investors hope
gain higher profits and diversify their investment portfolio.
Buyers who will receive an invoice payment period are updated and rewarded for verifying the invoice.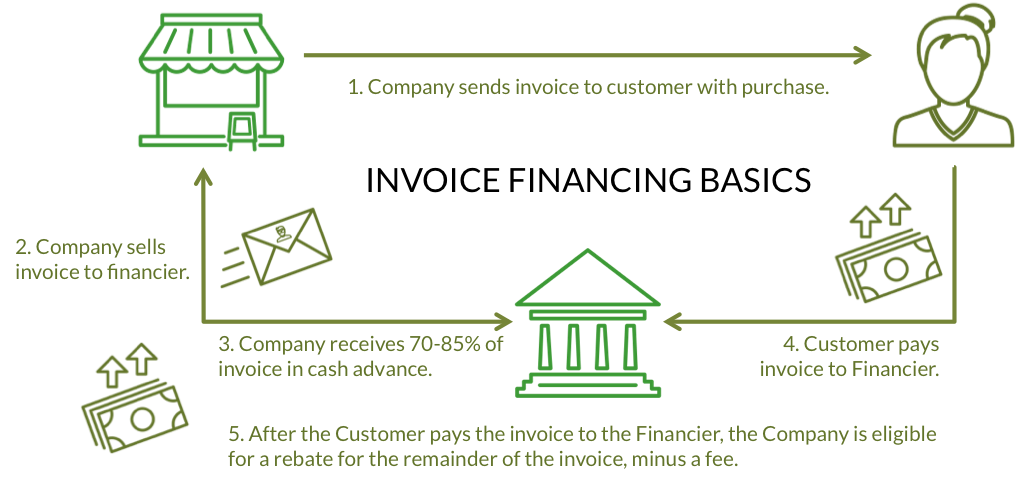 Current accounting methods are stagnant and in need of repair. Invox Finance solves this:
1 Lack of contact between stakeholders
2 Transparency
issues related to the process 3 Security issues
4 Risks to investors
5 Fraud risk
by creating dynamic invoices in a distributed ledger that connects buyers, sellers, and investors throughout the process.
Invox differs from Populous in these cases:
1 Involving the buyer in the platform
2 Creating dynamic instead of static paper-based invoices
3 Equal access for investors (no bids on bills)
4 Credit fragmentation
5 A larger amount of accounting finance experience
ROADMAP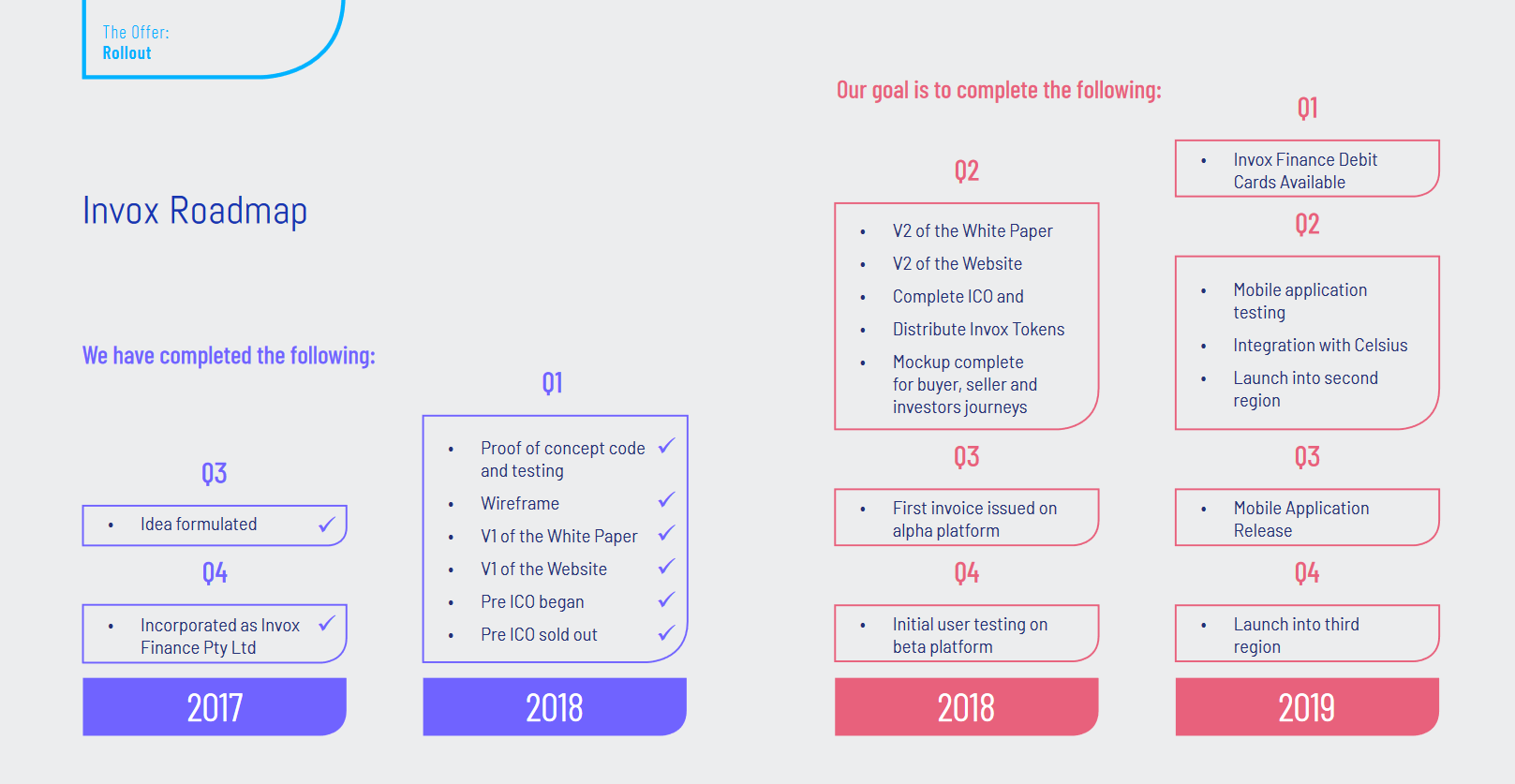 ABOUT ICO AND TOKEN SALE
The ICO begins March 15, ,2018 with a pre-sale 30% bonus at that start that gradually decreases to a 5% bonus on April 20th. The main sale is from April 30th - May 14th ( 15 days). They really are giving the early birds their extra worms.



Minimum investment :0.1 ETH
Hard cap: 20000 ETH
Max supply: TBA
start of pre-sale: March 15th
Country: Australia
Whitelist/KYC: KYC
Restricted areas: USA, China
Token Value: 1 INVOX = 0.0001 ETH
Max Cap: 20,000 ETH ~ $17m USD¹
Main Sale Minimum: Buy ETH 0.1
Pre-sale Max Cap: 2,941 ETH ~ $2.5m USD¹
Pre-Sale: Minimum Buy ETH 1.0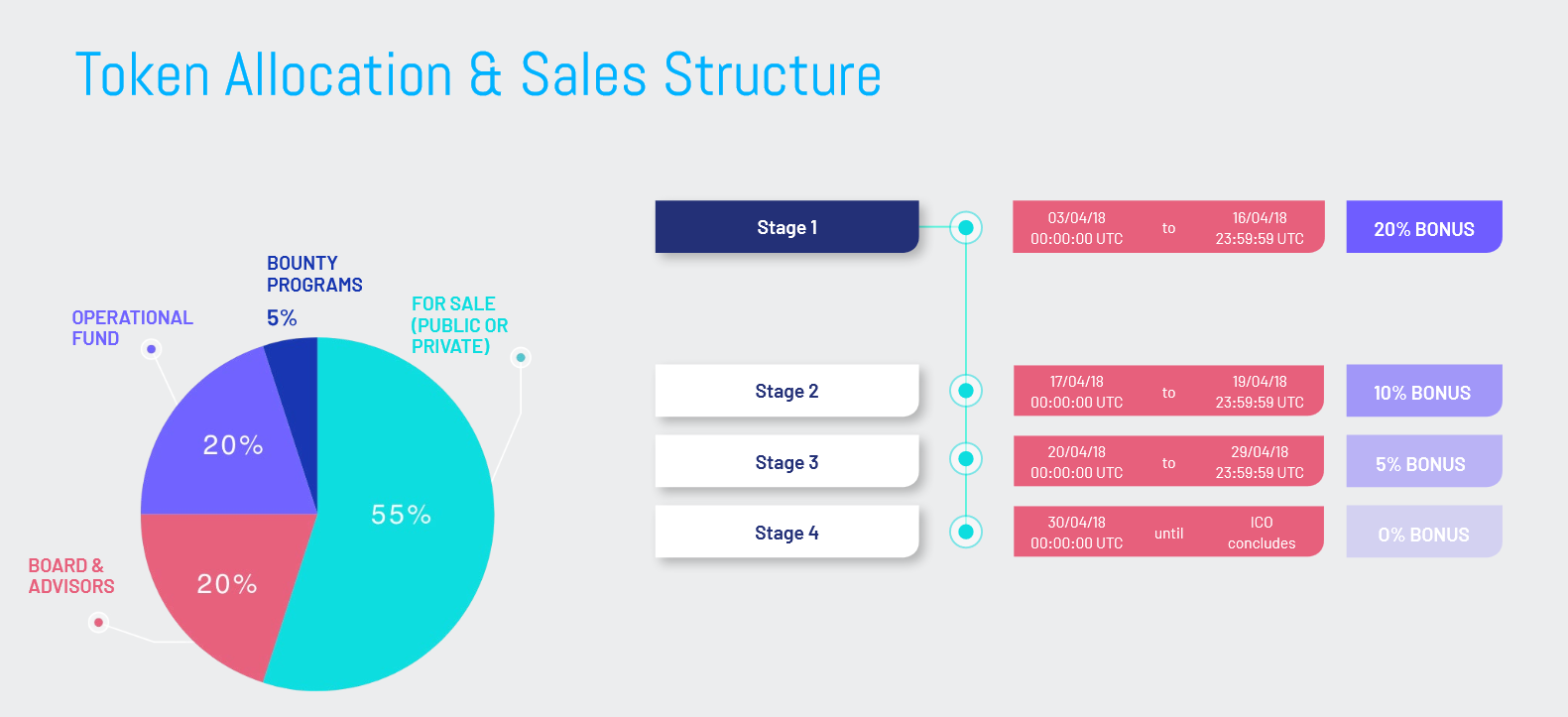 For more information visit the links below
Website: https://www.invoxfinance.io/
AnnThread: https://bitcointalk.org/index.php?topic=3048498.0
Twitter: https://twitter.com/InvoxFinance
Facebook: https://www.facebook.com/Invox-Finance-162381191061327/
WhitePaper: https://invoxfinance.io/docs/Invox-Whitepaper.pdf
Telegram: https://t.me/InvoxFinanceCommunity
Author link: https://bitcointalk.org/index.php?action=profile;u=1082634