ROSCAcoin is a decentralized, self-regulating platform, operated based on blockchain powered Rotating and Saving Credit Associations (ROSCA) ecosystem that embraces smart contract features. ROSCAcoin team competent approach results into a perfect financial ecosystem and make it accessible to all users. This platform can create a financial solution ecosystem that leverages social capital and trusties to offer better financial options. These include;
• Eliminating higher cost of borrowing
• Diversification Risk
• Easier Financing
• Better Investment
ROSCAcoin is a multi-currency debt financing that enables individuals to borrow and lend money without intermediary which have been designed and developed using Blockchain-based platforms where users can seamlessly use their crypto for their everyday activities.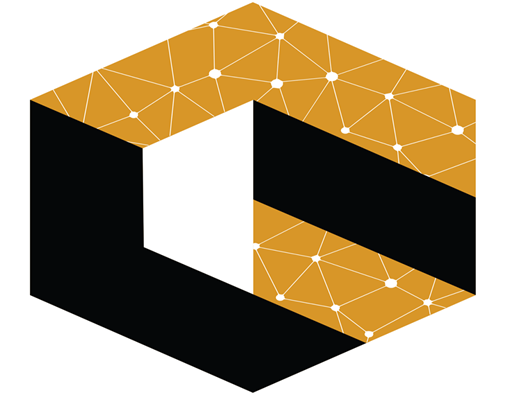 The Main purpose of ROSCAcoin project is to building this product to increase the trustworthiness within the user who participates in the ROSCA lending circle. For instance, user who fulfill the contract often participate in huge quantity of ROSCA lending circle will get the higher credit score, reduce the collateral and increase the limit of investment in ROSCAcoin Ecosystem platforms, while user who is not dedicated to contribute and participate less in ROSCA lending circle will get a low credit score and request higher collateral and limited investment in ROSCAcoin Ecosystem platforms.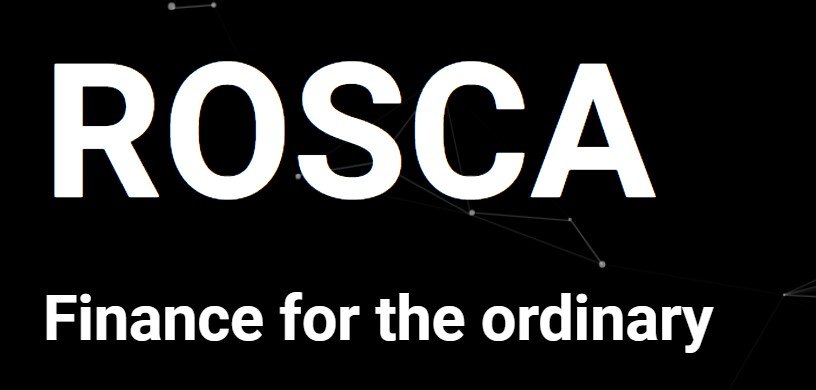 ROSCA platform help provide credit score resulting to positive effect within the community and also help other users to make decision on their investment and reduce the risk. Roscacoin was designed to help people in remote areas or countryside that have no access to banking facilities and networking infrastructure through cryptocurrency by providing them access to financial facilities and financial solutions. Roscacoin ecosystem offers a transparent, free and effective financial solution, which is can be either used for investment purpose or lending purpose.
FEATURES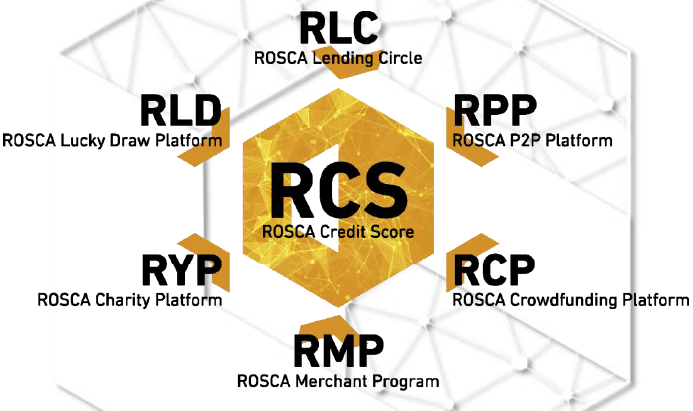 Rosca Lending Service (RLC)
Using Rotating and Saving Credit Association (ROSCA) methodology and blockchain's smart contract, savings, borrowing and other ROSCA processes are automated.
Rosca Credit Score (RCS)
It serves the purpose of increasing the trustworthiness among users of Rosca Lending Service. For example, an individual who actively participates in Rosca lending circle and fulfills the terms of contract will have a high credit score while low credit score will get high collateral and limited investment in Roscacoin Ecosystem Platform. It offers the reduced collateral and increased the limit of investment in Roscacoin Ecosystem platform.
Rosca Merchant Program (RMP)
It was created for users of the platform that are into trading. As the name implies, members will be able to buy and sell goods or services using Roscacoin.
Rosca P2P Platform (RPP)
The third product offered by the Roscacoin ecosystem. It stands for peer-to-peer (P2P), which is a method of debt financing in which users can lend and borrow money without any intermediary. That means, investors can give users loan at an agreed interest rate.
Rosca Crowdfunding Platform (RCP)
There are two types of crowdfunding; soft and hard crowdfunding. An example of the former is investment pool and the latter offer machines/IoT/Physical asset. Basically, when a user invests a percentage of stake in the investment pool or machine that generates revenue, such a person also receives a dividend from the investment. This paves way for numerous investment opportunities.
Other products offered by the Roscacoin ecosystem include the Rosca Lucky Draw platform and Rosca Charity Platform.
TOKEN DETAILS
The ROSCAcoin Token (RCA) is ERC-20 compatible with a Max Supply of 10 billion RCA. There will be a total of 1.5 billion RCA available for sale. The token sale began on the 1st of April 2018 with an initial​ price of 1 ETH = 40,000 RCA. You are required to purchase nothing less than 0.001 ETH worth of ROSCAcoin. Once the hard cap is reached, the sale will be closed or it will last till when the sale time ends, whichever comes first. Contributors will be able to receive their tokens within 7 days of the sale ending.
TOKEN DISTRIBUTION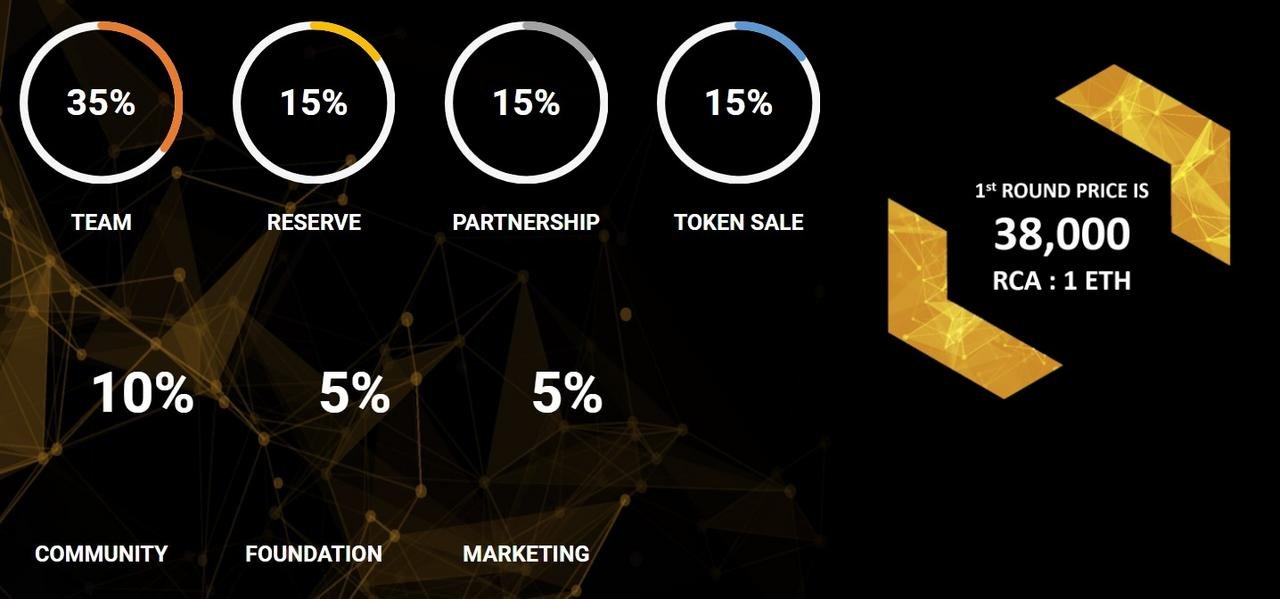 MEET THE TEAM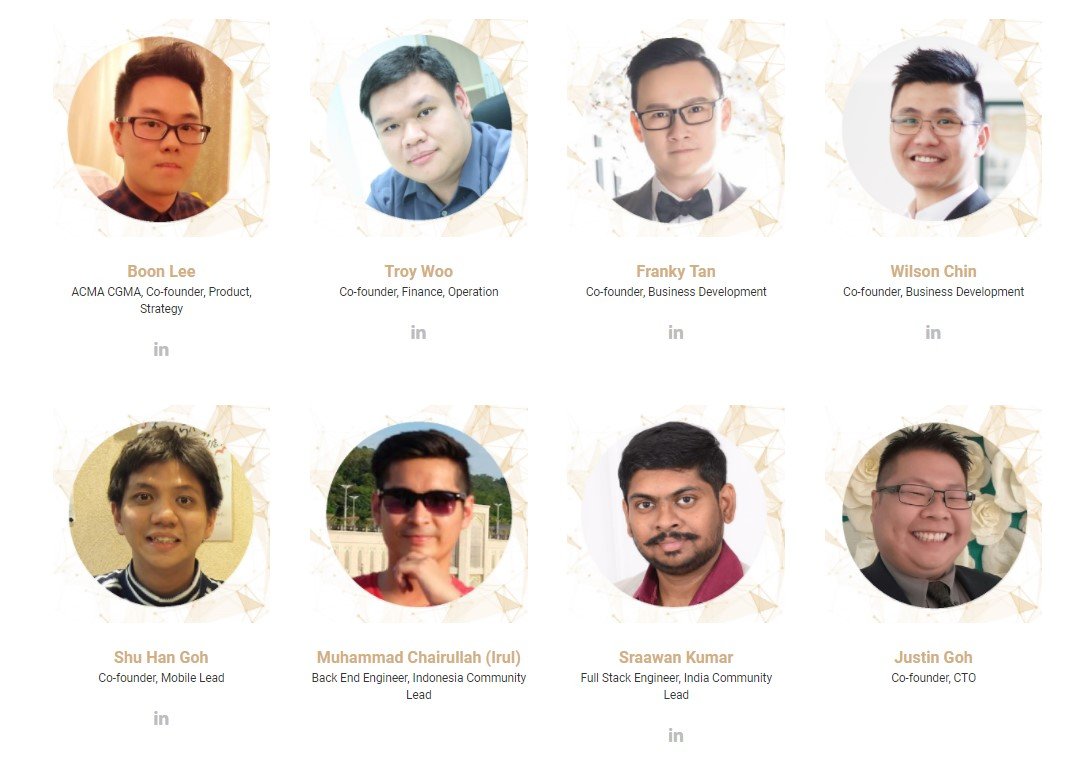 Kind Regards, please ensure to be part of this great project.
FOR MORE DETAILS, CLICK/FOLLOW THE LINKS BELOW:
Web site : https://roscacoin.io/
Whitepaper: https://roscacoin.io/wp-content/uploads/2018/03/Roscacoin-Whitepaper-V1.0.pdf
Facebook: https://www.facebook.com/Roscacoin/
Twitter: https://twitter.com/RoscacoinToken
Github: https://github.com/roscacoin/roscacoin
ANN: https://bitcointalk.org/index.php
Author: Martilda
Profile link: https://bitcointalk.org/index.php?action=profile;u=1887582
Eth addres: 0xd0D5d98857192B3931c831b7B809D47CD830da32