Shivom is unique and revolutionary platform for DNA data donation in biotechnology together with the health sector and management research institutions for medical miracle. Shivom platform is creating a genomics ecosystem based on blockchain technology and serves as an open marketplace for healthcare providers to add their apps and services, alongside genomic data analytics and personalized medicine.
Shivom platform is creating a connection between two revolutionary technologies: genomics and blockchain to provide a safe, secure platform to store genetic data and improve health and well-being. The core principles of Shivom are :
collaboration
openness
integrity,
security
informed choices.
BENEFITS
Connects donors of genome data and patients.
Permit genome sequence to be done and the results stored securely on blockchain.
Serve as a marketplace for research organizations, pharmaceuticals, insurance companies, and governments.
Allows added services and apps along with personalized medicine and data analytics.
Break the data silos
Help speed up clinical trials
Facilitate research and development of drugs
Genomic programming offers benefits like:
Identifying the best course of care for patients with a particular condition
Prevention of disease in healthy individuals
Prediction of disease risk
Disease diagnosis
Treatment, including choice of most effective medication and dosage
Disease prognosis
Identifying new drug targets
Shivom offers users access to a global precision medicine platform for the anonymous sharing of genetic information that may eventually help cure complex diseases.
HOW SHIVOM PLATFORM WORKS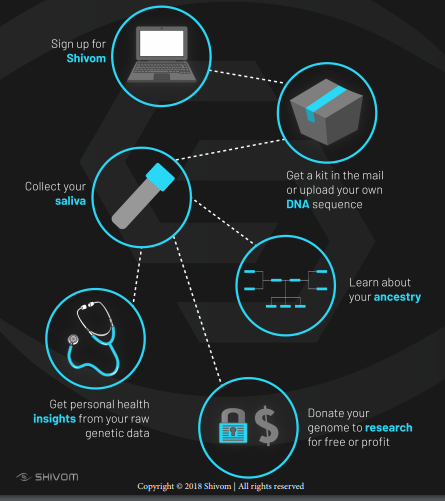 OBJECTIVES
Accelerate the age of the genomics
Every one of the 7.6 billion people on earth has a unique code held in their genes that unlocks the secrets of appearance, ancestry, intellectual ability, health, and fitness. However, the ability of this code to uncover the disease's predisposition has been neglected.
Improve global health
Now is the time for community development for the "genome" challenge of the coming decade. Currently, some key players hold a monopoly on genome data and generate huge profits from selling it to third parties, usually without revenue sharing with data donors.
Jumpstart precision based drug genome
We change the dynamics of the global health care market. We utilize the most advanced technologies including blockchain, cloud computing, genome sequencing, artificial intelligence, and massive data analysis to bring the medical genome into a new era.
Ensure the next level of data privacy
We are at the forefront of data security. We use state-of-the-art cryptography to add additional security levels to our platform that go beyond blockchain technology for decentralization, protecting every user's data from cybercriminals.
Genomics for everyone is the foundation of the Vhisom Project and one of its aims is to improve global health and as a tangible proof of Founder Sally Eaves, Dr. Axel Schumacher and Gourish Singla visit rural communities in India to talk with locals about their health care challenges and opportunities where genome technology can make a difference.
TOKEN DETAILS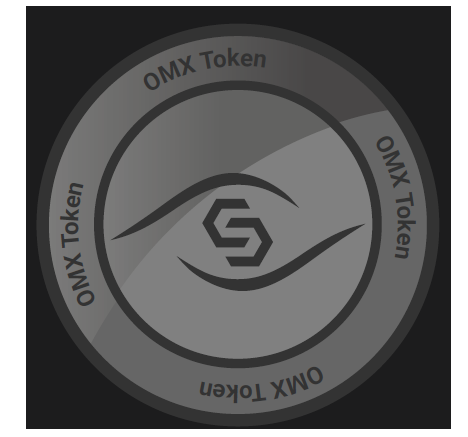 The OmiX token is a key component that enables buying, trading, incentivizing and other services. The token is the fuel of the Shivom ecosystem, as well as part of the governance of the system.
Symbol: OMX
Price: 1 ETH = 7000 OMX
Platform: Ethereum
Accepted: ETH, BTC, Fiat
Soft cap 15,000 ETH
Hard cap 75,000 ETH
Type: ERC20
Token Sale: 990,000,000
Benefits of OmiX tokens:
Ability to acquire premium services in the Shivom ecosystem
Ability to acquire genome sequencing kits
Ability to sponsor sequencing projects
Ability to acquire access to health/fitness apps from 3rd party providers
Ability to access the genome database
Ability to pay donors for data/participation in research studies
Ability for service providers to use the platform
ROADMAP

MEET THE TEAM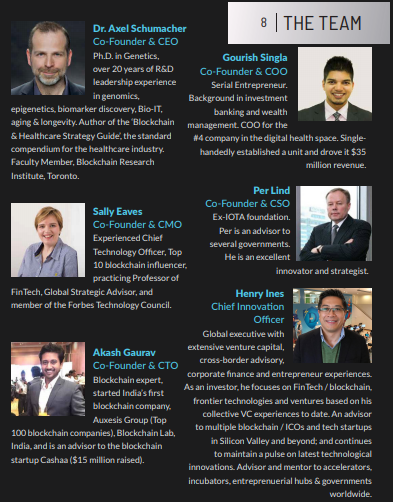 Kind Regards, ensure to be part of this great platform.
CHEERS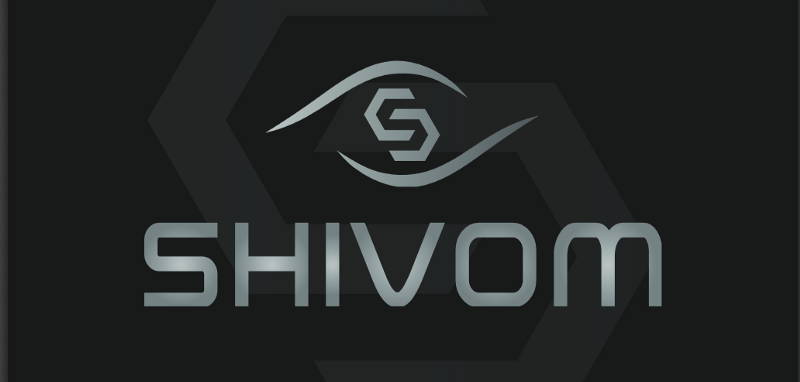 FOR MORE DETAILS, CLICK/FOLLOW THE LINKS BELOW:
Website: https://shivom.io/
Whitepaper: https://shivom.io/files/Shivom-Executive-Summary.pdf
Facebook: https://www.facebook.com/ProjectShivom
Twitter: https://twitter.com/projectshivom
Telegram: https://t.me/projectshivom
Reddit: https://www.reddit.com/r/Shivom/
Youtube: https://www.youtube.com/c/ProjectShivom
Instagram :https://www.instagram.com/projectshivom
Author: Martilda
Profile link: https://bitcointalk.org/index.php?action=profile;u=1887582
Eth addres: 0xd0D5d98857192B3931c831b7B809D47CD830da32