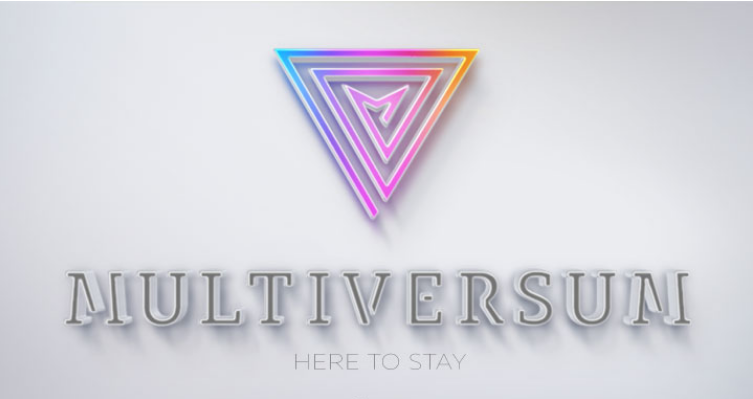 INTRODUCTION
The First and Second Blockchain Generations suffer really low energy efficiency and slow validation and transactions per block. The aim of the Third Generation blockchain is to solve the issues of scalability, speed, and energy consumption the First and Second blockchain generations suffer from. To read more about the first three generations of the blockchain,
WHAT IS MULTIVERSUM
Multiversum is an advanced blockchain technology which offers peculiar features to solve the inconveniences the previous generations are rife with. Its crypto-validation and distribution techniques are perfect for whatever environment, be it administrative or industrial or financial or governmental.
Multiversum allows the creation of a relational Crypto Database which is a seriously advanced and organized data storage solution in place of the present simple data model. It can process not just a particular type of data, but a series of data categorized in graphs of intricate data structures related to another.
Essentially, Multiversum lays the foundations for a decentralized and disposed system of comprehendible self-verifying transactions.
Mission
Multiversum's mission is to initiate a generational step-up in the blockchain world. It aims to create something better and more advanced. We've already gotten the stars. Why not venture out of the known universe? With the following objectives, Multiversum aims to do that.
PLATFORM
Multiversum is set to become the very first crypto relational database on the market, decentralized or distributed; whatever is required. This ability stems from the conceptualization of chainable entities. Multiversum's technology is capable of splitting a primary chain into secondary chains composed of several sets of entities and records.
HOW IT WORKS


Data Sharding:
Data sharding is a form of database partitioning which separates very large databases into smaller, quicker, and easily managed parts known as data shards. In Multiversum, each node will contain the whole chain data or part of it. When data sharding is required, coordinator nodes will set particular data partition modes so as to optimize their own distribution according to the current workload.
Freezable Wallets: The freezable wallets feature should be included so as to prevent unlawful or suspicious activities after studying its feasibility on the Business Logic side.
Benefits of the Project
Speed and Technology: Multiversum, thanks to its ability of handling different transactions and splitting and re-attaching mechanism has got great speed. These features let it achieve greater horizontal scalability and increase transaction processing.
Horizontal Scalability: Multiversum utilizes two distinct features to optimize system efficiency; Data sharding and high availability. Data sharding allows for the distribution of data among multiple nodes. Due to the high availability, users can rely on a cluster type that ensures the continuity of services even in the event of the shutting down of some nodes in the network. With Multiversum, in the event of multiple node failure, the cluster will autonomously rearrange the distribution of data corresponding with every node until operational recovery is complete.
Data Management: equipped with its Crypto-Relational Database, Multiversum is more than capable of structuring data easily without the limits of data linking. This evolved capability to manage intricate data scenarios will let users implement any kind of application on Multiversum's technology, thus, making way for global institutional, financial, industrial, and governmental diffusion and so getting the blockchain universe one massive step forward.
For more, visit: https://www.multiversum.io/
Pre-ICO and ICO
• Pre-ICO: This will commence from the 1st of March, 2018 until the 31st of March, 2018. It will feature the following:
25% bonus for contributions from 0$ to 1,000$
30% bonus for contributions from 1,000$ to 50,000$
35% bonus for contributions above 50,000$
• ICO: This will commence from the 16th of April, 2018 until the 10th of June, 2018. It will feature the following:
1st and 2nd week: 20% bonus
3rd and 4th week: 15% bonus
5th and 6th week: 10% bonus
7th and 8th week: 5% bonus
***Multiversum reserves the right to extend the ICO phase by 15 days in cases of issues in ICO access or other unforeseen circumstances it cannot be held responsible for, in order to guarantee participation by contributors.
Soft Cap – 5,000,000$ (The funds will be returned if the soft cap will not be reached during Pre-ICO and ICO)
Hard Cap – 65,000,000$ (The donations will be halted immediately the hard cap is reached)
Total Supply – 141,000,000 MTV
Airdrop of the non-distributed tokens twice a week to all the wallets that still hold 100% of the MTV tokens bought at any ICO stage. The airdrop will begin two weeks after the end of the ICO and will last for 18 months.
***1 % of funds realised will be donated to charitable organizations.
Token Distribution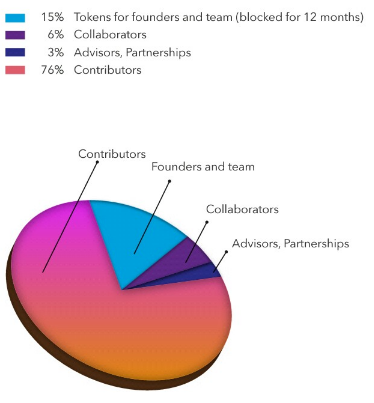 For more information visit the links below
Website: https://www.multiversum.io/
Whitepaper: https://www.multiversum.io/whitepaper/multiversum_eng_wp.pdf
Facebook: https://web.facebook.com/MultiversumBlockchain
Twitter: https://twitter.com/MultiversumBC
Telegram: https://t.me/MultiversumOfficial
Reddit: https://www.reddit.com/user/MultiversumBC/
ANN Thread : https://bitcointalk.org/index.php?topic=2955830.new#new
Author: https://bitcointalk.org/index.php?action=profile;u=1082634